Hair Transplant in Northampton: Costs and Services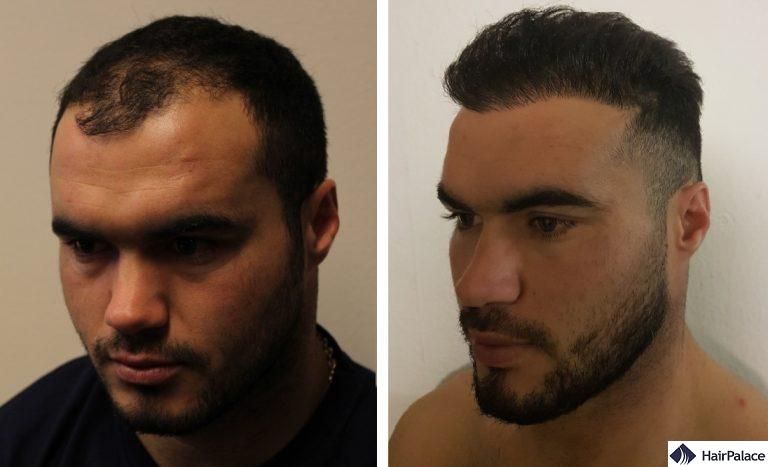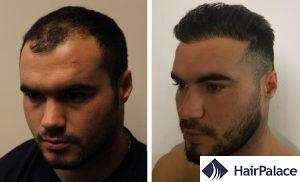 Pedro
Number of hair transplants: 1
Number of transplanted hairs: 6236
When he first visited our clinic, Pedro told us he got really annoyed by his previous hairloss. With the FUE2 hair transplant method we restored his hairline and the density of his hair. He succesfully got his confidence back.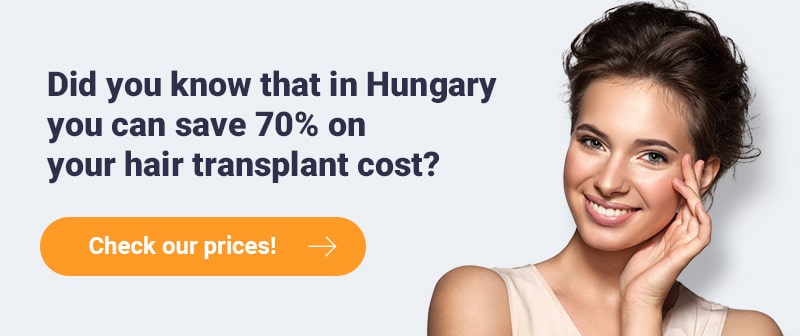 Book your free hair transplant consultation at our Northampton office
Visit our Northampton office for your free, no-obligation hair restoration consultation.
Our experts will use a cutting-edge digital microscope to examine your hair density and your scalp. We'll explore your personal hair requirements and goals in detail.
Based on our findings, we'll create a tailored treatment plan for you.
This will include all the key details you need to know about your hair transplant, such as an accurate price.
Our specialists will be happy to answer your questions, address any concerns you may have, and offer advice on the results you can expect.
Your consultation will take approximately 20 minutes.
Advance reservation is a must for all consultations — book your appointment with our colleagues on +44 20 7131 0229 now.
HairPalace Hair Clinic Northampton:
400 Pavilion Drive, Northampton
Northamptonshire NN4 7PA
United Kingdom
Phone: +44 20 7131 0229
How much will a hair transplant in Northampton cost?
The price of a hair transplant is based on several factors, including the number of follicles required and the method chosen.
A hair transplant in Northampton will cost the same as it would in any other city or town across the UK. This is typically from £2 to £4.
HairPalace has hair transplant clinics in Budapest and London, with our UK prices ranging from £1989 to £9042.
Want to have the best hair transplant in Northampton for a more affordable price?
HairPalace can help.
We offer patients at our Budapest clinic the same innovative FUE2 procedure available at our London clinic, but at a more affordable rate.
This is possible due to the lower living expenses and wages in Hungary.
You can still expect to receive the same exceptional service and results as you would at a clinic in Northampton or London — just for a much lower price.
Our Budapest clinic's hair transplant packages are available from just £1390 to £2590.
To learn more, visit our page covering hair transplant prices in Budapest today!
Which hair transplant procedure does HairPalace use?
Every HairPalace clinic uses the FUE2 hair transplant technique.
This is an improved version of the standard FUE method, and is the most advanced option available to surgeons today.
As a result, you will receive the same outstanding quality of service and results whether you visit our Hungary or UK hair clinic.
Our surgeons have years of experience performing FUE2 hair restoration procedures, and recommend this technique for several key reasons:
it leaves no visible scars
FUE2 is painless
success rates as high as 90 – 95%
the recovery period is short
it's minimally invasive
effective in preserving the scalp's donor areas
Meet our Northampton hair restoration experts
HairPalace works with six incredible surgeons, each with the skills and valuable experience to provide the best hair transplant results.
You can meet with one of our hair doctors during your free Northampton consultation.
This is a terrific opportunity to learn more about what our procedures offer, how they can restore your hair, and more.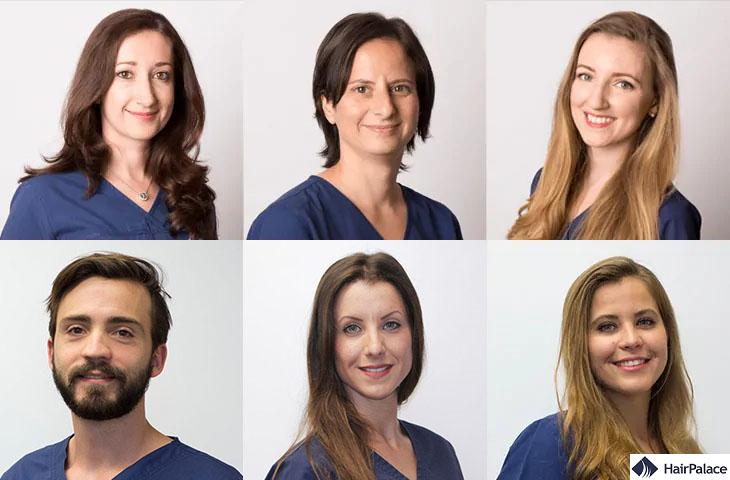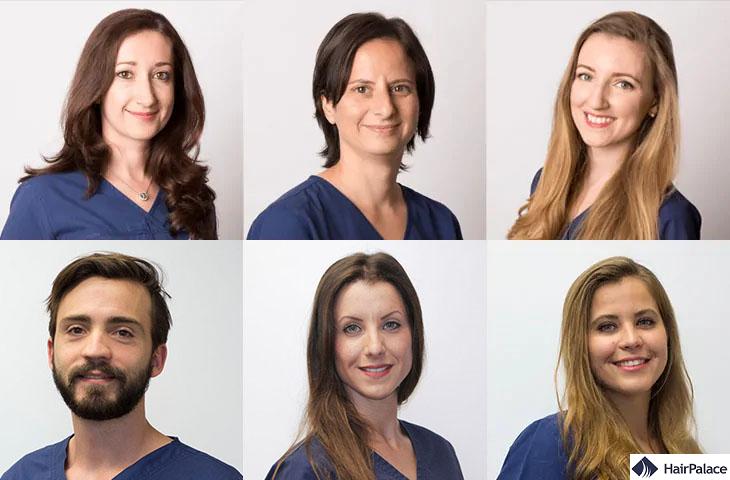 Why choose HairPalace for your hair transplant?
The extensive variety of hair clinics and treatments available can make choosing the right package difficult. But HairPalace is dedicated to making it easier for you.
What can we offer?
Highly-experienced surgeons

HairPalace works with doctors boasting between five and 10 years' experience undertaking hair transplants. Alongside our hard-working team, these surgeons are committed to bringing you a tailored solution for the finest results.

Natural results on hair transplants

The FUE2 hair restoration method enables us to achieve amazing success rates with natural and dense results.

A written guarantee on your treatment

Our seasoned surgeons use the most effective hair restoration technology, so we provide a written guarantee on your hair transplant. If less than 80% of the transplanted hairs grow out, we'll reimplant the missing amount — for free!

No visible scarring on the scalp

During the FUE2 procedure, we extract one graft at a time with a precise micro punch. This ensures no visible scars will be left on the donor area.

Effective post-treatment care

As we believe the best aftercare is vital to reach the finest results, we'll book you in for six check-ups following your procedure. We'll monitor your progress and will be available to answer your questions.

Affordable rates

HairPalace offers highly-competitive hair transplant prices in Northampton. Our packages cover all costs, with no hidden fees for you to worry about.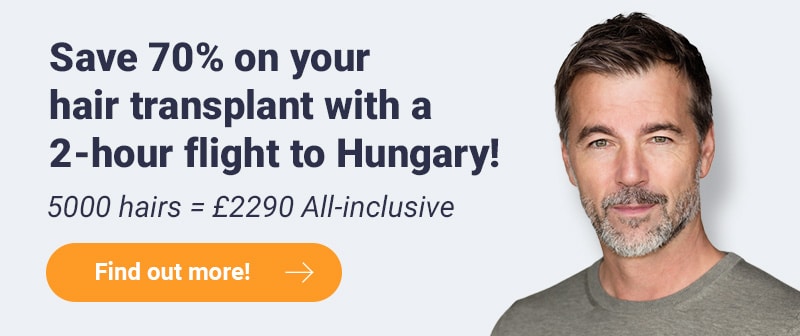 Hair transplant reviews from Northampton patients
Hundreds of patients choose HairPalace for their hair transplants every year.
This means we have a wide range of honest public patient testimonials for you to read on Facebook, Google, and Trustpilot.
These can give you an insight into the level of service and results you can expect.
They also inspire us to maintain our commitment to delivering an unbeatable patient experience every time.
Check out our hair transplant reviews from Northampton patients now!
I had my hair transplant on the 14th of March 2020, and couldn't be happier so far! I've been having a receding hairline for a few years, and I've been on the fence with this decision for a while.
Ultimately, I became increasingly more concerned about my receding hairline and loss of density, so I did a lot of research before deciding on having a transplant.
I stumbled upon Hair Palace due to the great reviews and affordable price, and I'm sure happy that I did!
Everything I've been reading about their clinic has been true, and I'm truly impressed by the procedure so far. The staff was informative, always available, and make you feel comfortable with your decision to get a transplant.
The intervention took about 6 hours in total, which includes a lunch break, talking to a doctor about what you want to accomplish with the transplant, deciding on a hairline, and preparing for the transplant.
The doctor Csilla Kelemen and the interpreter Barbara were both very welcoming and extremely professional, and I couldn't recommend them more. Thank you both!
I was due to have 3000 hairs transplanted, but ended up having 3144 hairs and hadn't had to pay anything extra for the 144 hairs.
The food options were really good (hungarian food, italian, burgers, etc) and they have a great selection of movies to choose from while you're having the transplant. It definitely felt quicker than it actually was, and they take such a good care of you!
I've just finished my transplant, so it's too early to talk about the final result. But the density and direction of hair look natural and if everything goes well, I'm hopeful that the results will be great.
I'll post another update once I'm 6 months or so into it.
 Andrei | Mar 15, 2020