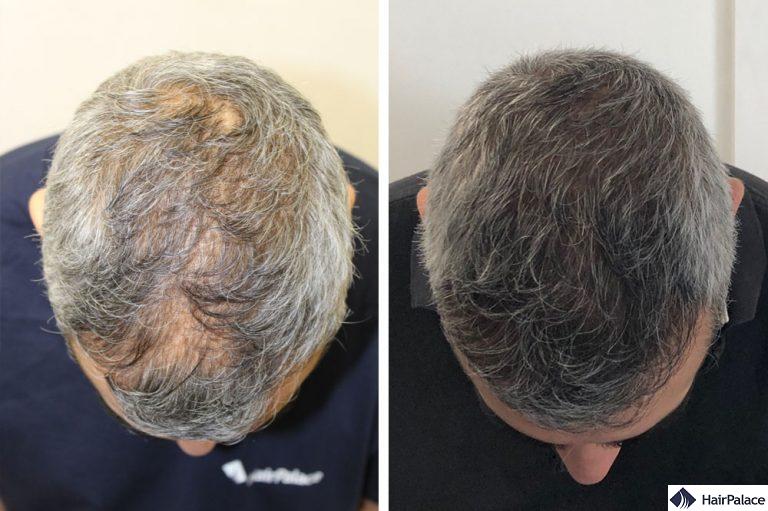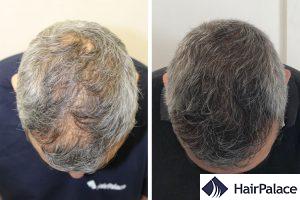 Ezra from London
Number of hair transplants: 1
Total number of implanted hairs: 5057 hairs
Ezra's hair thinned out at the top of the head. With his hair transplant, we have rebuilt the density and restored his full head of hair.
Visit our hair transplant clinic in London
HairPalace has hair transplant clinics in London, Paris and Budapest, where we carry out the procedures with the FUE2 SafeSystem method.
While we maintain the same standards and offer the same hair transplants at each of our clinics, our prices are in line with the local wages and running costs.
HairPalace's hair transplant clinic in London is located on Wimpole Street, in the Harley Street Enclave, famous for its aesthetic clinics.
In our London office, we await our patients for initial consultations, hair transplant procedures, and post-op check-ups too.
HairPalace Hair Clinic London:
Hamilton House
Mabledon Place
London, WC1H 9BB
United Kingdom
Phone: +44 20 7131 0229
How much is a hair transplant in London?
Many factors are affecting the cost of the hair transplant, most notably the number of hairs you need and the hair transplant method.
And though you do not need Wayne Rooney's paycheck to have a full head of hair again, a hair transplant in London would typically entail higher prices.
At HairPalace, our hair transplant prices in London range between £1989 and £9042 for the FUE2 treatments.
Our prices include the procedure, the medication and the clothes for the surgery, as well as your lunch on the surgery day(s). Our package prices are complete with our written guarantee on the success of the hair transplant, and the post-surgical care.
With the high costs of operating a clinic in central London, it is not possible to offer lower prices and still maintain the quality.
In our Budapest hair clinic, we provide the excellent quality you would receive in London. However, the lower wages and living expenses in Budapest allow us to keep our prices between £1390 and £2190 for the same amount of hair.
To determine how many hairs you need and thus, how much your FUE hair transplant would cost with us, our doctors would need to see your current condition.
Meet us for a free consultation in London
As the first step in your hair transplant journey, we invite you for a personal consultation in London. 
The one-on-one meeting provides an opportunity to discuss your expectations, and your options, with one of our hair transplant surgeons. 
We carry out a thorough hair density and scalp examination with a digital microscope. This allows us to assess the characteristics of your hair and scalp accurately, and provide you with tailored advice.
Knowing the number of hairs you need for the desired result, we can quote a precise price for your hair transplant. 
The no-obligation, free hair transplant consultation takes 20 minutes.
Advance reservation is required – you may book an appointment with our colleagues by calling +44 20 7131 0229.
Our hair transplant experts in London
The surgical hair restoration is a delicate procedure requiring extensive, specialized training and refined aesthetic sense.
We work with 6 surgeons who have vast experience in the field of hair restoration and the necessary skill set to achieve outstanding results.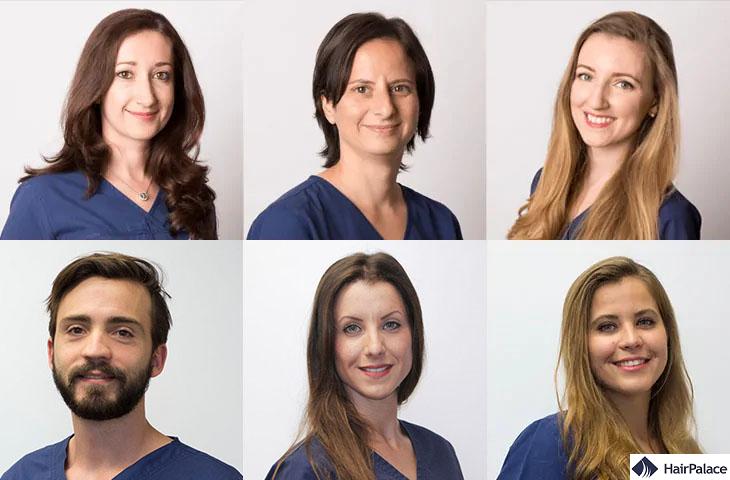 Why choose us?
With the vast number of hair transplant clinics and methods available, the decision is not easy.
At HairPalace, we are committed to helping you find the best solution to restore your hair.
What can we offer for you?
Experienced doctors

Our surgeons have 5-10 years of experience in hair restoration procedures. Together with our team, they are dedicated to providing you with a tailored solution to achieve the best hair transplant results.

Natural hair transplant results

The FUE2 hair transplant method allows us to reach exceptional success rates and natural, dense results.

Written guarantee

With the most effective hair transplant method in our seasoned experts' hands, we provide a written guarantee on your hair transplant.
If less than 80% of the transplanted hairs grow out, we reimplant the missing amount free of charge.

No visible scars

The FUE2 technique extracts the grafts one by one with a micro punch. As a result, the hair transplant procedure leaves no visible scars on the donor area.

Postoperative care

In our experience, proper aftercare is essential to reach the best hair transplant result. There will be 6 check-ups after the surgery to ensure that everything goes well. We will accompany you throughout your journey and our team will be at your disposal if you have any questions along the way.

Excellent price

We offer competitive hair transplant prices in London and in Budapest. Our comprehensive packages cover all costs, there are no hidden charges.
If you have any questions about our services, or if you would like to get a detailed treatment plan, we offer no-obligation consultations with our surgeons in our London hair clinic.
 
Which hair transplant method do we use?
At HairPalace clinic, we use the FUE2 technique, which is the improved version of the standard FUE procedure. 
Similarly to the original FUE, the grafts are extracted one by one. However, the FUE2 uses a blunt punch that minimizes the risk of cutting the grafts and reduces the trauma to the scalp.
We have chosen to work with this technique for the benefits it offers for patients in the short and the long run:
leaves no visible scars

pain-free procedure

success rates can be up to 95-98%

short recovery

minimally invasive

effective in preserving the donor area
The FUE2 method is available for you whether you go for a hair transplant in London, Paris or Budapest.
London hair transplant reviews
Every year, more than 500 patients entrust our experts with their hair restoration procedures.
At HairPalace, we aim to provide everyone with the same top quality treatment and care. We receive lots of feedback publicly, on Facebook, Trustpilot, and Google  – we believe that our patients' first-hand testimonials can help you find out more about what you can expect!
Take a look at some of our hair transplant reviews from patients from London!
Excellent and very professional service from initial consultation in London to final surgery in Budapest. Highly recommended. Many thanks.
   Miguel | Feb 28, 2020
Ultra professional and a great team of staff. No issues from start to finish. Contactable day and night. The whole procedure was smooth and easy, couldn't be happier and guarantee great results. Really clear information and guidance throughout the whole procedure. Would recommend to anyone who is thinking of getting a hair transplant.
  Kurtis Sandlan | Oct 17, 2019