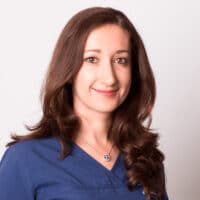 Hair transplant surgeon
Zsolnai Ljubov, MD
Dr Ljuba Zsolnai is registered with the Hungarian Medical Chamber. She has 14 years of experience in surgical hair restoration and is specialised in treating male pattern baldness with the minimally invasive FUE2 technique. For the last 10 years, Dr Ljuba Zsolnai has been performing hair transplantation exclusively at HairPalace Clinic in Budapest.
Education and training
2017 ISHRS 25th World Congress (Czech Republic)
2016 European Hair Transplant Workshop (England)
2015 Annual Scientific Meeting of the International Society of Hair Restoration Surgeons (USA)
2013 ISHRS Scientific Annual Meeting (USA)
2012 Botulinum Toxin - A workshop
2011 PRP Therapy in hair restoration
2011 Mesotherapy in hair restoration
Professional accomplishments
Associate specialist surgeon with the outpatient office of Gyorgy Falus, M.D plastic surgeon.
Affiliations
About our medical review process
At HairPalace, we are committed to providing accurate and evidence-based information on hair loss, surgical hair restoration and non-surgical treatment alternatives. To ensure that you receive credible and up-to-date information, our content is regularly reviewed to affirm the clinical accuracy of our content, visual material and products. Medical review is performed by Dr Ljuba Zsolnai who has extensive experience with androgenetic alopecia and hair restoration.