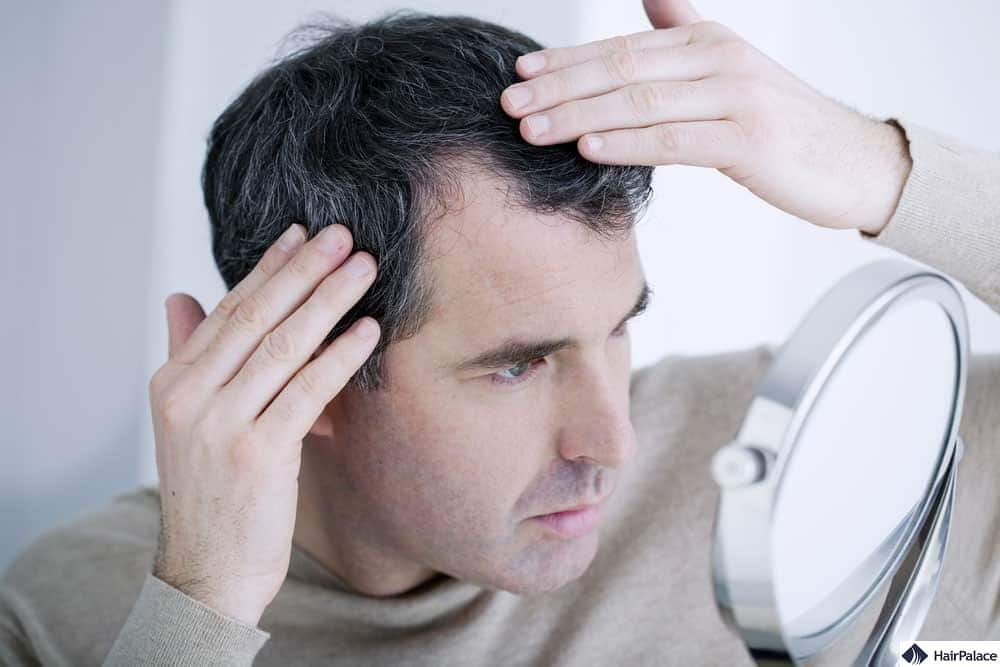 What is hair transplant? What is FUE hair transplant?
Hair transplant surgery is one of the most popular aesthetic treatments undertaken by men today.
A hair transplant is a procedure ensures high rates of success, providing patients with transformative results which ultimately restore a more youthful look.
But how does it work?
During surgical hair restoration, hairs are extracted from the back and sides of the head. These hairs are resistant to the hormonal changes responsible for male pattern hair loss. As the hairs will keep their original qualities after being implanted into the thinning areas, hair transplant surgery offers a permanent solution.
However, different techniques deliver specific results and command varying hair transplant prices.
Thus, it's vital to choose the method of hair transplantation best suited to your unique condition.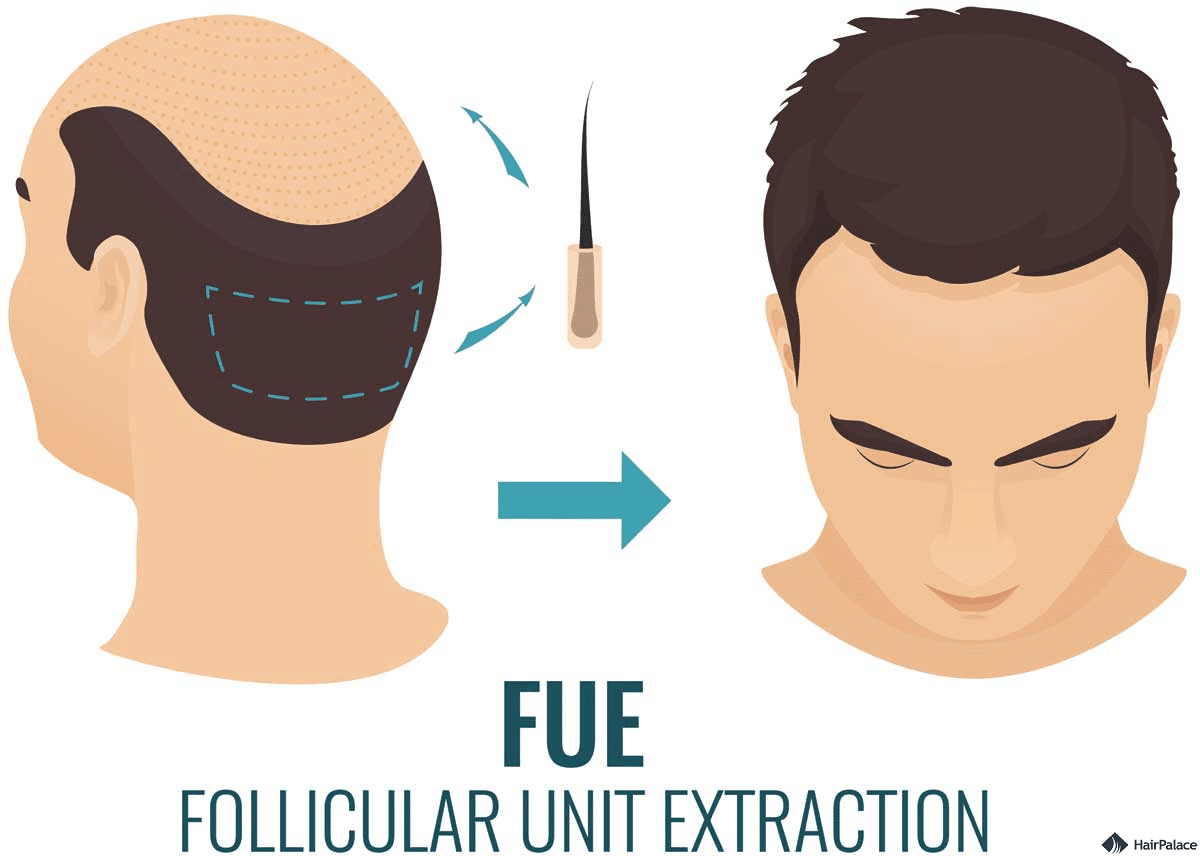 Follicular Unit Extraction (or FUE) was the most important hair transplantation innovation of all time. This is the most effective, modern hair restoration solution, able to enhance your self-confidence and appearance significantly.
While there are quite a few hair transplant procedures available, FUE stands out a bit. This is because instead of having bits of skin stripped off of different areas and grafted onto your scalp, or having hair plugs being inserted into the skin, it actually transplants the hairs one by one.
Basically, some of your existing active hair follicles, located usually on the sides and back of the head, are carefully extracted, cleaned, and transplanted into areas where the hair follicles have died.
This way the procedure leaves no visible, linear scars on the back. And as FUE hair transplants offer high precision, it allows doctors to achieve natural, dense results.
Who is the ideal candidate?
All hair replacement procedures have to use your existing hair – the goal of your surgery is to identify the most efficient applications for it.
Hair replacement candidates must have healthy hair growth on the back and sides of the head (the donor areas), and a large volume of hairs is key.
Hair colour, texture, and style (waves, curls etc.) can affect the aesthetic result of your surgery.
Find Out More With Our FREE Hair Analysis!
What is the FUE hair transplant method?
The FUE hair transplant technique was regarded as the biggest breakthrough in the field's history.
During FUE, hairs are transplanted from the head's back and sides: these areas do not become bald as they remain unaffected by hormonal changes.
The hair is harvested manually (in units of 1 – 3 hairs) using an FUE needle with a diameter of less than 1 mm.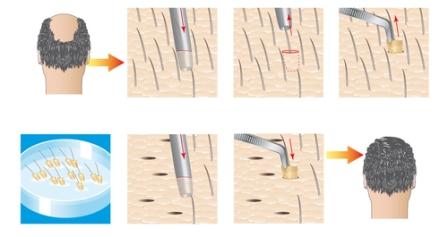 All hairs harvested from donor areas are processed under a microscope, before being transplanted to the target zones.
The implanted hairs settle into their new position over time and grow as they did in the donor areas.
During FUE, doctors only work in the skin's upper two layers (similar to tattooing).
As a result, patients can receive local anaesthesia only to remain comfortable, and no visible traces remain in the donor or recipient area.
The hairs' direction, depth, and angle can be regulated to guarantee they suit the original growth pattern in the target area.
This ensures a natural result, with permanent growth in years to come.
How does FUE compare to other procedures?
While there are a lot of other procedures and treatments out there, FUE stands out on its own merits.
It has the shortest recovery and healing time of all hair transplant procedures

FUE is a medical procedure and, like all medical procedures, it has a recovery time that you will need to go through. This is to give the body time to heal, give the follicles time to set properly and grow, and the swelling from the procedure to subside.
While it is true that the healing time is heavily dependent on the size of the area, the number of follicles used and the overall health of the patient, it is still rather short. It can vary from 5 to 7 days, even longer in extreme cases; however, it is not as painful and as long as the recovery time of other transplanting procedures.
While you still need to be careful during the recovery period and deal with some swelling, all in all, it is a lot more comfortable and a lot less problematic.

It is the least invasive hair transplant procedure

One of the main worries that patients have when it comes to procedures is how invasive they are. This is because they are more or less exposing themselves up to all kinds of risks such as infections and imbalances.
This procedure relies only on your own hair follicles, without any added substances or any extra elements. In all fairness, the punch used to extract and implant the hair follicles does not even penetrate through all the skin layers, to begin with.

It has the lowest risk of complications

Make no mistake about it, this is a medical procedure, which involves extracting cells from one side of your scalp and implanting them onto a different one. It is commonly known that medical procedures often carry the risk of complications and problems.
FUE is generally regarded as the hair transplant procedure that is the most unlikely to develop any complications. These complications can range from minor infections to major ones, from clotting to full-blown autoimmune responses, and FUE has the lowest probability of them occurring. So low, in fact, that it is often considered to be the safest transplantation method out there.

It is the least noticeable procedure

One of the most important aspects of getting a hair transplant is that nobody really notices that you've had one. That being said, you're looking for something that leaves as little marks and signs as possible.
FUE leaves behind nothing but a few white pit scars which are barely noticeable at best.
No other scars that actually stand out, no weird growth angles and without any thin base patterns. This is because of the fact that the procedure uses your own follicles, as well as the fact that it uses the ones off the back and sides of your head.
This means that the hair itself will never look out of place, will have the same consistency all around, and will always match properly.

It has the lowest failure rate out of all the hair transplantation procedures

By far one of the most asked questions when discussing a transplantation procedure is what the success rate is.
While there is no such thing as a perfect 100% success rate, FUE still boasts the highest success rate out of all the hair transplantations procedures currently available to patients.
With a whopping 99.5% success rate, it is currently considered one of the most reliable procedures that you can get for your scalp. This is with the occasional minor hair loss that can occur during recovery.
How long does the recovery take?
After your surgery


Your head may feel a little fuzzy due to the local anaesthesia.

7 days after hair transplant

Crusts appear on the head. During the first 7 days after the hair transplant, use the provided spray on implanted hairs every hour.

10 days after hair transplant

The tiny wounds have closed, though scabs and redness might still be visible.

2 weeks after hair transplant

During the 2nd post-op week, soak and massage the implanted area gently, to encourage the crusts to disappear.

3 weeks after hair transplant

You will be able to use a natural, gentle shampoo (such as baby shampoo).

1 month after hair transplant

Most of the implanted hairs start to fall out. DON'T PANIC: this is completely normal.

2 months after hair transplant

The implanted hairs continue to fall out as the roots enter the telogen (resting) phase of their growth cycle.

3 months after hair transplant

Typically, the implanted area looks almost as before, with a few new hairs visible.

4 months after hair transplant

The implanted hairs start to grow back gradually.

6 months after hair transplant

The new hair growth already provides a visible change.

12 – 18 months after the hair transplant

You can truly enjoy the final results and the spectacular change taking place.
More Before & After Photos about FUE Hair Transplantation
Male hair transplant: what and how common are the side effects?
While the FUE hair transplant is considered to be minimally invasive, it is a surgical procedure nonetheless. And as such, it has potential side effects.
Luckily, most of the side effects are short term, causing a minor discomfort in the first few days after the hair transplant.
Swelling
Lidocaine injections make the hair transplant pain-free. However, especially after larger procedures, it can cause swelling which we can prevent with medication.
Typically, if swelling occurs, it disappears on its own in 2-4 days. A gentle massage and drinking more water also help flush out the lidocaine quicker.
Itching
As the scalp heals and contracts, it may feel itchy. This is a relatively frequent occurrence, mainly during the first post-op week.
Though it can be understandably challenging, you must avoid scratching the newly implanted area. Instead, a few pumps of saline spray usually helps to soothe the skin and lessen the itching.
Infection
As with all surgeries, there is a risk of infection after the hair transplant too. It happens very rarely as we have a set of rules on how to best treat the freshly implanted scalp. To further minimize the risks, you will also have to take antibiotics in the first 7 days.
Grafts failing to take
A more serious potential complication of the procedure is the grafts failing to anchor in and grow new hairs. It happens very rarely at our clinic.
Firstly, FUE hair transplants offer high success rates. Secondly, we make sure that you are fit for the treatment before the surgery. And finally, we have regular checkups and proper aftercare in place.
And thanks to these practices, we offer our patients peace of mind with a written guarantee on the procedure.
Learn More From Our Patients' Hair Transplant Reviews!
What is the procedure on the day of your hair transplant?
We will schedule your treatment day as discussed in advance, to suit both your unique needs and those of the clinic.
You can confirm the surgical appointment of your choice by sending us the details of your flight, but you must arrive in Budapest one day ahead of your surgery.
Arrival at the hair clinic

At 8 am, you will be invited to enter your private room – prepared to be a comfortable, relaxing space.

You are welcome to bring personal items from home if you wish, to help you feel more 'at home' before your surgery.

Our Hungarian colleagues will be happy to help you at any time.

You are free to enjoy a novel, listen to music, watch a film, or make personal phone calls while you wait. We provide you with up-to-date home cinema systems, internet access, and more.

Consultation

Our colleagues take the time to prepare everything ahead of your treatment, and they will perform a comprehensive medical examination.

You will be able to discuss your surgery plan and the treatment day's schedule with your doctor.

Beginning the treatment: The harvesting phase

Your procedure will start at 8.30. You are welcome to read, listen to music, or watch a movie during the hair transplant surgery itself.

Our doctors are experienced surgeons, and will not be disturbed while performing the transplantation.

Multiple phases are involved in the surgery. You will be given breaks between them, with enough time to eat a meal, take a walk, or simply relax in your room.
We are committed to making your procedure as comfortable, relaxing, and satisfying as possible.

Lunch

Lunch starts at approximately 12.30 pm and lasts for half an hour. Our colleagues will order you a meal from a restaurant of your choice.

Stage two of your treatment: The implantation phase

The second stage of the hair transplant begins at 1 pm. You can continue to watch a movie or listen to music during this process.

After the hair transplant

Most of our hair transplant procedures end at 6 pm. The surgery's duration depends on the number of hairs to be transplanted, and your doctor will be able to tell you the exact end-time by the halfway point.

There is no need to stay in the hospital overnight or to remain under observation. You can return to your premium accommodation after the treatment, and fly home the next day.

After the hair transplant procedure

After your hair surgery, you need to follow your doctor's instructions and allow your new hairs time to grow.

You will be able to carry on with your life and enjoy your new, restored hairline.

You will have a more youthful look, greater self-confidence, and feel utterly rejuvenated.

Have questions after the treatment? Please don't hesitate to contact us.
Summary
Because hair loss is such a massive stress factor for men, scientists have spent years researching and trying to find a cure for baldness. While no actual cure was discovered yet, there have been breakthroughs in regards to treatments and interventions.
There are a lot of substances out there that are designed and created to stagger hair loss for as long as possible, or even stop it dead in its tracks. There are also treatments out there designed for men that have already lost hair and are looking to get it back.
At HairPalace, our experts use the most advanced FUE hair transplant, the FUE2 for safe, effective results. This tool allows the surgeon more precision and reduces the chances of any follicular units being damaged during the hair extraction/implantation process. As a result, success rates are higher — leading to more satisfied patients.
The FUE2 hair restoration method is a fantastic solution that can achieve transformative, permanent results.
For a tailored solution and more information on hair transplantation, contact our expert team.
Start Your Hair Transplant Journey With a FREE Hair Analysis!