DHI is one of the newest hair transplant methods on the market, but how is it different to the more popular FUE and FUT techniques? And what can you expect if you try it?
Read on to discover:
How DHI works
How DHI differs to FUE and FUT
Who it's best for
Potential side effects to be aware of
And more
By the end of this post, you'll have all the details you need to decide which hair transplant technique is right for you!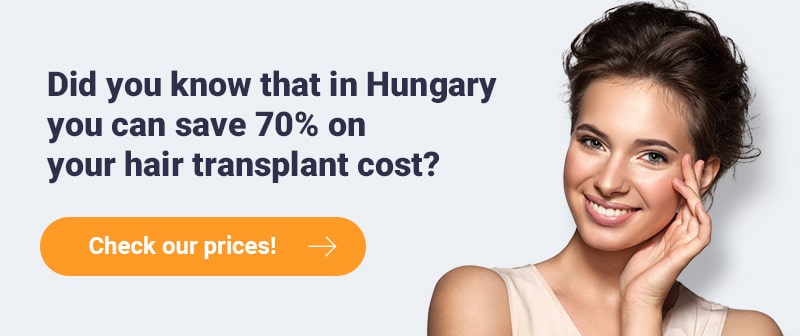 What is DHI?
DHI (Direct Hair Implantation) was created by the DHI Global Medical Group in 2010. It's a modified approach to the conventional FUE (Follicular Unit Extraction) hair transplant method, performed with a cutting-edge handheld device — the Choi Implanter Pen.
How does Direct Hair Implantation (DHI) work?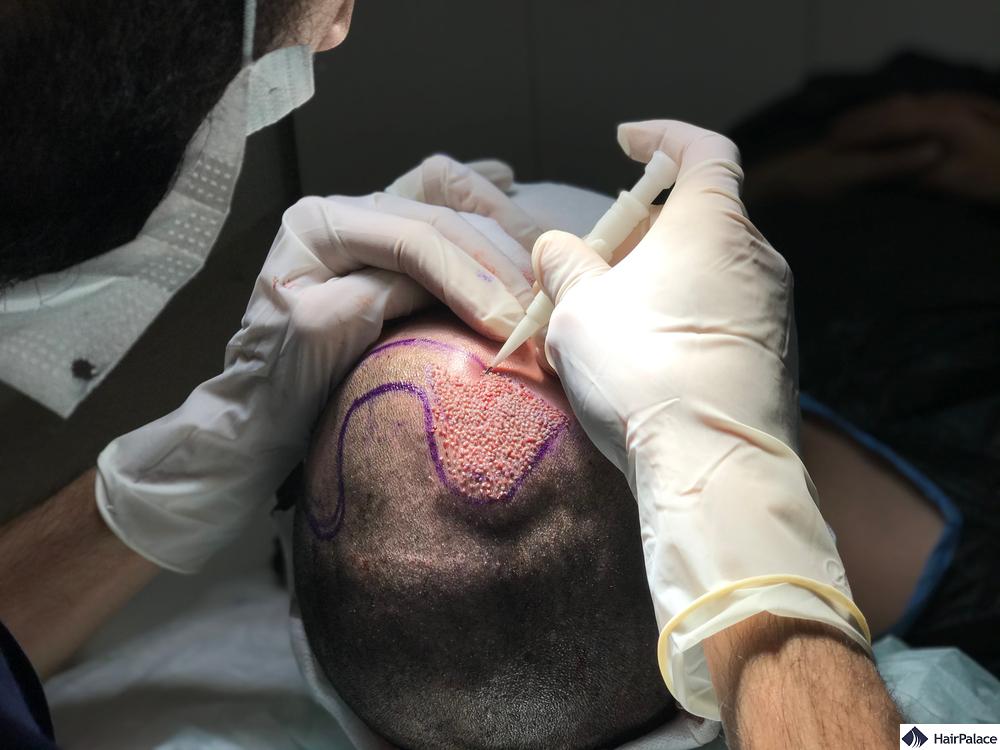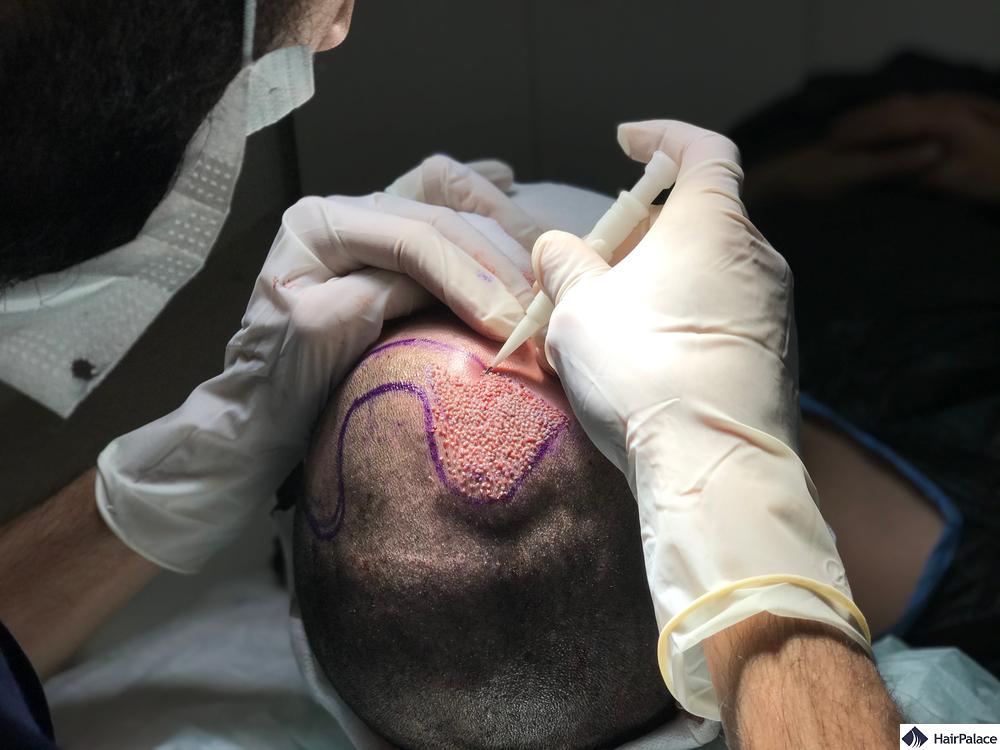 A hair transplant surgeon may start the DHI treatment by shaving your head, though that's not always necessary. This depends on the extent of hair loss in the balding area.
The surgeon will administer a local anaesthetic to numb the scalp and help you stay comfortable during the procedure.
Next, the surgeon will extract hair follicles from the back of the head with a high-precision tool. The number of follicles required varies based on the severity of your hair loss and your aesthetic goals.
Once all donor follicles have been gathered, they'll be loaded into the Choi Implanter Pen. Your surgeon will implant them into the target area(s) of your scalp with great care. This is a delicate part of the procedure, and the surgeon should understand the unique pattern of your hair growth for the best results.
DHI hair transplants usually take around eight hours, though this can change according to the number of hair follicles required.
What is the difference between DHI, FUE and FUT procedures?
DHI is designed to achieve natural hair restoration like FUE and FUT (Follicular Unit Transplantation), but the procedure is different from both techniques in multiple ways.
DHI vs FUE
DHI hair transplants involve extracting hair follicles from the scalp with a handheld tool — a process similar to that of the FUE method. But the implantation stage is totally different.
During an FUE procedure, a surgeon implants donor follicles into pre-made incisions on the thinning/balding areas of the scalp. The DHI Choi Implanter Pen bypasses this stage entirely — it creates incisions and implants hairs at the same time instead.
The canals opened in the scalp during a DHI transplant are exactly the same size as the graft. This minimizes the physical impact of creating incisions.
The surgeon can also control the implants' depth and angle accurately, to ensure new growth aligns with surrounding hair over time. This is vital to achieve the most authentic results and maintain full discretion, which is crucial to many patients.
DHI vs FUT
FUT involves cutting a strip of skin from the back of the scalp and dissecting it to harvest hair follicles. A surgeon implants these into incisions, just as they would in an FUE procedure.
However, FUT leaves visible scarring on the back of the head from the removal of the skin. This can be a huge issue if you want to wear your hair short, as the scar will be more noticeable.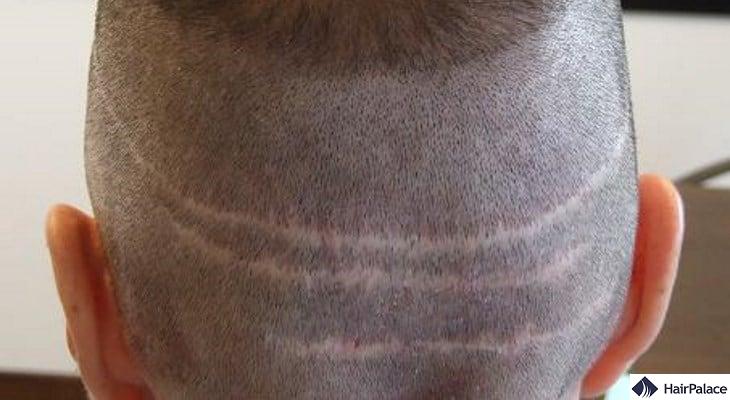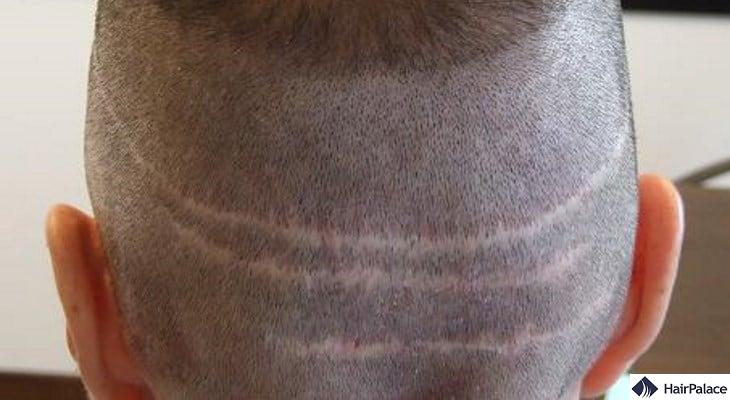 As a result, the FUT technique is fairly outdated when FUE, DHI, and stem cell hair transplants offer less invasive options.
Who is DHI recommended for?
DHI is generally recommended for people with minor hair loss, such as mild recession of the hairline or around the temples. For example, men who start to develop a mature hairline in their twenties, thirties, or forties may choose a DHI procedure to increase density along the front of the scalp.
This can create a more youthful, balanced look and decrease the visibility of hair loss.
Patients looking to restore hair in the eyebrows, beard, and/or moustache may also be suitable candidates for a DHI hair transplant. This can add thickness and restore growth in areas that may otherwise be overlooked with conventional hair transplant procedures.
However, DHI is not ideal when hair loss is more advanced and affects most of the scalp. If you have male pattern baldness, for example, an FUE hair restoration procedure would be a more effective option.
Why? Because the number of grafts that can be performed during a DHI session is limited to between 2,000 to 4,000 (depending on the hair clinic).
That means you'd need to return to your surgeon for two or more treatments if you required 5,000+ grafts.
Obviously, undergoing multiple sessions is less than ideal for most patients. It increases the cost of your overall hair restoration journey and requires you to take more time out of your life to visit a hair clinic. That could be a problem if it affects your work.
It's best to speak with a hair transplant specialist about your hair loss and your treatment options before you commit to DHI, FUE, or FUT. Learn as much as you can about each method to make sure you pick the ideal one for your hair.
Does the procedure have any side effects?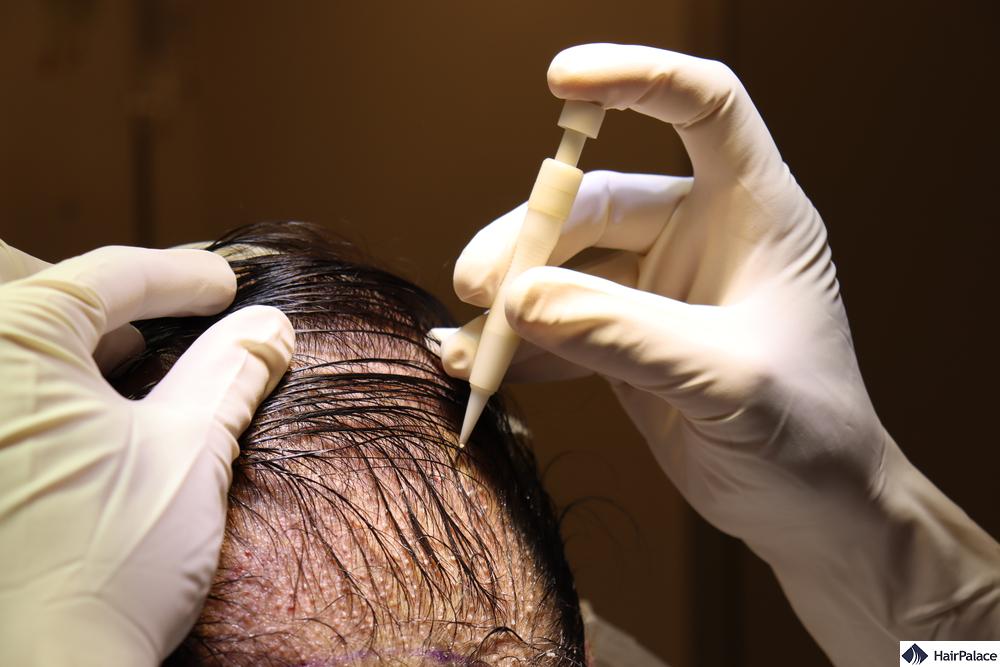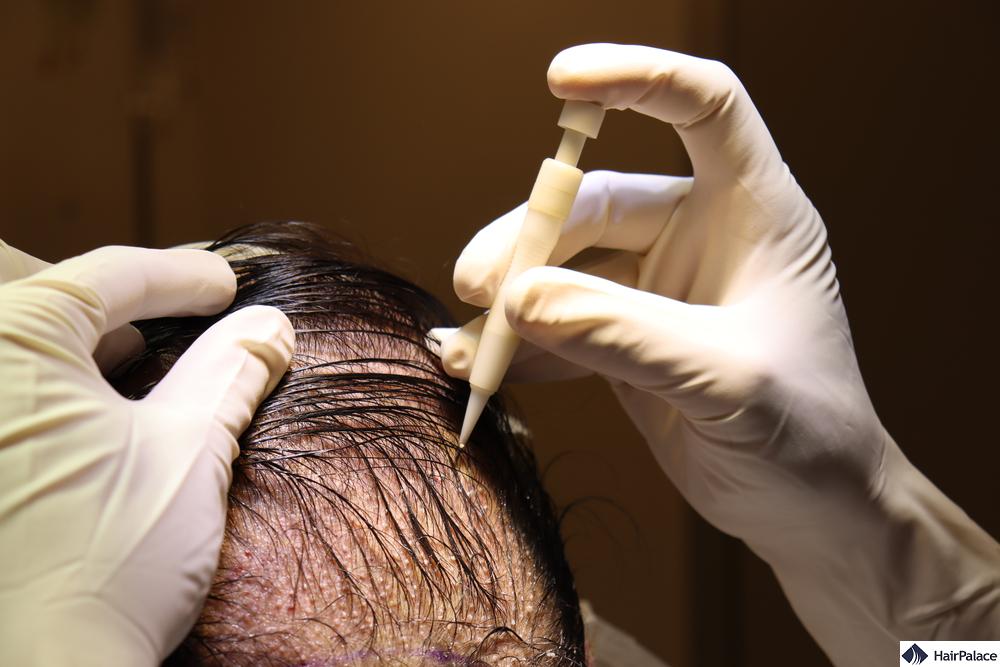 DHI hair transplants can lead to a number of side effects, like any other hair restoration technique.
These may or may not occur if you undergo a DHI procedure. But it's best to be aware of the potential risks before you make your decision.
Infection
An infection might develop at the implantation site or in the area from which the donor follicles were harvested.
A surgeon can decrease the danger of an infection by following basic health and safety rules to create a hygienic operating environment.
Bad reaction to anaesthesia
Anaesthesia is required to numb the scalp before a DHI procedure begins. You might have received local anesthesia before and experienced no negative reactions. But if you have, inform your surgeon about this ahead of your treatment.
Shock hair loss
Shock hair loss involves temporary thinning or balding at the implantation site. This is not usually something to worry about, and patients generally make a complete recovery within a few months anyway.
Bleeding
Bleeding is one of the most obvious potential side effects of a hair transplant, though it's unlikely with the DHI technique. Any bleeding should be temporary and easy to treat.
Dizziness
If you feel dizzy during or after your DHI hair transplant, inform your surgeon. This could be a result of the anaesthesia and should wear off after a few days.
Inflamed hair follicles
Hair follicle inflammation should be temporary as the scalp responds to the new hair follicles.
How to groom your hair after a DHI treatment?
You'll be eager to start experimenting with your hair as it becomes thicker and fuller. But don't rush into trimming and styling it, otherwise you could affect the results of your procedure.
Follow these tips for safe grooming after your DHI treatment:
Give your hair three or four weeks to grow before you book a haircut
Let your hair dry naturally after you wash it — avoid hair dryers for a few weeks (too much heat applied directly to the scalp can damage your hair follicles and may disrupt growth)
When the time comes to start reusing a dryer, keep it on a low setting and be as quick as you can
Be gentle when combing or brushing your hair, especially when it's wet and weaker
Apply styling products sparingly to avoid build-up around the follicles
DHI reviews: Does it have a high success rate?
Clinics providing DHI treatments claim it has a 100% success rate, primarily due to its minimally invasive nature. Before and after photos show noticeable restoration, particularly with receding hairlines: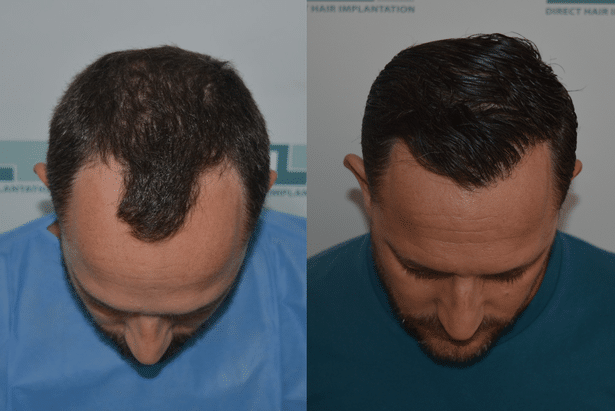 But what do patients say?
Reviews are generally positive, though some patients report being disappointed. This may be due to a number of reasons, not necessarily the transplant itself: poor customer service, ongoing hair loss causing further baldness, or side effects could all prompt patients to write negative reviews.
Again, comprehensive research is a must. Check a clinic's testimonials and take advantage of free consultations to get a clear idea of what to expect before any hair transplant.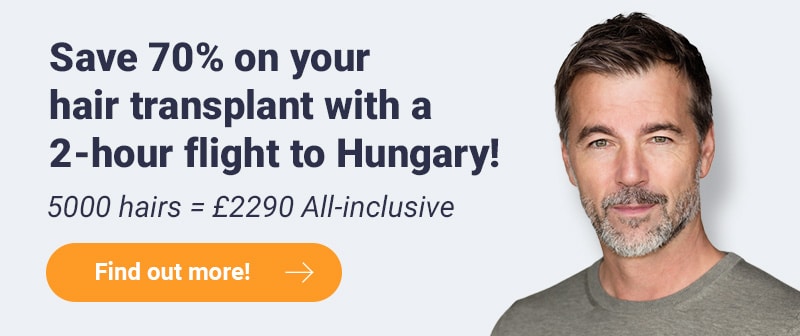 How much does a DHI hair transplant cost?
The cost of a DHI hair transplant in the UK ranges from around £5,000 to £15,000, depending on the clinic. If you need multiple sessions, the overall price could be significantly higher. are
And remember: DHI may not be the best option for you if your hair loss is more advanced than mild recession at the hairline or temples. A more comprehensive treatment would be better — and FUE hair transplant costs are suitable for diverse budgets.
If you want to learn more about undergoing an effective hair transplant, discuss your options with an experienced specialist today. Book your free consultation at a HairPalace clinic near you to get started!