What is a hair transplant?
During the hair transplant, the surgeons transfer the hair follicles from the back or the side of your head to the balding area.
These procedures are typically performed in local anaesthesia and take several hours, depending on the size of the thinning areas to be covered.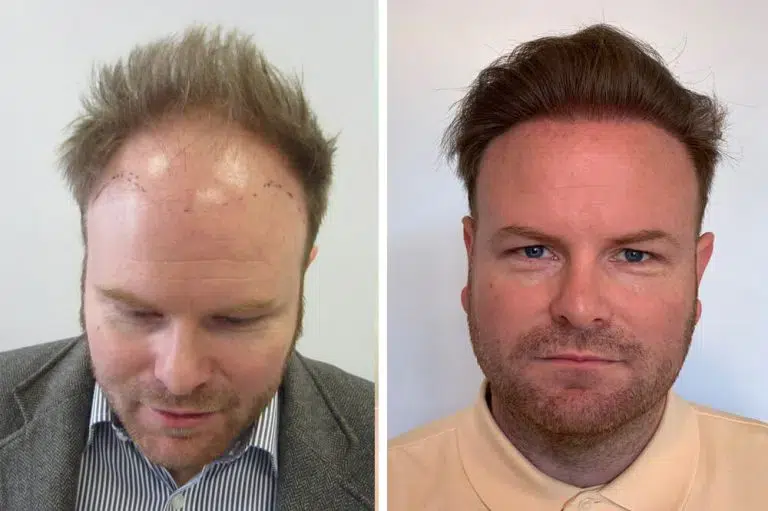 It is a popular solution for patients affected by a receding hairline, balding crown, or male pattern baldness. This treatment can restore growth with natural, seamless results.
Does hair transplant work?
Yes, hair transplants do work, and they can restore your hair with permanent results.
Follicles growing at the back are not sensitive to the DHT hormone, so they are unaffected by male hair loss.
During hair restoration surgeries, these follicles are moved to the bald or thinning areas to improve the density.
As they will remain resistant to DHT, they will continue to grow naturally.
Modern techniques available today also minimize trauma to the scalp and grafts, leading to success rates of 90-95%.
Fast facts
| | |
| --- | --- |
| Techniques | FUT, FUE, DHI |
| Duration of surgery | typically 6 to 8 hours |
| Anaesthesia | local anaesthesia |
| Shaving | required to 1mm |
| Pain levels | none to slight |
| Common side effects | temporary swelling, redness, scabbing |
| Scarring | practically invisible |
| Recovery | 7-10 days (depending on method) |
| Exercise | from 3-4 weeks post-op |
| Hair wash | gently from 2 weeks |
| Final result | 12-15 months post-op |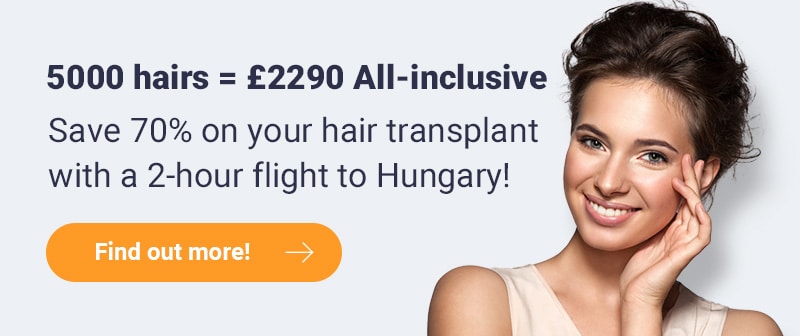 2 types of hair transplant
There are 2 main hair transplant techniques available that use different methods to extract the hair follicles.
FUT hair transplant method: This involves removing a longer piece from the scalp at the donor area. The surgeon dissects the skin into follicular units and implants them into the recipient area. They close the incision with stitches: the FUT leaves a horizontal scar on the donor area.
FUE hair transplant method:

The surgeon harvests the follicles one by one using a special micropunch. While it does not leave a large, linear scar on the back of the head, it takes longer than an FUT surgery.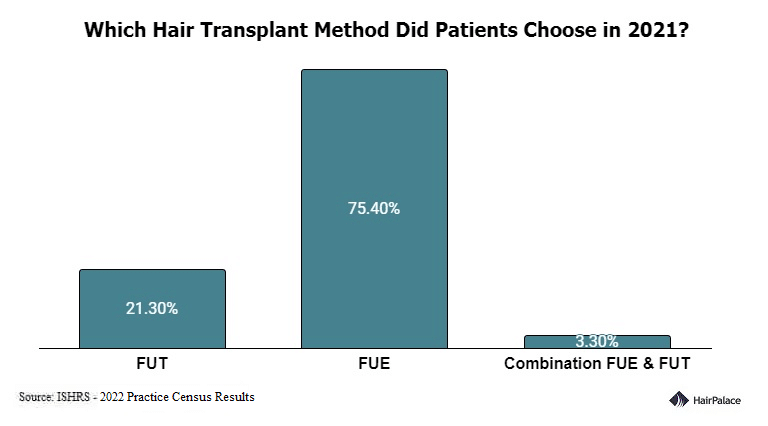 As they offer quicker recovery and minimal scarring, recent years saw an increase in the popularity of FUE procedures.
The 2020 practice census of the ISHRS found that the vast majority of patients prefer this hair transplantation technique.
6 advantages of hair transplantation
Aesthetic change
By far the biggest advantage of a hair transplant is the aesthetic change patients experience. These procedures can help you regain your youthful appearance and self-esteem.
Increased confidence
Feeling good about your appearance will improve your self-esteem and increase your confidence.
Natural look
Hair transplant uses your own hair, so the result will look and feel natural. During the implantation, the surgeon will mimic the natural pattern and density of your hair to achieve full, seamless result.
Permanent result
Hair implants provide life-long results. The transplanted follicles will not be affected by hormones causing male pattern baldness, and wil continue to grow in their new place.
Cost effective
The hair restoration surgery is a one-time expense for a lasting change. While alternative hair loss treatments are cheaper, they will remain a recurring expense, potentially for years.
Simple, low-risk procedure
Modern techniques allow you to restore the density of your hair in a 1-day surgery. While success rates are high, these minimally invasive procedures have low risk of complications, and mainly temporary side effects.
Who is a good candidate?
Hair surgeries offer truly transformative, confidence-boosting results for patients of all ages: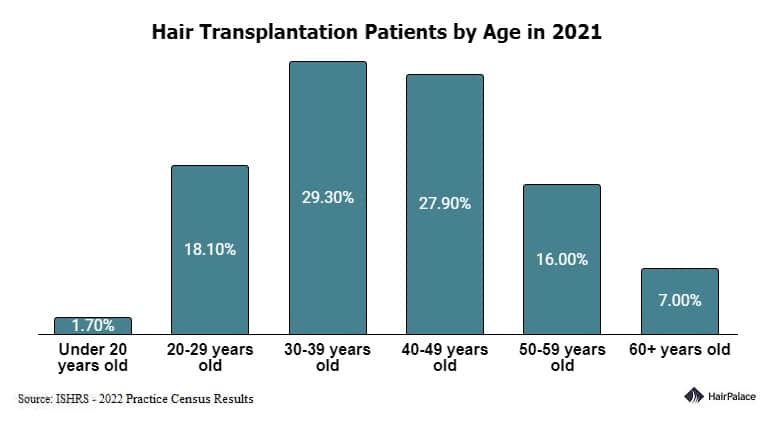 Instead of your age, your medical history and the characteristics of your hair loss will determine if the surgery is the right solution for you.
In general, you may be an ideal candidate for the procedure if:
Your hair loss reached at least Stage 2 on the Norwood Scale
You have been experiencing hair loss for more than 3 years
Your hair loss pattern has stabilised
Your hair at the back and sides of the head is dense enough to allow the extraction
How much does it cost?
On average, hair transplant costs in the UK range between £3000 and £10000.
At HairPalace in Budapest, we offer more affordable packages from £1390 to £2190, allowing you to save up to 70% on your procedure.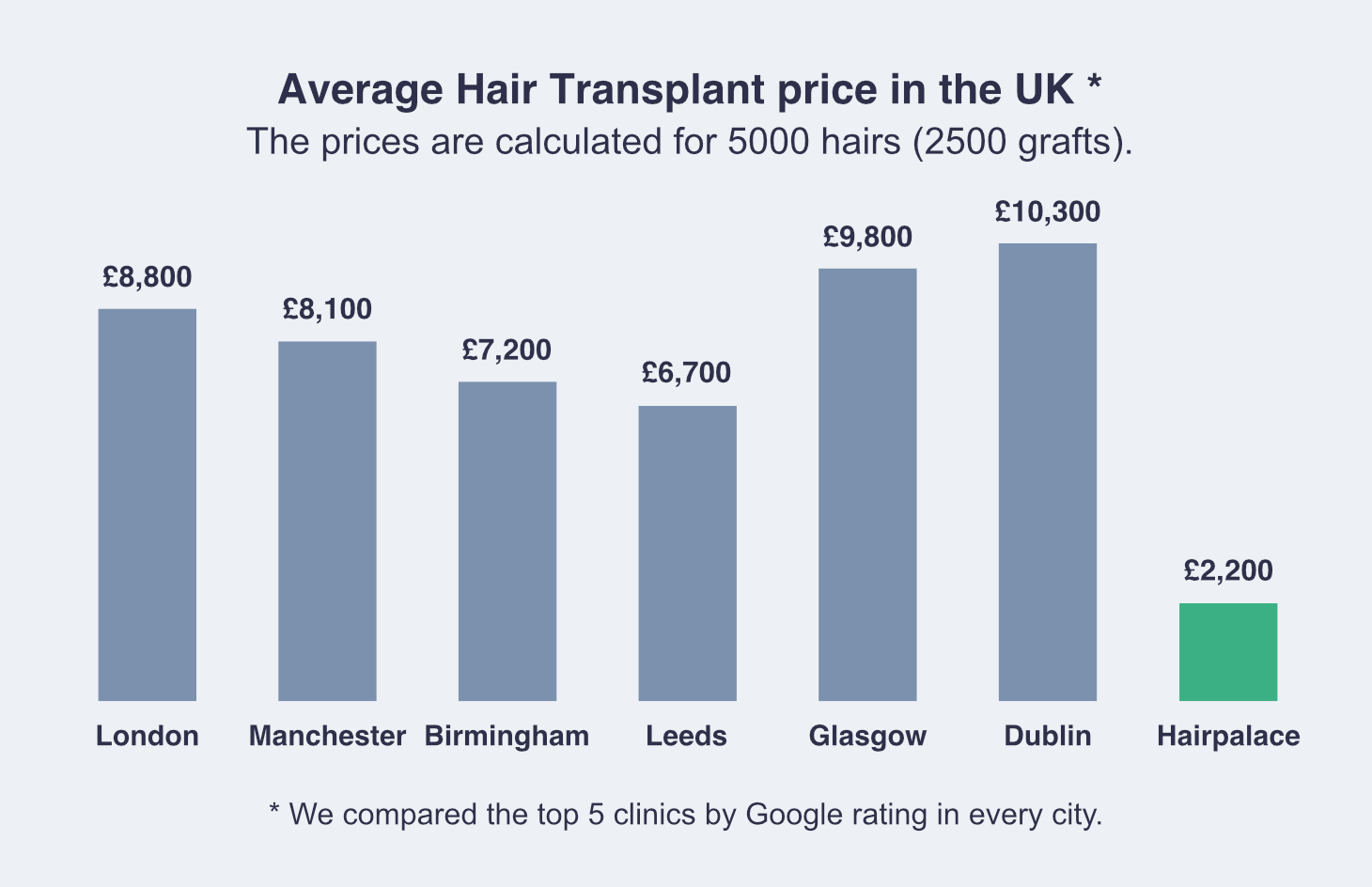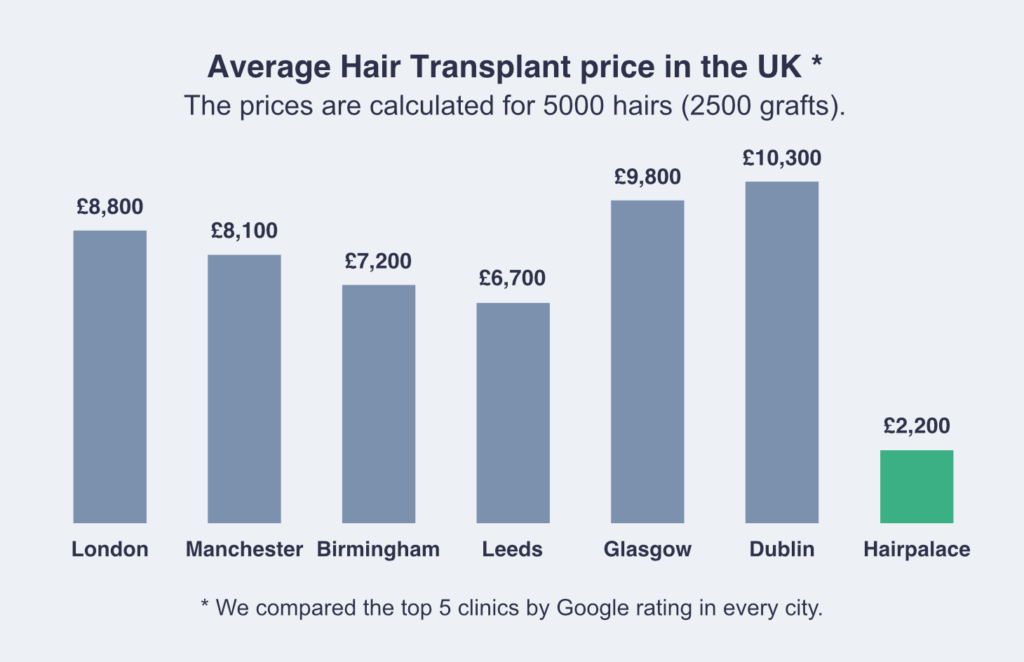 Every year, thousands of patients choose to travel to Hungary for their procedures.
Even with the travel costs, they save thousands on the price while receiving quality hair transplants at modern, well-equipped clinics.
How many grafts will you need to be implanted?
The most important factor that will affect the price is the scope of the surgery.
The extent of hair loss, and the size of the thinning area will determine the number of grafts you need: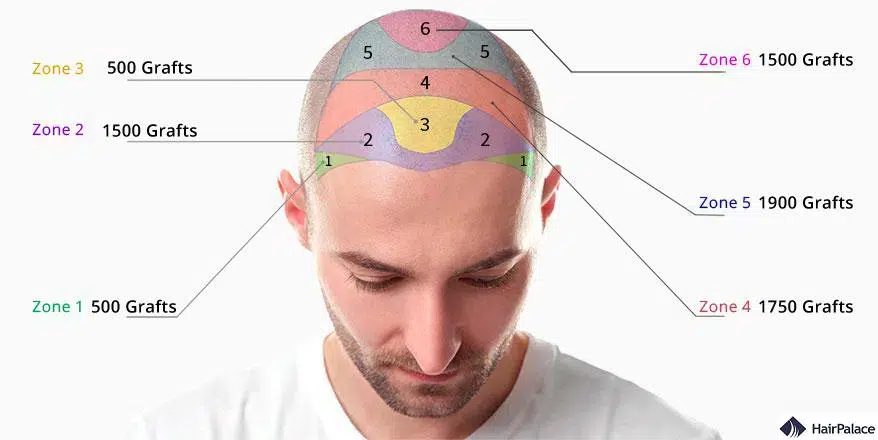 Doctors will also consider the quality of your hair, and the existing density in the area you would like to fill up.
As a result, an in depth consultation with an expert is required for an accurate quote.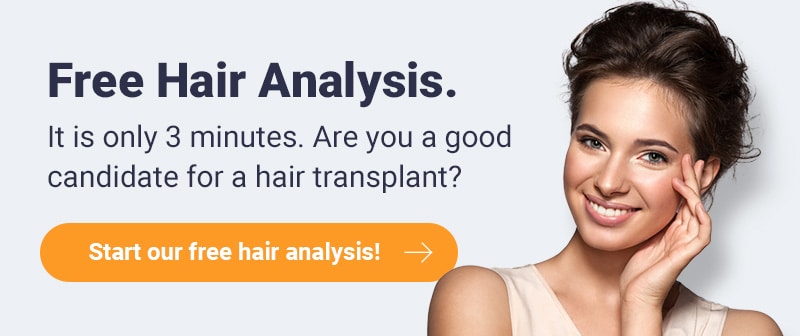 Hair transplant procedure: 8 key stages
Hair transplants are minor surgeries carried out under local anaesthetic and are considered minimally invasive.
Here is what you can expect on the day of the surgery:
Your hair will be cut short so the surgeon can see everything precisely.
The surgical sites will be cleaned and disinfected.
The surgeon will administer local anaesthesia to numb the donor area.
The hair follicles will be removed from the back and sides of the head.
The assistants will clean the follicles and prepare them for implantation.
The surgeon will numb the top of scalp. Then, they prepare the tiny incisions on the recipient area.
Then, they will implant the new follicles.
The surgeon will clean the surgical sites again and put a bandage on the donor area.
The surgeries usually take 6-8 hours to complete, depending on how many hairs you need to be transplanted.
Typically, patients have 2000-3000 grafts implanted in a single session. In case your hair loss continues to progress, you might need a follow-up procedure.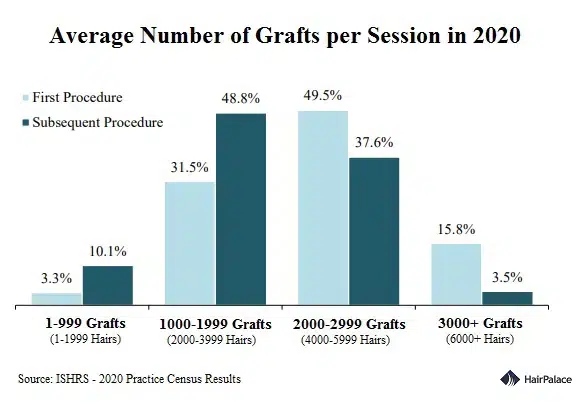 While there are individual differences, most follow-up sessions are smaller treatments with fewer than 2000 follicles.
Recovery process after the surgery
Recovery after your hair transplant will be quick.
As these are minimally invasive, outpatient procedures, you can return home on the same day or the day after.
While each clinic has slightly different aftercare instructions, your recovery after the hair transplant will likely go as follows:
Day 0: Remove bandages before you go to bed.
Day 1: Start using saline spray.
Day 2-4: Return to work.
Day 7: Wash your hair gently.
Day 14: Scalp must be free of scabs.
After 3 weeks: Implanted hairs start to fall out.
After 3 months: New growth starts.
After 6 months: Visible improvement in the density.
After 12-15 months: Result is complete.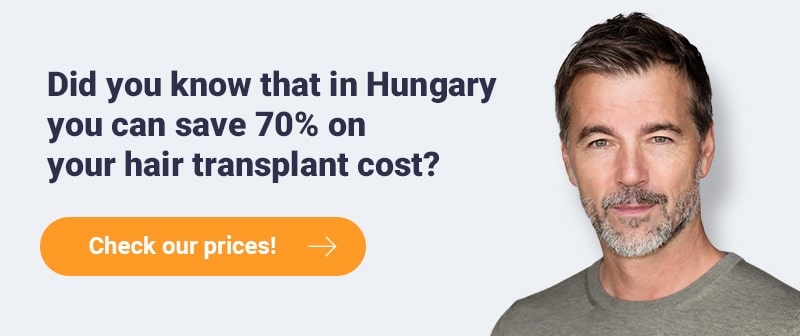 Hair transplantation side effects
Modern hair restoration is safe and effective when carried out by a trained and experienced surgeon.
However, they are surgical procedures nonetheless, and as such, even a successful hair transplant has potential side effects.
You may experience some soreness in your scalp following your treatment. A clinic may advise you to take medications to:
combat infections
reduce swelling after hair transplant
reduce pain after treatment
Luckily, most side effects are short term, causing a minor discomfort in the first few days after the surgery.
The potential side effects are:
hair transplant scar

s

scabbing

itching and swelling of the scalp

bleeding on the donor area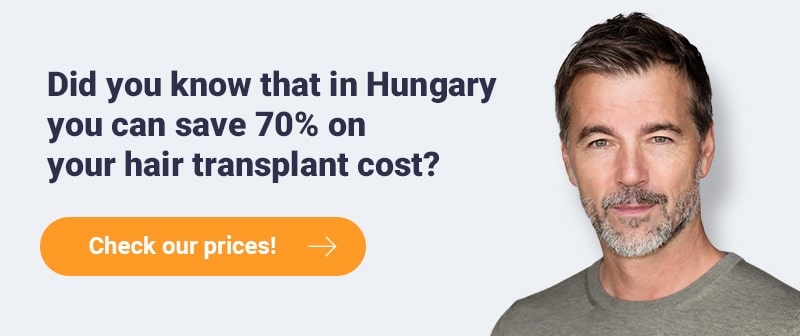 What are the long-term results?
Your hair should keep growing as normal following an implantation. But the density of the hair can differ due to:
The quality of the hair
The hair's shape (e.g., wavy, curly)
The looseness of the skin on the scalp (scalp laxity)
The number of follicles in the treatment area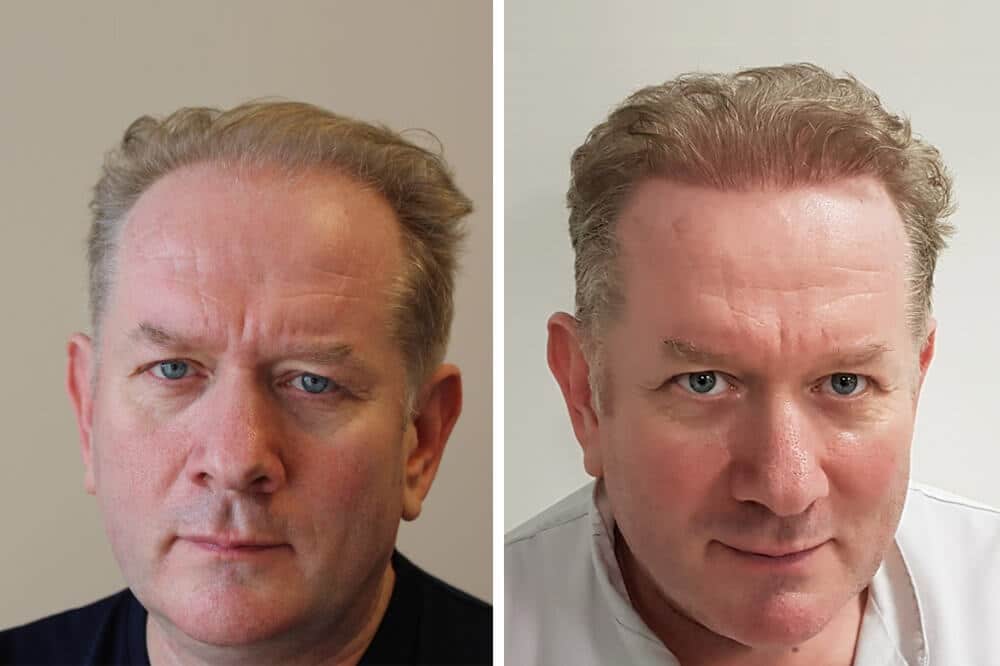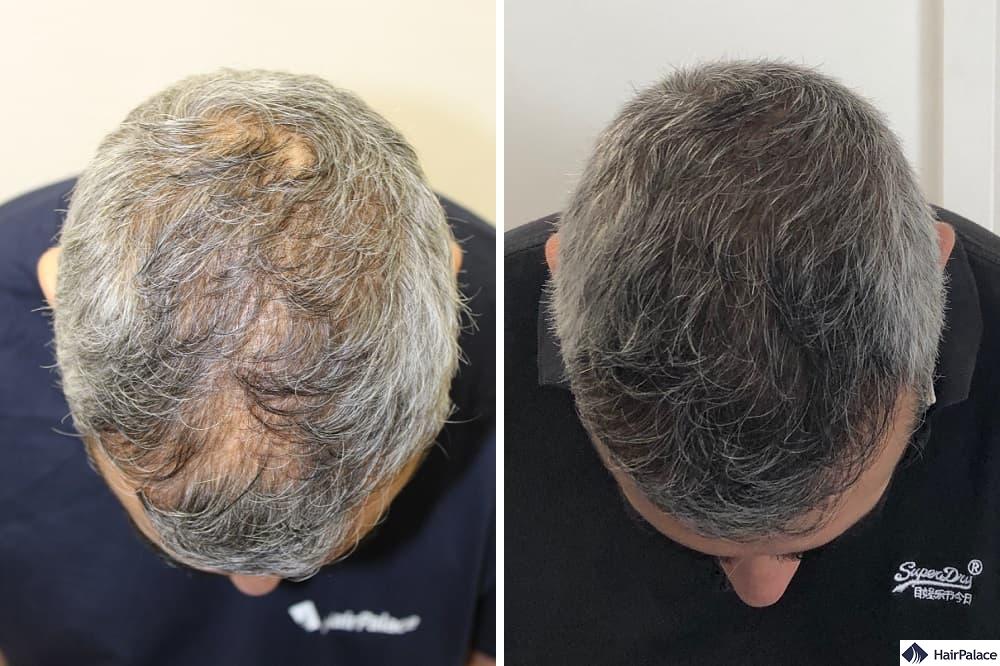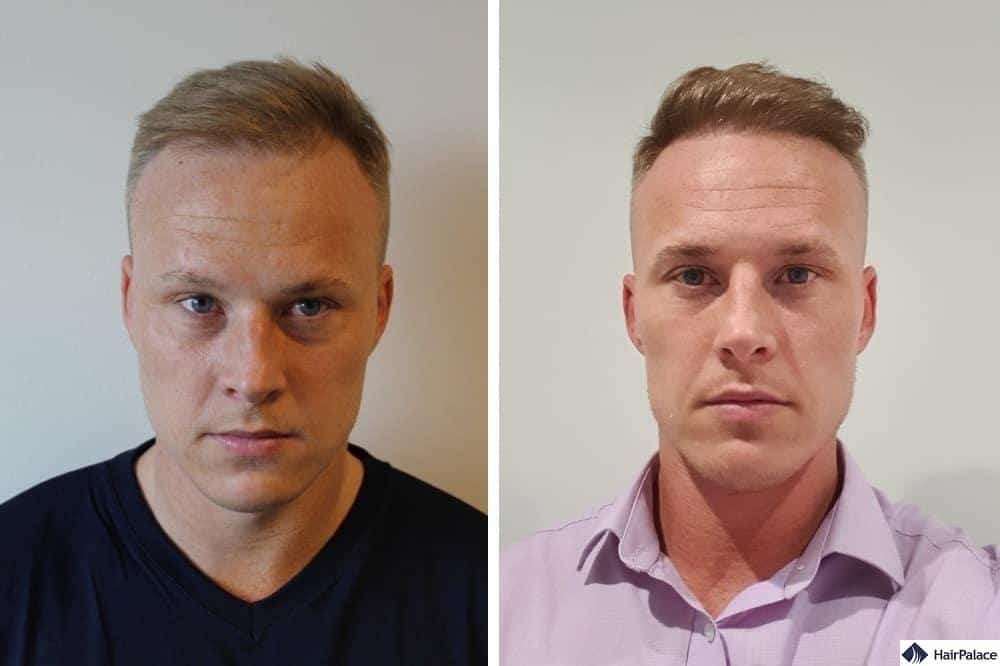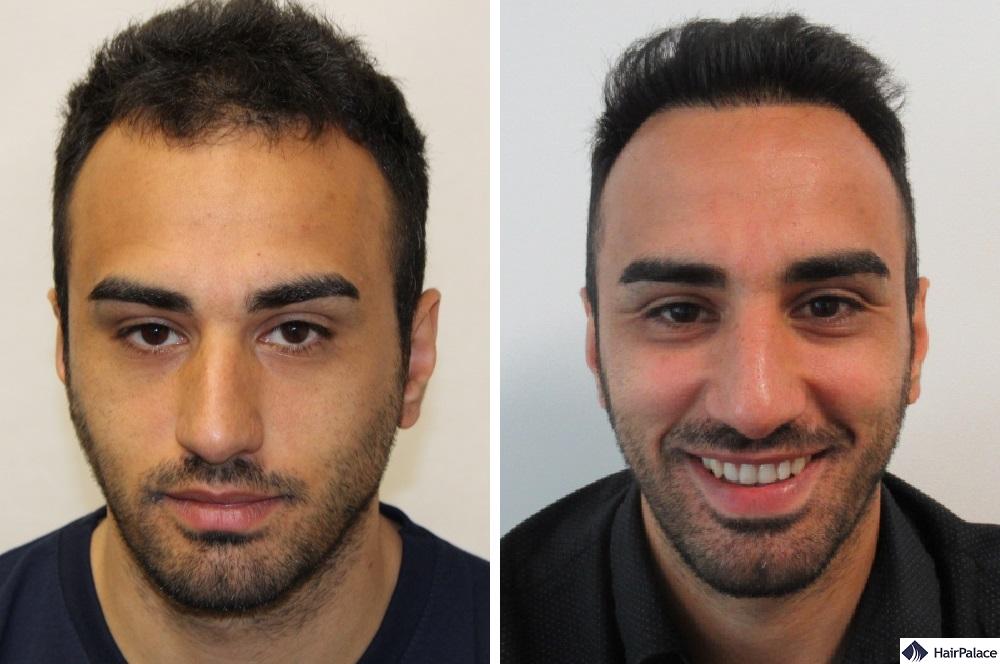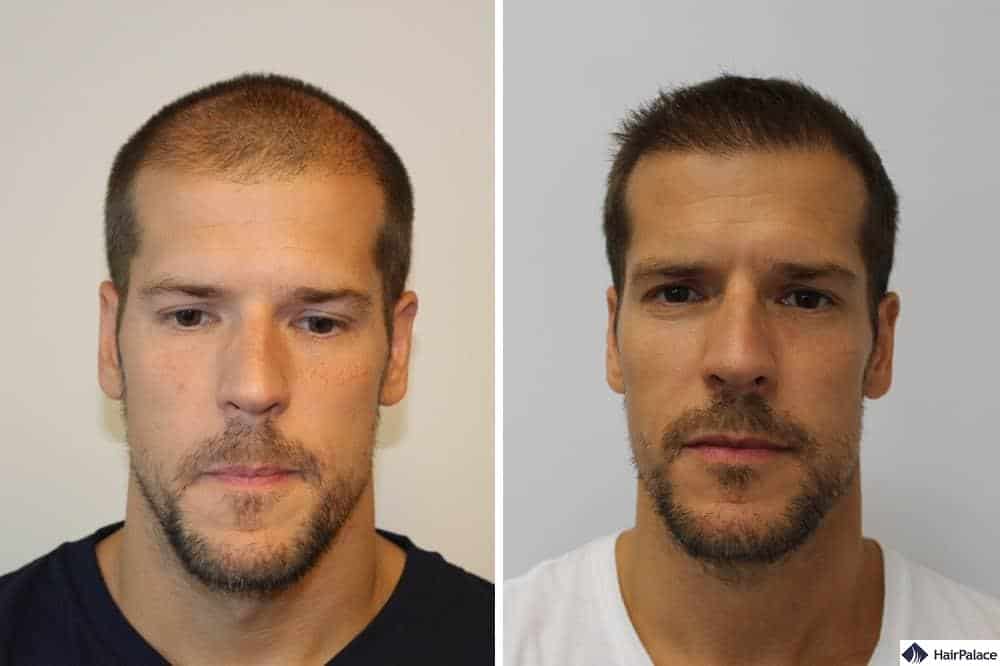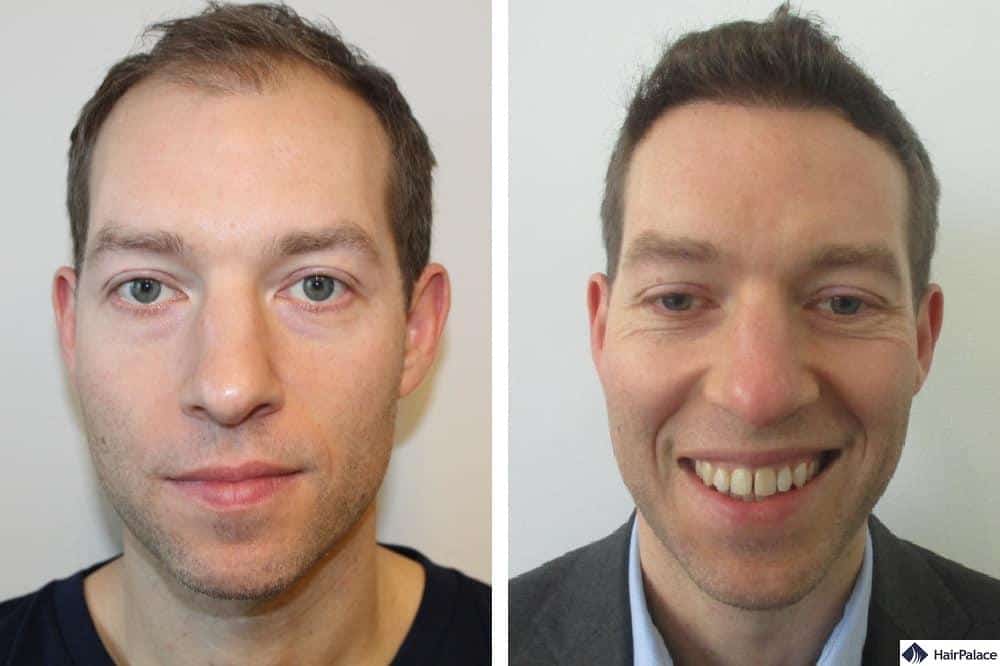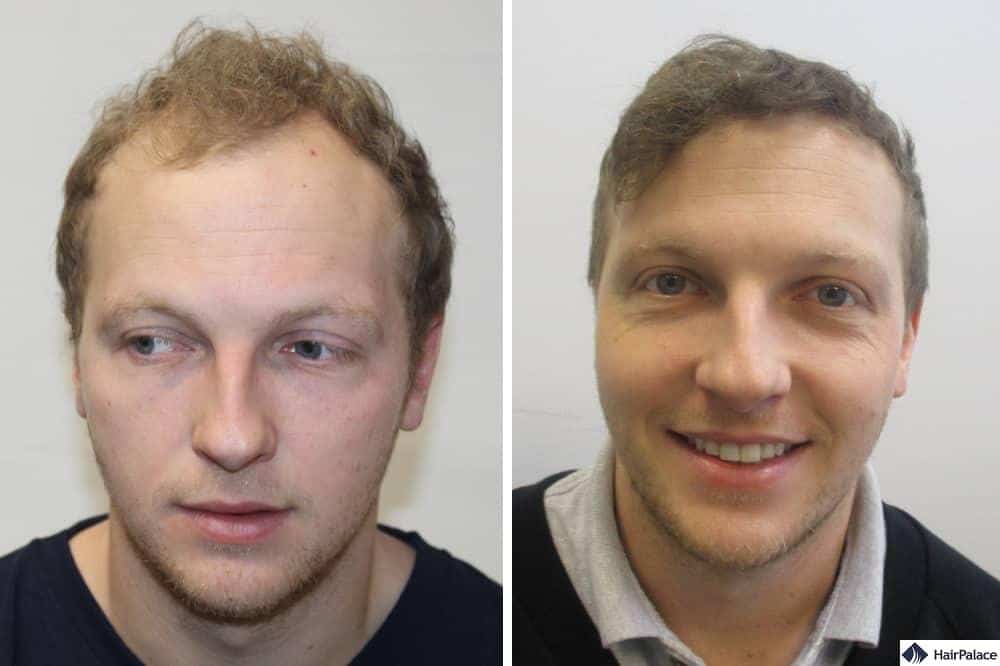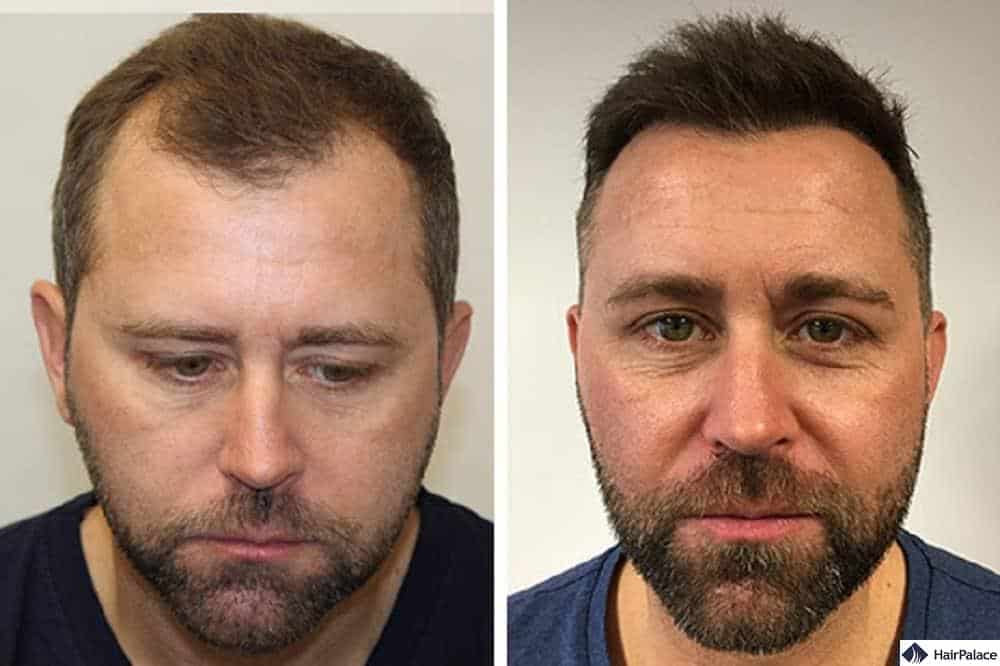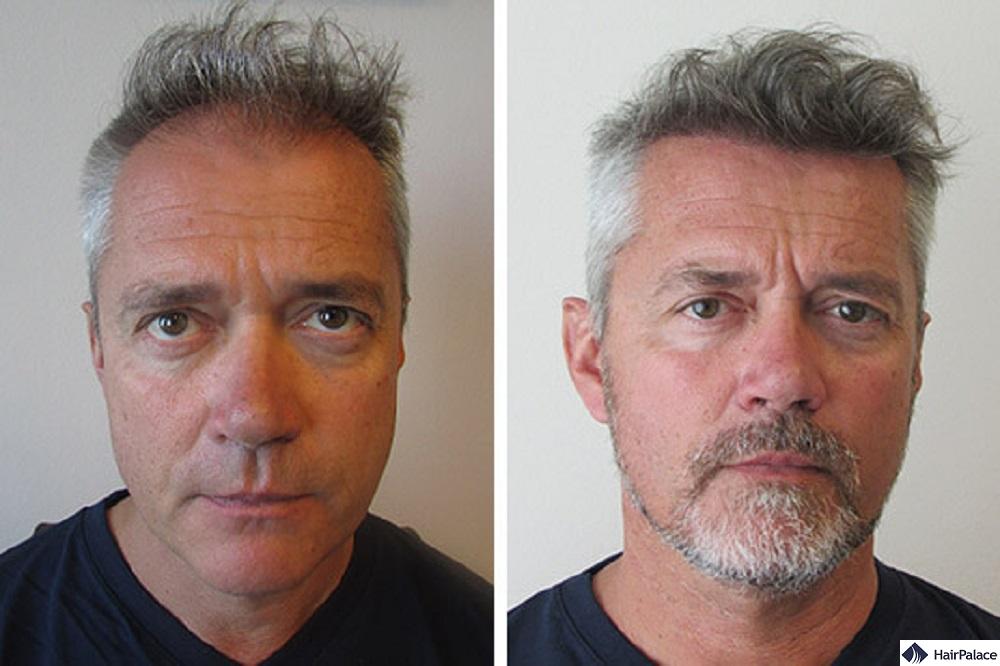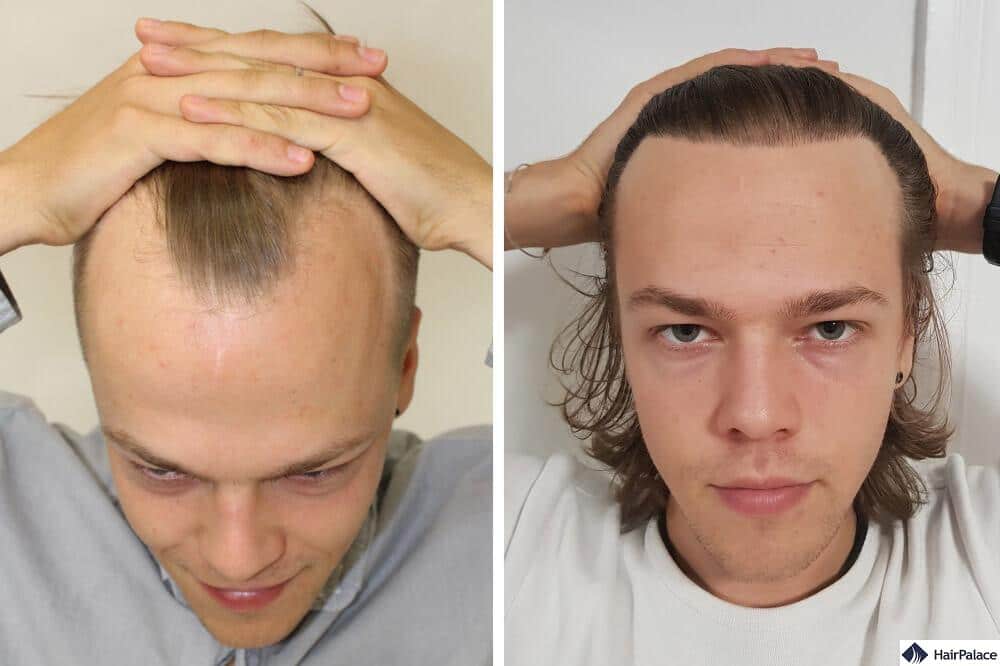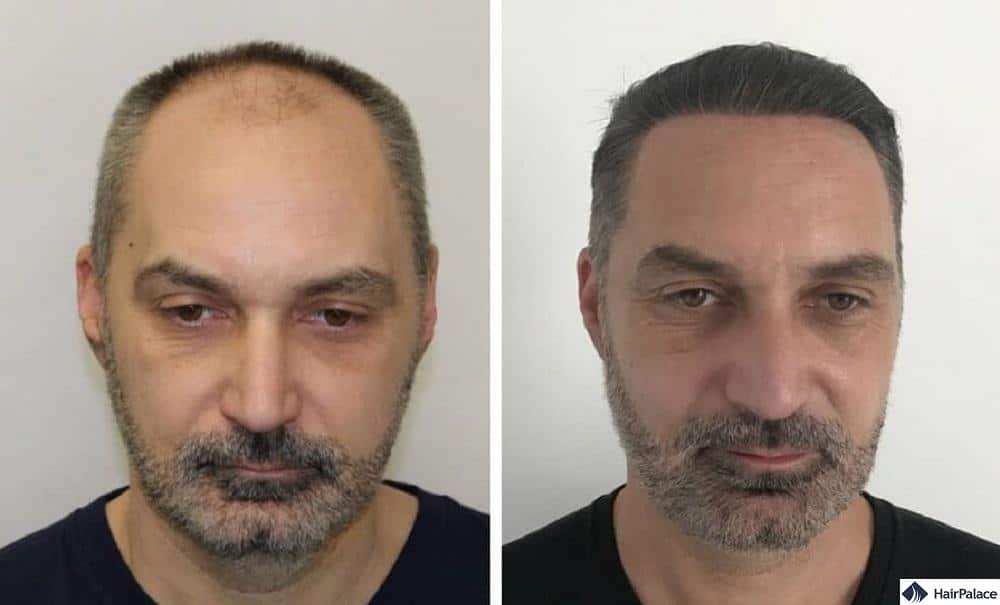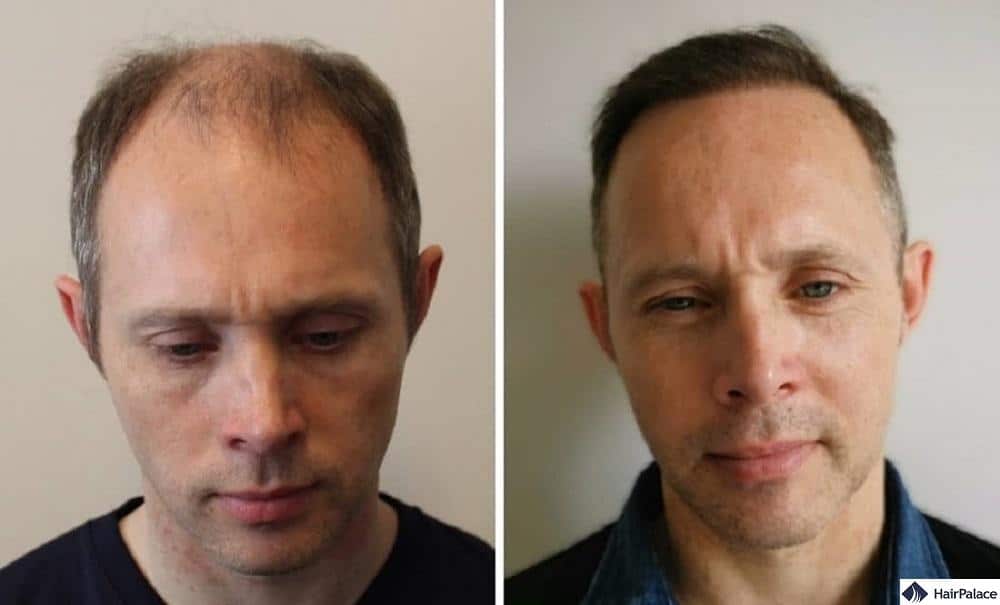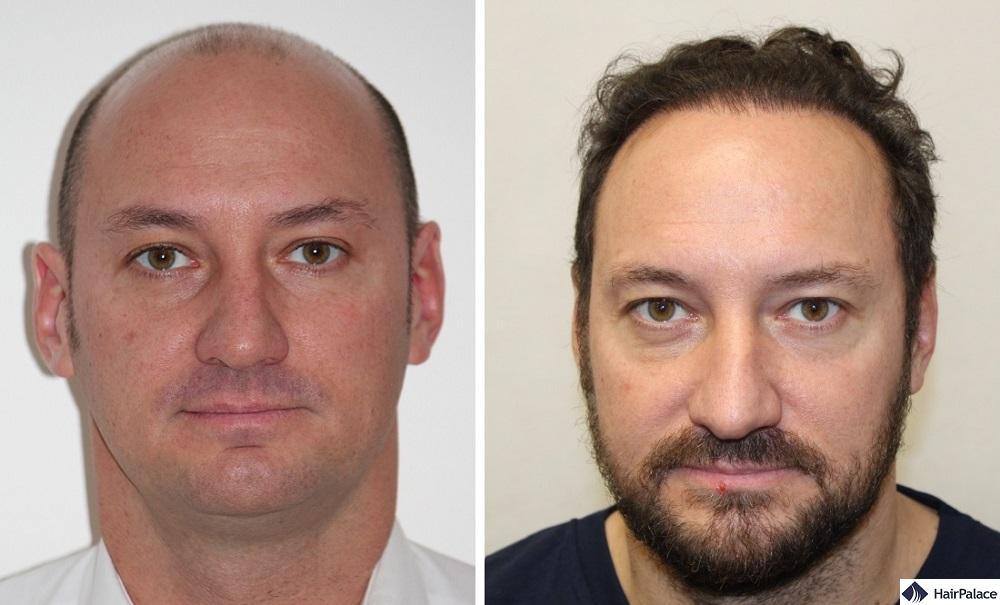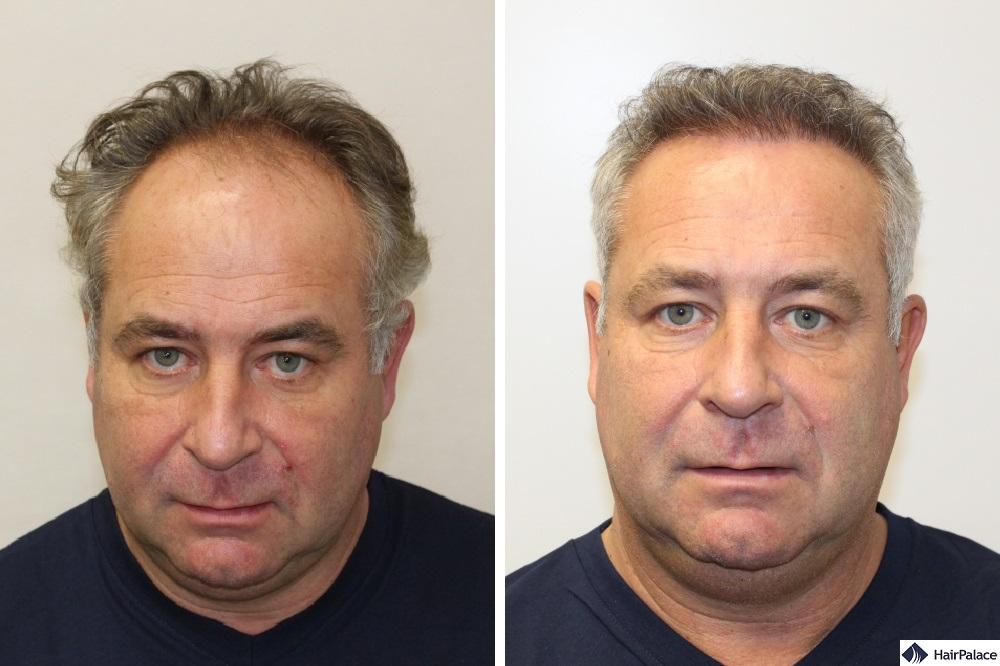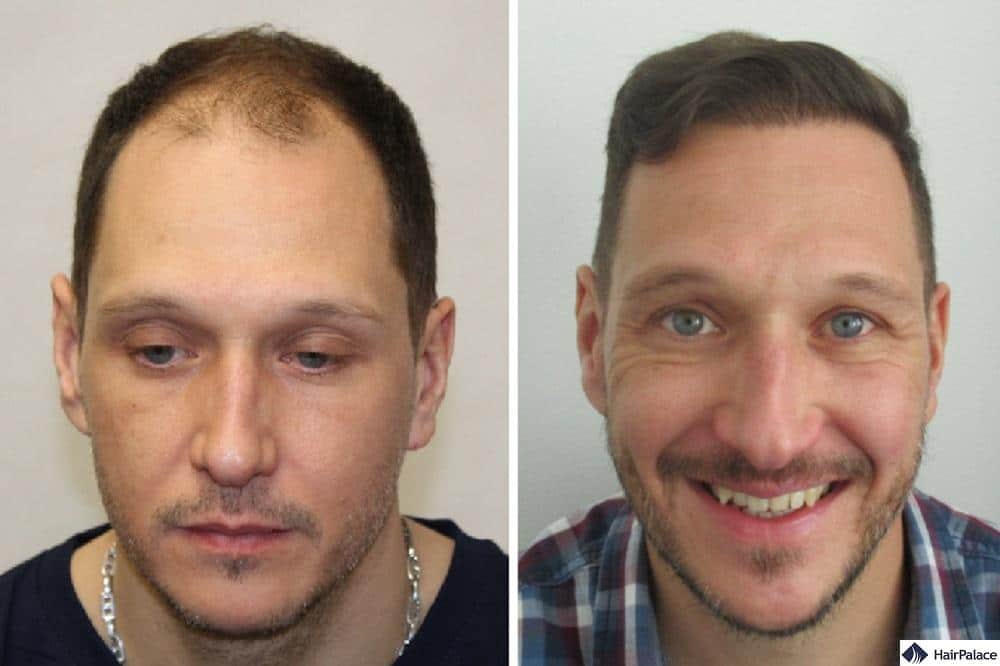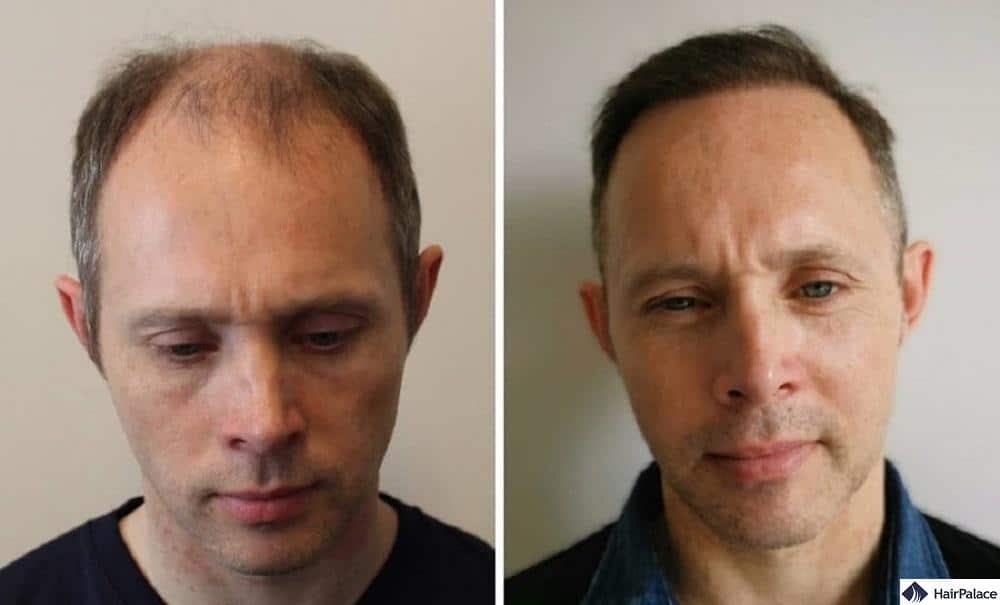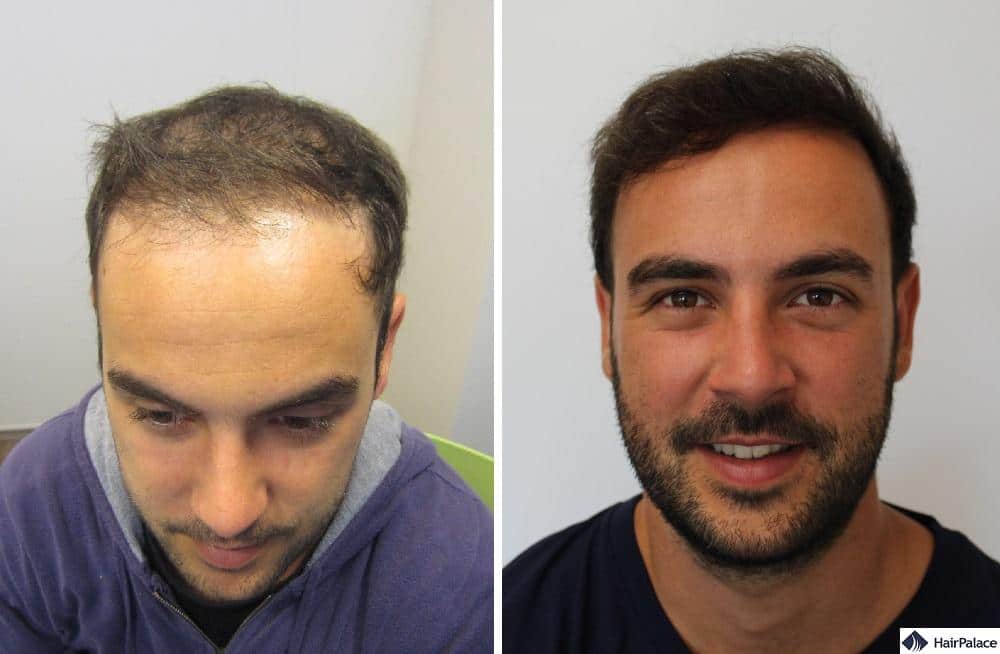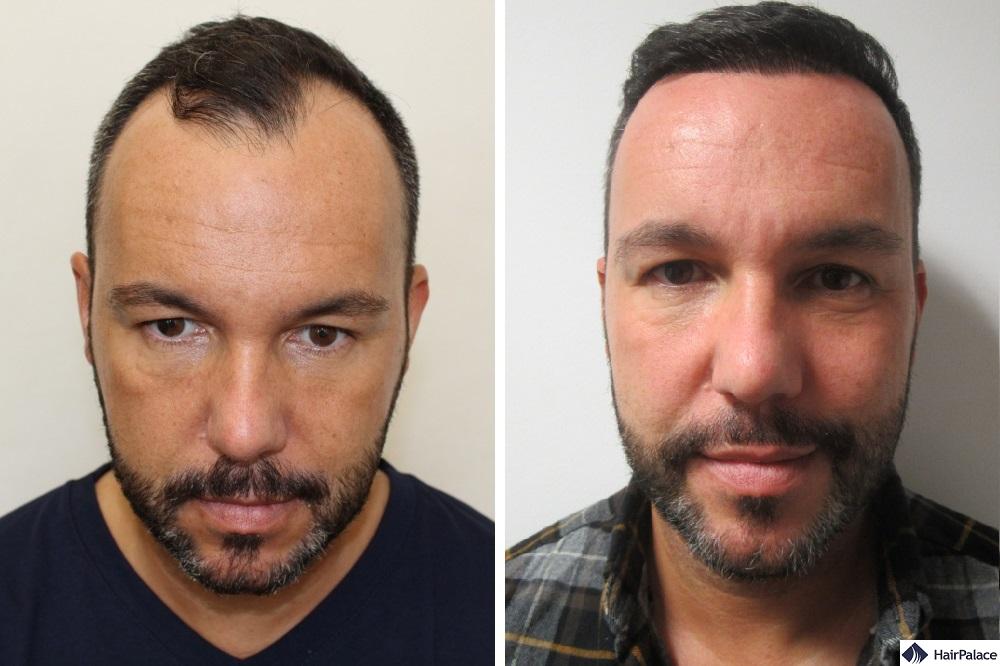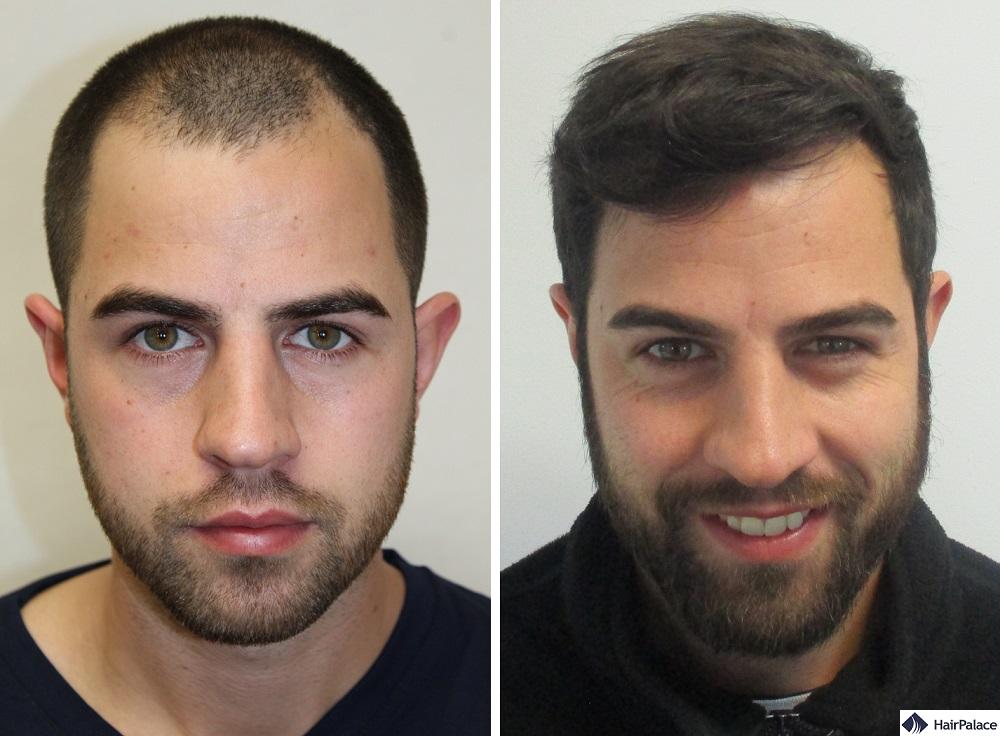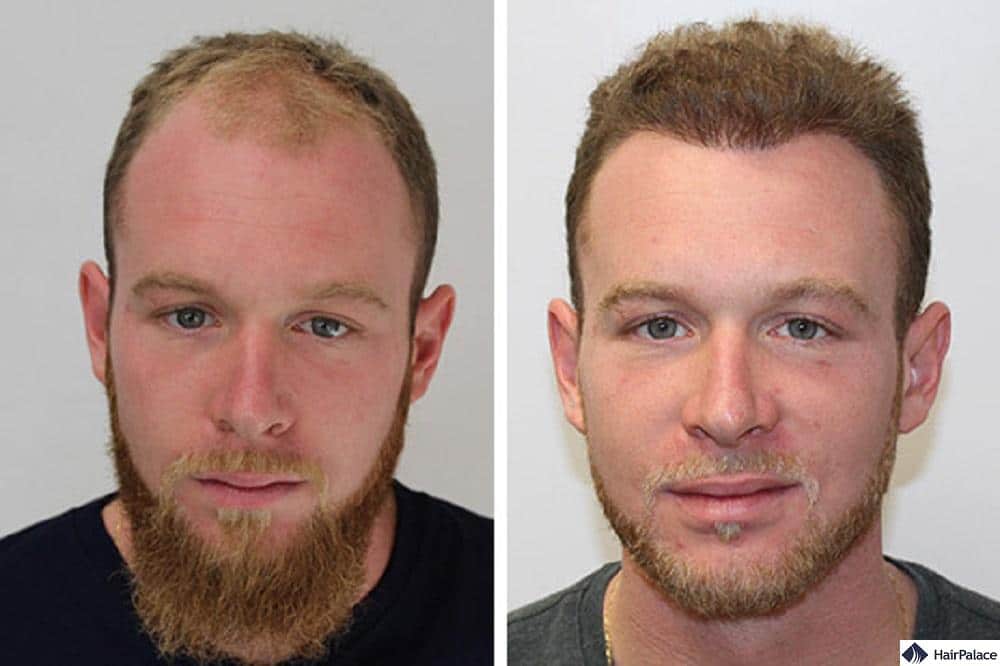 The only way to effectively restore the density on the bald or thinning areas is hair transplantation. It is important to choose the best method to achieve the best hair transplantation results.
These procedures will not stop the hair loss, and you may need follow-up treatments in the long run. However, carried out by qualified surgeons, modern methods offer lasting results and high success rates.
Hair transplant at HairPalace – Dean's experience
FAQ
What is the success rate of a hair transplant?
Hair transplant have high success rates: clinical studies have revealed that around 85 – 95% of all implanted hairs grow in their new areas successfully. This shows that hair transplant procedures achieve the patient's ideal results in the vast majority of cases.
How painful is a hair transplant?
You're likely to experience soreness or pain in the treatment and donor areas of the scalp after your hair transplant. You may be prescribed pain medications for a few days to reduce the risk of infections.
Are hair transplants worth it?
If your hair loss continues to affect your quality of life, a hair transplant may help reduce your anxiety and boost your self-confidence. Hair restoration procedures often transform patients' lives and help to improve their self-esteem.
Is hair transplant a safe option?
Hair transplant treatments are safe with no (or minimal) side effects. As other surgeries, it has some risk of complications, such as bleeding, swelling and infection, though most of them are temporary and easy to manage.
Last medically reviewed on August 10th, 2022
HairPalace relies on scholarly sources, including peer-reviewed articles, as well as publications of medical associations and academic & research institutions. We follow strict sourcing guidelines and avoid tertiary references. Read our editorial policy for further information on how we keep our content up-to-date and accurate.