Hair Transplant Before and After
As with many cosmetic surgeries, appearances matter. Especially with hair transplant results, knowing the before and after of an operation can help you gauge what you can realistically expect.
At HairPalace, our hair transplant clinic in Budapest has been transforming patients' lives for more than 10 years. Our surgeons are the best in the industry, carrying out every operation using the latest FUE2 safe system. To date, we've restored the hairlines of over 6,000 patients.
It's no wonder we attract patients from around the globe interested in restoring their hairline and confidence. But don't just take our word for it – let's look firsthand at our outstanding hair transplant results!
Hair transplant before and after gallery: HairPalace's hair transplant pictures
Sometimes we all need an example to guide us on how transformative an FUE hair transplant surgery can be.
Why not take a look through our gallery of hair transplant before and after pictures to see just how impactful we can be to your hair restoration?
We've helped thousands of patients suffering from male pattern baldness to rewind the clock and restore their hair to its former glory.
What is it like to get a hair transplant at HairPalace?
Wondering what's involved in the procedure? Then why not hear from our previous patients themselves.
As someone who struggled with male pattern baldness, Dean knew that a hair transplant offered a permanent solution to his hair troubles. In this video, he explains everything from experiencing a receding hairline, undergoing an FUE hair transplant procedure with HairPalace, to showing off his new magnificent hair transplant result.
What should you do before your hair transplant procedure?
As with any surgery, preparing before your big day ensures a quicker recovery.
During your consultation, your surgeon will explain everything you need to do and what to avoid ahead of your hair transplant procedure.
Here are some of the things you should be mindful of:
1. Stop taking certain medications and vitamins
Certain medications and vitamins may interfere with prescribed medications during your recovery. Consult your doctor about what you're allowed to take.
2. Avoid alcohol and smoking
In general, both alcohol and nicotine have negative effects on hair follicles, hair growth, and hair recovery. Cutting back or stopping altogether can be incredibly beneficial, not only to your hair transplant results but to overall health too.
3. Keep your scalp clean and healthy
It's no surprise that your scalp needs to be taken care of before your surgery. A healthy scalp provides the best conditions for new hair to grow stronger and better than before. Follow good hygiene practices to ensure your scalp is in tip-top shape.
What should you do after your hair transplant procedure?
Every great hair transplant result shares one thing in common – a great aftercare routine.
That's one thing that isn't so obvious when looking through our gallery. Sure, the results all look amazing – but behind every great transplant, the patient has followed strict instructions on how to care for themselves.
The most common procedure is the FUE hair transplant, which is one of the least invasive surgical options available. It also has the benefit of leaving no linear scarring.
Typically, during your first week of recovery, you will take antibiotics to protect yourself from infection and keep grafted hairs clean and hydrated with sterile saline solution.
Tiny wounds may appear on your scalp and crust slightly – do not worry, this is normal. These wounds will heal in 7 to 10 days.
That said, you will only see the final results of your hair transplant from about 12 months onwards – so our advice is to be patient with your scalp and hair's recovery.
To maximize your results and minimize your recovery time, we strongly recommend you adhere to the following measures:
Avoid covering your head
It may seem obvious, but one of the first rules you should follow is to avoid covering your head with hats, scarves, helmets, and other textiles. This is because grafted hair will be vulnerable, and you should limit potential outside damage.
Wash your hair gently
Be gentle and kind to your hair and scalp during recovery. Avoid rubbing harshly around both the recipient and donor area, as any abrasion or physical trauma may impede the growth and recovery of hair strands.
Avoid sun exposure
There will be plenty of time to enjoy the sunshine after your recovery. Sun exposure can lead to skin and hair follicle damage. Our advice is to keep in the shade!
Avoid heavy exercise and sweating
After an FUE hair transplant procedure, your scalp will feel tender. While this is natural, you do not want to aggravate your scalp unnecessarily.
For this reason, we strongly advise against heavy exercise, hot saunas, and any other activity that may stress or intensity your scalp's sensitive condition.
When will you see the change after your hair transplant?
As with anything in life, we want to see amazing results as quickly as possible. So how long does it take for your hair transplant to yield results?
2 to 8 weeks from surgery, your new hair will begin to fall out. Do not panic – although this may seem alarming, it is a perfectly normal phenomenon known as "shock loss." In fact, it's actually a good sign that new hair is growing and slowly pushing transplanted hair out.
Your thinning hair may look somewhat worse than before surgery for a few months, but this is to be expected.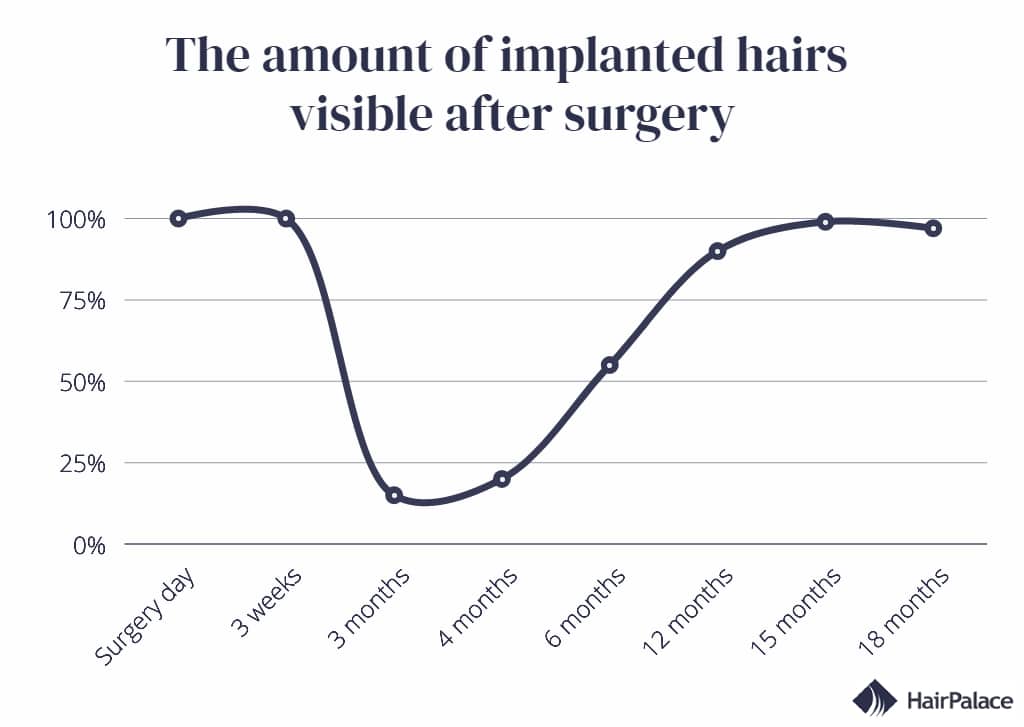 Although Follicular Unit Extraction is one of the least invasive surgeries, you must still be patient. Your body and hair need time to recover.
By 6 to 9 months, you will gradually notice more hair grows back and will feel natural in texture and appearance. It can take up to 12 months to see the finalized results of your hair transplant surgery. But in our view, this short period is well worth the permanent solutions surgery can offer!
If you've suffered hair loss and want permanent solutions, we're here to help. HairPalace offers a range of hair transplant treatments to help you achieve a natural look again. Get a quote from our team of specialists today!
FAQ
What is the success rate of a hair transplant?
By looking at our Hair Transplant Before and After the gallery, you will see that our surgeries result in some incredible results. But what is the success rate on average?

The FUE2 safe system is a specialized method of ensuring increased success at the surgery at about 90-95%. That said, several influencing factors, including age, type of hair loss, and quality of your aftercare, can affect FUE hair transplant results.
Does HairPalace guarantee new hair growth after hair transplant surgery?
At HairPalace, we stand over our work. Our surgeons guarantee that at least 80% of transplanted hairs will grow out within 12 months after surgery and will not fall out in the future.

In the unlikely event you suffer hair loss, our clinic will re-implant lost hairs FREE of charge. This offer is only valid if certain conditions are met.

Read more about the Terms and conditions here.
Can you get multiple hair transplants?
So long as you have enough healthy hair to donate, you can have as many hair transplants as you wish. Because the FUE technique leaves no obvious scarring, surgeons can harvest hair follicles from a donor area on multiple occasions without any signs of surgery.

On the other hand, strip surgery is an invasive technique that will leave noticeable signs of scarring. Ultimately, your doctor and surgeon will recommend the procedure and number of procedures to transplant hair.