Scalp Micropigmentation for Hair Loss: What Is It and How Does It Work?
Scalp micropigmentation (SMP) is a cosmetic treatment designed to create the illusion of healthy hair growth on the scalp.
If you're experiencing hair loss, micropigmentation offers an alternative to surgery and medication, though it won't stimulate new hair growth.
But how does it work, and who are the best candidates?
Read on to discover everything you need to know about scalp micropigmentation, including costs, side effects, and more.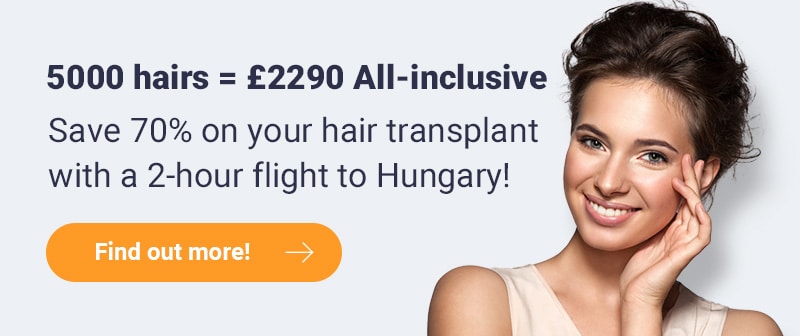 How does scalp micropigmentation work?
Scalp micropigmentation is a similar concept to eyebrow microblading: the goal is to make the hair look thicker than it is. However, the procedure is significantly different.
While microblading practitioners use various blades (e.g. U-style blades) to apply the pigment, an SMP artist wields an electric tattoo device instead. They need the tool's considerable power to safely penetrate the skin on the scalp, which is denser than the skin beneath the eyebrows.
SMP artists create hundreds of separate dots that blend together to form a large shape (a technique known as pointillism). This develops a seamless shadow across the scalp, resembling natural hair cut short.
Practitioners use various black tones to achieve an authentic replication of real hair, and each dot is positioned carefully to resemble natural follicles. Ideally, this treatment convinces people that you have voluntarily trimmed your hair close to the scalp.
You'll need multiple sessions to complete your treatment, and each usually takes 2 to 4 hours (though it may take longer depending on the extent of your hair loss). Appointments are typically spread 2 weeks apart (approximately).
Who is a good candidate for scalp micropigmentation?
You may choose an SMP treatment if you're affected by any type of hair loss, such as:
Male pattern baldness
Female pattern baldness
Thinning hair in one or more areas
Alopecia areata (which affects an estimated 15 in 10,000 people in the UK)
Other signs of balding
Your hair loss might be caused by stress, illness, medication, genetics, or other issues.
Does scalp micropigmentation cause pain?
Skilled SMP practitioners work hard to keep the procedure comfortable and straightforward for each patient. They will apply a topical numbing agent to the scalp before the treatment, though you may still experience a mild degree of discomfort.
If you have psoriasis, scalp acne, or other skin issues, you should avoid scalp micropigmentation during an active flare-up. Even the best SMP artists will find applying pigment to inflamed skin difficult, and that could affect the quality of their work.
And you should reconsider micropigmentation if you tend to form keloid scars, which are more visible than standard scars. Otherwise, the electric tattoo device could cause substantial keloid scarring on your scalp.
Research local SMP artists in detail before you book an appointment. Check their online reviews, their qualifications, and photos of their work. Reliable specialists will offer a consultation to discuss your hair loss, your goals, and talk you through the treatment.
What steps should you take before and after your first treatment?
Follow these steps before and after your first procedure:
Wash your hair/scalp before each visit to your SMP artist, as you'll be unable to do that for at least 4 days following treatment.
Avoid swimming, saunas, and steaming-hot showers between treatments.
Minimise exposure to direct sunlight for at least 4 days after the session — cover your scalp with a hat if you need to go outside. Avoiding UV rays can help you maintain your treatment results for longer.
Practitioners may recommend additional measures to prepare your scalp for micropigmentation and to keep the results at their best.
What should you do after your final scalp micropigmentation treatment?
Take the following precautions after you visit your SMP artist for the final session:
Avoid direct sunlight for around 1 month, and protect your scalp with strong sunblock after that period ends.
Stay out of swimming pools, steam rooms, and saunas for around 1 month.
Apply moisturiser to the scalp 4 days after your treatment, or as advised by your practitioner.
Avoid strenuous exercise for 5 days or more (and anything else that will cause you to sweat) to give the pigment time to settle into your scalp.
Speak to your practitioner about any concerns you may have before and after your final session. They should give you all the information you need to avoid issues.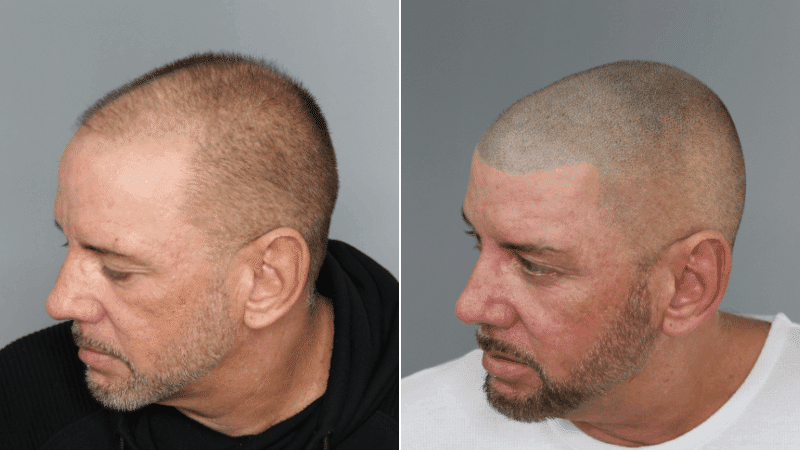 How much does scalp micropigmentation cost?
The cost of this treatment in the UK varies from one practitioner to another. The main factor affecting price is the size of the treatment area. You can expect to pay a high rate if you want an artist to apply pigment to the entire top of your scalp, and a lower one if you just want more density at the hairline.
For example, a standard procedure for advanced hair loss may be available for £2,500 and upwards. Scar camouflage can cost around £500, while you could pay £300 for a top-up treatment.
Some clinics and SMP artists command higher fees than others because of their experience, tools, and location. Browse your options and the packages available carefully before you choose. Otherwise, you could be left paying more than you need to for your treatment.
How long will SMP last?
As micropigmentation is classed as a semi-permanent solution, the results won't last forever — they can stay visible for around 8 years. The pigment will gradually fade, though, as skin on the scalp will exfoliate itself naturally. But the results are likely to fade sooner if you have dry skin: the scalp may exfoliate the pigment away at a faster rate.
You may also notice the colour lighten over the years, but it won't change unless the artist uses the wrong pigment.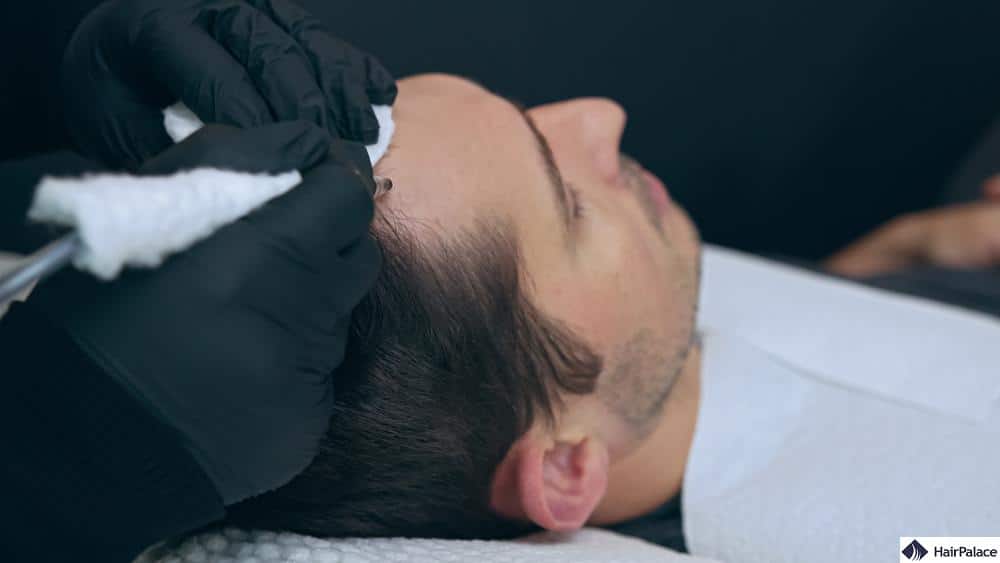 Are there any risks?
Micropigmentation carries its own risks, as do most cosmetic treatments. It's crucial that you understand these before you undergo your first session.
This procedure is different to tattooing, which involves a thicker needle and penetrates the skin more deeply, but some of the same potential risks apply. For example, you may be allergic to some of the ingredients within the pigment, or develop an infection.
But the most important factor to bear in mind is that not all practitioners are as skilled, professional, or careful as they should be. That's why it's so important to research local artists thoroughly, and check that other patients have been satisfied with their results.
What should you look for in a reliable SMP practitioner?
In the UK, local authorities are responsible for the regulation and monitoring of any business offering permanent hair tattoos or semi-permanent skin colouring. The Department of Health requires that:
Pigments and inks are sterile and inert.
Patch tests are performed to check the patient's suitability.
Furthermore, the British Association of Hair Restoration Surgery (BAHRS) stipulates that BAHRS Scalp Micropigmentation Practitioner members have:
A Level 4 SMP qualification accredited by an awarding organisation.
Completed a Blood Borne Pathogen course (or equivalent).
Certificates in First Aid and Basic Life Support.
Ask any practitioners you consider visiting about their qualifications, certifications, and prior experience. They should be happy to answer your questions, and will display their certificates in a visible location within their workplace.
It's also important to ask how many people they treat per day. Safe, effective micropigmentation takes time and concentration, so an artist booking several patients each day may not be as diligent as they should be.
SMP versus hair transplants
While this treatment can create the illusion of hair growth, hair transplantation can restore natural hair in one or more areas with seamless results.
If you want to discuss hair transplant surgery to combat your hair loss, HairPalace is ready to speak to you today.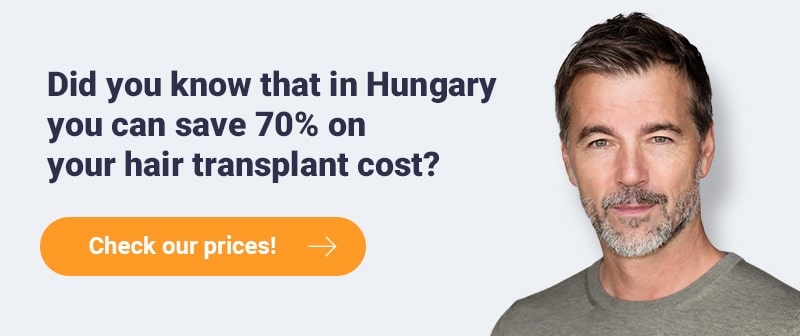 FAQ
How long does scalp micropigmentation last?
The longevity of scalp micropigmentation depends on the technician's skills and their chosen techniques. Generally, it may last approximately five years, though it could be more or less. However, the main factor to consider is that scalp micropigmentation is not permanent.
What is micropigmentation of the scalp?
Scalp micropigmentation is a non-invasive procedure. A technician uses precise micro-needles to place pigment into the skin on the scalp, creating the illusion of healthy hair follicles. This can make hair look thicker and reduce the visibility of thinning or baldness.
Does micropigmentation look natural?
Scalp micropigmentation can create highly realistic results when performed by an experienced technician. Patients can appear younger after the treatment, and friends may notice a visual change without being able to identify the cause.
How much does it cost to have scalp micropigmentation?
Scalp micropigmentation pricing is based on the amount of scalp to be covered (e.g. the crown or the hairline). However, treatments typically cost between £800 and £3,500 on average.