Scalp Micropigmentation: Benefits, Risks, Costs & Results
Scalp micropigmentation, also known as SMP, has become one of the most popular ways to treat and correct hair loss nowadays, and for good reason.
This cosmetic procedure creates the illusion of healthy hair follicles and can cover areas of thin hair or your entire scalp. It can combat any stage of hair loss and suits all skin types.
Results are often very impressive, appear almost instantly, and promise an almost painless experience. Moreover, scalp micropigmentation is often much more affordable than surgical procedures like hair transplantation.
But this treatment does have limitations. It only creates an illusion and is not a permanent hair loss solution. It will not lead to any hair regrowth, and its appearance will eventually fade over the years. But it does give patients more choices when it comes to potential treatments for hair loss.
In this article, we'll explore everything you need to know about scalp micropigmentation and help you find out if this procedure can help you achieve your goals.
We'll explain how the treatment is performed, what average prices you can expect to pay, how to choose the best clinic, and much more.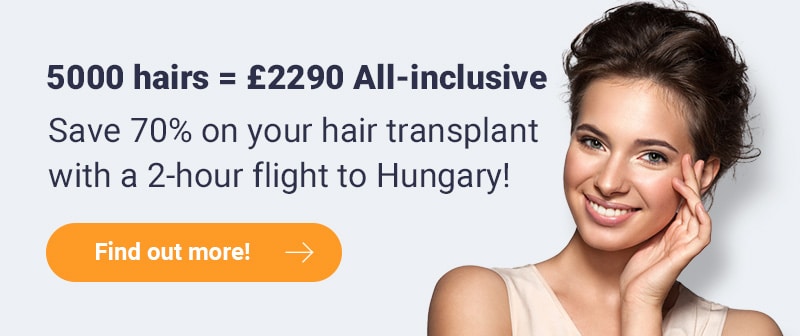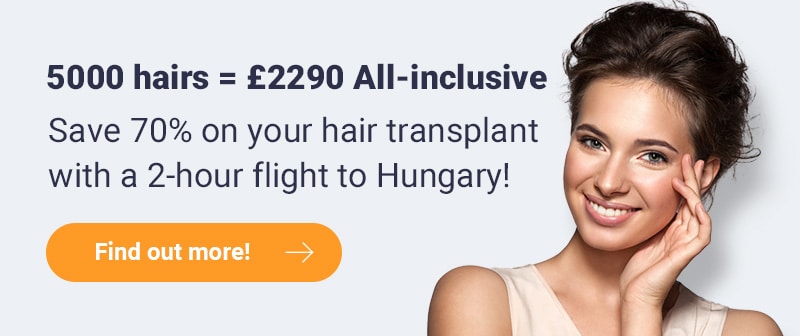 How do scalp micropigmentation treatments work?
The goal of scalp micro pigmentation is simple – make your hair look thicker. It is an ideal technique for total scalp coverage or constructing or repairing a receding hairline.
The procedure is relatively straightforward. Your SMP technician will use an electric tattoo device to insert hundreds of tiny dots into your scalp.
They will use a variety of black tones and position them strategically across your scalp to create the illusion of healthy, natural hair follicles. The end result is a clean, sleek, and naturally shaved head.
Often, people will need to attend more than one session to get their desired look, and sessions can last between 2 to 4 hours each. Many people report minimal discomfort during sessions, and the results are almost instantly recognizable.
Although often called a hair tattoo, scalp micropigmentation differs from traditional tattooing in many respects. The skin on the human head is different than other areas of the body and so will require a trained technician to treat your scalp appropriately.
Who is a good candidate for scalp micropigmentation?
SMP treatments work well for a variety of hair loss conditions, including:
Female pattern baldness
Thinning hair in one or more areas
Autoimmune diseases like alopecia areata
Other signs of balding include illness, medication, genetics, or from stress
Moreover, SMP works well for every type of skin tone, as your technician will be able to match the pigment to your scalp.
Is scalp micropigmentation painful?
Although we all have different pain thresholds, many say that scalp micropigmentation is not that sore. An experienced technician will be able to provide you with all the support and comfort you need throughout your session, including applying a topical numbing agent on your scalp before treatment.
If you have skin conditions, including scalp acne and psoriasis, develop keloid scars easily, or suffer hair and scalp deformities, you should avoid scalp micropigmentation.
This is because your scalp may be extra sensitive, become inflamed, and the pigment may not take to your skin appropriately.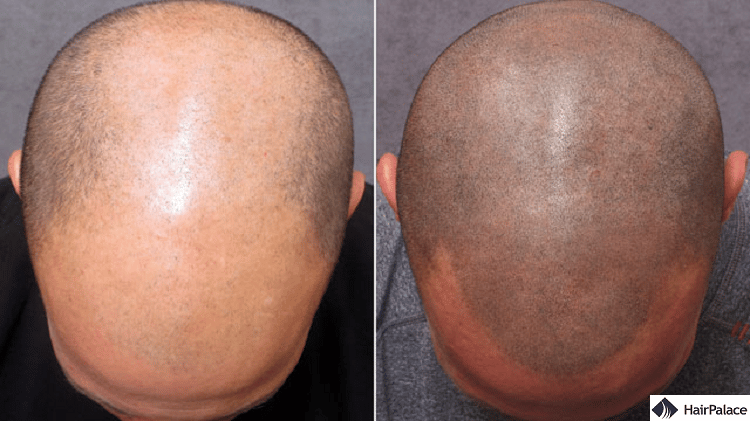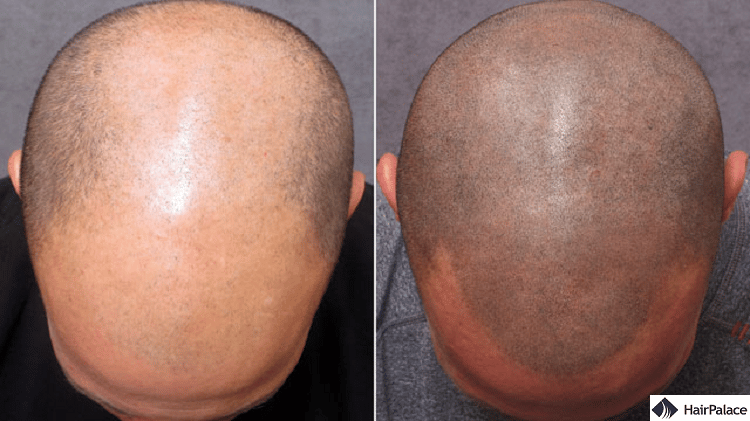 How much does scalp micropigmentation cost?
Just as every patient is different, the same can be said for hair clinic prices. The cost of your treatment may depend on the size and extent of your tattoo and the clinic's location, reputation, staff expertise, and technique used.
For example, you can expect to pay more if you require full scalp coverage; but you won't pay as much if you simply want smaller, targetted sessions that add density to an area.
Examples include a standard procedure that may cost upwards of £2,500, top-up treatments costing £300, and minor treatments like scar camouflage, costing around £500.
Clinics with experienced staff will often charge a higher premium for their services. While an increased price may put you off, sometimes it's worth it to go that extra mile for superior results. For example, cheaper clinics may cost you more long-term, as a poor procedure requires consistent touch-up sessions.
Procedure type
Cost
Scar camouflage
from £500
Hairline restructure
from £1500
Standard procedure
from £2500
Standard procedure
with scar camouflage
from £3000
Alopecia camouflage
£POA
When can you expect to see results?
One of the core benefits of SMP procedures is that you can easily spot results immediately following treatment.
That said, sessions can take anywhere from 2 to 4 hours, and you may need to allow time for your scalp to heal before seeing results.
Some people may need to attend 2 or 3 sessions to achieve the final results.
How long does scalp micropigmentation last?
Micropigmentation is regarded as a semi-permanent solution to hair loss because it will not last forever. You can expect the pigment to last up to 5 years, sometimes more, with minor touch-up sessions.
That said, no matter what you do or how many follow-up sessions you attend, the original pigment will eventually fade as our skin sheds itself naturally. Different skin types may fade the hair tattoo quicker than others.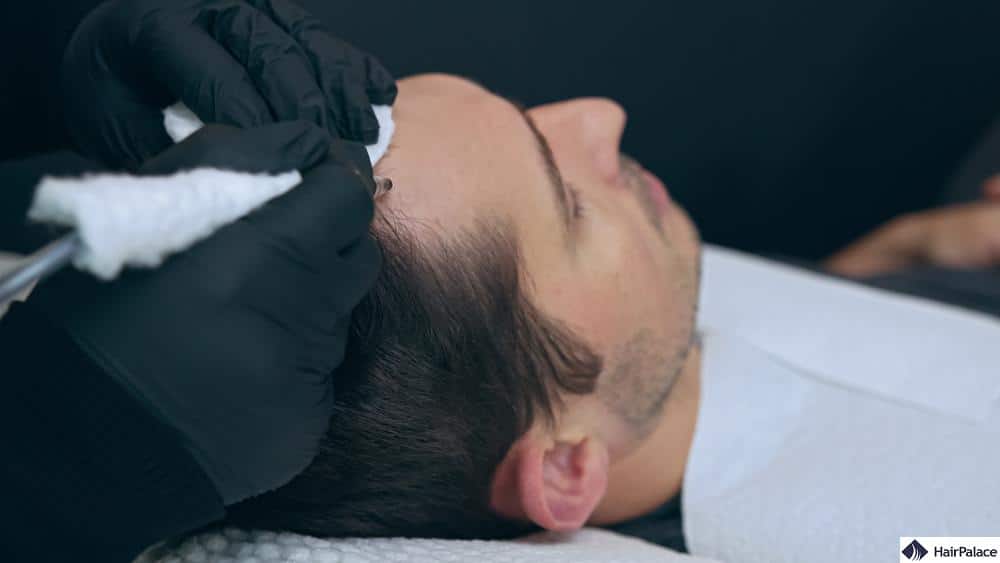 Pros and Cons
What are the benefits of scalp micropigmentation?
One of the main advantages of scalp micropigmentation is that it is significantly less invasive than surgical treatments like hair transplantation. Many patients report they feel almost zero pain with practically no downtime following the treatment. Results are also recognizable almost immediately.
Secondly, scalp micropigmentation is often much cheaper than other hair treatments and procedures. Because of this, you may be in a position to attend well-established, reputable clinics for superior results.
Are there any risks associated with scalp micropigmentation?
It's important to recognize there are some risks to micropigmentation. One of the primary risks to be aware of is an allergic reaction to the pigment ingredients. It's best to have a small patch test on your scalp to see how your skin will react.
Some risks can be minimized so long as the clinic you visit is reputable, and its staff follows industry standards. A poorly trained SMP technician can not only botch your treatment and expose you to unnecessary risks, including infection.
Ensure the clinic and equipment are clean and hygienic and that the technician's technique ensures your scalp is well cared for and supported throughout your first and subsequent sessions.
Finally, one caveat of micropigmentation is that you won't be able to grow your hair longer, as this will make your procedure incredibly noticeable to others.
What steps should you take before and after your first treatment?
The best SMP practitioners will often offer a free consultation that will allow you an opportunity to ask questions, discuss your goals and expectations, and find out how to prepare for your first session.
But generally speaking, you will need to:
Wash your hair and scalp before visiting your SMP artist. This is because you will be unable to wash your scalp following treatment for at least four days.
Avoid swimming, saunas, steaming hot showers, and high-intensity exercise before and between treatments.
Avoid direct and prolonged sun exposure following your initial treatment, as UV rays can affect the quality and longevity of the tattooing. Wear a hat or stay in the shade whenever possible.
Before attending your first session, research the technician's qualifications, credentials, and previous work. Check patient reviews online and compare them to competitors to choose the best, most capable specialist.
What should you do after your final treatment?
Once your final treatment has been completed, your SMP specialist will talk you through how to get the most out of your scalp micropigmentation.
That said, standard aftercare instructions often include:
Avoiding direct sunlight for at least one month to protect the pigment in your scalp. Continue to wear strong sunblock to help preserve its quality.
Avoid swimming pools, steam rooms, saunas, and extensive exercise for one month. Excessive sweating can prevent your scalp from healing correctly.
Follow your practitioner's recommendations on how to moisturize your scalp and how often.
What should you look for in a reliable SMP practitioner?
Like any other cosmetic procedure, scalp micropigmentation must follow strict guidelines and regulations. For example, local authorities in the U.K. are responsible for monitoring permanent hair tattoos or semi-permanent procedures.
The Department of Health insists that treatments:
Use sterile and inert pigments and inks
Patch tests are performed before treatment to ensure the patient is not allergic.
Additionally, technicians are often expected to have a certain level of qualifications. The British Association of Hair Restoration Surgery expects that any BAHRS scalp micropigmentation practitioner should have:
A Level 4 SMP qualification accredited by an awarding organization
Completed a Blood Borne Pathogen course (or equivalent)
Has a certificate in first aid and basic life support
Although the procedure is straightforward and non-invasive, you must ensure your technician has trained appropriately. When visiting scalp micropigmentation clinics, ask practitioners about their qualifications, credentials, and experience within the industry.
Additionally, scalp micropigmentation sessions can last considerably; it's best to choose a clinic that doesn't endlessly book patients, as this can lead to standards slipping and rushed tattooing.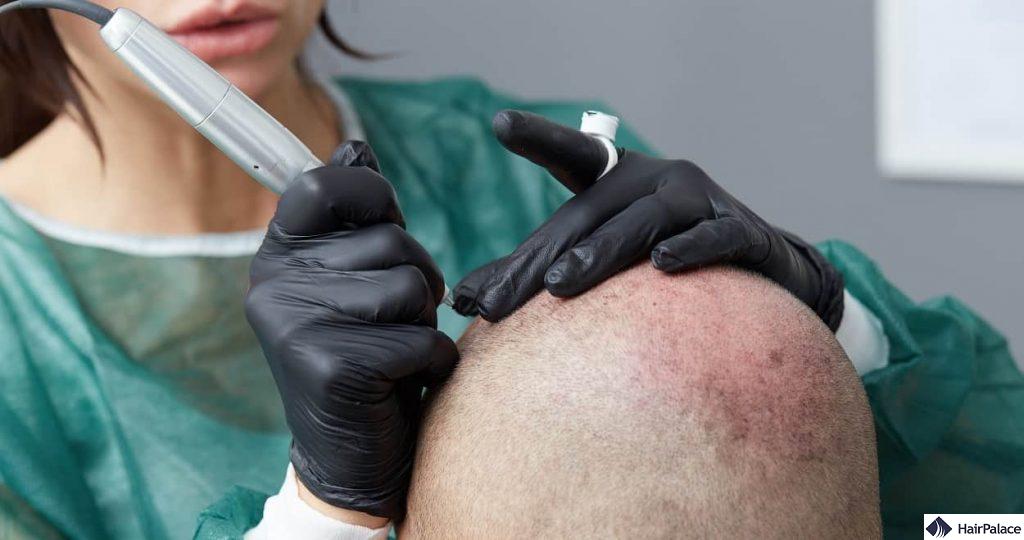 What are the other treatment options for thinning hair?
Hair thinning affects so many people around the world. Several treatments have been developed to help combat the condition. Depending on what stage of hair loss you are in, you can find a solution in one of the following treatments:
Minoxidil: Also known as rogaine, this medication can help stimulate hair growth and improve blood flow to your scalp.
PRP treatment: Platelet-rich plasma injections use your own blood as a way to nourish and support natural hair growth.
Laser treatment: Laser light stimulates hair follicle growth and improves volume and appearance.
PRF treatment: Platelet-rich fibrins are injected into the scalp to promote thicker hair and better circulation.
Derma rolling: Derma rollers can aid tissue rejuvenation and lead to increased blood flow and better hair growth.
Hair transplants: A permanent solution to hair loss with a single, straightforward procedure.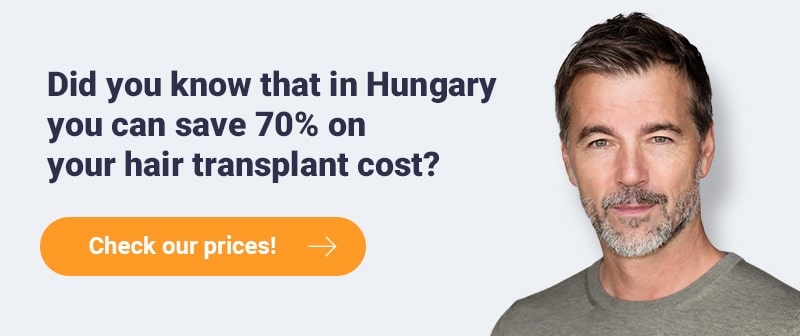 FAQ
Does scalp micropigmentation grow hair?
Scalp micropigmentation is technically a semi-permanent makeup procedure. It does not treat hair loss, instead creates the illusion of hair on your scalp. Scalp micropigmentation can add density and volume to existing hair, restructure a hairline, or minimize the appearance of bald spots. It is a non-invasive procedure and can be an ideal alternative to hair transplant surgery.
How long does scalp micropigmentation last?
Two things influence the lasting nature of scalp micropigmentation; the technician's skill and chosen technique. For this reason, you should choose reputable people with a proven track record in the field. Expect an excellent treatment to last up to five years, longer if you attend touch-up sessions. That said, micropigmentation is not a permanent solution to hair loss.
What is micropigmentation of the scalp?
Scalp micropigmentation is when a trained technician uses a micro-needle to inject pigment into the skin of your scalp. These series of dots create the illusion of full-looking but shaven hair. This non-invasive procedure can instantly reduce the prominence of thinning hair or baldness.
Does micropigmentation look natural?
Yes, scalp micropigmentation can be highly effective in creating realistic and natural-looking hair. So long as the technician is experienced and highly skilled, they can follow the natural pigment of your skin to create a seamless design.
How much does scalp micropigmentation cost?
The price of micropigmentation is based on the amount of scalp receiving treatment. For example, prices differ if you treat just the crown, the hairline, the entire scalp, etc. That said, expect to pay anywhere from £800 to £3,500 for treatment.
HairPalace relies on scholarly sources, including peer-reviewed articles, as well as publications of medical associations and academic & research institutions. We follow strict sourcing guidelines and avoid tertiary references. Read our editorial policy for further information on how we keep our content up-to-date and accurate.