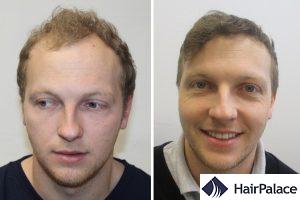 Jon
Number of hair transplants: 1
Number of transplanted hairs: 6024
Jon had 6024 hairs transplanted on the 30-31st of January 2019. By the 12-month check-up, he reached the density he had been dreaming of. 
Visit our office in Bristol for a free consultation
The best way to find out more about your hair loss and your options for a hair transplant treatment is to meet our experts in person. 
While we have a hair clinic in London as well, our team is available to talk about hair transplant in Bristol.
Our office is located in Bristol city centre for your convenience.
The evaluation is completely free of charge, and it takes around 20 minutes of your time. 
First, you will be asked to fill out a health questionnaire to ensure that the hair transplant procedure does not have any contraindications. 
Then we will discuss what you would like to achieve and assess your needs. The doctor will examine the condition of your scalp and hair with a digital hair camera to give you accurate advice. 
You will also receive a quotation, which will detail what the package includes. 
Schedule a free appointment by calling +44 20 7131 0229 and meet us in person in our Bristol office!
HairPalace Hair Clinic Bristol:
Temple Quay
1 Friary
Bristol, BS1 6EA
United Kingdom
Phone: +44 20 7131 0229
How much is a hair transplant in Bristol?
It is difficult to tell how much a hair transplant would cost in your individual case as each patient has different needs. Naturally, the more hairs you need, the higher the costs will be. 
But there are many other factors; the treatment's cost also depends on the location of the clinic. 
A hair transplant in Bristol, or elsewhere in the UK, will involve higher costs, simply because the clinics' operating expenses are higher.
With HairPalace, you can choose to have your hair transplant in London, Dublin, or Budapest.
We use the latest technique (the FUE2 SafeSystem method), and both the extraction and the implantation parts of the procedure are carried out by an internationally certified medical doctor.
A hair transplant costs between £2000 and £10000. The prices also differ by the location of the clinic; however, we guarantee the same conditions and services in all of our clinics.
We offer you a highly experienced team, a written guarantee, a full medical package, accommodation, transfers if needed, and check-ups to monitor your progress.
Which hair transplant method do we use?
At every HairPalace clinic, we use the FUE2 technique, which is the improved version of the standard FUE procedure.
Currently, this is the most modern technology available. This helps us ensure that you receive the same high-quality service and excellent results whether you choose our hair clinic in the UK or in Hungary.
With years of experience in its use, our doctors recommend the FUE2 for the benefits it offers for the patients:
leaves no visible scars

painless procedure

success rates can be up to 90-95%

short recovery

minimally invasive

effective in preserving the donor area
Our hair transplant experts in Bristol
All of our doctors are certified experts of surgical hair restoration.
They are only carrying out hair transplantation procedures with the FUE2 SafeSystem method.
Our doctors have also completed the HairPalace protocol training, which we have been developing for more than 10 years to ensure that you will receive the same care and results at all of our clinics.
They will guide you through your hair transplant in Bristol from the consultation to the final result!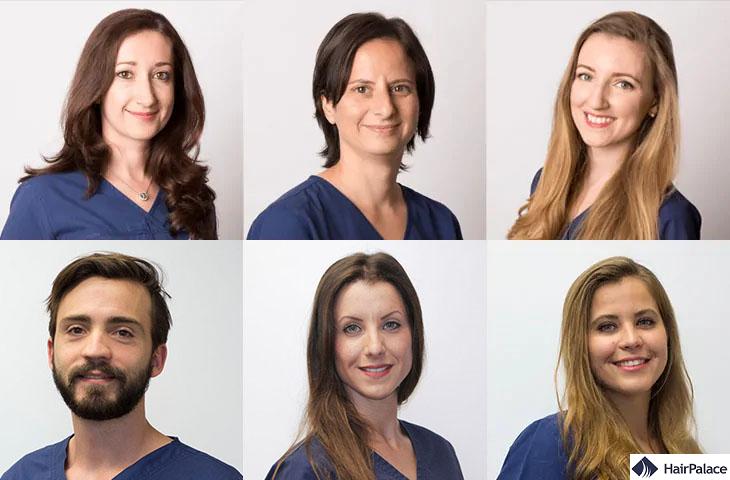 Why choose HairPalace?
HairPalace has been treating patients struggling with hair loss for more than 10 years now. 
Our goal is to help men regain their natural hair with the best technique available. We use the FUE2 technique which allows us to carry out the surgeries pain-free, without leaving visible scars.
Our doctors are highly trained, and our whole team is committed to making the hair transplants as smooth-running as possible.
We provide a written guarantee on all our treatments – if less than 80% of the transplanted hairs grow out, we reimplant the missing amount free of charge.
Hair transplant reviews from Bristol
Every year, hundreds of patients turn to us for advice about surgical hair restoration.
We place great emphasis on providing excellent care and outstanding hair transplant results to our patients.
Their first-hand testimonials on Facebook, Trustpilot, and Google help us to maintain our standards and can help you get a better idea about what you can expect.
Check out some of our hair transplant reviews from patients from Bristol!
Everyone in the office was extremely knowledgeable and helpful. The doctor took the time to answer all my questions thoroughly. All the staff is very professional helpful, warm and made the whole procedure enjoyable. Very satisfied with the results and overall experience.A++++. Many Thanks
   Sep 21, 2018 | Adeel