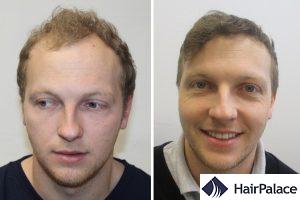 Jon
Number of hair transplants: 1
Number of transplanted hairs: 6024
Jon had 6024 hairs transplanted on the 30-31st of January 2019. By the 12-month check-up, he reached the density he had been dreaming of. 
Visit our office in Bristol for a free consultation
The best way to find out more about your hair loss and your options for a hair transplant treatment is to meet our experts in person. 
While we have a hair clinic in London as well, our team is available to talk about hair transplant in Bristol.
Our office is located in Bristol city centre for your convenience.
The evaluation is completely free of charge, and it takes around 20 minutes of your time. 
First, you will be asked to fill out a health questionnaire to ensure that the hair transplant procedure does not have any contraindications. 
Then we will discuss what you would like to achieve and assess your needs. The doctor will examine the condition of your scalp and hair with a digital hair camera to give you accurate advice. 
You will also receive a quotation, which will detail what the package includes. 
Schedule a free appointment by calling +44 20 7131 0229 and meet us in person in our Bristol office!
HairPalace Hair Clinic Bristol:
Temple Quay
1 Friary
Bristol, BS1 6EA
United Kingdom
Phone: +44 20 7131 0229