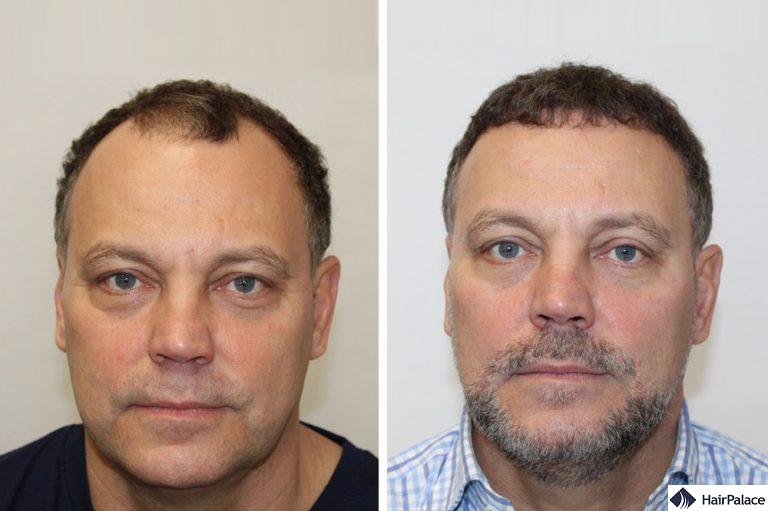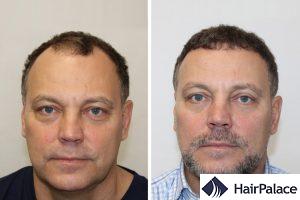 Valko from Leeds
Number of hair transplants: 1
Number of transplanted hairs: 6000
With the help of the FUE hair transplant, Valko got back his more youthful, natural hairline.
Visit our office in Leeds for a free consultation
Your hair transplant procedure will begin in Leeds, with a consultation with our experts. 
First, we thoroughly examine the hair density and scalp with a digital microscope. We assess your needs and discuss what you would like to achieve. 
Then, in light of the condition of your hair and scalp, we will prepare a tailored treatment plan for you.
The treatment plan will contain all information about your procedure and will be complete with the accurate price.
During the private, one-on-one meeting our specialists will answer all your questions and advise you about the result you can expect.
The no-obligation, free hair transplant consultation in Leeds takes 20 minutes.
Advance reservation is required – you may book an appointment with our colleagues by calling +44 20 7131 0229. 
HairPalace Hair Clinic Leeds:
Princes Exchange
Princes Square
Leeds, LS 4HY
United Kingdom
Phone: +44 20 7131 0229
How much is a hair transplant in Leeds?
The cost of the hair transplant depends on various factors from the number of hair follicles you need, to the method of your choice.
For a hair transplant in Leeds, you can expect to pay a price as you would anywhere else across the UK. Hair transplant cost in Leeds typically ranges between £2-4 per graft.
HairPalace has hair transplant clinics in London and in Budapest. 
At our clinic in London, we offer prices from £1989 to £9042.
Would you like to have the best hair transplant in Leeds, but for more affordable prices?
A HairPalace clinic, we can offer you an option for that.
To make our services available at a more affordable price point, we offer the same FUE2 procedures in Budapest.

The lower wages and living expenses in Hungary allow us to provide the excellent quality you would receive in a hair transplant clinic in Leeds or London, for a fraction of the price. At our Budapest clinic, our hair transplant package prices range between £1390 to £2190.
For more information about this option visit our page about our hair transplant prices in Budapest!
Which hair transplant method do we use?
When it comes to a hair transplant in Leeds, using the right technique is crucial for the good result.
At every HairPalace clinic, we use the FUE2 technique, which is the improved version of the standard FUE procedure. Currently, this is the most modern technology available.
This helps us ensure that you receive the same high-quality service and excellent results whether you choose our hair clinic in the UK or in Hungary.
With years of experience in its use, our doctors recommend the FUE2 for the benefits it offers for the patients:
leaves no visible scars

painless procedure

success rates can be up to 90-95%

short recovery

minimally invasive

effective in preserving the donor area
Our hair transplant experts in Leeds
At HairPalace, we work with 6 excellent doctors who possess the skills and the experience required to achieve the best hair transplant results.
During your free hair transplant consultation in Leeds you will meet one of our surgeons: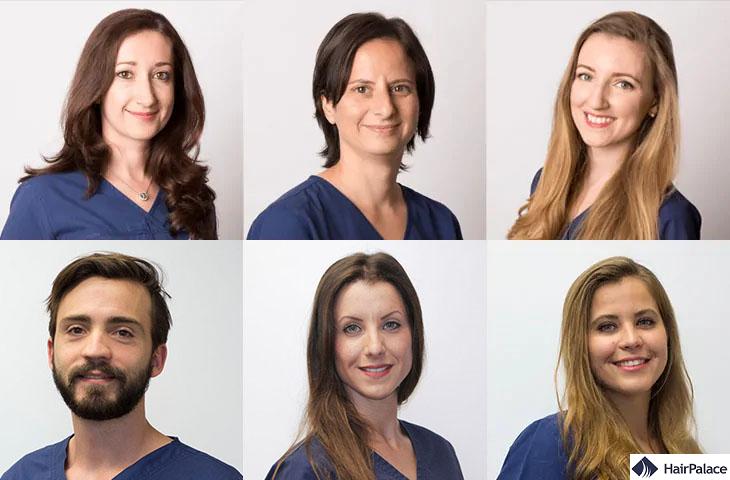 Why choose HairPalace?
With the vast number of clinics and treatments available, the decision is not easy.
At HairPalace, we are committed to helping you find the best solution to restore your hair.

What can we offer for you?
Experienced doctors

Our surgeons have 5-10 years of experience in hair restoration procedures. Together with our team, they are dedicated to providing you with a tailored solution to achieve the best results.

Natural hair transplant results

The FUE2 technique allows us to reach exceptional success rates and natural, dense results.

Written guarantee

With the most effective hair transplant method in our seasoned experts' hands, we provide a written guarantee on your treatment.
If less than 80% of the transplanted hairs grow out, we reimplant the missing amount free of charge.

No visible scars

The FUE2 technique extracts the grafts one by one with a micro punch. As a result, the procedure leaves no visible scars on the donor area.

Postoperative care

In our experience, proper aftercare is essential to reach the best hair transplant result. There will be 6 check-ups after the surgery to ensure that everything goes well. We will accompany you throughout your journey and our team will be at your disposal if you have any questions along the way.

Excellent price

We offer competitive hair transplant prices in Leeds. Our comprehensive packages cover all costs, there are no hidden charges.
If you have any questions about our services, or if you would like to get a detailed treatment plan, we offer no-obligation consultations with our surgeons in our Leeds hair clinic.

Hair transplant reviews from Leeds
Every year, hundreds of patients choose us for their hair restoration procedures.
Public patient testimonials on Facebook, Trustpilot, and Google help us to maintain our standards and can help you get a better idea about the results and the service you can expect.
Check out some of our hair transplant reviews from patients from Leeds!
"From the initial telephone calls, queries and emails to the procedure itself; everything went to plan and was much better than I expected!
I stayed in a lovely modern place only ten minutes walk from HairPalace's excellent facilities; only five minutes away there is a big shopping centre so everything you could need is close to hand.
In short; I would thoroughly recommend HairPalace and would say that it's much better than the equivalent in the UK (I won't mention the company) which I experienced 18 months prior to this trip to Budapest. I was made to feel very relaxed and welcomed at all times.
My journey in more detail; I got picked up from the airport and taken to my apartment.
The following morning I was picked up by the same lovely driver who took me for the blood tests and waited for me patiently outside; then on the way back he dropped me outside the nearby shopping centre.
My second day there was the first day of the operation, I had 7,181 hair moved in total so needed to stay for four nights; on the first day we managed to transplant 3,333 hairs, the second day we moved 3,848.
During the operation itself, I was offered to pick from a large array of films to watch although I fell asleep for a good hour during the procedure as I was so relaxed. 🙂
During the two lunch breaks I was offered a comprehensive selection of food, on both days the food was absolutely delicious and as good as any quality restaurant.
The third and forth days with the lift back to the airport went as clockwork; everything was on time and punctual, way easier there than in the UK.
I'll be going back there next year for my third and hopefully final hair transplant, I wouldn't consider going anywhere else now as the experience was so good, way better than the UK equivalent and about half the price for twice as many hairs!
All the staff and doctors were excellent too, they answered all my questions in perfect English and again, were more friendly than my previous UK experience, you couldn't ask for anymore!
My advice; don't be put off that it's in another country, honestly it's a much better experience in Hungary compared to the UK in every respect.
Thanks HairPalace, see you in 2020.
Paul."
Updated Apr 22, 2019 |  Paul Gronow