Hair Transplant in Leeds – TOP 5 Clinics in 2022
A hair transplant in Leeds offers an effective solution to hair loss at any age.
If you're based in or near Leeds, you have multiple hair clinics to choose from — but finding the right team to perform your hair implantation procedure can be difficult if you don't know what to base your decision on.
It's crucial that you pick a clinic with a great reputation, a trustworthy team of skilled surgeons, and an ethical approach to patient care. Otherwise, your restored growth could look unnatural and fail to achieve the level of density you expect. And you may need to spend more to get it fixed later.
Sounds daunting? Don't worry.
We've picked five of the TOP choices for a hair transplant in Leeds below. We'll compare clinics based on their treatments, prices, and staff.
Hair transplants in Leeds at a glance
| | |
| --- | --- |
| Available methods | FUT, FUE and DHI |
| Duration of surgery | 6-8 hours |
| Anaesthesia | local |
| Return to work | in 2-5 days |
| Recovery | around 7 days |
| Exercise | allowed after 2-3 weeks |
| Final result | in 12-15 months |
Hair transplant cost in Leeds: Price comparison
We've compared the hair transplant costs at the TOP 5 hair clinics in Leeds. Most clinics work with package prices; however, the services included might differ.
The prices are based on information provided by doctors, users or other portals. The actual prices can only be determined after a medical consultation, taking into account the physical requirements and individual wishes.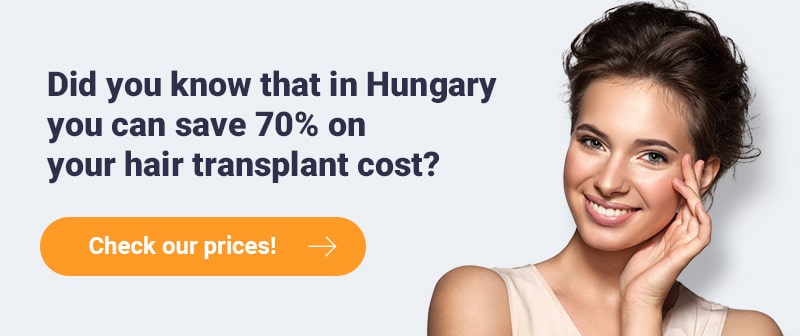 The best hair transplant techniques in Leeds
Most hair transplant clinics in Leeds work with the FUT and FUE techniques, but the DHI method is also available.
While all three offer permanent results, FUE is the most popular choice among patients.
Just last year, over 75% of patients chose this type of treatment: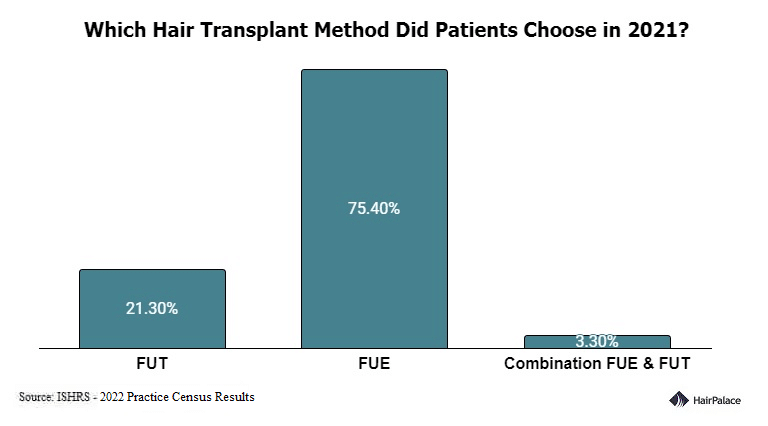 And the technique's popularity comes as no surprise: the minimally invasive procedures leave no visible scars and allow quick recovery.
Which hair transplant method is the most suitable for you can only be determined after assessing your condition. For this, doctors will invite you for an in-person or an online assessment.
Are you an ideal candidate for a hair transplant?
Doctors will assess your suitability for a hair transplant procedure during an in-depth consultation.
Nowadays, people from all walks of life opt for surgery to restore their hair and boost their confidence. Statistics show that most patients are between 30 to 50 years of age. However, you might be a suitable candidate outside this range: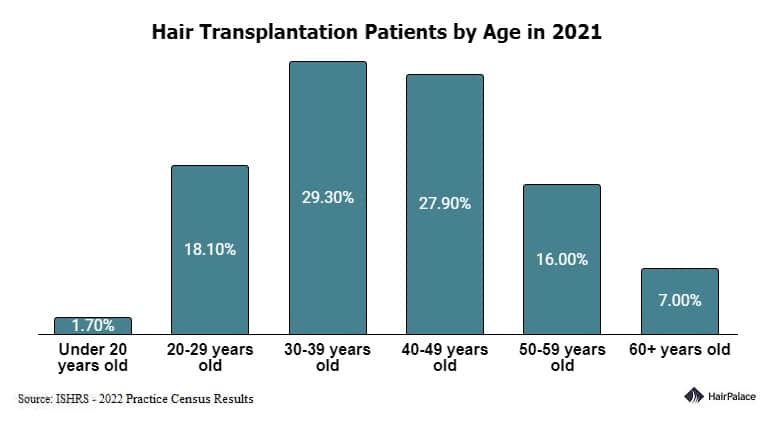 While it is crucial for hair loss to reach a period of stagnation, doctors will also consider the following criteria:
The extent of hair loss
Quality of existing hair
Condition of your scalp
The results you are looking for
Your overall health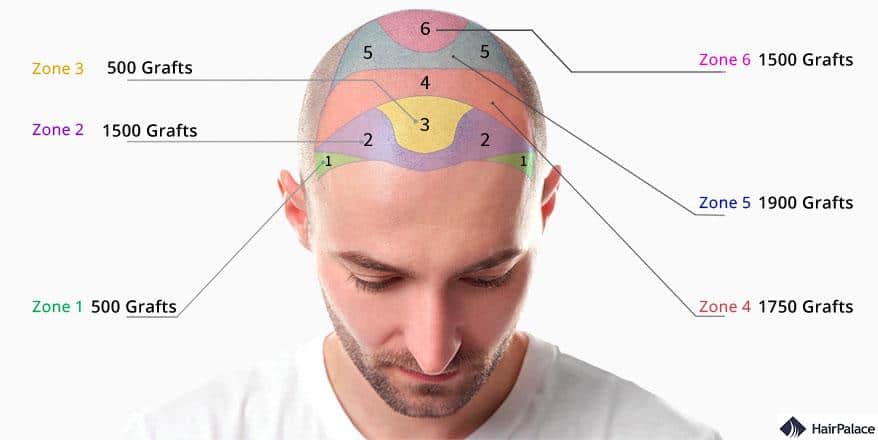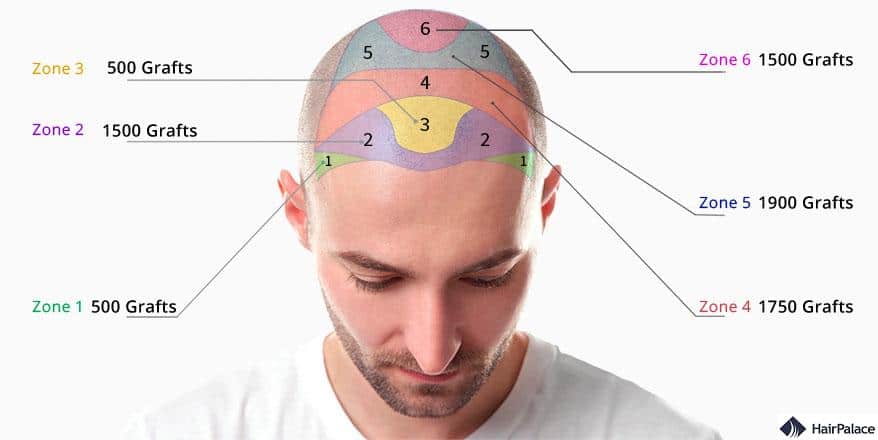 The TOP 5 hair clinics in Leeds
Finding the best hair transplant clinic in Leeds can be overwhelming, as there are a lot of different factors to consider.
To make your decision easier, we have compiled a top list based on patient reviews, prices, available treatments and more.
1. UK Hair Transplant Clinics
Location:
2 Princes Square Regus,
Princes Exchange,
Leeds,
LS1 4HY
Treatments: Follicular Unit Extraction (FUE), Follicular Unit Transplantation (FUT)
Costs: 3000 hairs = £ 4500, 5000 hairs = £ 7500
Treatments performed by: Hair transplant surgeons
Rating: 5.0

based on 1 Google review
Website: www.ukhairtransplantclinics.co.uk/hair-transplants-leeds
UK Hair Transplant Clinics was established more than eight years ago, and has performed many hair loss treatments since. Its surgeons have extensive experience, and each clinic (including the Leeds location) complies with the Government's Care Quality Commission (CQC) to provide a high standard of safety.
UK Hair Transplant Clinics in Leeds treats patients with several hair loss solutions. Its portfolio includes:
FUE
FUT
Scalp micropigmentation
Beard transplants
Eyebrow transplants
The clinic also provides non-surgical treatments, such as:
Finasteride
Protein shakes
UK Hair Transplant Clinics assigns a coordinator to each patient to prepare them for the surgery and to assist them during their recovery.
2. Want Hair
Location:
301 Roundhay Road,
Leeds,
LS8 4HT
Treatments: FUE
Costs: 3000 hairs = £ 3100, 5000 hairs = £ 4100
Treatments performed by: Hair transplant surgeons
Rating: 5.0

based on 85 Google reviews
Website: www.wanthair.co.uk
Want Hair was founded by Shammy Israil, who has first-hand experience of hair loss. He openly discusses his struggles with self-confidence on the website, and how he considered hair transplants for the "rich" only. Patients will probably see aspects of their own experiences reflected in his story.
Want Hair offers patients FUE surgery for hair on the scalp, eyebrow, and beard. PRP therapy is also available. All surgeons operating at Want Hair are registered with the International Society of Hair Restoration Surgeons (ISHRS), and the clinic is registered with the CQC.
Patients may choose from several packages:
1,000 grafts
1,500 grafts
2,000 grafts
2,500 grafts
3,000 grafts
The company also works with more than 100 clinics around the world to provide treatments abroad.
3. Este Medical Group
Location:
Old Hall,
Elmete Hall,
Elmete Lane,
Leeds,
LS8 2LJ
Treatments: FUE, Direct Hair Implantation (DHI)
Costs: 3000 hairs = £ 3700, 5000 hairs = £ 6300
Treatments performed by: Hair transplant surgeons
Rating: 4.9

based on 499 Google reviews
Website: www.estemedicalgroup.uk
Este Medical Group was founded by its managing director, Sam Cinkir, in 2015. The company operates several other clinics alongside its Leeds location, including those in Italy and Turkey.
Este Medical Group provides hair transplants, as well as other cosmetic treatments such as:
Neck lifts
Breast reductions
Breast implants
Eyebrow transplants
Laser hair regrowth
Body contouring
Skin tightening
The clinic performs hair restoration procedures for males and females, with FUE or DHI available. Its surgeons use the Sapphire Hair Transplant method, which grabs follicles with a V-shaped blade.
4. Skinfinity Cosmetic Clinic
Location:
Thorpe Park Clinic,
4600 Park Approach,
Thorpe Park,
Leeds,
LS15 8GB
Treatments: FUE, FUT
Costs: 3000 hairs = £ 4300, 5000 hairs = £ 7200
Treatments performed by: Hair transplant surgeons
Rating: 4.4

based on 17 Google reviews
Website: www.skinfinityclinic.co.uk/hair-transplant-surgery-leeds
Skinfinity opened its doors in 2007, headed by Dr. Stephen Feldman and Donato Ziz. Its two initial treatments were hair transplants and laser liposuction, though the company has expanded its portfolio since.
The Leeds location is Skinfinity's flagship clinic, while another branch treats patients in Soho, London. Skinfinity is registered with the CQC, and provides various surgical procedures including pinnaplasty, birthmark removal, and earlobe correction.
Both FUE and FUT hair restoration treatments are available, performed by Dr. Zizi and Dr. Theodoros Venikos. Dr. Zizi and Dr. Venikos have performed more than 2,000 and 3,000 hair transplants respectively.
5. Enhance Hair Restoration
Location:
Princes Exchange,
Princes Square,
Leeds,
LS1 4BY
Treatments: FUE, FUT
Costs: 3000 hairs = £ 3500, 5000 hairs = £ 5500
Treatments performed by: Hair transplant surgeons and surgical technicians
Rating: 4.7

based on 12 Google reviews
Website: www.enhancehairrestoration.co.uk/locations/hair-transplant-leeds
Enhance Hair Restoration is a privately owned organisation with clinics throughout the UK. It caters to patients in Leeds, Newcastle, Birmingham, and Nottingham, as well as other major cities.
Enhance Hair Restoration restores hair with the FUE and FUT techniques, as well as the ARTAS and SmartGraft methods. The ARTAS approach involves a robotic system controlled by a surgeon, and SmartGraft technology enables surgeons to undertake FUE transplants with precision. Surgeons and surgical technicians work together on hair restoration procedures.
The clinic also provides non-surgical hair loss treatments like SMP and finasteride. It also restores Afro-Caribbean hair via FUE and FUT methods.
If you're looking for a hair clinic in Leeds, we hope this post helps you make the right decision.
Take the time to explore the range of procedures available at each location, and make sure its team can fully cater to your hair loss needs.
However, pricing is one of the most important factors to consider when exploring hair clinics. Rates in Leeds and the rest of the UK can be high, so some clinics may not appeal to you if their costs appear excessive.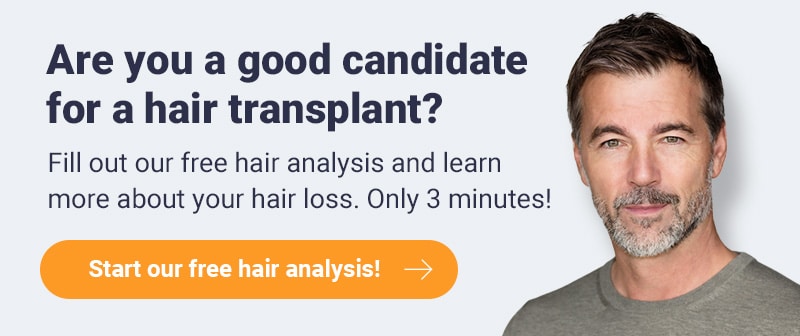 Is hair transplantation in Leeds worth it?
Capable of achieving confidence-boosting results, a hair transplant in Leeds is well worth your time and money.
Nowadays, procedures are highly advanced, offering quick recovery and high success rates. As such, over 90% of hair transplant patients experienced an overall positive emotional impact from the treatment.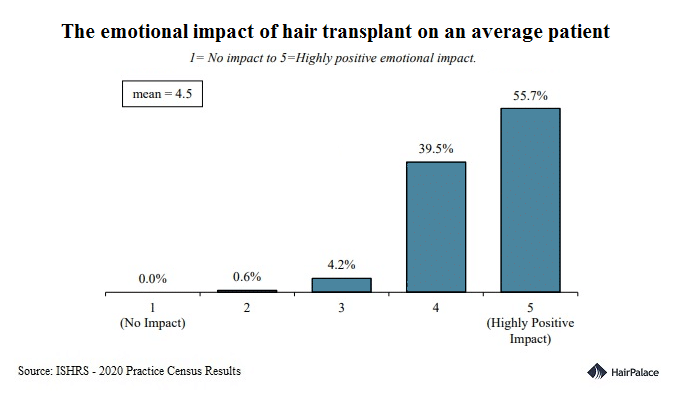 With so many options available in the county and abroad, is having your hair transplant in Leeds the best choice for you?
Let's take a quick look at the pros and cons:
Pros
Cons
Several clinics to choose from locally
Higher prices
Well-regulated industry
Packages are usually not all-inclusive
In-person meetings available
Longer waiting lists
Clinics are easy to reach post-surgery
Same quality of procedure
and care is more affordable abroad
Results with a Leeds hair transplant
Hair transplant in Leeds: Reviews comparison
We've compared for you the 5 best hair transplant clinics in Leeds based on their Google reviews. Find out which hair clinic got the most and the best reviews from their patients.
Clinic name
City
Google rating
UK Hair Transplant Clinics
Leeds
5.0
based on 1 Google review
Want Hair
Leeds
5.0
based on 85 Google reviews
Este Medical Group
Leeds
4.9
based on 499 Google reviews
Skinfinity Cosmetic Clinic
Leeds
4.4
based on 17 Google reviews
Enhance Hair Restoration
Leeds
4.7
based on 12 Google reviews
HairPalace Hungary
Budapest
4.9
based on 244 Google reviews
Find out more about the best hair transplant clinics
Let us help you find the best hair restoration clinics. Check out the following lists too!
HairPalace provides a cost-effective option for patients from the UK: our Budapest clinic provides FUE transplants at lower rates than most UK-based clinics, and offers savings of up to 70%.
You can book a free online consultation with one of our experts today to learn more!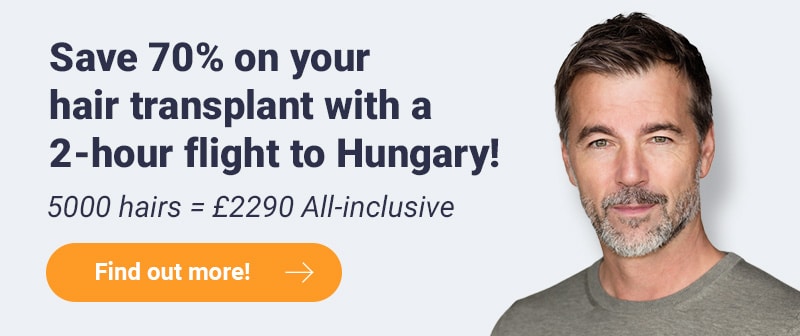 Last medically reviewed on July 4th, 2022
HairPalace relies on scholarly sources, including peer-reviewed articles, as well as publications of medical associations and academic & research institutions. We follow strict sourcing guidelines and avoid tertiary references. Read our editorial policy for further information on how we keep our content up-to-date and accurate.