Hair Transplant in Budapest: The Best Clinic in 2023
A hair transplant in Budapest can provide the ideal solution to your hair loss woes.
Procedures are not only available at affordable prices, but clinics provide exceptional service and care.
Based on patient reviews, HairPalace has become the best hair transplant clinic in Budapest in 2023.
Read on to find out more about hair transplant methods, hair restoration specialists and the results!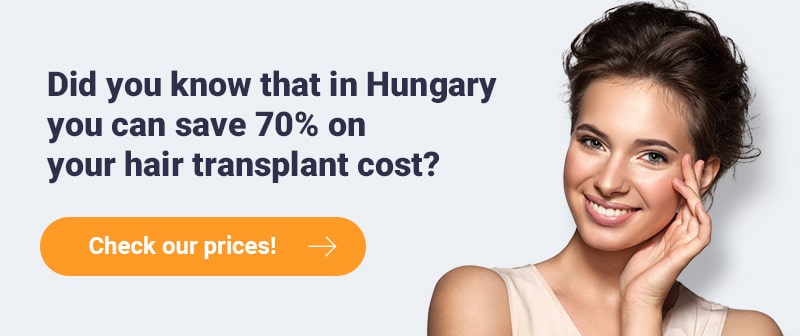 HairPalace hair transplants at a glance
| Travel & stay | |
| --- | --- |
| Duration of flight | 2-2.5 hours |
| Cost of tickets | usually between £150 and £300 |
| Length of stay | 2 nights |
| Package type | all-inclusive |
| Hair transplant surgery | |
| Technique used | FUE2 |
| Duration of procedure | 6-8 hours |
| Anaesthesia | local |
| Shaving of head | required |
| Written guarantee | yes |
| Potential risks & side effects | temporary swelling, redness, numbness of the scalp |
| Aftercare & results | |
| Recovery | approx. 7 days |
| Back to work | 2-5 days after procedure |
| Exercise | from 3-4 weeks after surgery |
| Check-ups | available online |
| Final result | 12-15 months |
How much is a hair transplant in Budapest?
Considering the average hair transplant costs in Europe, Budapest is definitely the most affordable option for hair transplant surgery.
Compared to the UK and other Western European countries, you can save around 70% on the price of your hair surgery: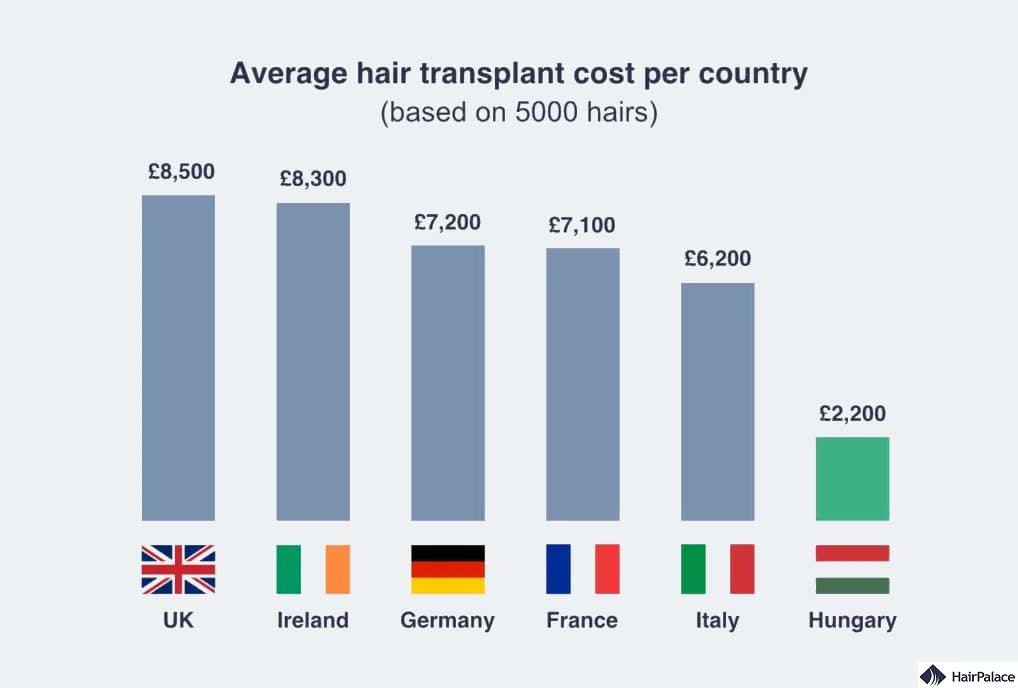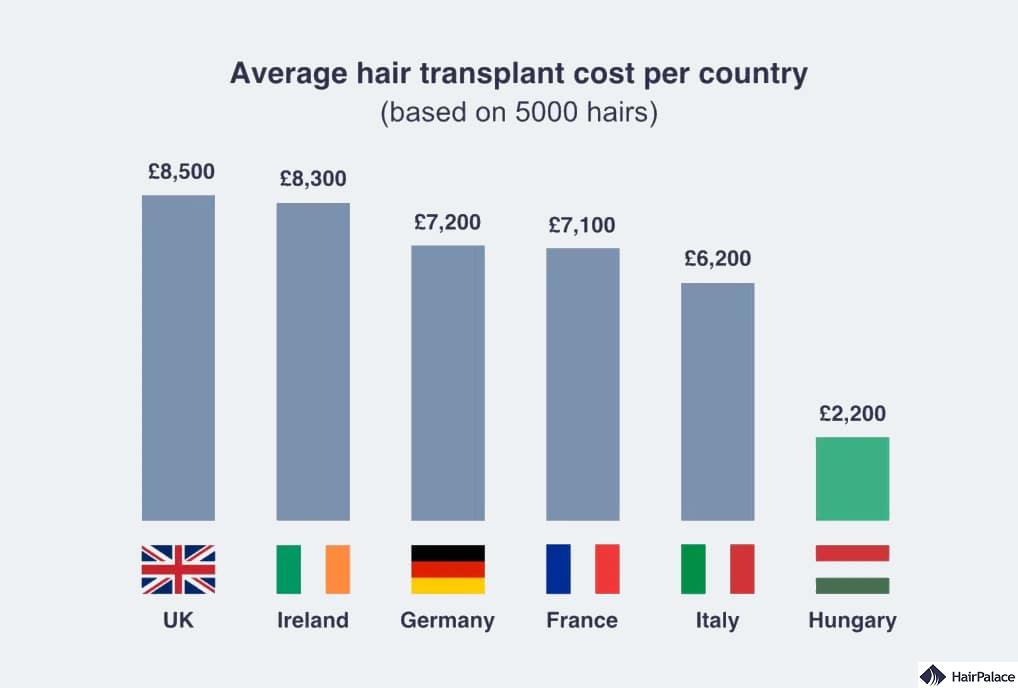 This considerable difference in the cost of hair implantation is the result of lower local wages and living expenses.
At the best Budapest hair clinic, package prices range between £1790 and £2290, in light of the number of transplanted hairs.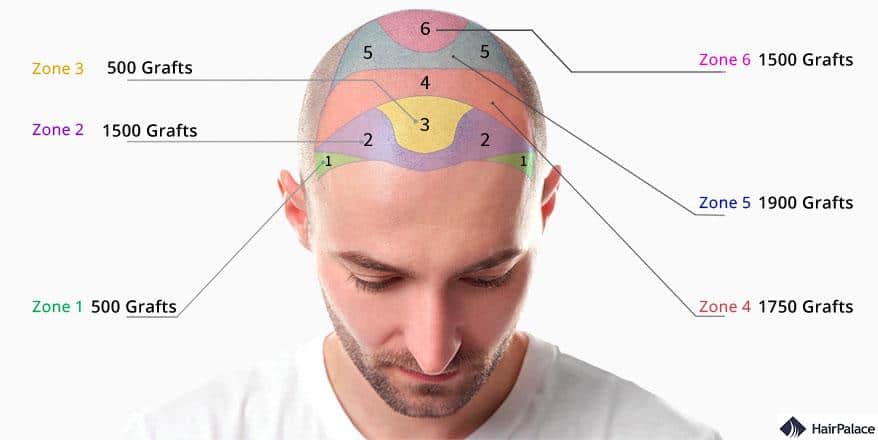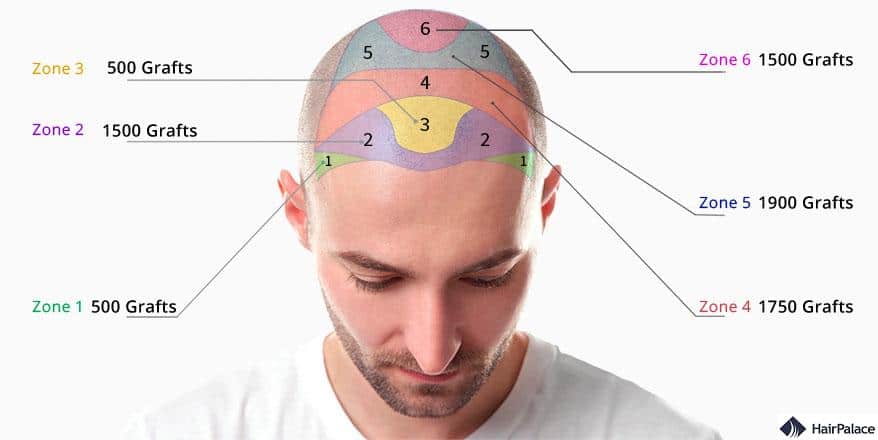 But by having your hair transplant in Budapest, you do not sacrifice quality for the more attractive price tag. HairPalace provides hair transplants in an exclusive, comfortable setting, with the team and facilities meeting the highest international standards.
And thanks to having the most advanced Follicular Unit Extraction technique, the FUE2 safe system in the hands of seasoned experts, the success of your hair restoration procedure is guaranteed.
Excellent hair transplant results at HairPalace in Budapest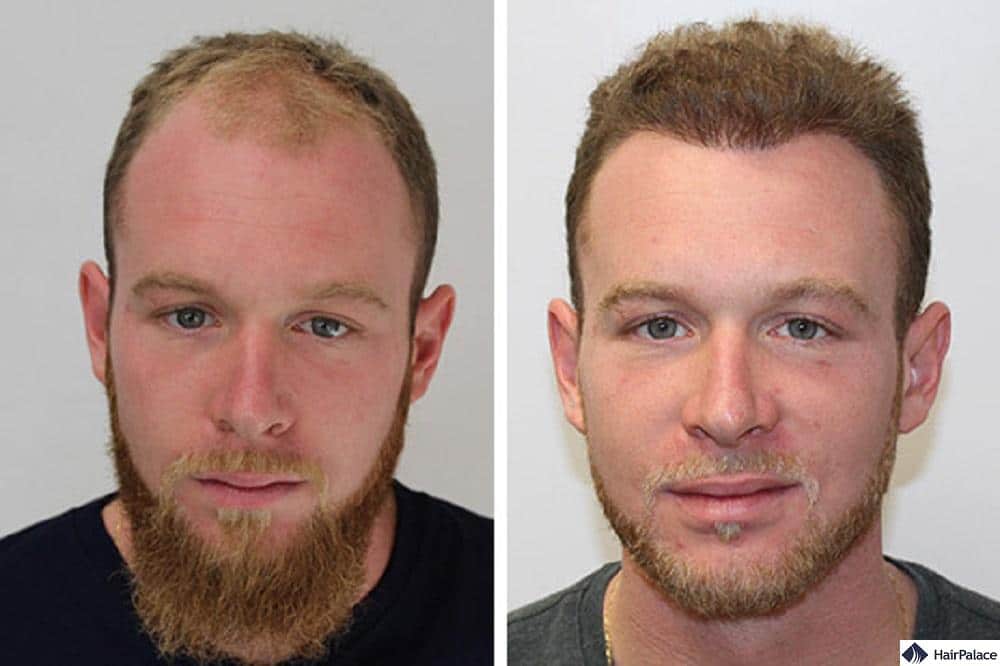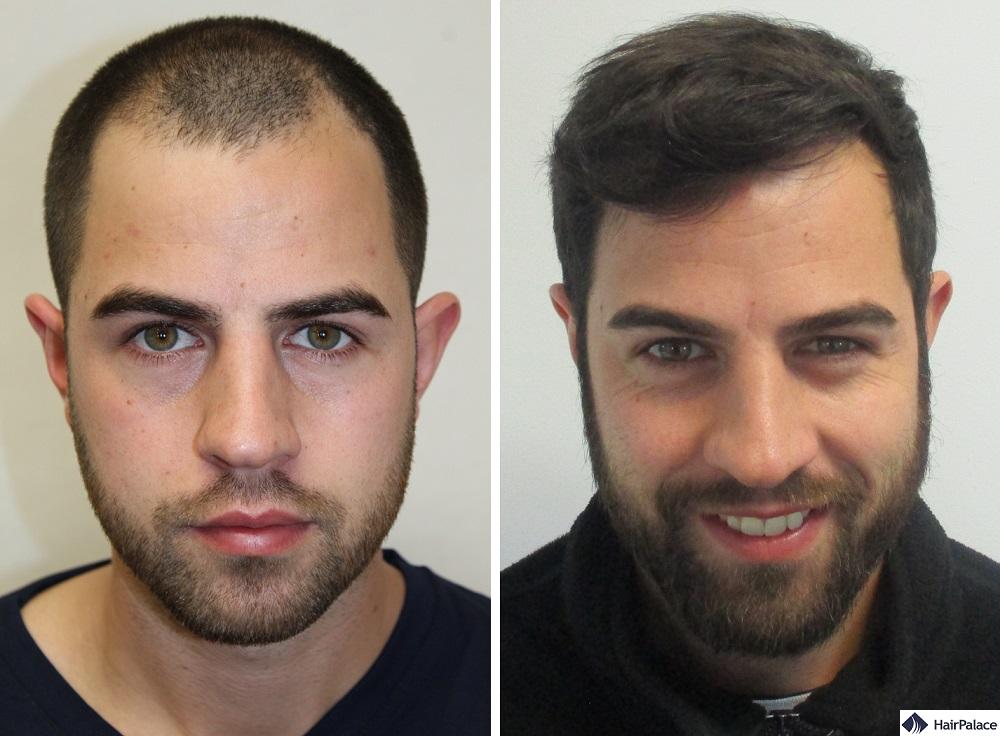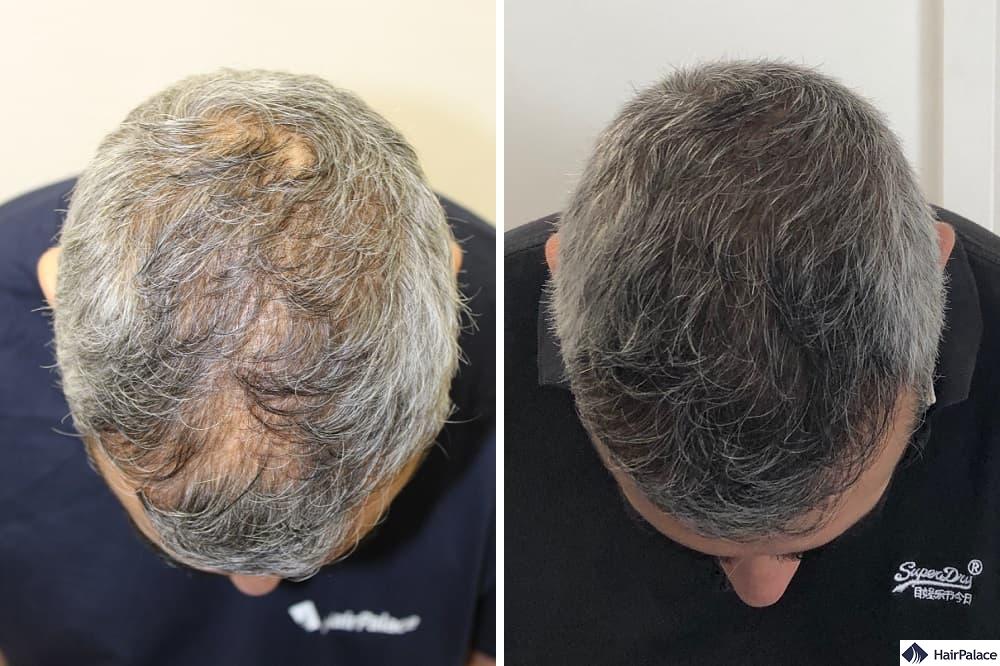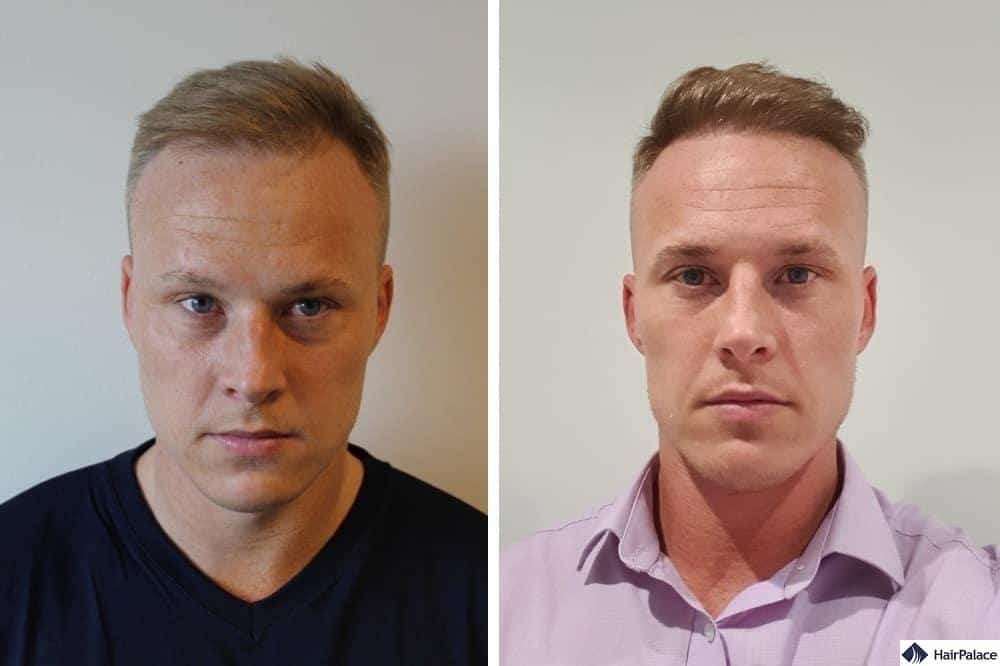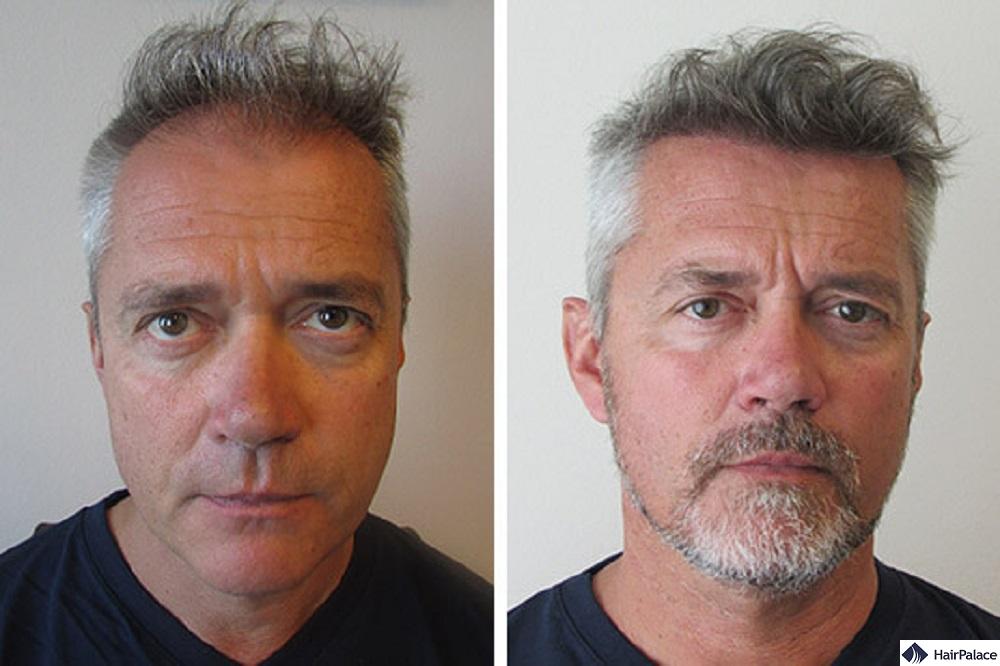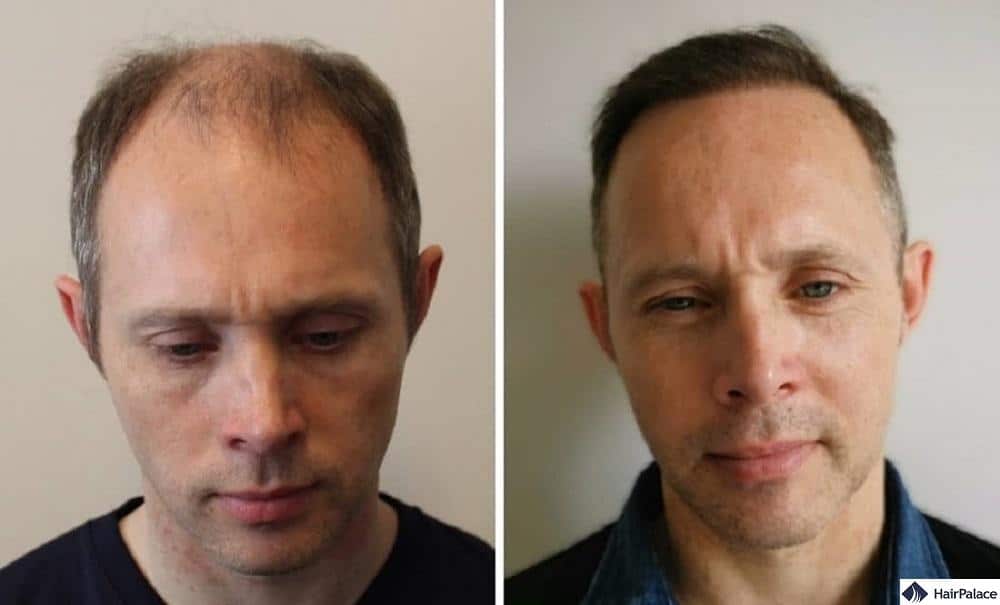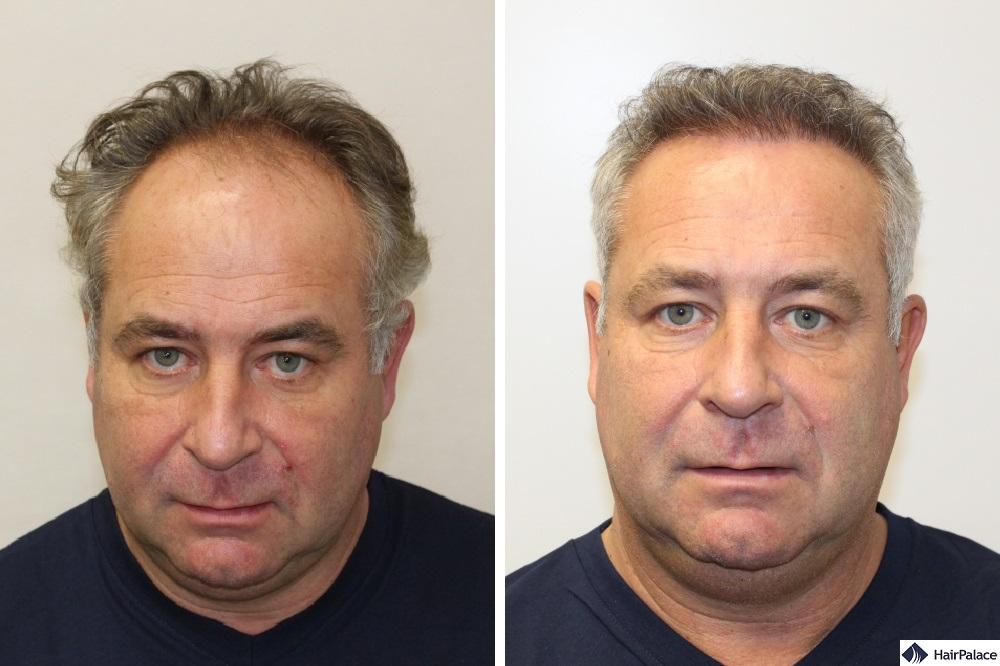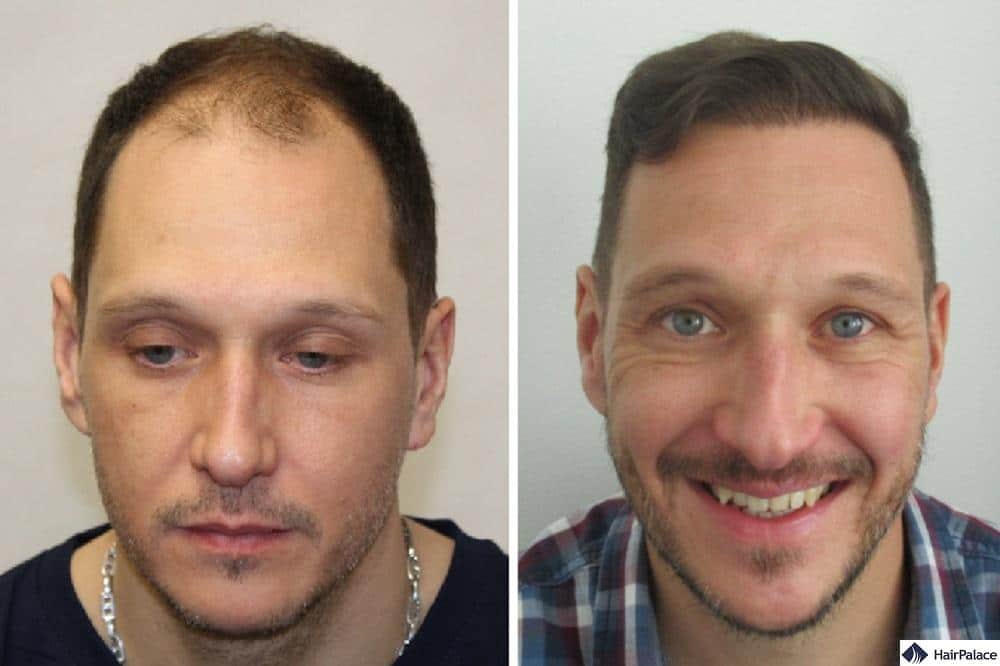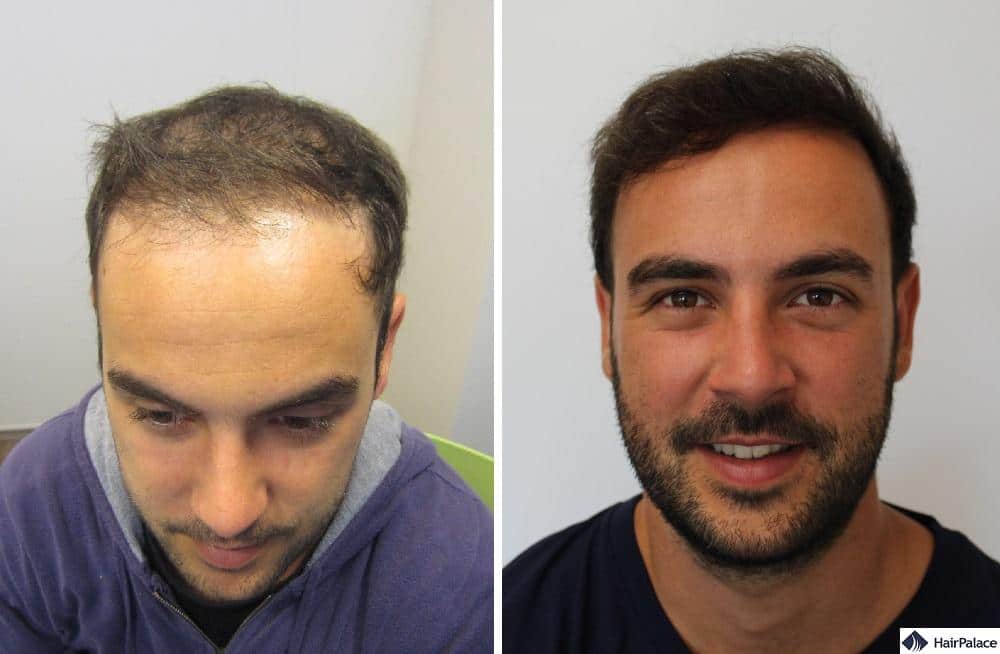 HairPalace hair clinic in Budapest
HairPalace hair clinic is located in the heart of Budapest, on the bank of the River Danube.
The clinic awaits patients with 4 fully equipped, modern surgery rooms and an experienced medical team.
HairPalace Hair Clinic Budapest:

Castrum ház
Lechner Ödön fasor 3/A
Budapest, 1095
Hungary


Phone: +44 20 7131 0229
Opening hours:

Monday 10:00-16:00
Tuesday 10:00-16:00
Wednesday 10:00-16:00
Thursday 10:00-16:00
Friday 10:00-16:00

Email address: info@hairpalace.co.uk
The best hair transplant experts at HairPalace
At HairPalace hair clinic in Budapest, your FUE hair transplant will be carried out by one of 6 excellent doctors.
The surgeons and the medical team possess the skills and experience required to achieve the best hair transplant results.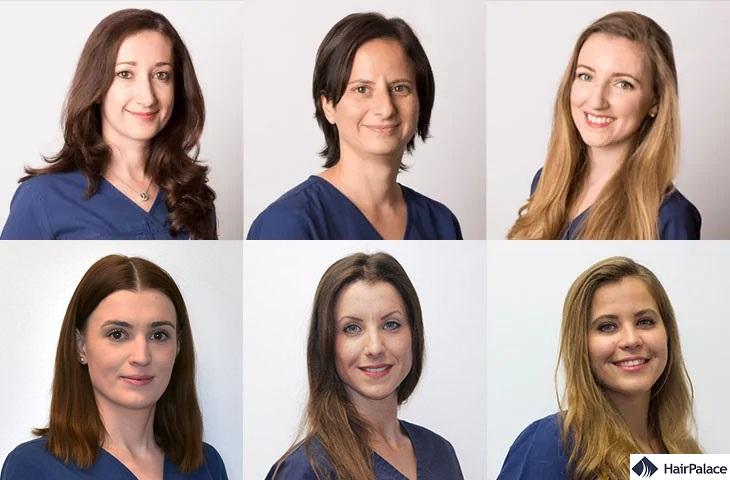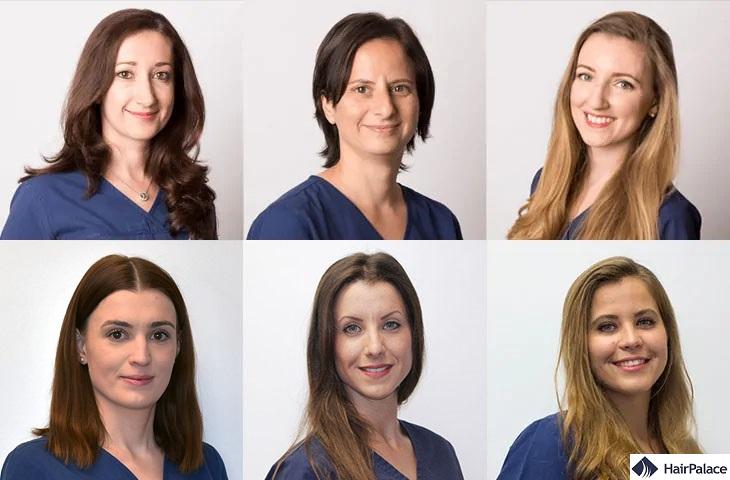 Why choose HairPalace for your hair transplant in Budapest?
With the vast number of hair transplant clinics and methods available, the decision is not easy. HairPalace is committed to helping you find the best solution to restore your hair in bald areas.
What can the best hair clinic in Budapest offer?
Experienced doctors
HairPalace's team of surgeons have 5-10 years of experience in hair transplantation. They are dedicated to providing you with a tailored solution to achieve the best hair transplant results without a single visible scar.
Natural hair transplant results
The FUE safe system allows specialists to reach exceptional success rates and natural, thick hair.
Written guarantee
With the most effective hair transplant method in seasoned experts' hands, HairPalace provides a written guarantee on your hair transplant. If less than 80% of the transplanted hairs grow out, the missing amount is reimplanted, free of charge.
No visible scars
The FUE2 technique extracts individual hair follicles one by one with a micro punch. As a result, the hair transplant procedure leaves no visible scars on the donor area.
Postoperative care
Proper aftercare is essential to reach the best hair transplant result. There will be 6 check-ups after the surgery to ensure that everything goes well. You will be accompanied throughout your journey and the team will be at your disposal if you have any questions along the way.
Excellent price
HairPalace offers competitive hair transplant prices in Budapest. Comprehensive packages cover all costs, and there are no hidden charges.
If you have any questions, or if you would like to get a detailed treatment plan, HairPalace offers no-obligation consultations.
Which hair transplant method does HairPalace use?
HairPalace clinic uses the state-of-the-art FUE2 technique.
It is practically the perfected version of standard FUE hair transplants, correcting its shortcomings to offer higher success rates and more natural results.
With years of experience in its use, doctors recommend the FUE2 for the following reasons:
leaves no visible scars
painless procedure
success rates can be up to 90-95%
short recovery
minimally invasive
effective in preserving the donor area
Thanks to the many benefits these techniques offer, FUE is by far the most popular procedure. The latest reports found that over two-thirds of all surgeries were performed with FUE last year.
So it's, easy to see why FUE is so popular, just take a look at our amazing before and after gallery. The results truly speak for themselves!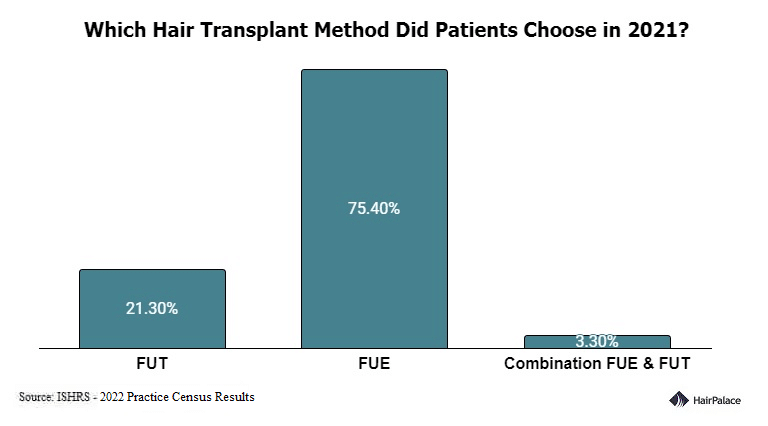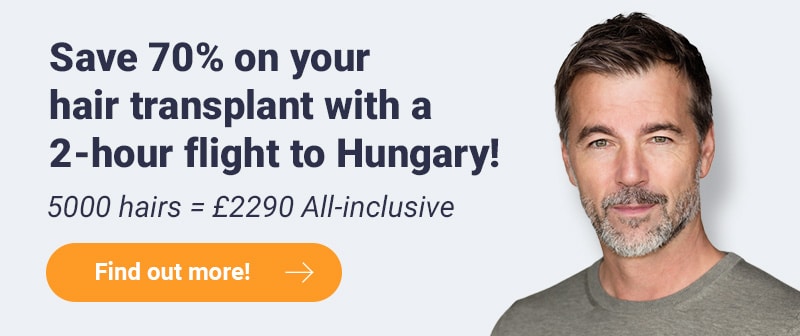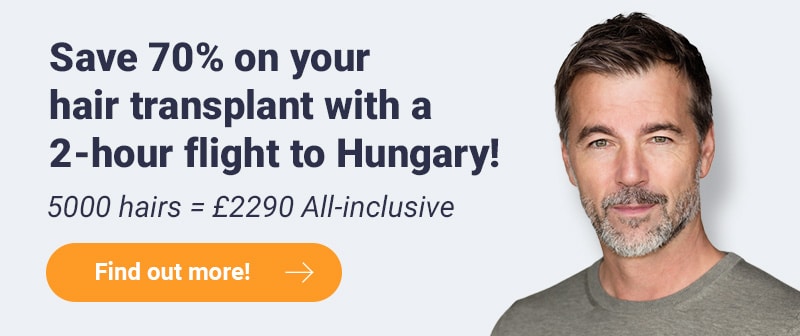 Budapest hair transplant reviews
Every year, more than 500 patients entrust HairPalace with their hair restoration procedures.
The clinic receives lots of feedback publicly, on Facebook, Trustpilot, and Google – and patients' first-hand testimonials can help you find out more about what you can expect.
Take a look at the latest Budapest hair implantation reviews!
Get a free quote on your hair transplant in Budapest
As the first step to getting your hair transplant in Budapest, you'll need to attend a consultation in person, or online.
The free hair transplant consultation takes roughly 30 minutes and is carried out by one of the surgeons.
The specialist will explore the state of your existing hair and discuss your expectations about the result.
The doctor will thoroughly examine your hair and scalp.
In light of your condition and need the doctor will prepare a detailed treatment plan and quote.
This way, the surgeon can discuss the treatment details specific to your case, while you can consider all aspects.
A personal consultation is available in Budapest only, but you can always opt for an online assessment via WhatsApp, Skype, Facetime or Zoom.
Advance reservation is required – contact us at +44 20 7131 0229 or info@hairpalace.co.uk for available appointments!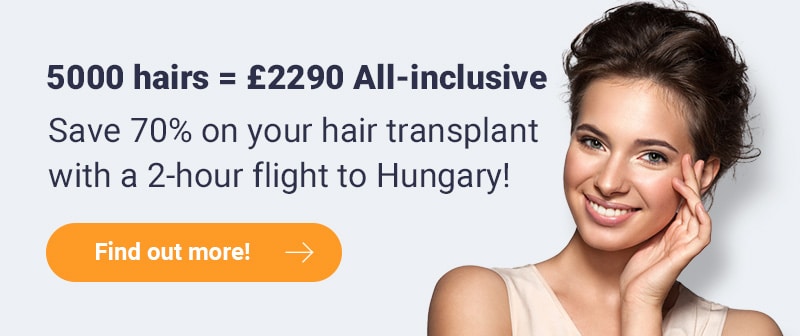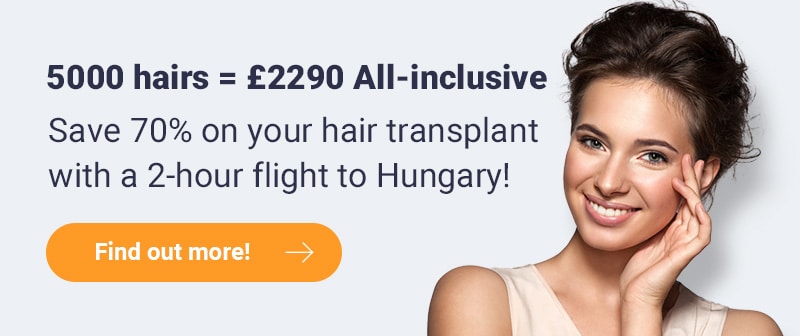 HairPalace relies on scholarly sources, including peer-reviewed articles, as well as publications of medical associations and academic & research institutions. We follow strict sourcing guidelines and avoid tertiary references. Read our editorial policy for further information on how we keep our content up-to-date and accurate.