FUE Hair Transplant: What to Expect, Cost and Results in 2022
Fast facts
| | |
| --- | --- |
| Duration of surgery | 6 to 8 hours |
| Costs in the UK | from £3000 to £10000 per session |
| Hospital stay | no overnight stay needed |
| Anaesthesia | local |
| Pain | none to minimal |
| Risks | temporary swelling, numbness of the scalp, itching |
| Scarring | undetectable |
| Recovery | 7-10 days |
| Regrowth | starts 3-4 months post-surgery |
| Final result | in 12 to 15 months |
What is an FUE Hair Transplant?
The FUE hair transplant technique is where the surgeon extracts and implants hair follicles one by one.
The surgeon harvests healthy follicles from the donor site located at the back and sides of the head. These areas are unaffected by male pattern hair loss, as the hairs are not sensitive to the DHT hormone.
The extracted hairs are then implanted into new areas to increase the density.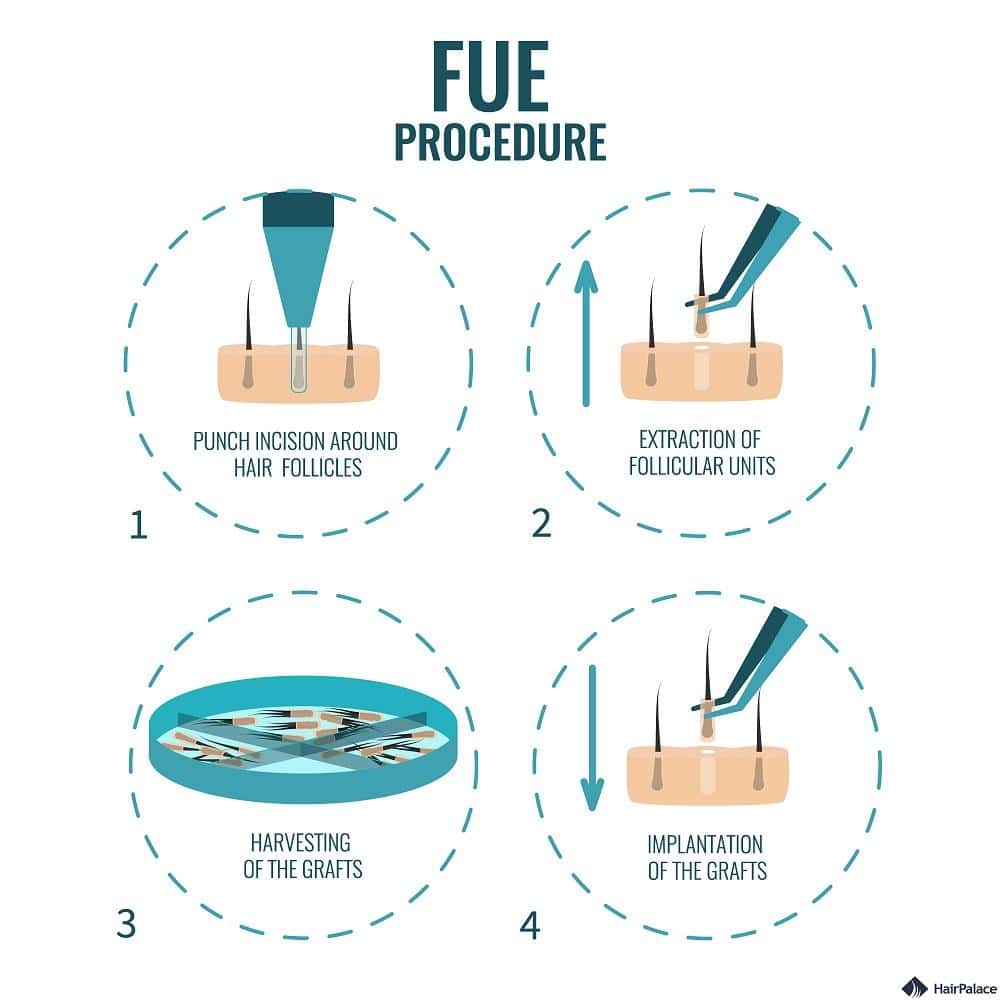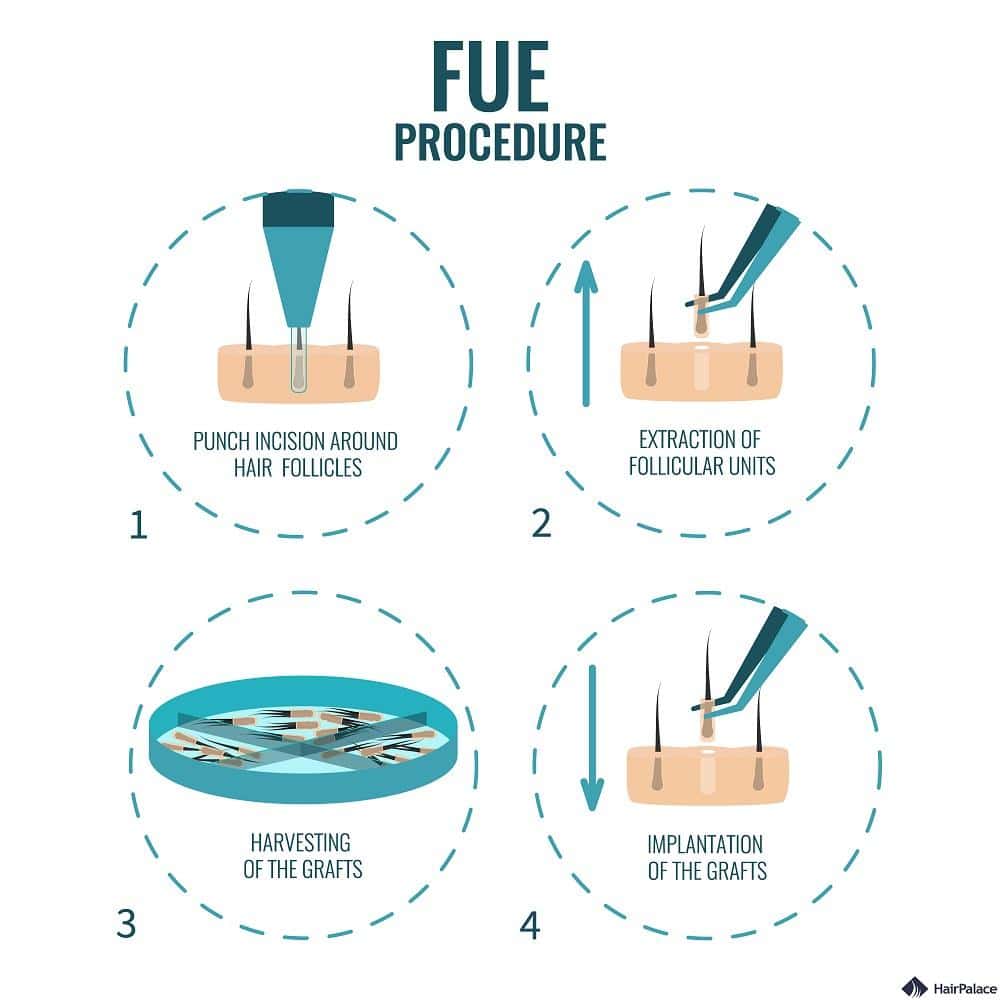 FUE hair transplants enjoy great popularity as they are minimally invasive, outpatient procedures.
Unlike earlier FUT hair implantations, this method does not leave a large, horizontal scar on the donor sites. And, carried out by experts, these surgeries offer high success rates and natural, dense results.
FUE hair transplant cost: How to save 70%?
FUE hair transplants cost between £3000 and £10000 on average for a single session.
The price of the treatment depends on multiple factors, such as:
The number of transplanted hairs

How experienced and skilled your surgeon is

How available the procedure is in your area

Your surgeon's availability

/ How in-demand your surgeon is
However, with just a 2-hour flight to Budapest, you can save 70% of your hair transplant cost.
At HairPalace, we offer the latest method (the FUE2 Safe System) and all-inclusive packages between £1390 and £2190.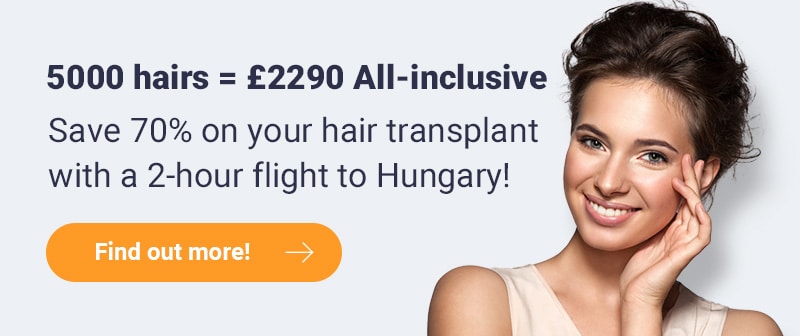 Am I a good candidate?
FUE hair surgeries offer truly transformative, confidence-boosting results.
The technique is applicable in a wide variety of cases – whether you would like to correct a receding hairline, or fill a bald spot on your crown to appear younger.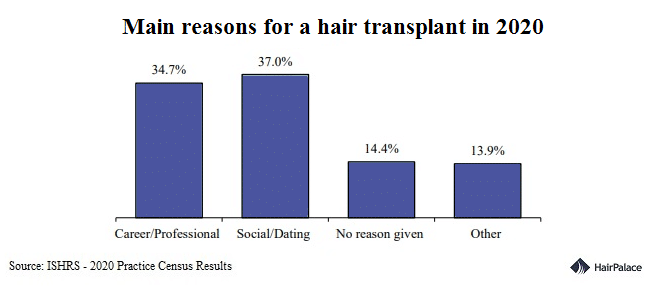 Generally, you may be a good candidate for the procedure if:
Your hair loss has progressed beyond Stage 2 on the

Norwood Scale

Or you have been experiencing hair loss for more than 3 years

Your hair loss has stabilised

You have sufficient density at the back and sides of your head
How does the FUE hair transplant work?
Hair loss shortens the life cycle of the follicles. During the process, the hairs start to miniaturize: they gradually grow thinner and shorter. Finally, the follicle becomes unable to grow hair.
During the surgery, surgeons restore the density of the hair by implanting new follicles to the areas affected by hair loss.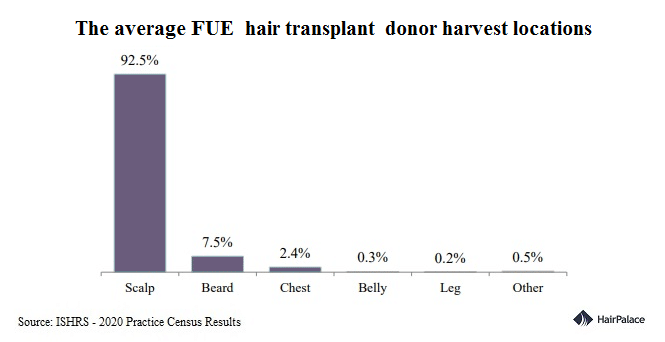 While the FUE method is also suitable for transplanting body hairs, in most cases the hair follicles are harvested from the back of the head. These are resistant to the DHT hormone responsible for male hair loss.
The implanted follicles anchor in the tissue and after a couple of weeks, start to grow new hairs. As a result, the density will improve again on the thinned out or bald areas.
Is FUE the best option?
When it comes to hair transplants, FUE is by far the most popular choice among patients and surgeons too.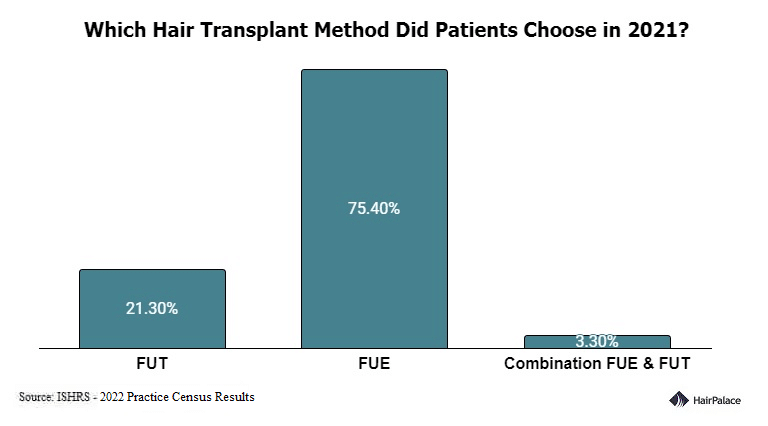 FUE is an outpatient procedure that causes almost no pain and offers quick recovery.
Clinics might offer other techniques, such as a FUT hair transplant or the DHI method.
But different hair transplant methods offer different success rates:
| Techniques | Success rate | Extraction | Cleaning the grafts under a microscope | Duration of surgery |
| --- | --- | --- | --- | --- |
| FUT | 70% | Strip harvesting with a scalpel | | 4 hours |
| FUE | 80% | Individual extraction with a sharp micropunch | | 6-8 hours |
| FUE2 | 90% | Individual extraction with a blunt micropunch | | 6-8 hours |
Thanks to its rounded micropunch, the FUE2 Safe System does not damage the grafts during the extraction. As a result, it offers the highest success rates.
But as it minimizes the number of damaged – and thus, wasted grafts, it also preserves the donor area. This leaves you with better options, should you need follow-up surgery later on.
Types of FUE hair implant methods
Several modified versions of the traditional FUE method are available on the market.
While some of them do make a difference in terms of success rates and recovery, other variants offer questionable benefits for patients.
FUE2 Safe System
Thanks to its rounded micropunch, the FUE2 Safe System does not damage the grafts during the extraction. As a result, it offers the highest success rates.
The tool also features a blocker that regulates the depth of the punches leading to quicker and easier recovery.
But as it minimizes the number of damaged – and thus, wasted grafts, it also preserves the donor area. This leaves you with better options, should you need follow-up surgery later on.
DHI
While it is often marketed as a separate technique, DHI hair transplant is also a variant of the FUE method.
It uses a special implanter, the "CHOI pen" to implant the hair follicles directly into the scalp. This way, there is no need to open channels beforehand.
As a result, there is less bleeding, and shorter recovery but studies are yet to show if the method increases success rates.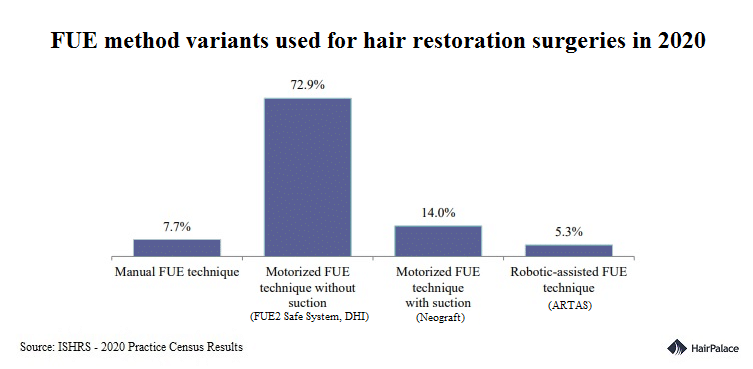 Sapphire, Gold and Diamond hair transplants
Traditional FUE hair transplants use titanium or stainless steel blades, but surgeons can also choose blades made of sapphire, gold or diamond.
Some surgeons swear by these blades and claim that they are sharper, cleaner, and harder, allowing them to make smaller incisions.
However, whether these techniques offer real benefits to patients is yet to be supported by studies.
NeoGraft
NeoGraft transplantation method is a semi-automated form of the FUE method that enjoys increasing popularity in North America.
The drill uses suction to remove the grafts so the surgeon does not have to remove the extracted grafts manually with a surgical tweezer or a needle. This leads to quicker extraction and less irritation to the scalp.
ARTAS Robotic hair restoration
The ARTAS method is a highly motorized variant of the FUE method for hair transplantation. With this method, the hair follicles are removed with the ARTAS robot using AI.
Typically, the implantation is done manually by a surgeon, but newer models are capable of performing the implantation too.
Currently, ARTAS only works for a few patients: it is not suitable for people with curly or light-coloured hair, as this prevents the robot from recognizing the hair follicles.
Due to the high costs, only a few clinics offer ARTAS procedures that are usually more expensive than normal FUE.
Benefits of the FUE method
Choosing the FUE technique for your hair transplant has several benefits:
Quick recovery
No visible, linear scars allowing you to wear short hairstyles after treatment
No pain during surgery
Natural, dense results
A more youthful look will boost your confidence
Optimal for small corrections and more extensive procedures alike
Many patients decide to undergo an FUE procedure after years of struggling with hair loss. Besides the advantages of the treatment compared to other techniques, the result will also have an emotional impact.
In 2020, over 95% of patients reported that the hair transplant had affected them positively: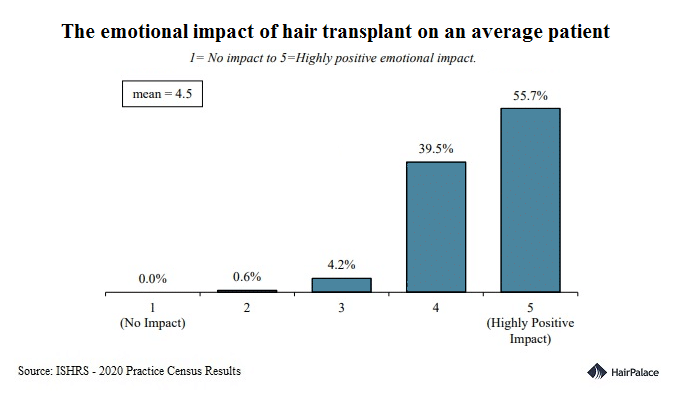 Risks and side effects of FUE
Though FUE hair restoration is minimally invasive, similarly to other surgical procedures, it has a certain amount of risk involved.
Potential risks of the FUE method include:
Infection
Every surgery carries the risk of infection – with FUE procedures, infection occurs in less than 1% of the cases. At HairPalace, we follow strict sanitation standards to maintain an impeccably clean environment and ensure the safety of our patients.

Follicle damage
During the extraction, the hair follicles can be damaged if the FUE technique is done improperly. This can lead to lower success rates and removing more follicles from the donor area than necessary. The FUE2 technique combined with our doctors' expertise and care ensures that this doesn't happen.

Pain and bleeding
In the 2-3 days after the surgery, you might experience some mild discomfort and bleeding. Pain is usually manageable with over-the-counter pain killers. Naturally, your team will remain available after the surgery to help if you experience any issues.

Unsatisfactory results
With less experienced surgeons, there is a chance you won't love your results. HairPalace's team of surgeons have 5-14 years of experience in surgical hair restoration and we offer a written guarantee on every procedure.
How to prepare for the treatment?
Your procedure will not require much preparation on your part.
But by following a few simple steps, you can ensure that your scalp will provide ideal conditions for the new implants.
If you suffer from skin conditions (e.g. psoriasis, eczema etc.) affecting your scalp, make sure it is treated and suppressed before your scheduled procedure.

Have blood tests done before surgery.

Avoid alcohol and reduce smoking at least one week before the procedure.

Do not smoke on the day of the surgery.

Do not apply Minoxidil products (Spectral, Regaine, Rogaine, Kirkland, Neocapil) on the day before your surgery.

The night before your surgery, wash your hair and scalp using regular shampoo. After shampooing, rinse thoroughly and dry your hair.

On the morning of your procedure, do not apply sprays, gels, or other hair care products to your hair.

B

efore

your s

urgery

, do not drink any coffee, tea or other caffeinated beverages, but do have a light breakfast.

On the morning of your procedure, wear a button-up shirt and not something that goes over your head to avoid touching the scalp when you change back to your clothes after the surgery.
Naturally, your surgeon will check your medical history and inform you if you need to do anything more. For example, with certain blood thinners or supplements, they might ask you to stop taking them before the surgery.
The FUE hair transplant procedure
These procedures are minor, minimally invasive surgeries carried out under local anaesthetic.
The procedures typically take 6-8 hours, depending on how many hairs you need to be transplanted.
Here is what you can expect on your surgery day:
Your hair will be cut short to ensure precision during the procedure.

Local anaesthesia, lidocaine injections will be given to numb the donor area.

The surgeon will remove hair follicles one by one from the back and sides of the head using a dedicated micropunch tool.

Under a dual microscope, the assistants will clean the follicles and prepare them for implantation.

The surgeon will prepare the recipient area: first, they numb the scalp with a local anaesthetic. Then, they make tiny incisions to insert the new hairs.

Then, they will implant the follicles.

The surgeon will clean the surgical sites and put a bandage on the donor area.
How many surgeries will you need?
The number of surgeries you need to achieve the desired result will depend on the severity of your case.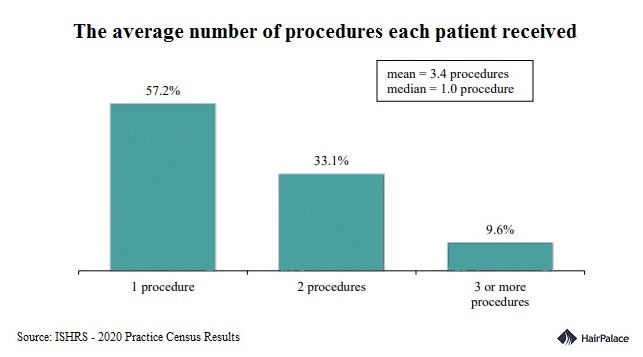 An FUE hair transplant will allow you to achieve a great result in one session – however, you might need further procedures later on if you would like to fully cover larger areas, or your hair loss continues to progress.
Amazing FUE results in 2022
What to expect after the treatment?
FUE hair restoration is an outpatient procedure, so you will return home after the surgery is finished. Once the local anaesthetic wears off, the scalp might feel tight or a bit sore. This typically lasts for a few hours and can be managed with painkillers if necessary.
In the first few days, you can expect redness, itching, minor swelling, and crusts.
While your recovery will be quick, it is crucial that you follow the post-op instructions to ensure optimal regrowth.
Do take a few days off work to rest

Don't wear hats, caps, or a headscarf for 3 weeks

A

void

doi

ng

any strenuous physical activity for 3 weeks

Don't wash your hair, use only the sterile solution provided during week 1

Soak and massage the scalp daily, from week 2, to remove scabs

Start using baby shampoo from week 3 to wash your hair and scalp gently, but thoroughly every day
The implanted hairs will fall out between weeks 4 and 12. This is a normal part of the process. You can expect to see new growth from 3-4 months after the surgery.
The density will improve gradually; the result will be complete 12-18 months after the surgery.
The best FUE hair transplant near you
An FUE hair transplant is capable of providing you with lasting results and a natural, dense look. However, for the success of the procedure, it is essential to have a qualified and experienced surgeon perform them.
We always recommend patients check the results and the reviews of the providers to learn from previous patients what level of care and attention they can expect throughout the procedure.
Check the best hair clinics near you:
At HairPalace, we have been performing successful hair surgeries for more than 10 years. And our friendly team received more than 1000 reviews on multiple platforms. We would be happy to help you with a tailored solution!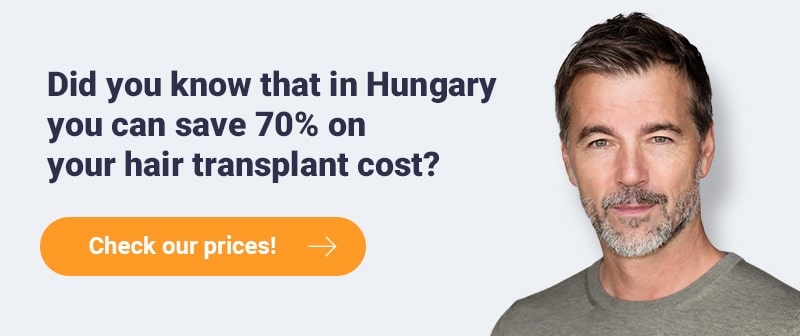 FAQ
How long do FUE transplants last?
An FUE hair transplant creates permanent results: all hairs implanted during the procedure will remain in the scalp for a lifetime. Implanted hairs are resistant to dihydrotestosterone (DHT), the sex hormone known to cause hair loss (particularly male pattern baldness).
Is an FUE hair transplant worth it?
Yes! FUE is the most popular type of hair transplant, and is minimally invasive. This outpatient treatment is performed by seasoned surgeons using the latest techniques and technologies. FUE hair transplant treatments offer high success rates and dense, natural hair growth.
How much does FUE cost?
Hair transplant cost is always based on a patient's unique requirements and aesthetic goals (such as the number of hairs needed to achieve the desired level of growth). Hair transplant packages are significantly more affordable in Hungary than in the UK, and the treatment is of the same excellent quality.
Is FUE transplant painful?
You should experience no pain during FUE hair transplant procedures. Surgeons inject lidocaine into the scalp to numb treatment areas before they start the transplant. This ensures that any discomfort remains minimal.
Last medically reviewed on May 6th, 2022
HairPalace relies on scholarly sources, including peer-reviewed articles, as well as publications of medical associations and academic & research institutions. We follow strict sourcing guidelines and avoid tertiary references. Read our editorial policy for further information on how we keep our content up-to-date and accurate.