FUE Hair Transplant: Ultimate Guide in 2023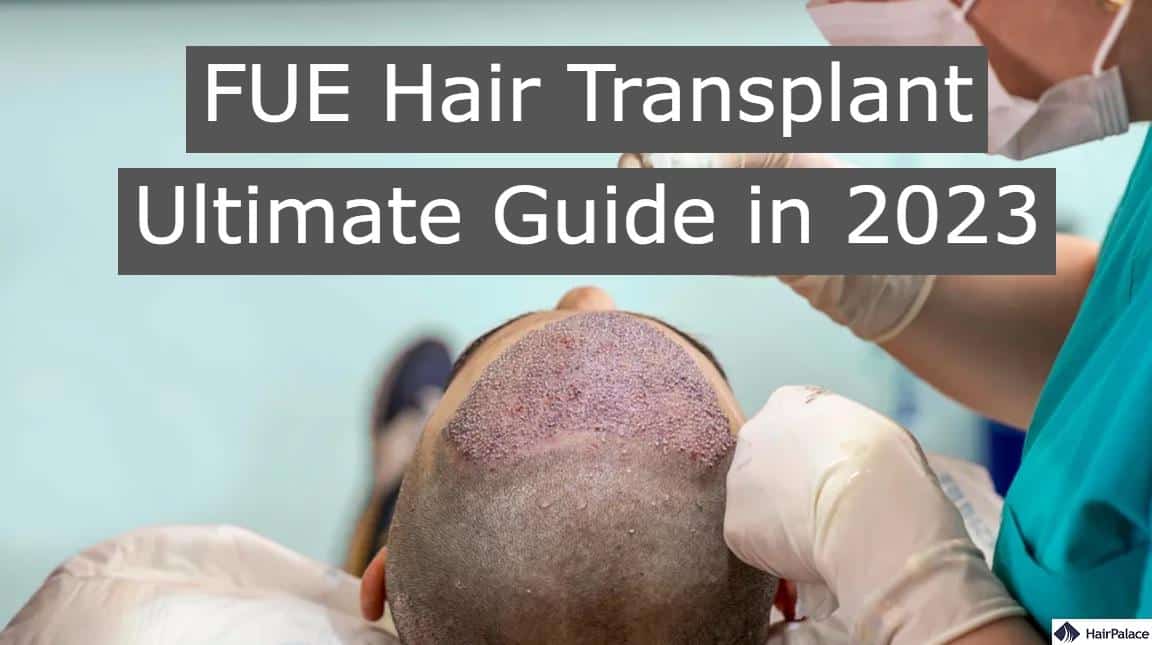 Fast facts
General information
Follicular Unit Extraction involves the removal of individual hair follicles which are then transplanted to the balding areas
Follicular Unit Extraction is currently the most popular method of transplanting hair
FUE hair transplant doctors utilize a micropunch tool that extracts follicles one by one leaving virtually zero visible scars behind
About the surgery
A typical FUE session usually lasts anywhere between 6 to 8 hours
This is an outpatient procedure so will return home after the surgery
There is no pain involved as the procedure is done under a local anaesthetic
You will have to follow post-op guidelines provided by your clinic to ensure optimal regrowth
Your final results will only be visible after 12 to 15 months
Is it safe?
The surgery only causes minor side effects that typically subside within a few days
The most common side effects include temporary swelling, numbness of the scalp, and itching
Cost
The surgery can cost anywhere between £3000 and £10000 in the UK
Costs can vary greatly between different clinics and your surgeon and the chosen method also has an influence on the final price
Efficacy
Regrowth starts after 3 to 4 months
Typically around 90-98% of the implanted grafts survive and the surgery has a 90-95% success rate
Generally speaking, at least 80% of the transplanted hair will grow back
What is an FUE Hair Transplant?
Follicular Unit Extraction (FUE) is a surgical procedure used for hair transplantation.
It is a modern hair restoration technique that involves harvesting individual hair follicles from a donor area and transplanting them into the recipient area, where hair is thinning or balding.
The surgeon harvests healthy follicles from the donor site located at the back and sides of the head.
These areas are unaffected by male pattern hair loss, as the hairs are not sensitive to the DHT hormone.
The extracted hairs are then implanted into new areas to increase their density.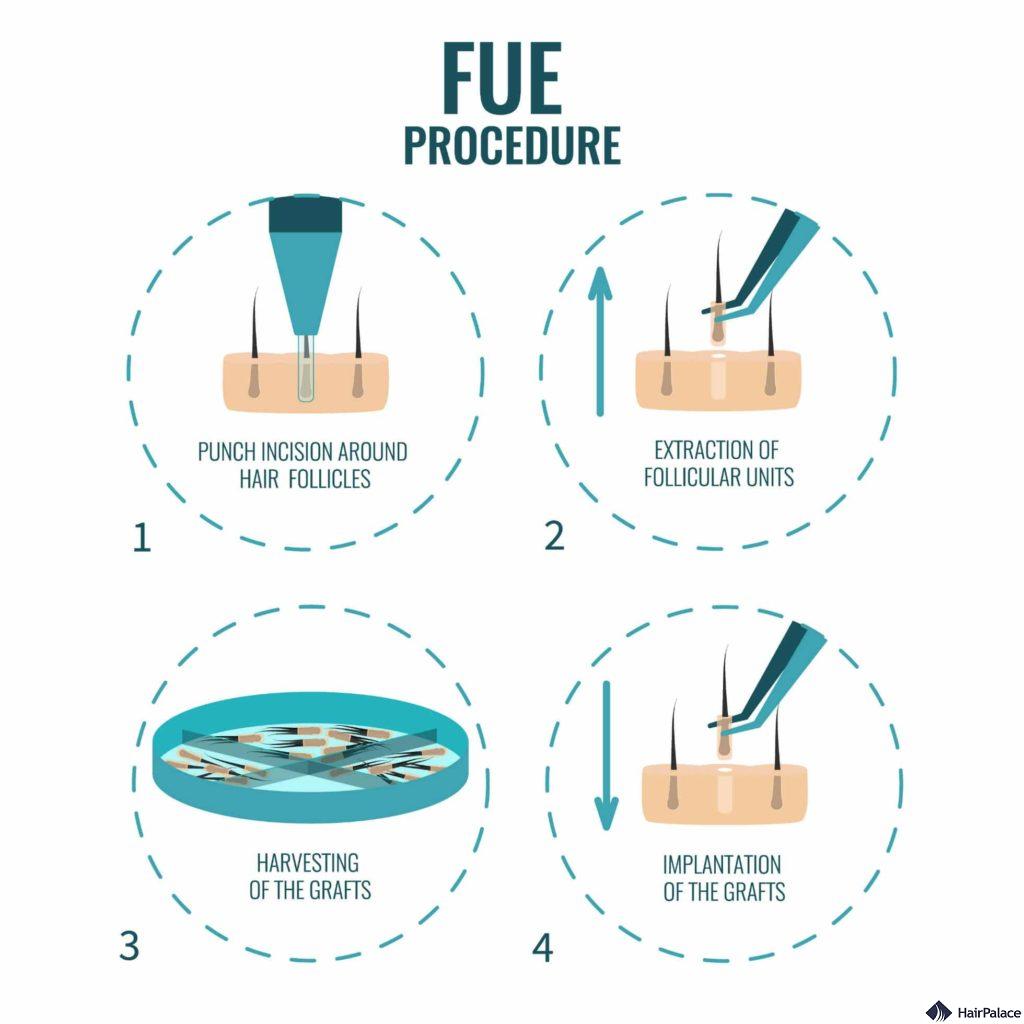 FUE hair transplant cost
FUE hair transplants cost between £3000 and £10000 on average for a single session in the UK.
The price of the treatment depends on multiple factors, such as:
The number of transplanted hairs

How experienced and skilled your surgeon is

How available the procedure is in your area

Your surgeon's availability

/ How in-demand your surgeon is
How to save 70% on FUE hair transplantation?
Finding an affordable FUE hair transplant in the UK is nearly impossible. However, with just a 2-hour flight to Budapest, you can save 70% of your hair transplant cost. 
At HairPalace, we offer the latest method (the FUE2 Safe System) and all-inclusive packages between £1790 and £2290.
How does the FUE hair transplant work?
Hair loss shortens the life cycle of the follicles. During the process, the hairs start to miniaturize: they gradually grow thinner and shorter. Finally, the follicle becomes unable to grow hair.
During the surgery, hair transplant surgeons restore the density of the hair by implanting new follicles in the areas affected by hair loss.
The hairs are usually harvested from the back of the head as the hairs found in this region have a resistance to the DHT hormone.
The fact that the transplanted hair is resistant to the follicle-killing DHT hormone, means that once your hairs have anchored in, they will never fall out.
The FUE hair transplant procedure
These procedures are minor, minimally invasive surgeries carried out under local anaesthetic.
The procedures typically take 6-8 hours, depending on how many hairs you need to be transplanted.
Your hair will be cut short to ensure precision during the procedure.

Local anaesthesia, and lidocaine injections will be given to numb the donor area.

The surgeon will remove hair follicles one by one from the back and sides of the head using a dedicated micropunch tool.

Under a dual microscope, the assistants will clean the follicles and prepare them for implantation.

The surgeon will prepare the recipient area: first, they numb the scalp with a local anaesthetic. Then, they make tiny incisions to insert the new hairs.

Then, they will implant the follicles.

The surgeon will clean the surgical sites and put a bandage on the donor area.
What's the difference between FUE and FUT?
Watch as János takes a deep dive into the differences between FUE and FUT.
In Follicular Unit Extraction (FUE), individual hair follicles are extracted directly from the donor area using a micro-punch tool.
On the other hand, FUT involves removing a thin strip of scalp tissue from the donor area.
The key difference between the two methods is that FUT leaves a large linear scar across the donor area, whereas FUE causes no visible scarring.
Lastly, FUE typically has a quicker recovery time compared to FUT. The healing process is generally faster since FUE does not involve a large incision or stitches.
6 benefits of the FUE technique
In fact, choosing the FUE method offers several benefits:
Quick recovery
No visible, linear scars allowing you to wear short hairstyles after treatment
No pain during surgery
Natural, dense results
A more youthful look will boost your confidence
Optimal for small corrections and more extensive procedures alike
Besides the advantages of the treatment compared to other techniques, the result will also have an emotional impact.
FUE hair transplant side effects
Though FUE hair restoration is minimally invasive, similar to other surgical procedures, it has a certain amount of risk involved.
Potential risks of the FUE method include:
Infection
Follicle damage
numbness or feeling a tingling sensation
Pain, bleeding or swelling
Unnatural looking results
A continuation of hair loss after the treatment
What to expect after your FUE hair transplant?
At the beginning of the FUE hair transplant recovery timeline, you can expect redness, itching, minor swelling, and crusts. This period typically lasts no longer than a few days.
While your recovery will be quick, it is crucial that you follow the post-op instructions to ensure optimal regrowth.
Do take a few days off work to rest

Don't wear hats, caps, or a headscarf for 3 weeks

A

void

doi

ng

any strenuous physical activity for 3 weeks

Don't wash your hair, use only the sterile solution provided during week 1

Soak and massage the scalp daily, from week 2, to remove scabs

Start using baby shampoo from week 3 to wash your hair and scalp gently, but thoroughly every day
After FUE hair transplant, your implanted hairs will fall out between weeks 4 and 12. This is a normal part of the process.
The density will improve gradually; the result will be complete 12-18 months after the surgery.
Amazing FUE results in 2023
Life-changing results with 2000 grafts
Watch how Henri completely reshaped the way he looks with the help of a 2000-graft hair transplant.
Yann's stunning transformation with 3000 grafts
See the amazing results of Yann's FUE hair transplant operation.
Incredible hair transplant results with 5000 grafts
David's appearance went through a jaw-dropping change thanks to his 5000 graft hair transplant.
How to prepare for your FUE hair transplant
The surgery won't require much preparation on your part. However here are some general guidelines you should follow ahead of your hair transplant.
You should stop smoking and consuming alcohol three days before your surgery
Don't take any blood-thinning medication for 2 weeks before the surgery
Avoid vitamins and dietary supplements 2 weeks ahead of your procedure
Don't get a haircut before your hair transplant, this will be done by the surgical team
Massage your scalp for 30 minutes each day for a week before the surgery
Have a light breakfast on the day of your operation
Make sure not to consume any coffee or energy drinks as well as drinks that contain caffeine
Am I a good candidate?
The technique is applicable in a wide variety of cases – whether you would like to correct a receding hairline or get a hair transplant on the crown to appear younger.
However you'll only find out whether you're a good candidate during your FUE hair transplant consultation.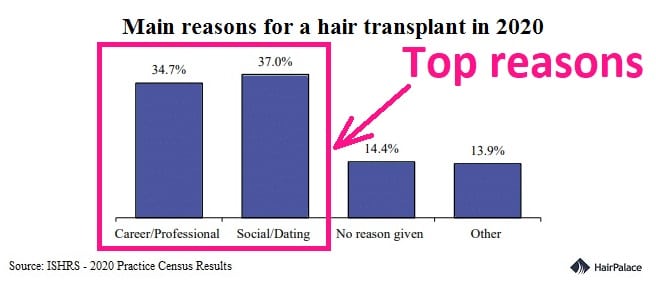 Generally, you may be a good candidate for the procedure if:
Your hair loss has progressed beyond Stage 2 on the

Norwood Scale

Or you have been experiencing hair loss for more than 3 years

Your hair loss has stabilised

You have sufficient density at the back and sides of your head
The best FUE hair transplant near you
We always recommend patients check the results and the reviews of each FUE hair transplant clinic to learn from previous patients what level of care and attention they can expect throughout the procedure.
Check the best hair clinics near you:
At HairPalace, we have been performing successful hair surgeries for more than 10 years. And our friendly team received more than 1000 reviews on multiple platforms.
We would be happy to help you with a tailored solution!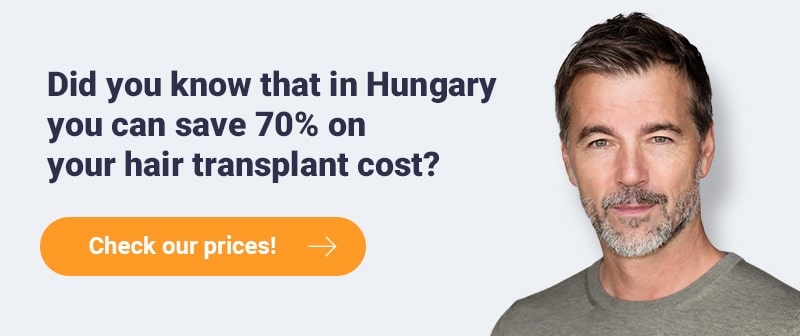 The TOP 15 most frequently asked questions
How long do FUE transplants last?
An FUE hair transplant creates permanent results: all hairs implanted during the procedure will remain in the scalp for a lifetime. Implanted hairs are resistant to dihydrotestosterone (DHT), the sex hormone known to cause hair loss (particularly male pattern baldness).
Is an FUE hair transplant worth it?
Yes! FUE is the most popular type of hair transplant, and it's minimally invasive. This outpatient treatment is performed by seasoned surgeons using the latest techniques and technologies. FUE hair transplant treatments offer high success rates and dense, natural hair growth.
How much does FUE cost?
Hair transplant cost is always based on a patient's unique requirements and aesthetic goals (such as the number of hairs needed to achieve the desired level of growth). Hair transplant packages are significantly more affordable in Hungary than in the UK, and the treatment is of the same excellent quality.
Is FUE transplant painful?
You should experience no pain during FUE hair transplant procedures. Surgeons inject lidocaine into the scalp to numb treatment areas before they start the transplant. This ensures that any discomfort remains minimal.
What is FUE?
FUE (Follicular Unit Extraction) is a modern hair transplant technique that involves harvesting individual hair follicles from the donor area and transplanting them into the recipient area, resulting in a more natural-looking outcome with minimal scarring and faster recovery compared to the traditional strip method.
Is the procedure safe?
Yes, it is one of the safest forms of cosmetic surgery with minor side effects and virtually zero scarring. As long as the surgery is carried out by a qualified surgeon, you have nothing to worry about.
What is the success rate?
FUE procedures have a 90-95% success rate when done by an experienced surgeon with a proven track record.
Do I need to take time off from work?
This will largely depend on your occupation. If you have a job that is not physically demanding, you can return to work after just a few days of rest. However, for more physical jobs it is recommended to wait at least a week before you put yourself under strain.
How can you sleep after the procedure?
You should sleep with your head in a slightly elevated position to ensure that the implanted area doesn't touch your pillow or your sheets. Consider using a neck pillow for the first few nights.
How long will you feel pain after the procedure?
You will only feel minor discomfort following your hair transplant. While everyone has a different level of tolerance for pain, the discomfort should go away after the end of the first week.
Is FUE permanent?
Once you're over the recovery period you can enjoy your results for the rest of your life. The transplanted hairs will never fall out, and they will continue to grow as they would in their original location.
Will there be any scarring?
The surgery only leads to micro-scars, which will be invisible to the naked eye. Your results will look completely natural and the implanted hairs will blend in with your existing hair seamlessly.
Can you transplant hairs from other people?
No, hair transplantation works similarly to an organ transplant. Transplanting hairs from someone else increases the chance of tissue rejection exponentially. Not only does it increase the likelihood of a failed hair transplant, but it also increases the chance of infection and permanent scarring.
When will you see regrowth?
Results can vary greatly, but you will see initial results after 6 months, with your final results appearing after 12 to 15 months.
Can you have multiple surgeries?
Yes, as long as you have a sufficient amount of donor hairs to be transplanted you can have as many surgeries as you want.
HairPalace relies on scholarly sources, including peer-reviewed articles, as well as publications of medical associations and academic & research institutions. We follow strict sourcing guidelines and avoid tertiary references. Read our editorial policy for further information on how we keep our content up-to-date and accurate.