PRP Hair Treatment: Cost, Success Rates & Best Clinics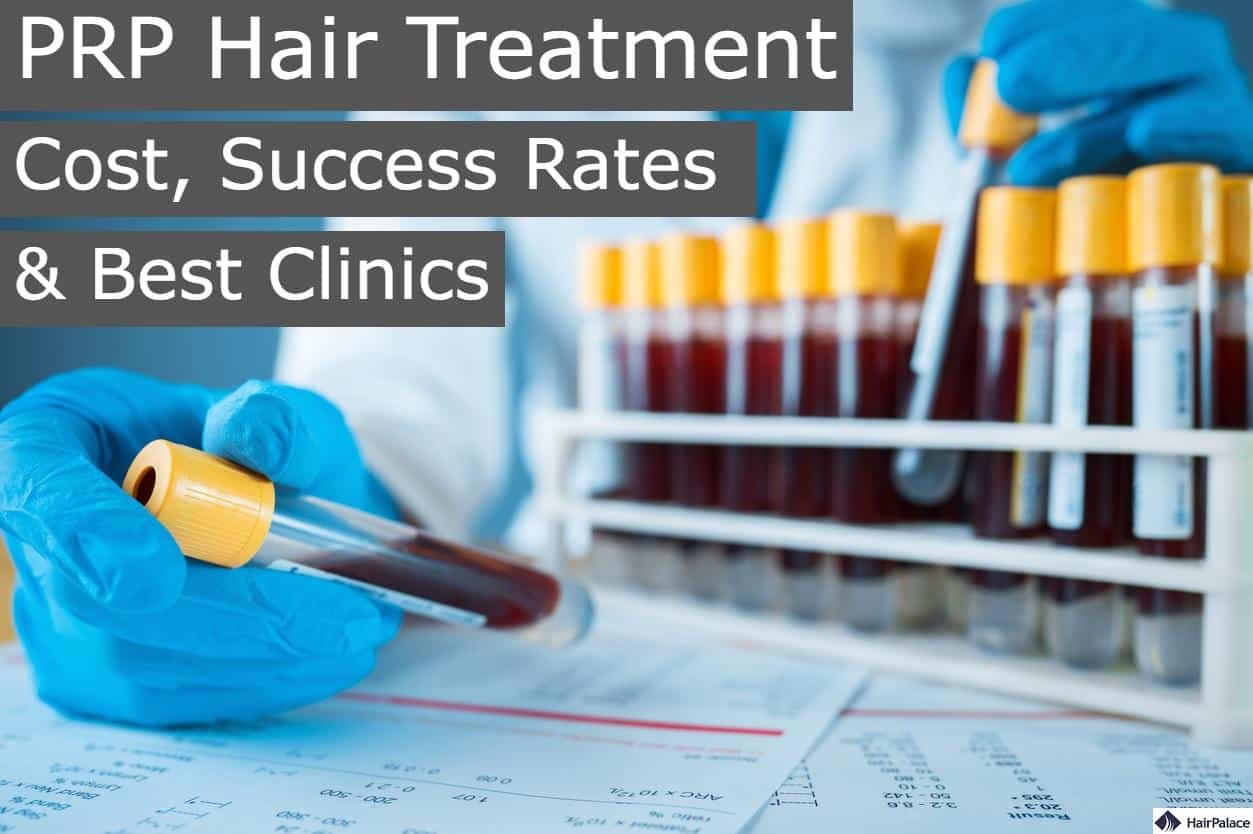 PRP hair loss treatment is a relatively new treatment to promote hair growth, and the procedure is still very much in its infancy.
Although, the early results suggest that these treatments may stimulate hair growth in men and women.
But it's an entirely different process from taking a pill (like finasteride) or undergoing a hair transplant.
So, could a PRP injection be an effective hair loss treatment for you?
Find out in this article!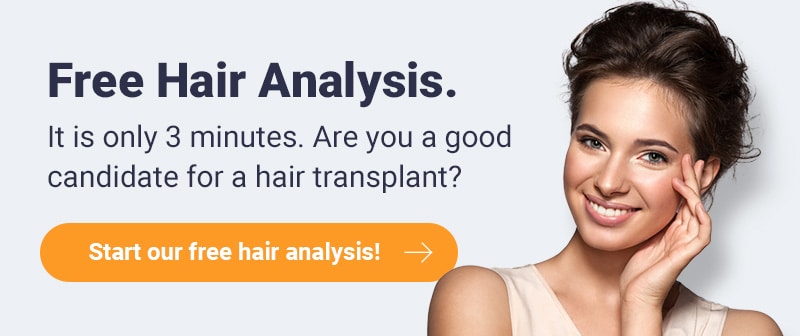 PRP injections for hair loss at a glance
Duration of treatment
60 to 90 minutes
Number of sessions
3 to 6 sessions every 4 to 6 weeks
with 1or 2 maintenance treatments each year
Components
natural growth factors and proteins
Price
£250 to £500 per session
Most popular city
London
Pain
minimal to moderate depending on the method of application
Risks
bruising, redness, damage to blood vessels or nerves,
infection and scarring
Scarring
none
Recovery
no recovery time
Return to work
instantly
Result
visible in 3 to 6 months
Longevity
Results are temporary, requiring regular maintenance treatments
How does PRP hair treatment work?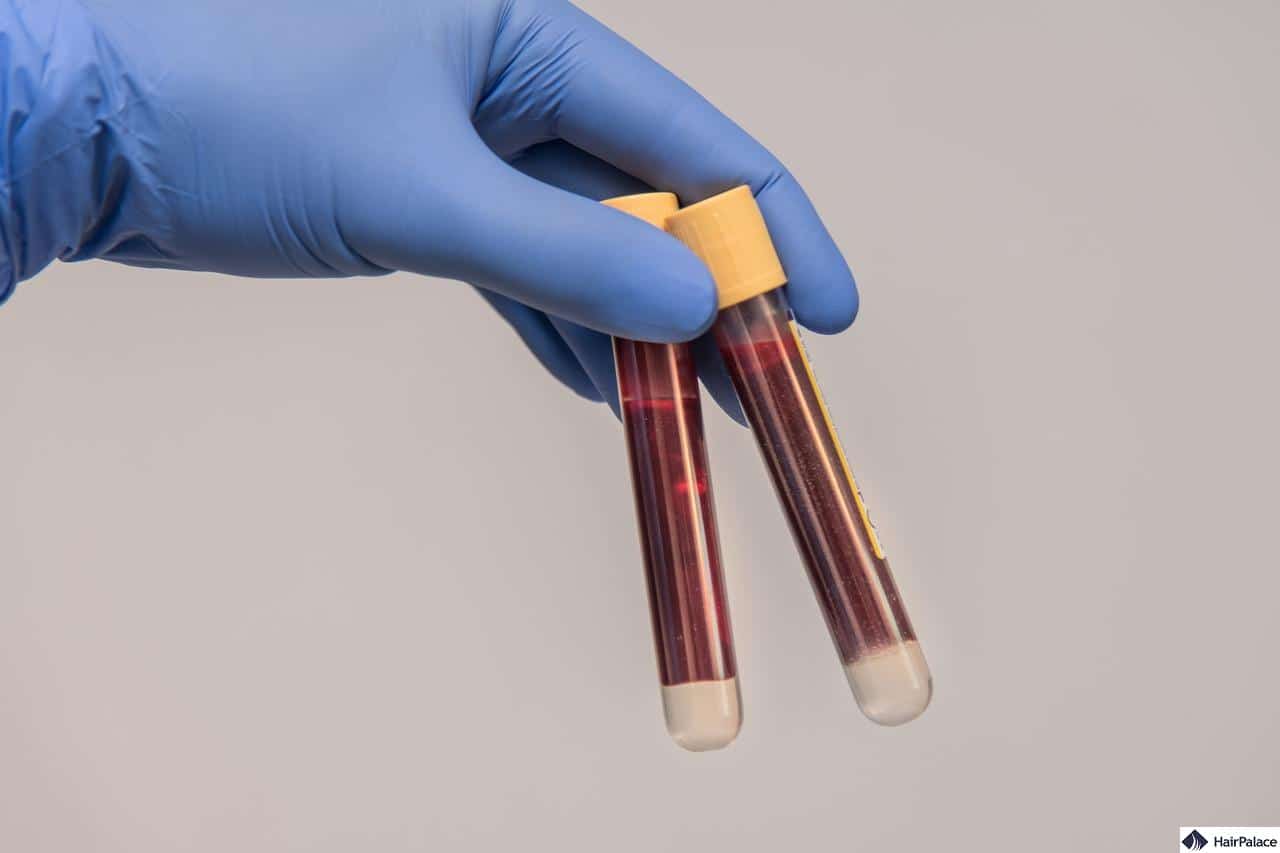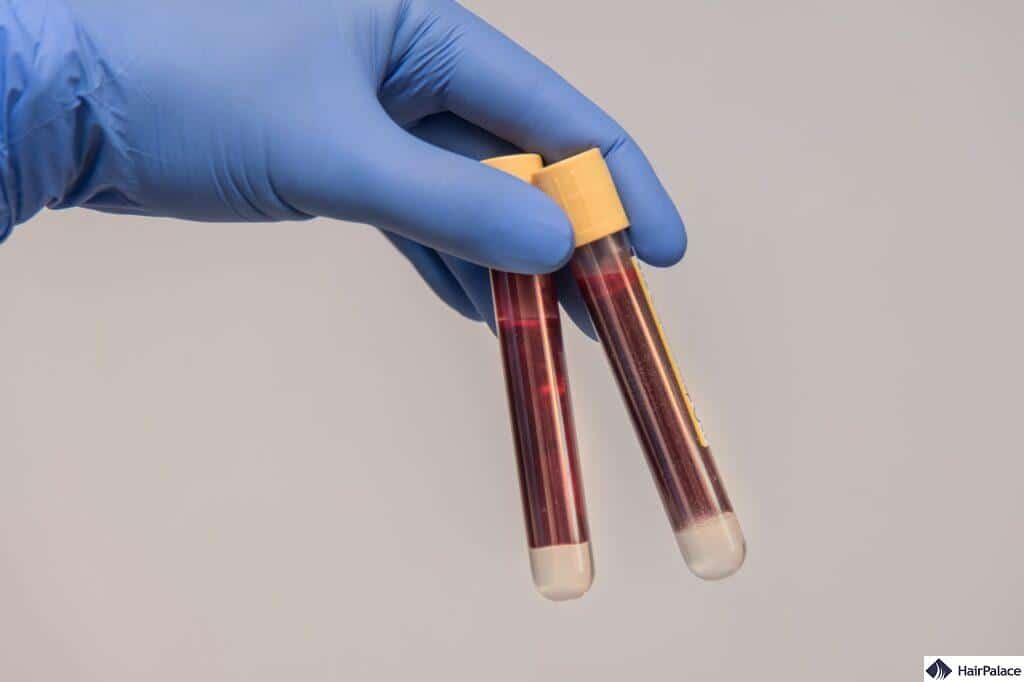 Platelet-rich plasma (PRP) therapy for hair loss is a safe and effective method for regrowing hair without the need for surgery.
The treatment involves using the patient's own blood plasma to stimulate hair growth and can be beneficial for individuals experiencing hair loss due to various reasons, such as androgenic alopecia.
In order to understand what PRP hair treatment is, we must understand the role that platelet-rich plasma plays in wound healing. Platelets are a blood component, just like red and white blood cells.
Platelet-rich plasma contains a wide range of proteins and growth factors in high concentration that speed up tissue regeneration.
As such, platelet-rich plasma therapy is a widely used method in cosmetic dermatology, sports medicine, and the treatment of a variety of injuries.
Is PRP effective for hair loss?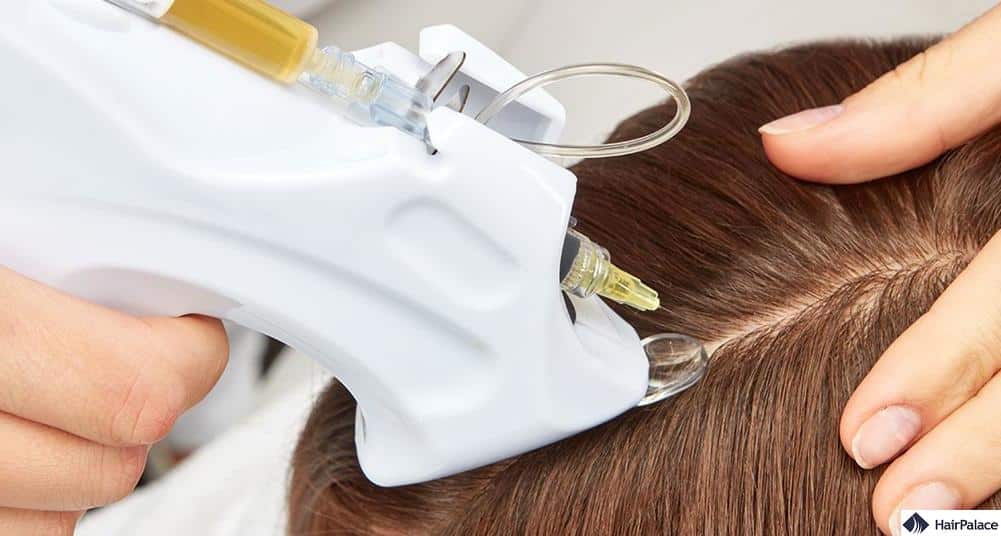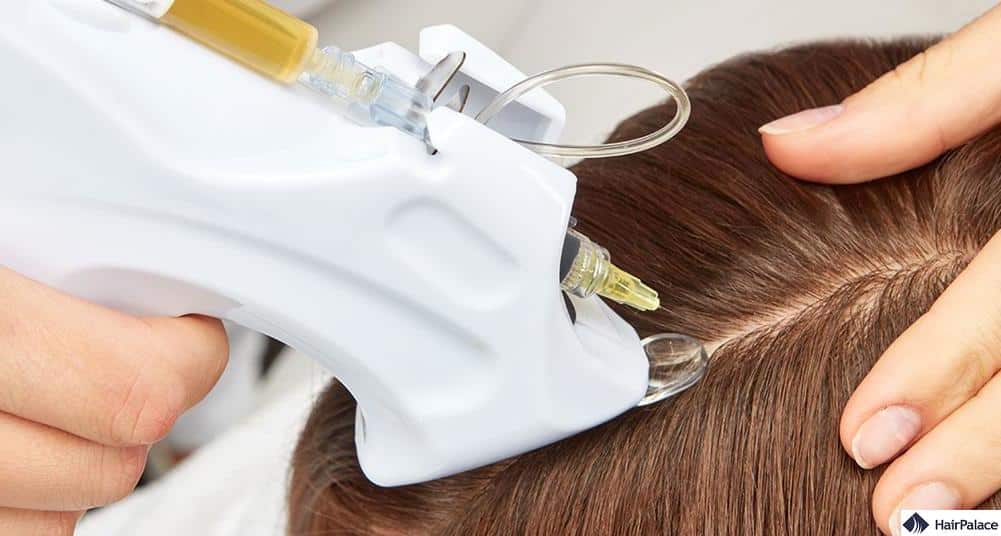 Research is ongoing to find out if PRP hair treatments are effective, but the results are promising.
Current evidence suggests that PRP hair treatment may offer benefits for various types of hair loss, including:
However, as of yet, there is no standardized protocol to administer platelet-rich plasma injections, making it difficult to conclude whether these treatments are effective.
PRP hair treatment success rate
Before undergoing PRP treatment the majority of patients want to know the success rate of PRP for hair.
While this varies from patient to patient, the general success rate for an average patient is between 70-90%.
However, it's important to note that this may be lower for older patients and ones with more extensive hair loss.
The treatment tends to work best at the early stages of hair loss and usually provides more stunning results for younger patients.
PRP hair restoration VS hair transplant
Dr. Gary Linkov compares the PRP hair loss treatment to hair transplantation.
How much does PRP hair treatment cost UK?
PRP therapy prices vary in the UK. You may pay between £250 and £500 for each session, though some clinics offer special deals if you book a course of multiple sessions.
The price of PRP hair treatment will always depend on your individual case and the extent of your hair thinning.
Let's see what value you can expect for your money at the TOP 5 UK clinics:
| | | |
| --- | --- | --- |
| Clinic name | Single session | Multiple sessions |
| The London Skin and Hair Clinic | £425 | £1125 (3 sessions) |
| Omniya Clinic | £400 | – |
| Skin Science Clinic | £500 | £1700 (4 sessions) |
| Expert Centre | £295 | – |
| Rejuvence Clinic | £295 | – |
What determines the price of PRP for hair loss?
Location
Your location has a major influence on the price. Certain regions have a higher cost of living, which typically causes the cost of services such as PRP therapy to increase too. Thus, if you live in a more expensive area you can expect to pay a higher price than you normally would.
The equipment used
High-quality equipment comes at a price as it usually means faster and safer treatments. So if you chose a clinic that uses the latest tech you can expect that to also show in the cost of each procedure they perform.
The addition of nutritive components
Not everyone has sufficient amounts of platelet-rich plasma in their bloodstream. If you are one of these people your doctor will likely try to boost your plasma by adding nutritional components.
The experience of your doctor
If you choose a medical professional who has a proven track record with years of experience in the field, you'll probably experience higher fees.
PRP hair treatment before and after
PRP hair treatments may offer natural results and a drastic change in the early stages of male pattern baldness.
Though consistency is key and individual results may vary, you can generally expect to see results within 2 to 3 months.
Thanks to the growth factors and nutrients in the platelet-rich plasma, the procedure usually decreases shedding, increases hair count, and strengthens the hair follicles.
However, PRP for hair loss should always be a part of a multifaceted treatment regimen made up of several components for it to be truly effective.
Are the results of PRP injections permanent?
Hair regrowth with PRP injections is not a permanent solution for hair loss. The results of your initial treatment can be prolonged by going to maintenance treatments every 3 to 6 months.
However, every case is unique so may need more or fewer treatments to maintain your hair growth.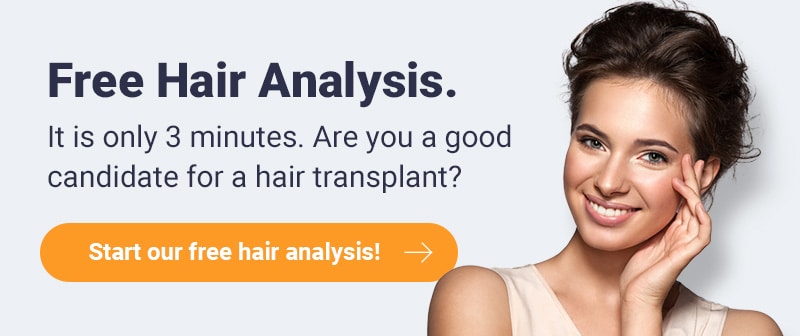 How is PRP hair treatment done?
Platelet Rich Plasma (PRP) therapy is a complex process, that involves 3 stages:
1. Drawing your blood
The specialist will begin the procedure with a simple blood draw from your arm (or another easily accessible area of your body). While this may be slightly uncomfortable, it typically causes no pain.
2. Separating your blood
Once your blood is drawn, the specialist will insert the sample into a centrifuge that spins it at incredibly high speeds to separate the plasma.
Three layers will remain after separation: platelet-poor plasma, platelet-rich plasma, and red blood cells. This process usually takes around 10 minutes.
3. Injecting PRP into your body
A specialist will draw the platelet-rich plasma into a syringe. They'll inject this into one or more areas of the scalp affected by hair loss (e.g. the male hairline or crown).
It is a very careful procedure, with injections at approximately every centimetre over the balding area. This should trigger natural hair growth that covers balding spots over several months.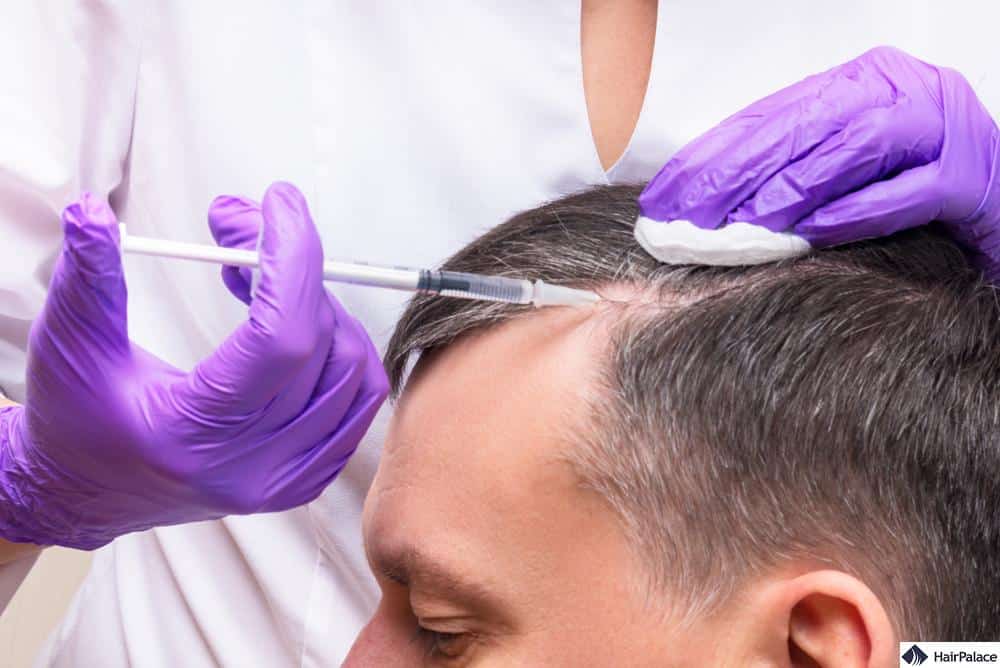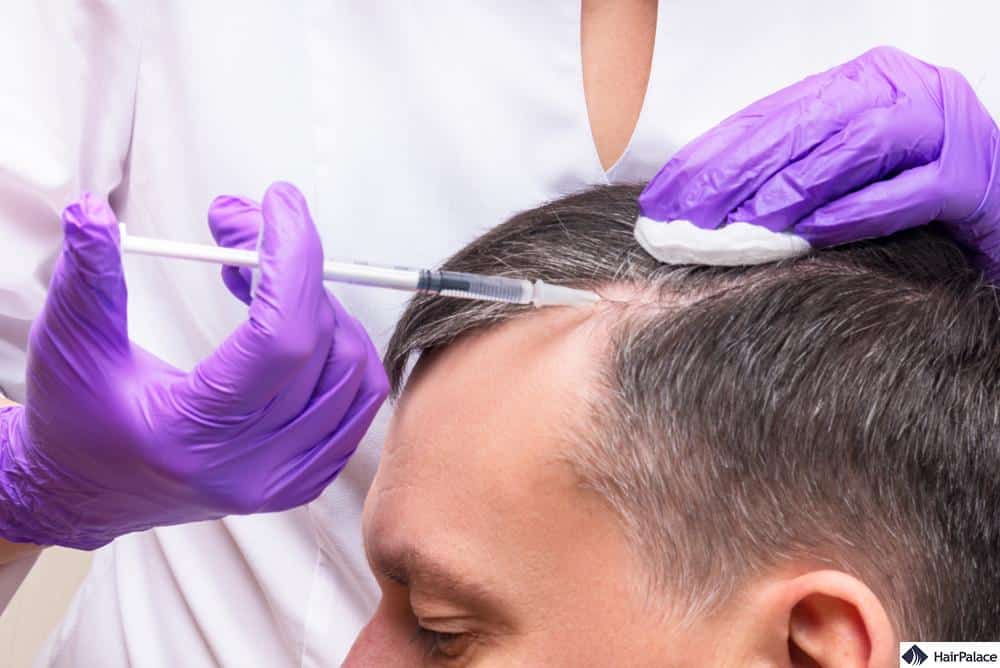 Despite its complicated nature, the whole process usually takes just around 60 minutes to complete.
In most cases, patients need three PRP for hair loss treatments with 4 to 6 weeks between them. One study found that platelet-rich plasma therapy increased patients' hair follicle counts from 71 follicular units to 93 on average.
However, further studies are required to gather more conclusive evidence to support the use of PRP hair loss treatments.
PRP for hair loss up close
Watch Dr. Garberich perform PRP on a patient in hopes of stimulating new hair growth.
PRP hair treatment London: The TOP 10 clinics
We've compared the 10 best clinics for PRP therapy in the UK based on their Google reviews. Find out which clinic got the most and the best reviews from their patients.
Clinic name
Price
(One treatment)
Google rating
Rejuvence
£295
4.9
based on 309 Google reviews
Expert Centre
£295
5.0
based on 162 Google reviews
Skin Science Clinic
£500
4.9
based on 195 Google reviews
Omniya Clinic
£400
4.8
based on 193 Google reviews
The London Skin and Hair Clinic
£475
4.7
based on 242 Google reviews
Harley Street MD
£400
4.9
based on 51 Google reviews
The PRP Lab
£275
4.5
based on 88 Google reviews
The London Cosmetic Clinic
£500
4.4
based on 195 Google reviews
Kensington International Clinic
£300
3.9
based on 61 Google reviews
Harley Street Hair Transplant Clinic
£395
4.9
based on 8 Google reviews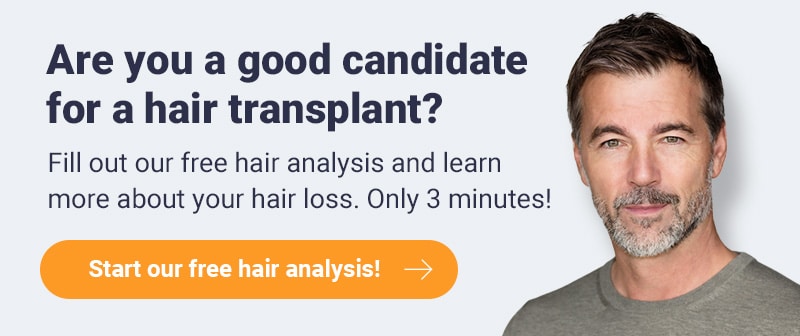 PRP hair treatment side effects
PRP therapy carries no risk of acquiring a communicable disease as only your own blood is drawn and injected into your scalp. But does PRP hair treatment hurt?
The answer is no, while you may feel a slight discomfort during the blood draw, the procedure itself is painless.
However, any process that requires an injection may lead to a number of potential side effects.
These include:
Infection
Damage to blood vessels
Injured nerves
Scar tissue formation
Calcification at injection sites
It's also crucial that you let your clinician know if you have had an allergic reaction to anaesthetic in the past.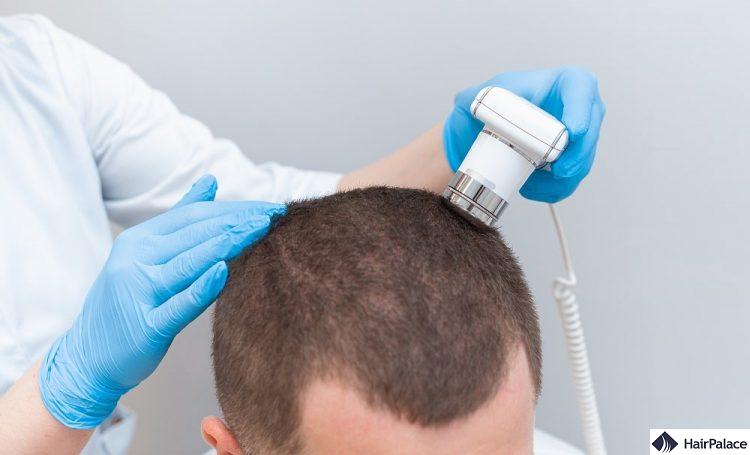 What other treatment options are available?
It's not always easy to know which hair loss treatment is right for you. From topical minoxidil to hair transplants, there are several options to explore:
Summary
PRP for hair loss is a simple, and relatively cost-effective option to treat hair loss. Although it can be regarded as a safe and effective treatment for hair loss, PRP injections are still very much in their infancy.
Given its outstanding safety profile and low cost, it is certainly a promising procedure for people suffering from thinning hair.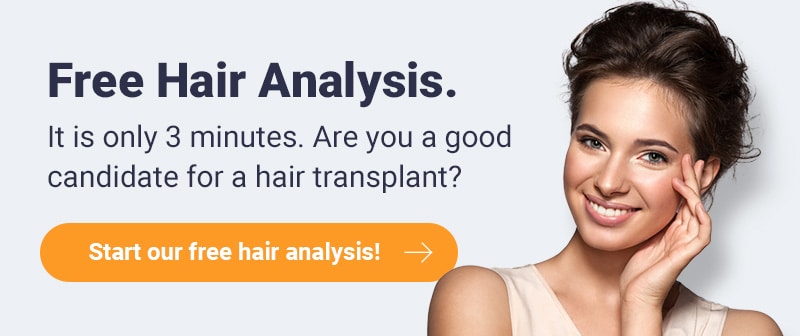 FAQ
Can PRP regrow hair?
PRP treatment can promote hair follicle health and hair growth, so patients in the early stages of androgenic alopecia can experience an increase in hair density and thickness. However, it cannot regrow follicles if your hair loss has already reached advanced stages.
How long does it take for PRP to work on hair?
You may not see any results of your PRP treatment for between 6 and 12 months, but the majority of patients start to notice a change within a few months. Clinics usually capture pictures of your scalp before a treatment to track your growth.
Is one session of PRP enough for hair?
In most cases, a single session of PRP therapy for hair is not enough to achieve optimal results. Typically, a series of 3 to 6 PRP sessions are recommended, depending on your specific condition, the severity of hair loss, and your response to therapy.
Is PRP hair painful?
Most patients experience no pain during PRP treatment. They may feel some pressure, tightness, and some discomfort, with no need for anaesthetic. The process is usually complete after around 30 minutes. 
Is PRP better than Minoxidil?
A study suggests, that PRP injections are a more effective hair loss treatment than Minoxidil in certain cases. However, the best results were achieved when PRP and Minoxidil were used in combination.
HairPalace relies on scholarly sources, including peer-reviewed articles, as well as publications of medical associations and academic & research institutions. We follow strict sourcing guidelines and avoid tertiary references. Read our editorial policy for further information on how we keep our content up-to-date and accurate.