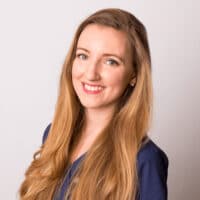 Hair transplant surgeon
Erika Gucsi, MD
Dr Erika Gucsi is registered with the Hungarian Medical Chamber. She is the chief hair transplant surgeon at HairPalace Clinic with 8 years of experience in surgical hair restoration for men. She has already helped more than 700 patients solve their hair loss problems.
Education and training
2022 ISHRS 2022 Webinar Series
2021 Dermatology Workshop in Budapest, presentation on Hair transplantation
2021 ISHRS 2021 Webinar Series
2017 ISHRS 2017 World Live Surgery Workshop: FUE IMMERSION (Poland)
2016 European Hair Transplant Workshop (England)
2015 Annual Scientific Meeting of the International Society of Hair Restoration Surgeons (USA)
Faculty of Medicine of Semmelweis University, MD
Professional accomplishments
Associate specialist surgeon with the outpatient office of Tamas Regoczi, M.D of general surgery, hernia surgery and skin surgery.
Affiliations
HairPalace Editorial Guidelines
There is a lot of information on the internet about hair loss and hair transplantation. At HairPalace, we are committed to providing up-to-date, credible and medically accurate information so you can make the best decision for yourself.