Hair Transplant Birmingham – TOP 5 Clinics in 2023
A hair transplant in Birmingham could be the ideal solution if you're losing your hair and want to permanently resolve your hair loss. And Birmingham has several respected hair clinics for you to choose from.
Various techniques are available, comprising traditional and state-of-the-art options. Prices differ from one clinic to the next — not to mention the quality of the results.
That's why it's so important to research Birmingham hair clinics carefully, so you can make a fully informed choice.
This way you can ensure you're going to the right hair transplant clinic and that you'll achieve the natural hair transplant results you're looking for.
HairPalace will make it simpler for you with this guide to the TOP 5 hair transplant clinics in Birmingham!
We'll compare each clinic based on specific criteria, including treatment prices, transplant methods, staff, and more. Read on for all the information you need on Birmingham's finest hair clinics.
Hair transplant Birmingham: The most important facts
| | |
| --- | --- |
| Techniques | FUE, FUT, DHI, ARTAS |
| Duration of procedure | 6-8 hours |
| Anaesthesia | local |
| Return to work | In around 2-5 days |
| Recovery | 1 week (after FUT: 2 weeks) |
| Exercise | 2-3 weeks |
| Final result | 12-15 months |
Hair transplant cost Birmingham: Price comparison
We've compared the costs at each Birmingham hair transplant clinic. Most clinics work with package prices; however, the services included might differ.
The prices are based on information provided by doctors, users or other portals. The actual prices can only be determined after a medical consultation, taking into account the physical requirements and individual wishes.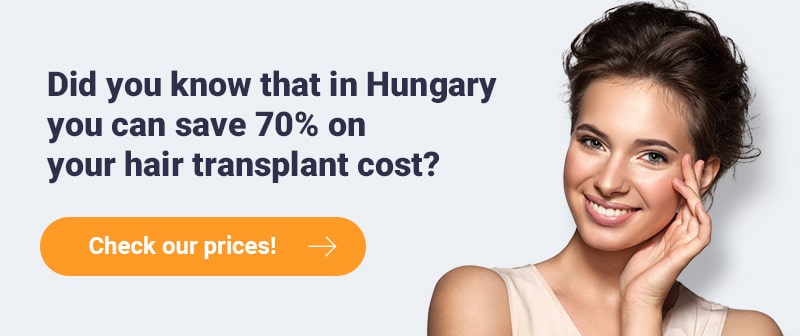 Hair transplant Birmingham: The best methods
For your hair transplant in Birmingham, you have several methods to choose from.
Besides the more traditional FUE and FUT procedures, the DHI and the ARTAS robotic techniques are also available.
Follicular Unit Transplantation (FUT)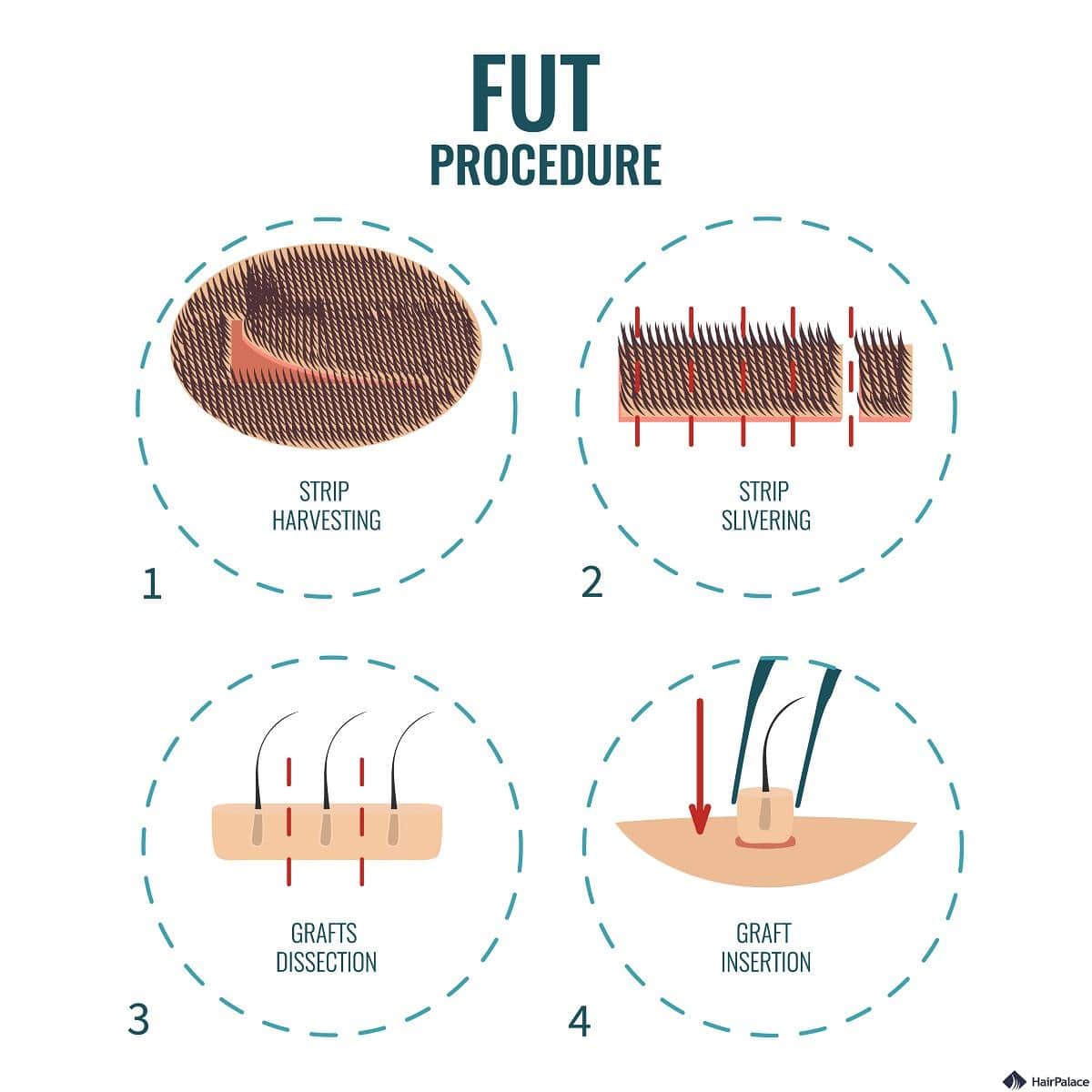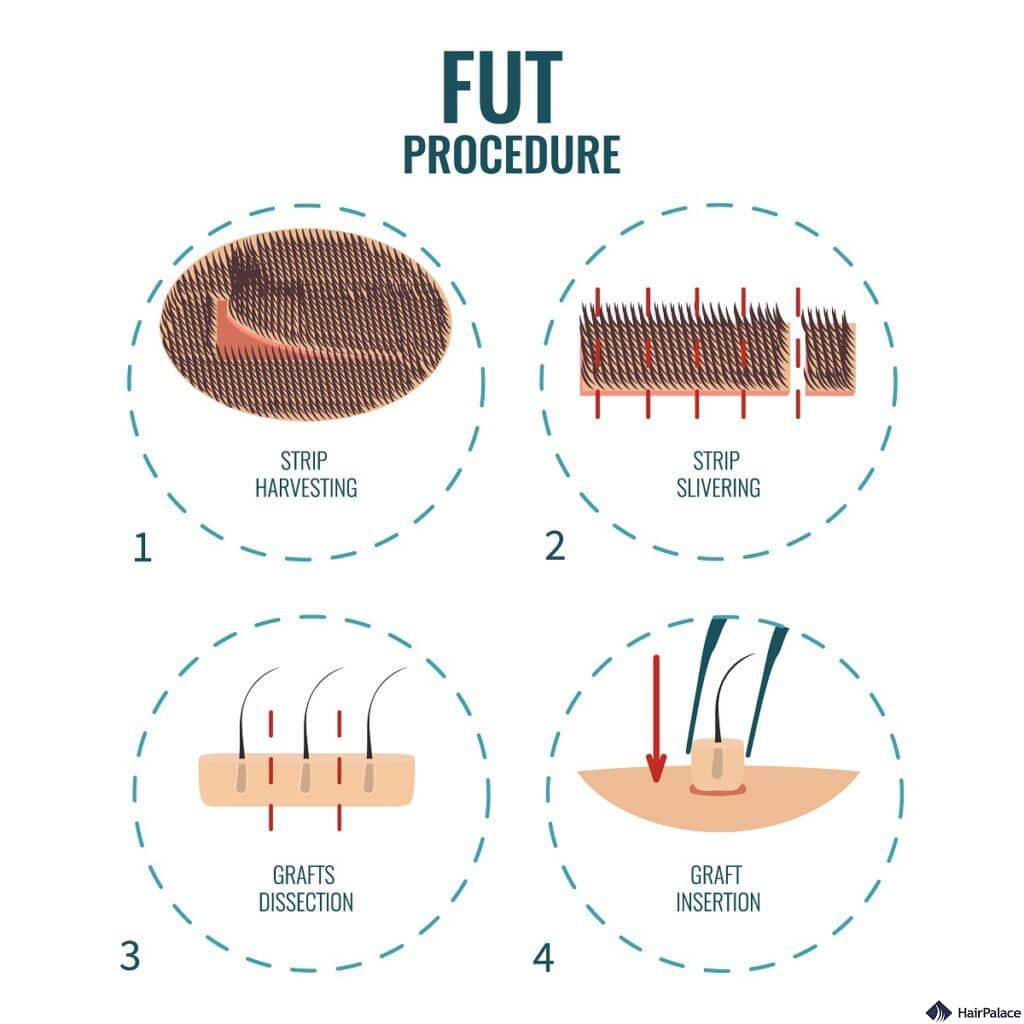 Follicular Unit Transplantation (FUT), also known as strip harvesting, is the oldest type of hair transplant surgery still in use today.
This hair transplant procedure involves the removal of a strip of skin with hair follicles from the back or sides of the scalp which is then used to harvest hair follicles.
The strip is then dissected into individual follicular units, which are implanted into small incisions in the recipient area.
Direct Hair Implantation (DHI)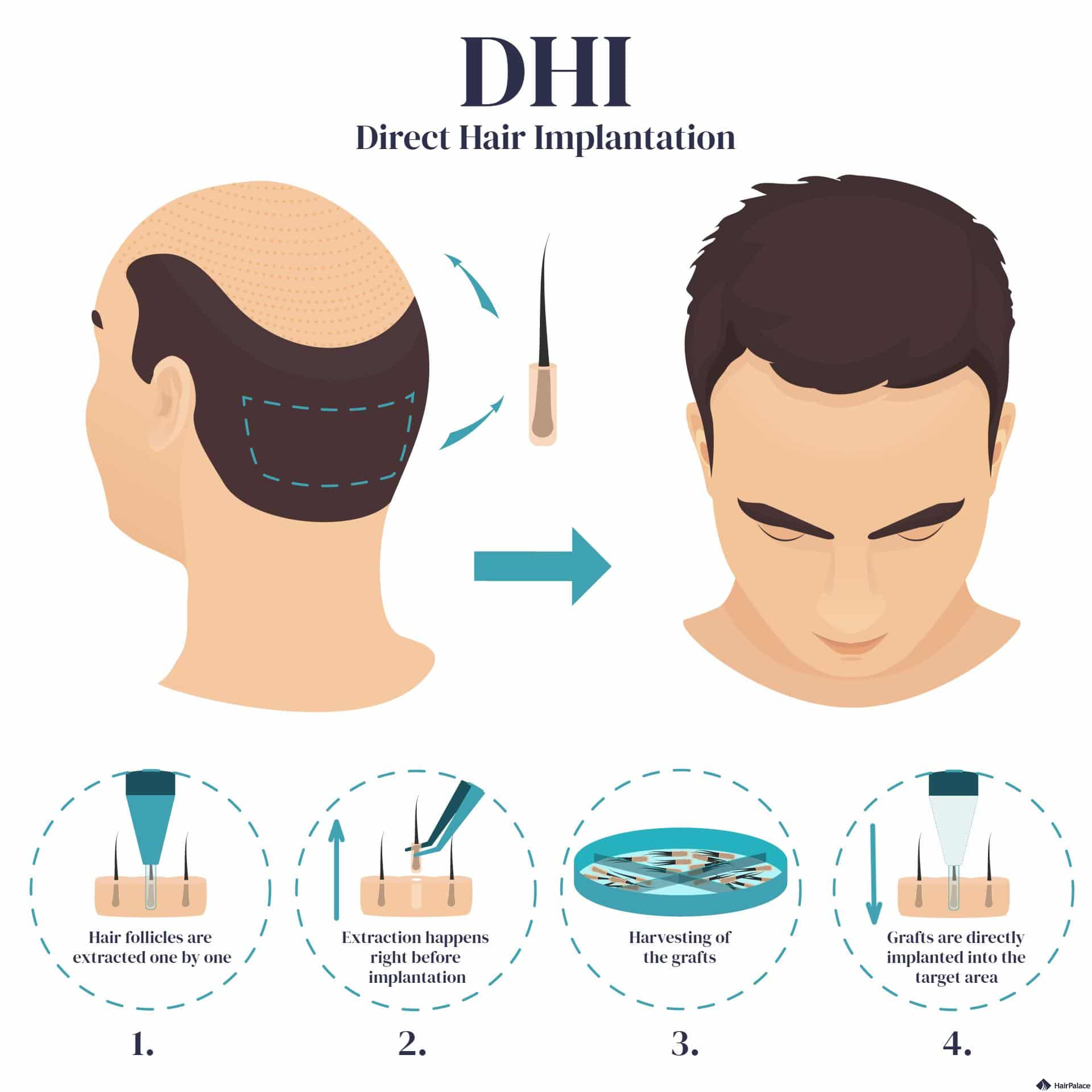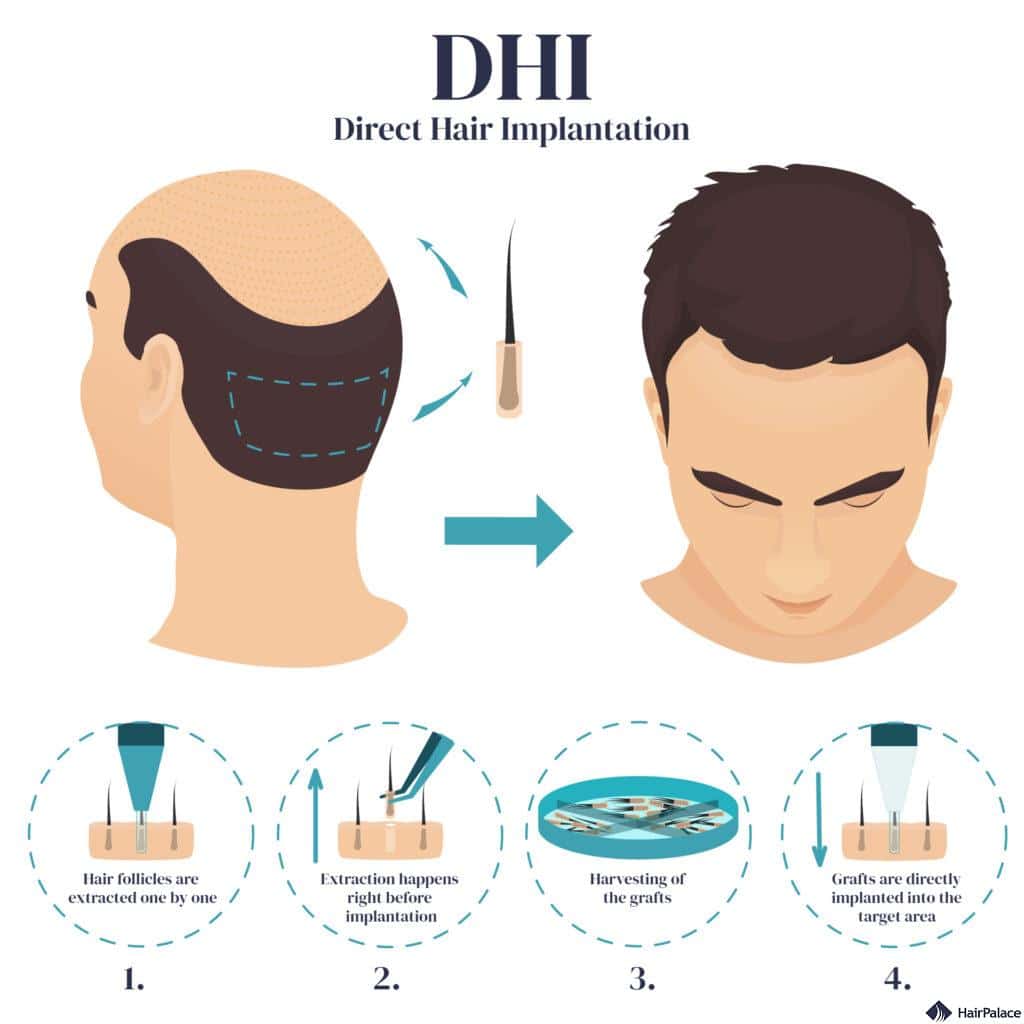 Direct Hair Implantation (DHI) is a hair transplant procedure that involves using a special tool called a Choi Implanter to implant individual follicles directly into the scalp without incisions.
The main advantages of DHI are that it minimizes trauma to the scalp, and allows for a more precise control of the depth and angle of implantation.
This can result in a faster recovery time compared to other hair transplant methods.
ARTAS robotic hair transplant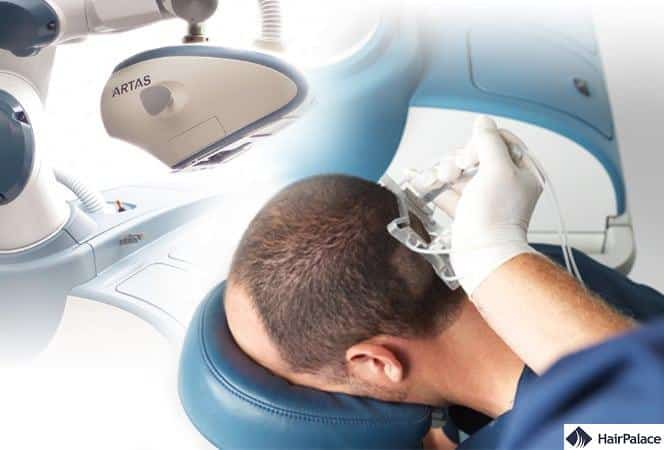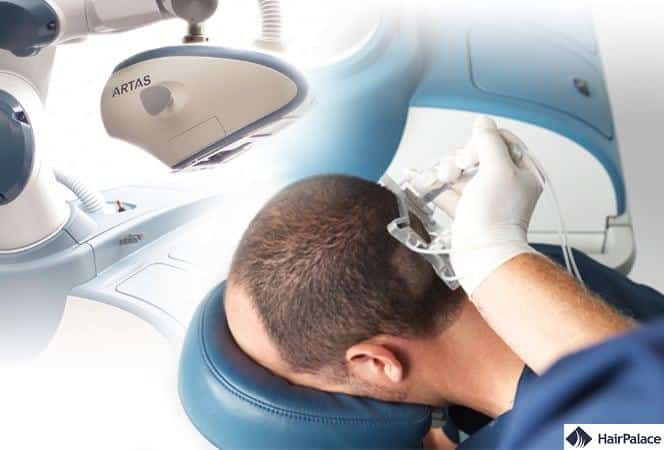 The ARTAS robotic hair transplant is a minimally invasive hair restoration procedure that uses a computer-guided robotic arm to extract individual hair follicles from the donor area.
The system uses advanced imaging technology to map out the best follicles for extraction and then automatically removes them with precision and accuracy.
The extracted follicles are then transplanted into the areas affected by hair thinning by a skilled surgeon.
Follicular Unit Extraction (FUE)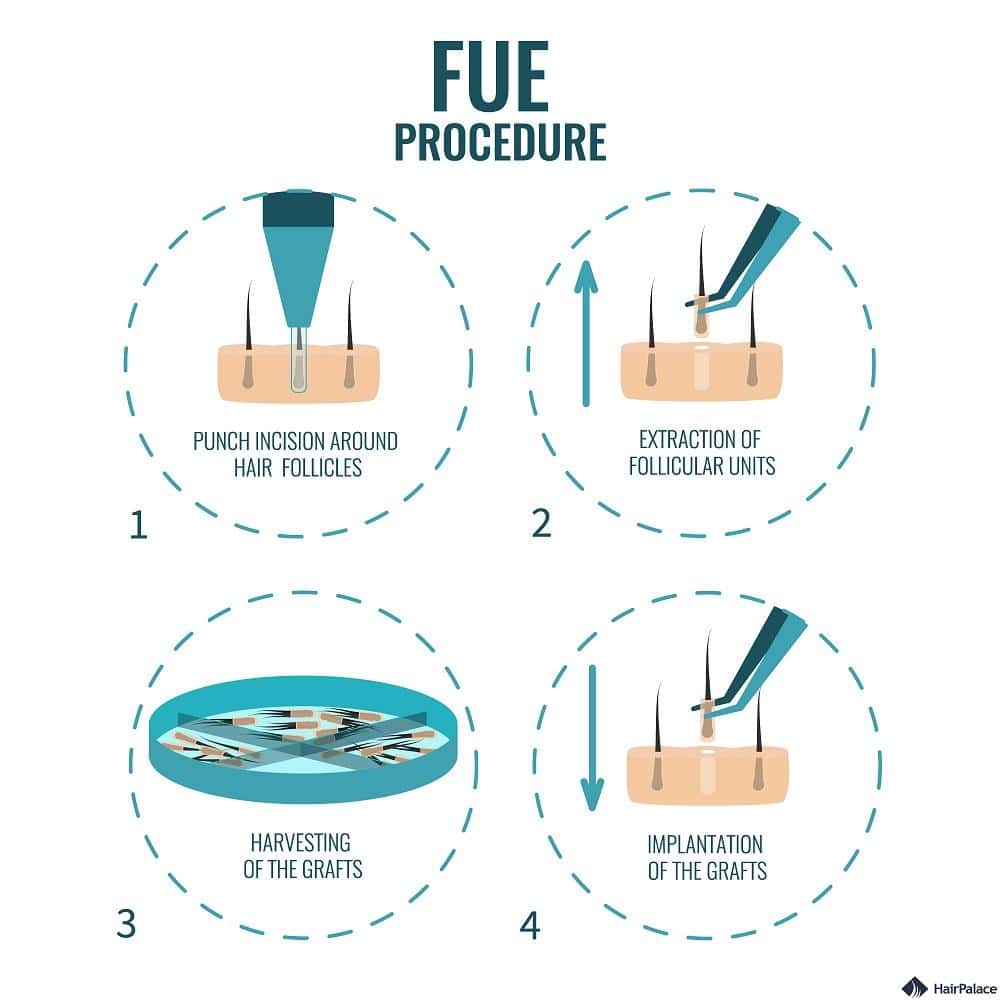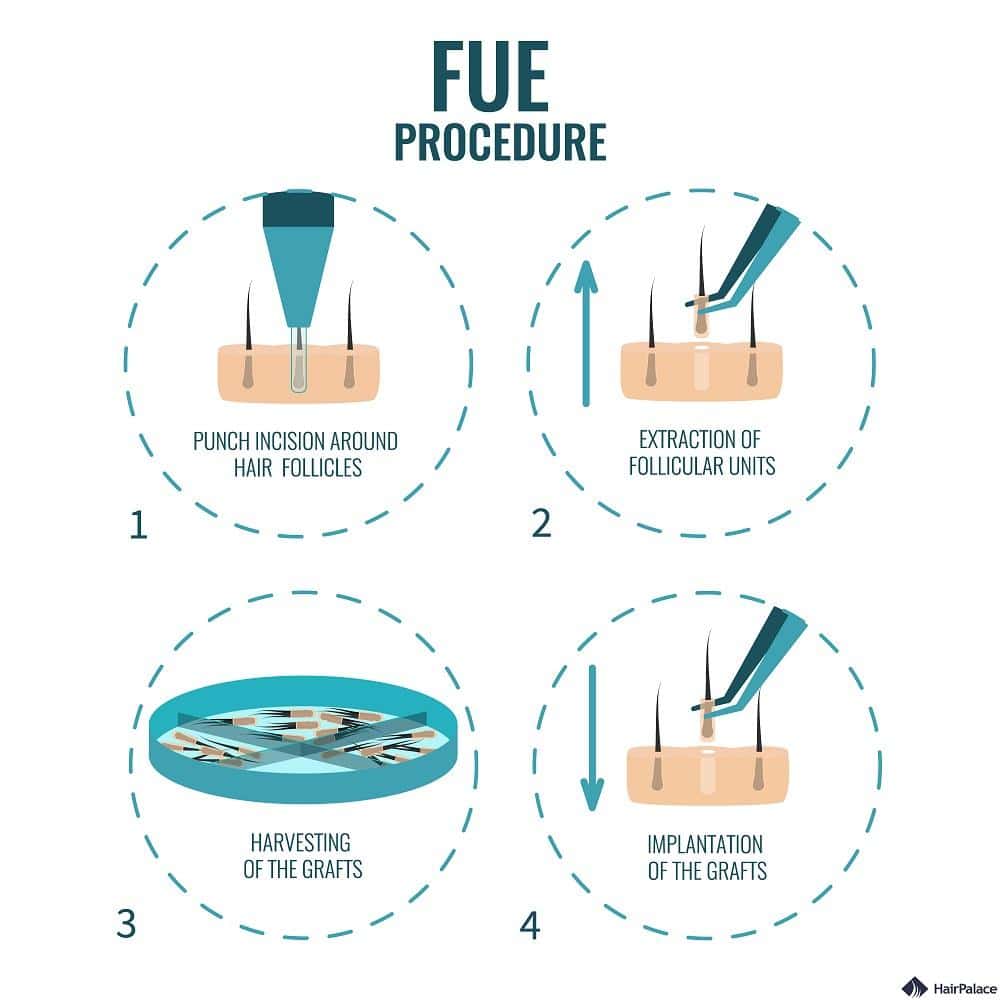 FUE hair transplant procedures involve extracting individual hair follicles from the donor area.
The surgery is minimally invasive, it is carried out under local anaesthetic and does not require a scalpel or stitches, and it also offers a quick recovery time.
Most clinics in Birmingham perform FUE hair transplants, as over 75% of patients prefer this method.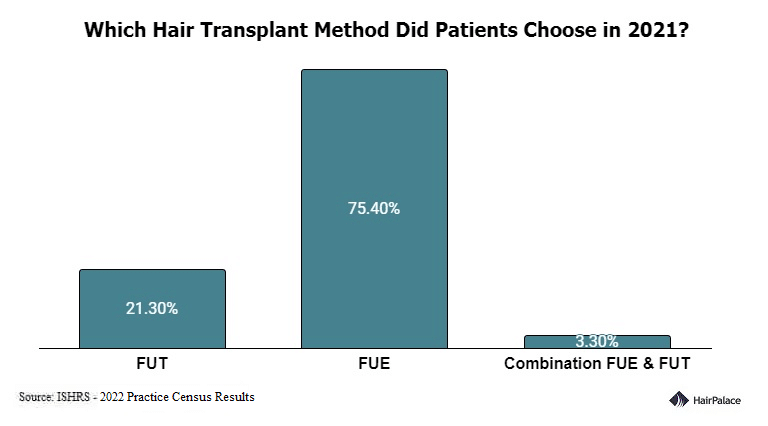 FUE's popularity among both patients and hair transplant surgeons is not surprising. The technique allows quick recovery and leaves patients with practically undetectable scarring.
Naturally, before recommending any of the available techniques for your procedure, specialists will thoroughly assess your case.
Hair transplant Birmingham – are you an ideal candidate?
Experts in Birmingham will take several factors into account before recommending hair restoration surgery for you, including:
The extent of your hair loss
The condition of your scalp
Your medical history
The result you'd like to achieve
The characteristics of your hair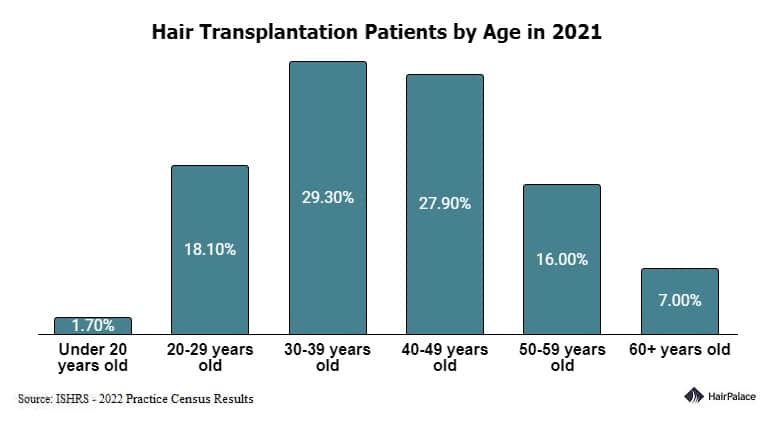 Most patients who decide to go ahead with the procedure are between 30 and 50 years of age.
Naturally, it's perfectly fine to have the surgery at any age. However, it's important for your male pattern baldness to reach a period of stagnation for ideal results.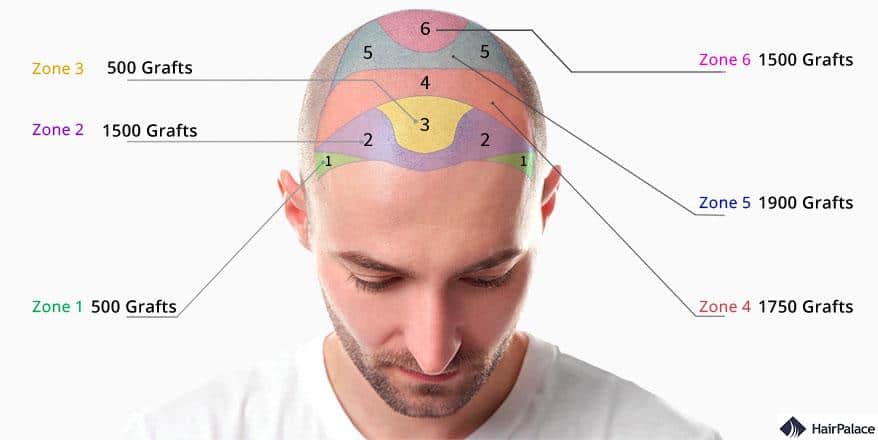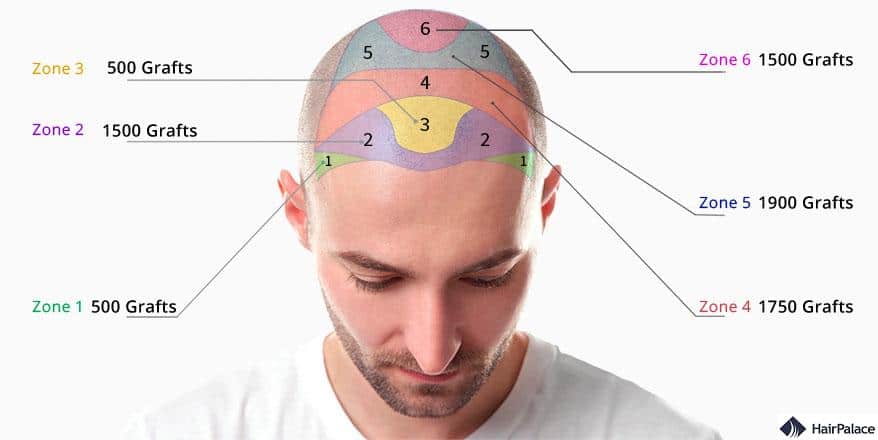 The TOP 5 hair clinics in Birmingham
For your hair restoration in Birmingham, you have many clinics and surgeons available.
To make your decision easier, we have listed the 5 best hair transplant clinics in Birmingham based on the ratings they received from previous patients.
1. Este Medical Group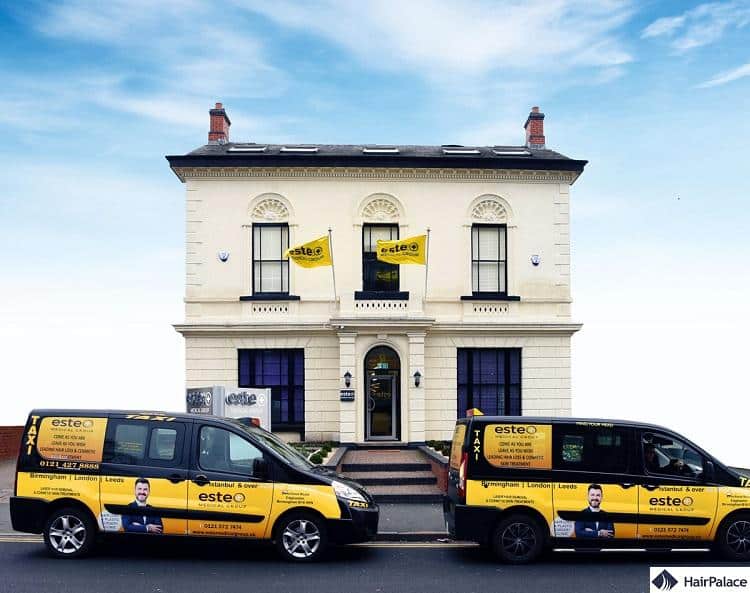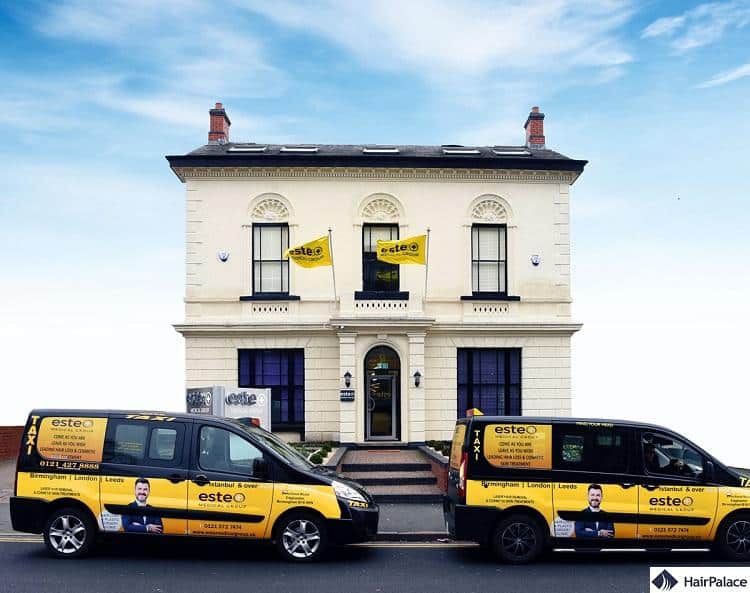 Location:
9 Portland Rd
Birmingham
B16 9HN
Treatments: FUE, DHI (Direct Hair Implantation)
Costs: 3000 hairs = £ 3700, 5000 hairs = £ 6300
Treatments performed by: Team of consultants
Rating: 4.8

based on 1344 Google reviews
Website: www.estemedicalgroup.uk
The Este Medical Group was established more than 20 years ago, founded by Managing Director Sam Cinkir. The company has achieved significant success since it began offering hair loss procedures, and they have several reputable clinics across the world.
Patients can visit an Este Medical Group hair transplant clinic in Birmingham, Glasgow, Istanbul, Romania, Milan, Bangladesh, and other UK cities.
You can choose from either FUE or DHI hair transplant to treat numerous conditions, such as male pattern hair loss. But the clinic also provides:
Beard transplant
Eyebrow transplant
Laser hair regrowth therapy
The Este Medical Group specialises in advanced techniques for both males and females. Its international team comprises more than 300 professionals.
2. Hair Growth Centre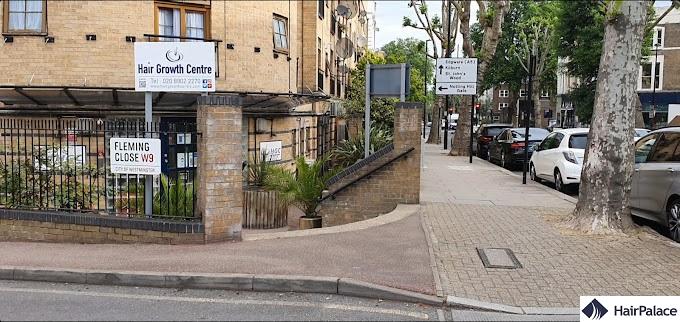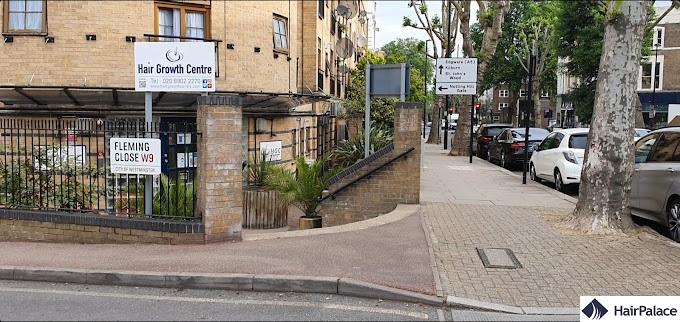 Location:
Unit 9 The Cloisters
11 – 12 George Road
Edgbaston, Birmingham
B15 1NP
Treatments: FUE (Follicular Unit Extraction)
Costs: 3000 hairs = £ 4500, 5000 hairs = £ 6500
Treatments performed by: 7 hair transplant doctors
Rating: 4.6

based on 85 Google reviews
Website: www.hairgrowthcentre.com
Hair Growth Centre is one of the UK's biggest hair restoration brands and has clinics in Manchester, London, and Essex.
It invests in an extensive training program for its surgeons and provides tailored treatments based on each patient's stage of hair loss.
Hair Growth Centre offers a diverse range of treatments for males and females. Options include:
Afro hair transplants
Eyebrow transplants
Beard transplants
Hair transplant scar removal
Non-surgical micrografting
Platelet Rich Plasma therapy
Intense photo-diode therapy
The Hair Growth Centre has 7 experienced hair transplant surgeons available to advise you at a free consultation and to perform your FUE hair transplant in Birmingham.
3. HLC: The Hair Loss Clinic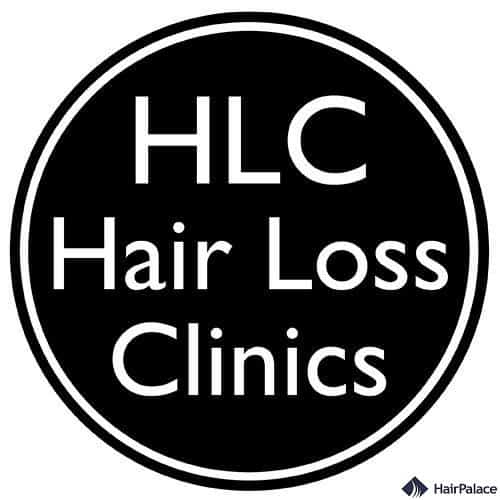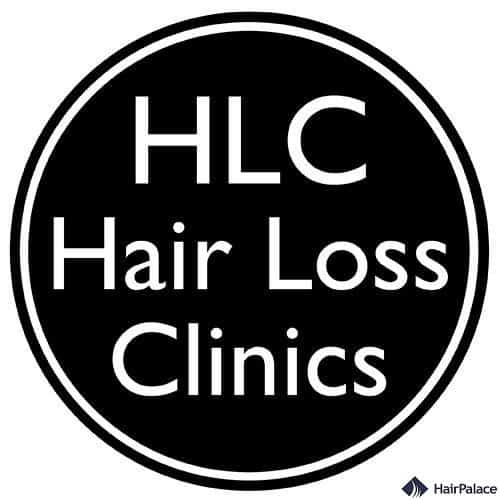 Location:
Pure Offices Ltd,
Broadwell Road,
Oldbury, West Midlands
B69 4BY
Treatments: FUE
Costs: 3000 hairs = £ 5000, 5000 hairs = £ 7000
Treatments performed by: Surgeons
Rating: 4.7

based on 36 Google reviews
Website: www.hairlosstreatmentclinics.co.uk
The Hair Loss Clinic was launched to bring cutting-edge hair loss treatments to the UK, and the franchise has since opened 25 clinics throughout the country.
Patients can visit HLC in Bolton, Carlisle, Brighton, Chester, Leicester, London, Newcastle, and Liverpool.
Besides hair transplantation in Birmingham, HLC treats patients with surgical and non-surgical procedures and receives referrals from professionals in varied areas (e.g., doctors, and beauticians).
Hair Loss Clinic's portfolio of treatments includes:
FUE
Unique Hair Replacement Systems for females experiencing hair loss
Laser Hair Retention
HLC's website includes a wealth of stories from satisfied customers, offering insight into the results previous patients have achieved.
The franchise is continually expanding and adding to its list of clinics and invites franchisees from the UK and Europe to operate new branches under the HLC name.
4. Enhance Hair Restoration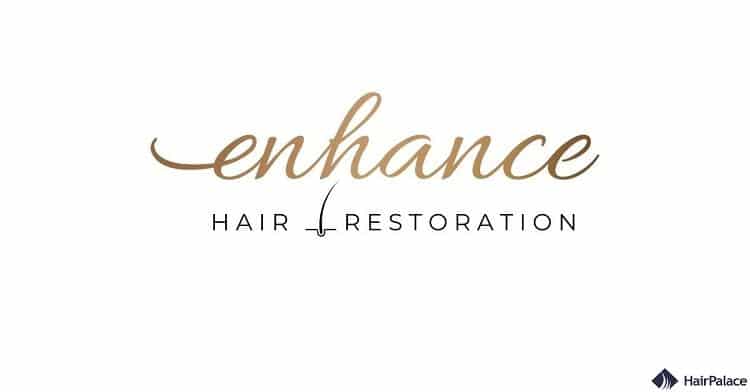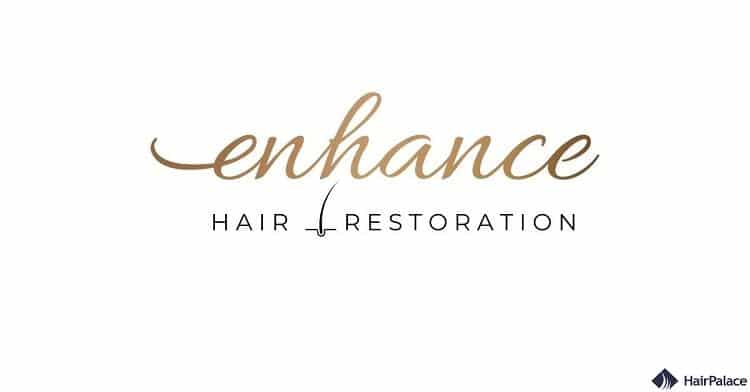 Location:
60 Halesowen Rd
Lydiate Ash, Bromsgrove
B61 0QL
Treatments: FUE, FUT hair transplant, Smart Graft Transplants, Robotic Hair Restoration
Costs: 3000 hairs = £ 3500, 5000 hairs = £ 5500
Treatments performed by: Dr. Peter Williams, Dr. Ganesh Krishnan, and additional team members
Rating: 4.4

based on 13 Google reviews
Website: www.enhancehairrestoration.co.uk
Enhance Hair Restoration is a privately owned company with multiple UK locations beyond Birmingham, including Leeds, Manchester, Cardiff, and Belfast. Patients can choose from the following hair transplant options:
FUE
FUT
Robotic Hair Restoration (ARTAS)
Smart Graft Transplants
The clinic also offers non-surgical treatments and scalp micropigmentation for those who would prefer to avoid invasive solutions.
The ARTAS system enables surgeons to perform transplants using a precise robotic tool. You can also opt for a FUT or FUE hair transplant in Birmingham.
Enhance Hair Restoration's treatments are performed and overseen by Dr Peter Williams and Dr Ganesh Krishnan.
Dr Williams has performed hair restoration and cosmetic treatments for more than a decade. He has helped thousands of patients in the UK with hair transplant procedures.
Dr Krishnan is a registered member of the General Medical Council (GMC), the American Board of Hair Restoration Surgeons (ABHRS), and other notable organizations.
5. The Private Clinic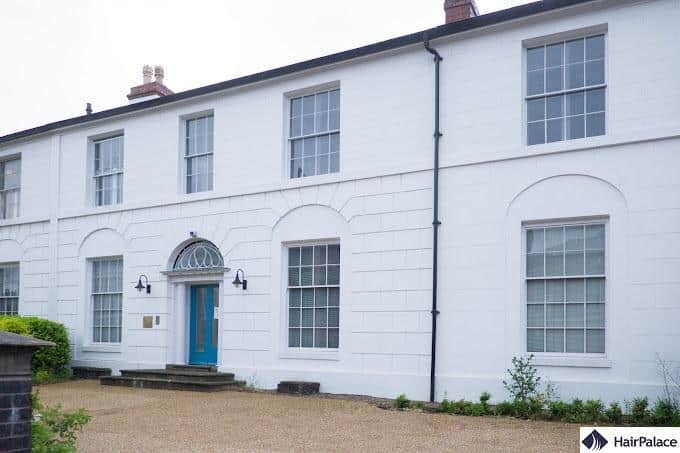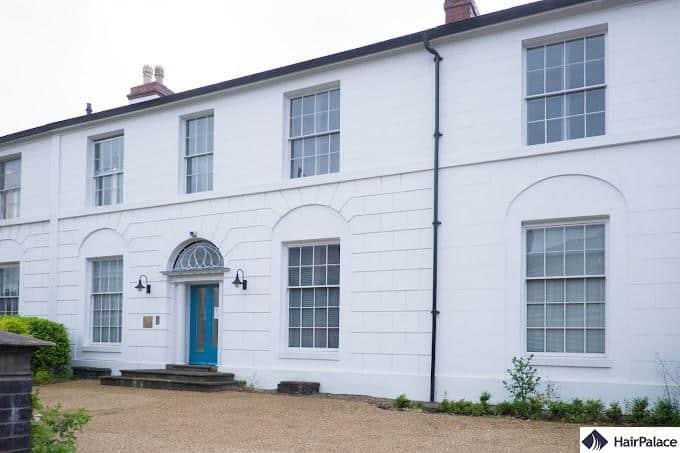 Location:
88 Hagley Road
Birmingham
B16 8LU
Treatments: UFUE (Unshaven FUE)
Costs: 3000 hairs = £ 7500, 5000 hairs = £ 12500
Treatments performed by: Mr Michael Mouzakis, Dr Ismail Ughratdar, Dr Furqan Raja, Dr Raghu Reddy
Rating: 4.1

based on 200 Google reviews
Website: www.ultrahairclinic.co.uk
The Private Clinic was established in 1983 and treats patients with hair transplants, body sculpting, cosmetic surgery, and more. Its selection of surgical and non-surgical hair loss solutions encompasses:
FUE
Hair loss medications
Scalp micropigmentation
TrichoTest
Mesotherapy for hair loss
Its team of surgeons and doctors are trained in a broad spectrum of cosmetic treatments, from hair transplants to dermal fillers.
The Private Clinic is also known for breast augmentation, VASER liposuction, rhinoplasty, and a host of other aesthetic treatments.
The Private Clinic's website offers patients considering hair loss detailed information on its transplants. The consultation process, the FUE procedure, and aftercare are all covered.
And The Private Clinic's roster of surgeons and doctors is vast. It comprises dozens of specialists trained in hair restoration, reconstructive surgery, liposuction procedures, and more.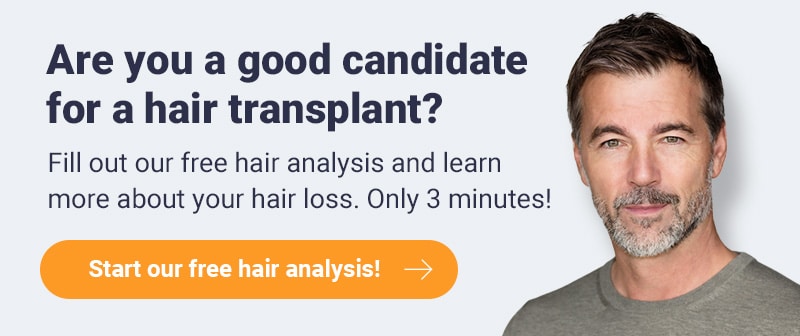 Hair transplant Birmingham: Is it the best choice?
Having your procedure at a Birmingham hair transplant clinic is definitely worth it as modern techniques offer high success rates and natural-looking results.
Currently, only a surgical procedure will provide you with a permanent solution to hair loss, even if you've been struggling with baldness for years.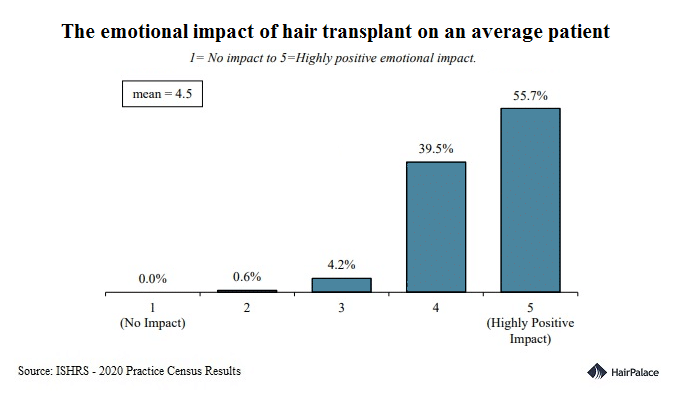 As such, it's not surprising that more than 90% of patients who had the procedure experienced a positive emotional impact.
But naturally, you'll have to consider many other aspects of the treatment to see if a Birmingham hair clinic is the best choice for you:
Advantages of a hair transplant in Birmingham
Disadvantages of a hair transplant in Birmingham
many clinics available
high prices
well-regulated providers
packages are typically not all-inclusive
pre- and post-procedure visits available
waiting lists are long
no or minimal travel involved
the same, high-quality
treatment is more affordable abroad
Hair transplant Birmingham results
Hair transplant Birmingham reviews comparison
We've compared for you the 5 best hair transplant clinics in Birmingham based on their Google reviews. Find out which hair clinic got the most and the best reviews from their patients.
Clinic name
City
Google rating
Este Medical Group
Birmingham
4.8
based on 1344 Google reviews
Hair Growth Centre
Birmingham
4.6
based on 85 Google reviews
The Hair Loss Clinic
Birmingham
4.7
based on 36 Google reviews
Enhance Hair Clinic
Birmingham
4.4
based on 13 Google reviews
The Private Clinic
Birmingham
4.1
based on 200 Google reviews
HairPalace Hungary
Budapest
4.9
based on 244 Google reviews
Are you looking for hair transplant clinics near you?
In case having your hair transplant in Birmingham is not ideal, you have several more options across the country and abroad. Check out the following hair transplant clinics!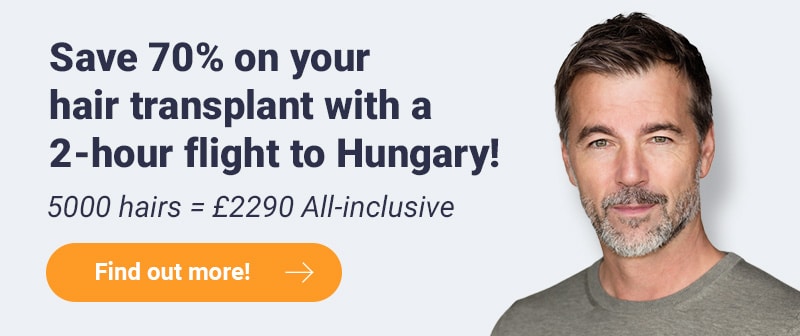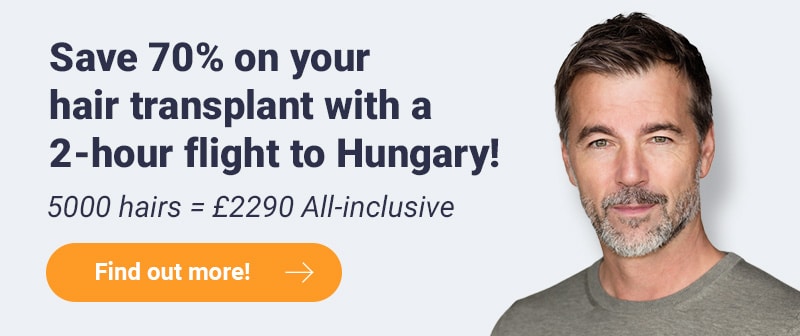 HairPalace relies on scholarly sources, including peer-reviewed articles, as well as publications of medical associations and academic & research institutions. We follow strict sourcing guidelines and avoid tertiary references. Read our editorial policy for further information on how we keep our content up-to-date and accurate.