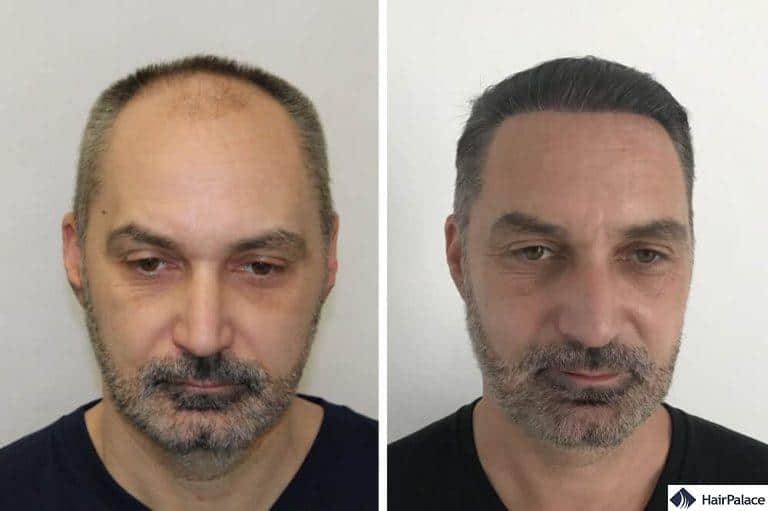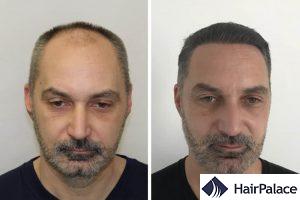 Nick
Number of hair transplants: 1
Number of transplanted hairs: 6000
Nick had his frontal area restored with us back in 2018. A year after having  6000 hairs transplanted with the FUE2, his hairline was dense and natural looking again.
Visit our office in Birmingham for a free consultation
To set you up for a successful hair transplant in Birmingham, we invite you to meet with one of our surgeons.
During the free consultation, we will examine your hair and scalp with a digital hair camera, discuss your history with hair loss, and the result you would like to achieve.
Based on your condition, our doctor will prepare a detailed treatment plan fitting your unique needs. The treatment plan will include all information about the procedure, as well as the hair transplant cost.
The examination takes roughly 20 minutes of your time.
Feel free to contact us on +44 20 7131 0229 to set up an appointment!
HairPalace Hair Clinic Birmingham:
One Victoria Square
Birmingham, B1 1BD
United Kingdom
Phone: +44 20 7131 0229
How much is a hair transplant in Birmingham?
While the number of follicles and the type of the procedure are decisive, hair transplant prices in Birmingham – and elsewhere- are dictated by the prevailing economic conditions too. 
With the prices around £2-4 per graft, having the treatment at a hair clinic in Birmingham will definitely cost you more than your weekend grocery shopping.
HairPalace has hair transplant clinics in London, Paris and Budapest.
Even though the locations could not be more different, the experience is the same. We are using the FUE2 SafeSystem method in our clinics, and the medical team is always up-to-date on the latest innovations in the field. 
However, economic differences allow us to offer different prices for the same service at our clinics.  As a result, switching your train tickets for a boarding pass can save you the price of several weekend grocery shopping trips!
In our UK-based FUE hair clinic, hair transplant prices range from £1989 to £9042.
In comparison, in our Budapest clinic, our prices are between £1490 to £3890.
To provide you with an accurate quote, you can meet the surgeons of our hair transplant clinic in Birmingham, or get an online assessment too.
Which hair transplant method do we use?
The FUE hair transplant provided significantly higher success rates; however, there was further room to grow.
The FUE2 SafeSystem treatment is the most up-to-date method on the field as of now.
The incision needle has been made less sharp to minimize the chance of causing damage to the follicles upon extraction.
As a result, the success rate usually reaches 90-95% within 12 to 15 months after the FUE2 SafeSystem hair transplant!
Furthermore, the FUE2 SafeSystem method is:
completely pain-, and scar-free

provides the highest success rate in the industry

the results will look more natural as the surgeon can also choose the characteristics of the hairs besides the number of the hair follicles transplanted

recovery time decreases 

the SafeSystem also provides an opportunity for those who have thin hairs
Our hair transplant experts in Birmingham
At HairPalace, we work with 6 surgeons who are experts of the FUE hair transplant procedures. They have several years of experience and the necessary skill set to find the best solution in your case.
You can meet the specialists of our hair clinic in Birmingham to get professional advice and accurate answers to your questions.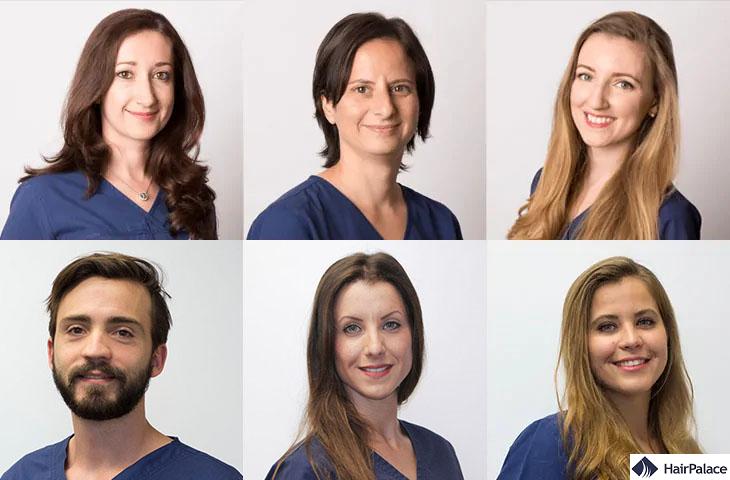 Why choose HairPalace?
A good method is just a nice soundbite without the professional know-how and the results to show for it.
We have been around for more than a decade now, helping hundreds of patients to solve their hair loss problems with outstanding results each year.
Our surgeons are hair restoration specialists, who are fully trained and certified. Their skills and vast experience in the field enable them to offer tailored solutions for our patients.   
We will guide you through the whole procedure from the consultation to the result. Your surgeon will track your recovery and the new hair growth through regular follow-ups. In addition, we offer a written guarantee on the implanted hairs to ensure that you get the best results.
All of this can be obtained at a price that can be half of the cost other Birmingham clinics ask for the same method and the same amount of hairs.
Birmingham hair transplant reviews
At HairPalace, we are committed to providing you with excellent service from start to finish. 
Check out some hair transplant reviews from our previous patients and find out how we do!
I had a 5000 follicle hair transplant at the Hair Palace in Budapest in January 2019 and couldn't be happier with the results. The entire process from start to finish was highly professional, informative, and exceeded my expectations. The results started to show after about 6 months, as I had been told to expect, and now 13 months after the procedure my hairline is noticeably much fuller. I would highly recommend Hair Palace to anyone thinking about getting a hair transplant.