Hair transplant in Hungary: Best clinic in 2023
Hair transplant in Hungary is an increasingly popular option among patients looking to permanently restore their hair.
Compared to the prices you'd have to pay in the UK, France or Germany, procedures are much more affordable.
But more importantly, the low prices don't mean that you have to compromise on the quality of care or the result.
Clinics not only follow the latest clinical guidelines and practice recommendations but comply with strict local and EU-wide regulations.
HairPalace has been at the forefront of surgical hair restoration in the country for over a decade now. Based on the publicly available patient reviews, HairPalace is the best hair transplant clinic in Hungary in 2023.
Read on to find out if having your hair transplant procedure in Hungary is the right choice for you!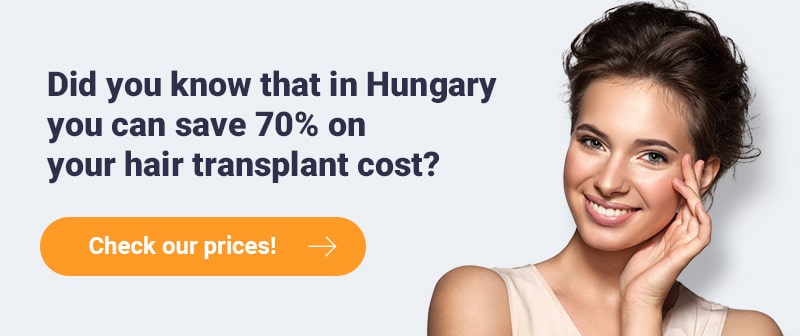 FUE hair transplant Hungary at a glance
| Travel & stay | |
| --- | --- |
| Flight | 2-2.5 hours |
| Cost of return flights | £150-£300 |
| Duration of stay | 2 nights |
| Package type | All-inclusive |
| Procedure | |
| Method | FUE2 |
| Procedure time | 6-8 hours |
| Anaesthesia | local |
| Shaving | required |
| Written guarantee | yes |
| Potential side effects | temporary swelling, redness, numbness of the scalp |
| Aftercare & results | |
| Recovery | around 7 days |
| Return to work | 2-5 days after procedure |
| Exercise | 3-4 weeks after surgery |
| Check-ups | available online |
| Final result | 12-15 months |
Hair transplant Hungary cost
Hair transplant costs will depend on how many hairs you need and which method you'd prefer.
Yet, if you have been shopping around, you must have noticed that the clinic's location is decisive too.
In Hungary, FUE hair transplants are more affordable than in the UK or France, allowing patients to save up to 70% on their procedures.
Take a look at what prices you can expect at HairPalace clinic:
| Number of hairs | London | Budapest |
| --- | --- | --- |
| 2000 | £ 3358 | £ 2190 £ 1990 |
| 3000 | £ 4832 | £ 2290 £ 2090 |
| 4000 | £ 6305 | £ 2390 £ 2190 |
| 5000 | £ 7779 | £ 2490 £ 2290 |
What is included in the HairPalace hair transplant packages?
Airport transfers
2 nights of accommodation at our premium apartment
Personal consultation with the surgeon
Implantation with the FUE2 SafeSystem
Written guarantee
Local anaesthesia
Clothing for the treatment
Medication package after the intervention
5 check-ups
English speaking coordinator
Why is hair transplant cheaper in Hungary?
Compared to other Western European countries, hair transplant Hungary prices are much more affordable.
The differences are rooted in economic reasons. There are a lot of expenses that clinics must consider when they put a price on their services.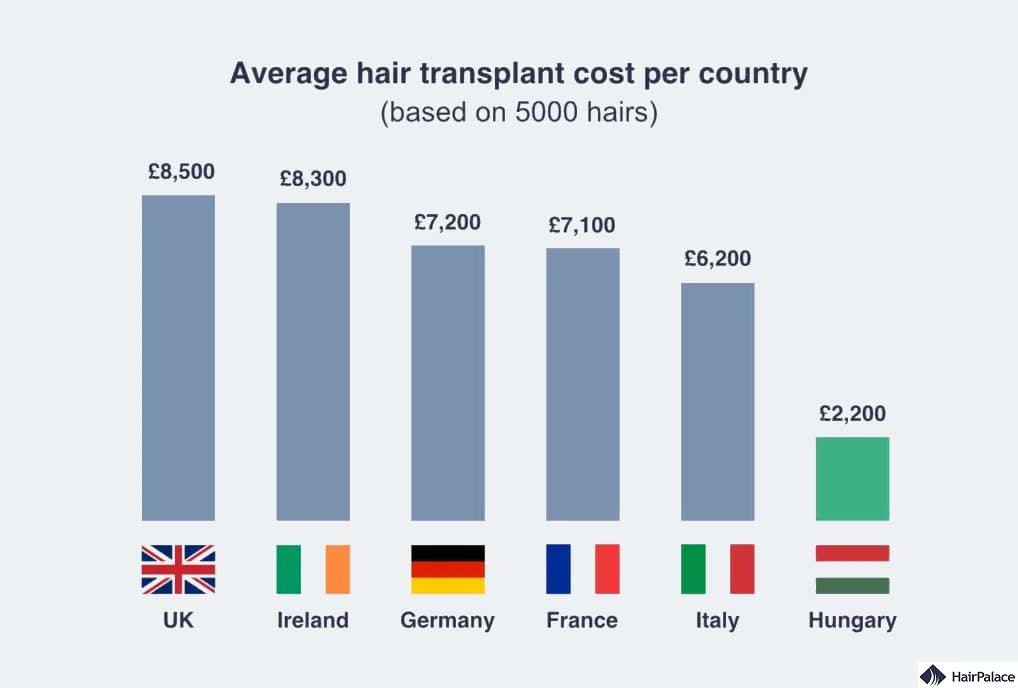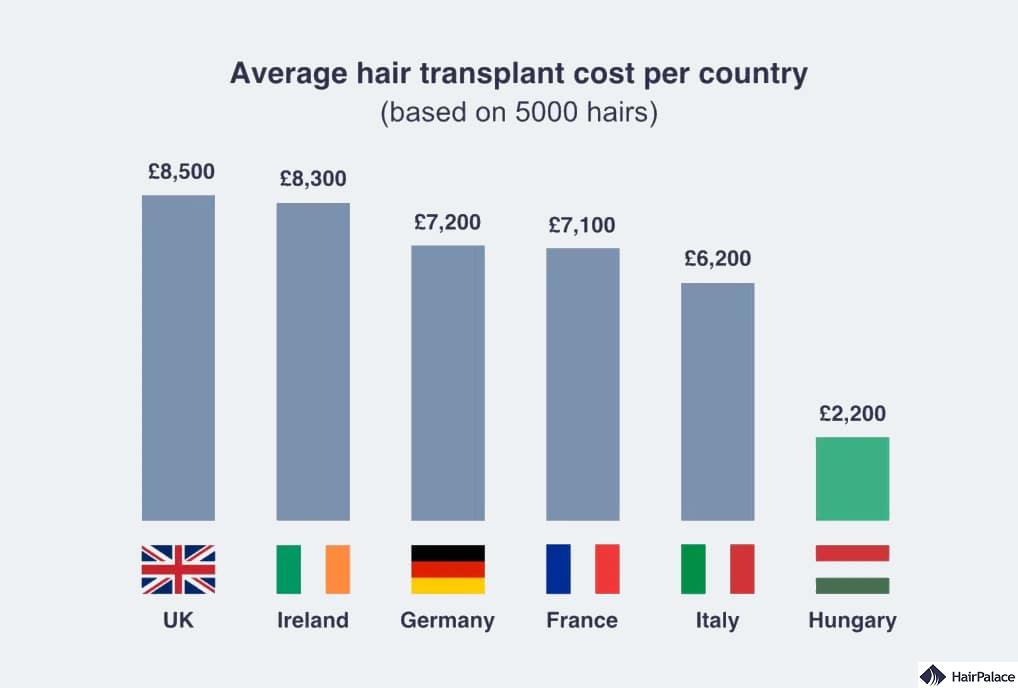 These expenses include the salaries, the medication, equipment and the overhead. 

Running a high-end private hair clinic in Budapest involves lower costs than doing the same in London.

As a result, HairPalace can offer more affordable hair transplant prices in Hungary, while providing you with top-quality service and care.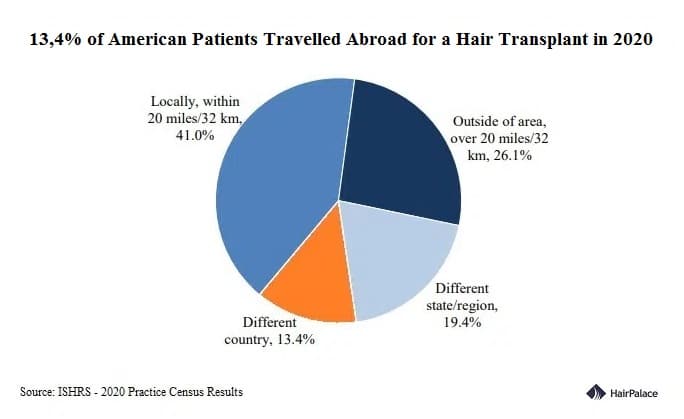 Hair transplant Hungary vs Turkey
While both countries offer hair transplants at affordable prices, there are some key differences to be aware of.
Hungarian clinics adhere to the highest healthcare standards which are unified across the EU. These strict regulations guarantee patient safety and satisfaction.
Additionally, HairPalace only carries out surgeries with the help of qualified surgeons who are all registered with the Hungarian Medical Chamber.
This is often not the case in Turkey where clinics don't have to adhere to any standards which often results in surgeries being carried out by unqualified assistants or temporary workers.
While it is possible to find reputable clinics in Turkey as well, there is a much higher risk associated with a hair transplant in Turkey compared to a hair transplant in Hungary.
Amazing hair transplant results at HairPalace
HairPalace guarantees excellent hair transplant results whether you are looking for a small hairline correction, or to improve the density across the scalp.
Which hair transplant method does HairPalace use?
HairPalace clinic works solely with the FUE2 technique. This is the most modern technique currently that extracts the grafts one by one with a special micro punch.
With years of experience in its use, specialists recommend the FUE2 for the numerous benefits it offers:
no visible scars remaining
pain-free procedure
the highest success rate with up to 90-95% regrowth
quick recovery
minimally invasive
helps to preserve the donor area for future sessions
Considering the advantages FUE2 and other variations offer for patients, it's no wonder how popular FUE procedures became in recent years.
Just last year over 75% of all hair restoration surgeries were carried out with the FUE technique: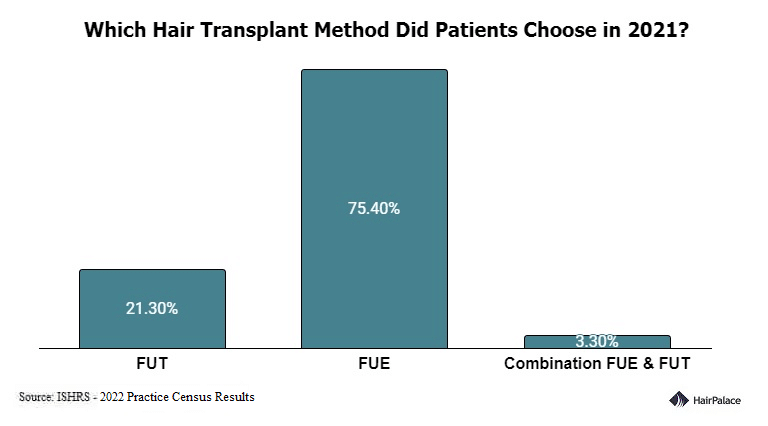 Hair transplant surgery Hungary – Meet the experts
HairPalace has 6 highly-trained specialists who have the required skills and experience to help you get the best hair transplant results in Hungary.
They are assisted by a seasoned team to ensure that your procedure is smooth running from the first contact to the last check-up.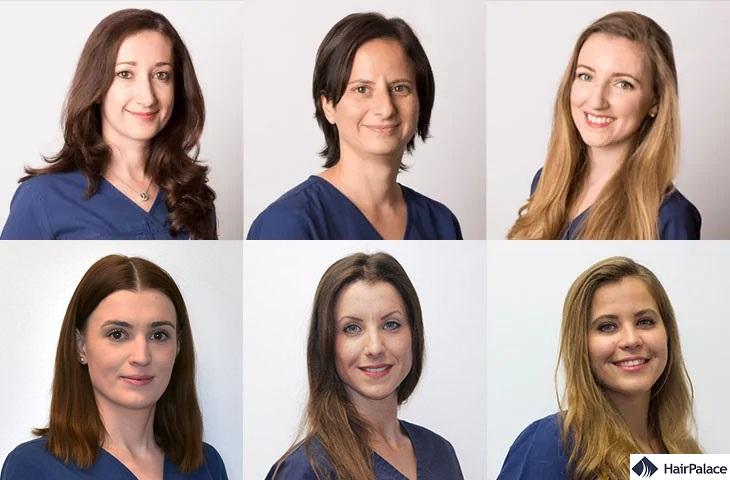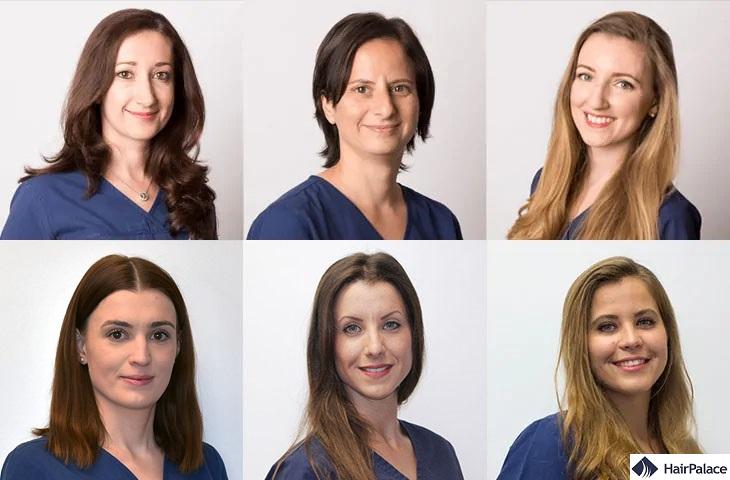 Why choose HairPalace?
Each case is different, thus the team is committed to providing customized treatment plans and superior service from start to finish.
HairPalace is the right choice if you are looking for:
Experienced doctors
Surgeons have 5-10 years of experience in the field and they perform solely hair restoration surgeries.
Natural hair transplant results
Each case is unique. As such, the doctors tailor the procedure to your needs and hair to ensure that they achieve high and natural-looking density.
Written Guarantee
HairPalace guarantees the success of your hair transplant surgery. If less than 80% of the transplanted hairs grow out, we reimplant the missing amount free of charge.
No visible scars
The FUE2 uses a minimally invasive blunt punch that is less than 1 mm in diameter. As a result, the extraction does not leave visible scars on the scalp.
Postoperative care
Your surgeon will guide you through the post-op period to help you get the result you are looking for.
Excellent price
HairPalace offers high-quality procedures and comprehensive packages at the best hair transplant price in Europe.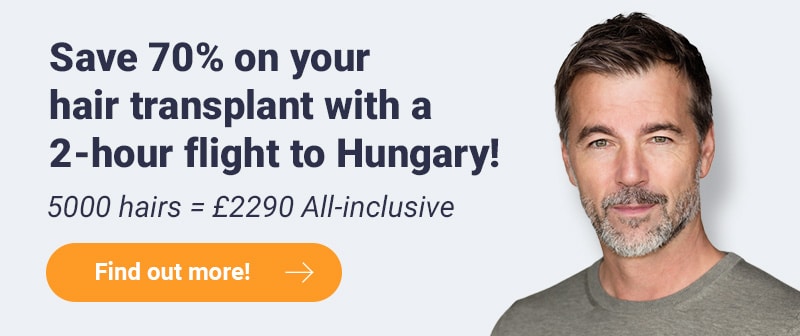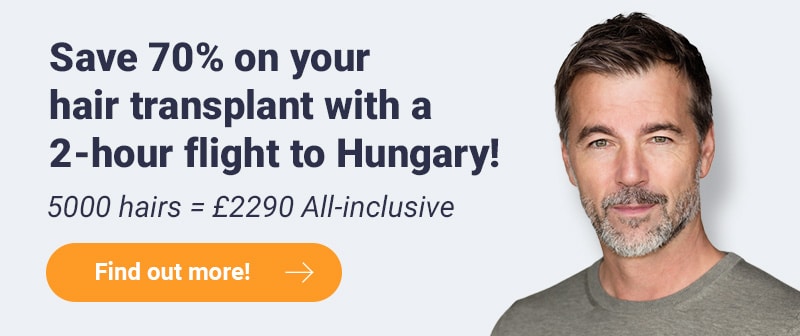 Hair transplant Hungary reviews
If you are looking to get your FUE hair transplant in Hungary, reviews written by previous patients can provide you with invaluable information.
HairPalace welcomes more than 500 patients mainly from the UK, France, Ireland and Germany every year.
And each year, more and more of them open up about their experience.
Take a look at previous patients' hair transplantation reviews and find out how they felt during their hair transplantation in Hungary!
Begin your hair transplant in Hungary with a FREE online consultation
Before you can get your hair transplant in Hungary, we would like to invite you for a thorough examination.
This first step is crucial to ensure that surgical hair restoration is an ideal solution in your case.
Currently, you can:
Meet the experts online
Visit HairPalace clinic in Budapest
In both cases, the examination is carried out by a surgeon, who will assess your condition and needs. During the 30 minute appointment, the doctor will also advise you about the procedure and the dos and don'ts of the aftercare period.
After the examination, you will get a treatment plan tailored to your needs, complete with a quote to consider.
For available appointments and further information, please contact us at +44 20 7131 0229!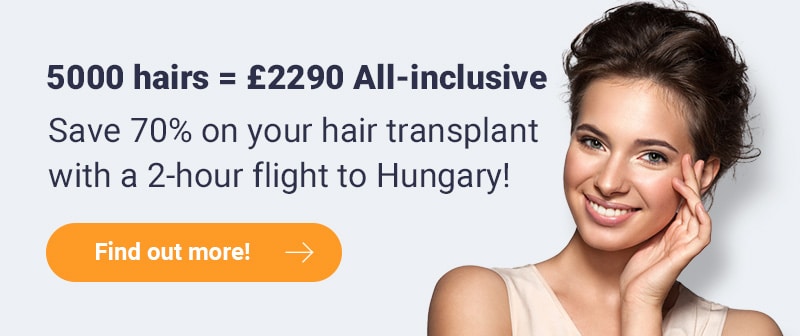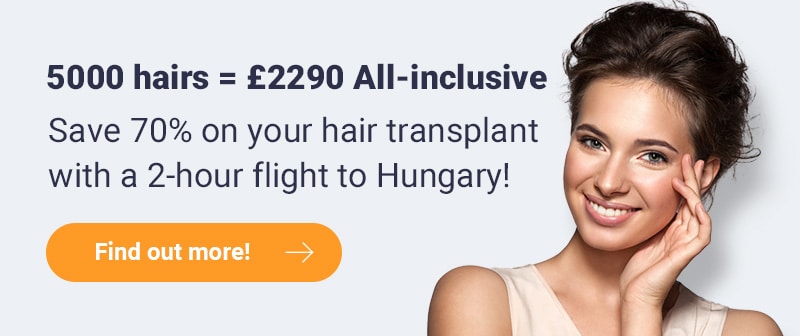 FAQ
Why is Hungary the best for hair transplantation?
If you're looking for an affordable hair transplant, Hungary is a must. Hungarian surgeons undergo the intensive education and training you would expect, and Hungary's low cost of living leads to lower salaries compared to the UK. That means you'll receive terrific treatment at a highly competitive rate.
Is Hungary safe for hair transplant? 
For patients willing to travel outside the UK for a hair transplant, Hungary is an increasingly popular option. It boasts one of Europe's best healthcare systems, offering affordable prices, high standards of care, and cutting-edge facilities. Hungary's hair transplant clinics are some of the finest in the world.
HairPalace relies on scholarly sources, including peer-reviewed articles, as well as publications of medical associations and academic & research institutions. We follow strict sourcing guidelines and avoid tertiary references. Read our editorial policy for further information on how we keep our content up-to-date and accurate.