Hair transplant in Hungary: Costs and Services
How much is a hair transplant in Hungary?
Hair transplant costs will depend on how many hairs you need and which method you'd prefer.
Yet, if you have been shopping around, you must have noticed that the clinic's location is decisive too.
In Hungary, FUE hair transplants are more affordable than in the UK or France. This allows our patients to save up to 50% on their procedures.
This large difference roots in economic reasons. 
There are a lot of expenses that clinics must consider when they put a price on their services. 
These expenses include the salaries, the medication, equipment and the overhead too. 
Running a high-end private hair clinic in Budapest involves lower costs than doing the same in London.
As a result, we can offer more affordable hair transplant prices in Hungary, while providing you with top quality service and care.
Take a look at what prices you can expect at our clinics:
Package
Number of hairs to be implanted
Package price in London
Package price in Budapest
Package 2000
2000
£ 3358
£ 1590 

£ 1390

Package 3000
3000
£ 4832
£ 1990 

£ 1790

Package 4000
4000
£ 6305
£ 2190 

£ 1990

Package 5000
5000
£ 7779
£ 2390

£ 2190
Which hair transplant method do we use?
At HairPalace clinic, we work solely with the  FUE2 technique. This is the most modern technique currently that extracts the grafts one by one with a special micro punch. 
With years of experience in its use, our doctors recommend the FUE2 for the numerous benefits it offers:
no visible scars remaining

pain-free procedure

the highest success rate with up to 90-95% of regrowth

quick recovery

minimally invasive

helps to preserve the donor area for future sessions
Our hair transplant experts in Hungary
Here at HairPalace, we have 6 highly-trained specialists who have the required skills and experience to help you get the best hair transplant result in Hungary.
They are assisted by a seasoned team to ensure that your procedure is smooth-running from the first contact to the last check-up.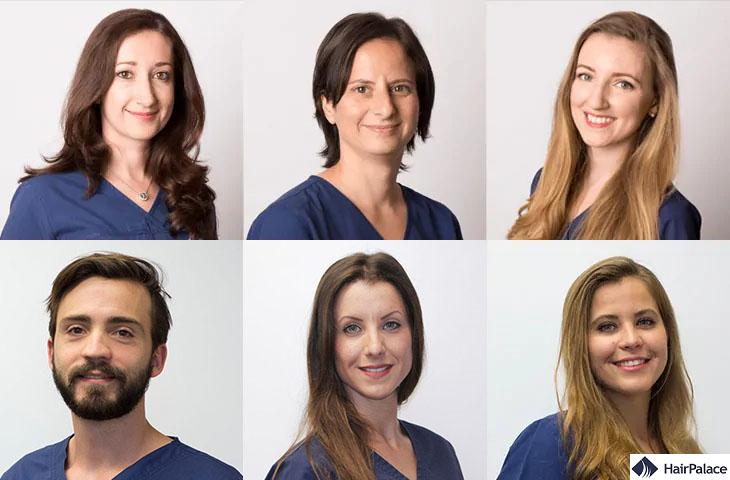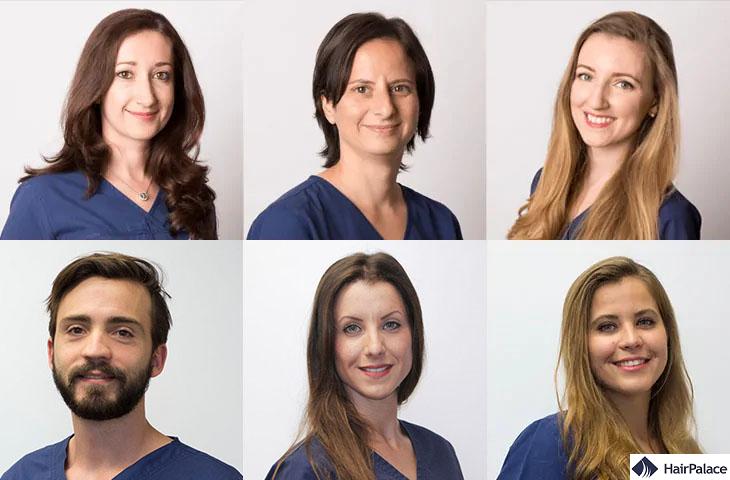 Why choose us?
Each case is different, thus we are committed to providing customized treatment plans and superior service from start to finish.
HairPalace is the right choice if you are looking for:
Experienced doctors

Our surgeons have 5-10 years of experience in the field and they perform solely hair restoration surgeries.

Natural hair transplant results

Each case is unique. As such, we tailor the procedure to your needs and hair to ensure that we achieve high and natural-looking density.

Written guarantee

We guarantee the success of your hair transplant surgery. If less than 80% of the transplanted hairs grow out, we reimplant the missing amount free of charge.

No visible scars

The FUE2 uses a minimally invasive blunt punch that is less than 1 mm in diameter. As a result, the extraction does not leave visible scars on the scalp.

Postoperative care

Your surgeon will guide you through the post-op period to help you get the result you are looking for.

Excellent price

We offer high-quality procedures and comprehensive packages at the best hair transplant price in Europe.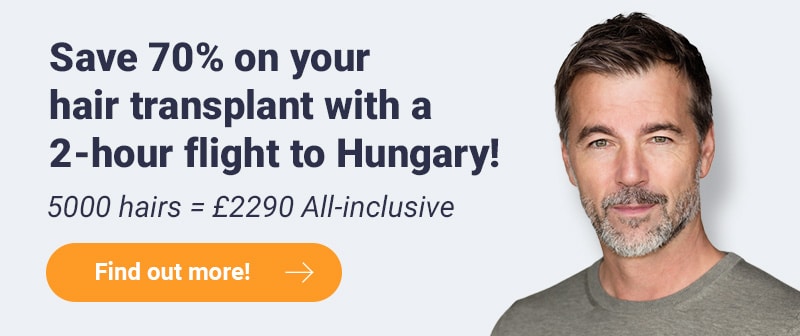 Hair transplant reviews in Hungary
If you are looking to get your FUE hair transplant in Hungary, reviews written by previous patients can provide you with invaluable information.
We welcome more than 500 patients mainly from the UK, France, Ireland and Germany every year. And each year, more and more of them open up about their experience. 
Take a look at our patients' reviews and find out how they felt in our care during their hair transplantation in Hungary!
I've completed day one of my intervention today and I am more than impressed so far. I've been well looked after from start to finish by my interpreter and the doctor. I have been kept up to date with each and every aspect of the procedure. The facilities are clean and everything is organised and professional. I'm glad I chose Hair Palace.
   Matt Hirst | Nov 20, 2019
An efficient process from start to finish. Everything was thoroughly explained by the staff who were caring, friendly and spoke excellent English. Modern, meticulously clean offices with surgical rooms close to the Ibis Styles where the accommodation was – merely a 5 minute walk away.
I can't pretend I wasn't trepidatious- but I am glad I had the hair transplant done in Budapest and saved myself thousands of pounds.
Many thanks to the staff – I can't praise them enough.
  Anthony Evans | Mar 21, 2018