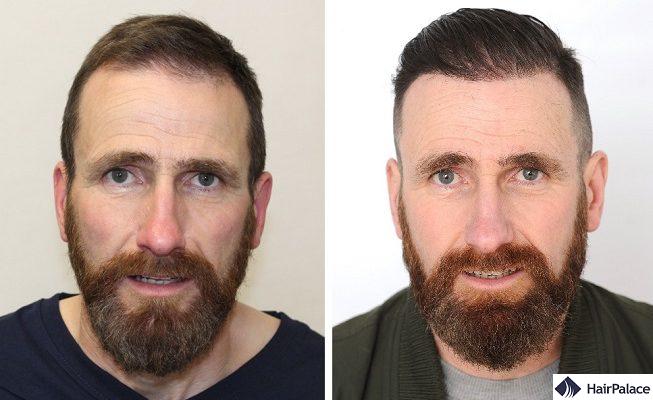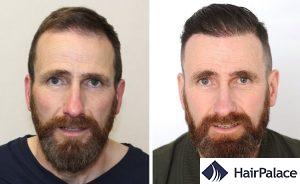 Andrew from Dublin
Number of hair transplants: 1
Number of transplanted hairs: 2777
We have corrected Andrew's hairline with 2777 hairs on the 21st of May 2018. He was so satisfied with the results, he recommended us to his family and friends.
Visit our office in Ireland for a free consultation!
Every head of hair is unique, and every patient has different needs when it comes to hair restoration.

As your case will need a tailored approach too, your hair transplant in Ireland should start with an assessment.

We offer digital hair density and scalp examinations in Dublin, carried out by one of our hair transplant experts.

During the examination: 
the doctor will examine your hair and scalp

assess your needs

discuss the details of the surgery

answer all questions you might have



In light of your condition and needs, we will prepare you a treatment plan complete with a quote, so you can consider your procedure knowing all details.

The evaluation takes 20 minutes, and it is free of charge.

To book an appointment, please contact us on +44 20 7131 0229 or send us an email to info@hairpalace.co.uk.
Where else can you find us?
In case meeting the surgeons of our hair clinic in Ireland is not convenient, you may find us in the following cities too:
UK: London, Manchester, Birmingham, Leeds, Bristol
France: Paris
Hungary: Budapest
How much is the hair transplant in Ireland?
Hair transplant prices are typically affected by a handful of things, from the doctor's experience to the hair transplant method of your choice.

On average, hair transplant clinics in Ireland charge between 8000€ and 15000€, depending on the number of hairs you need.

We have several clinics in Europe – you may have your hair transplant with us in London, Budapest or Paris.

We offer the same service and care of the same quality at every one of our clinics. However, the prices do differ.

There are economic reasons in the background – maintaining a private clinic and offering high-quality service and care simply involves vastly different expenses in London and Budapest.
Take a look at our prices below:
| Package | Number of hairs to be implanted | Cost of hair transplant in Dublin | Cost of hair transplant in Budapest |
| --- | --- | --- | --- |
| Package 2000 | 2000 | 3490 € | 1890 € |
| Package 3000 | 3000 | 4889 € | 2590 € |
| Package 4000 | 4000 | 6289 € | 3290 € |
| Package 5000 | 5000 | 7690 € | 3790 € |
| Package 6000 | 6000 | 8890 € | 4290 € |
For an accurate quote, an assessment is necessary.
Please contact us on +44 20 7131 0229 or info@hairpalace.co.uk and book in for an in-person or online consultation!
Which hair transplant method do we recommend?
At HairPalace clinic, we use the FUE2 Safe System method exclusively.

With this method, we extract the donor hairs one by one; then after carefully preparing them, we implant them to the areas affected by hair loss.

The FUE2 is the result of decades of technological advancement and innovation.

Our specialists employ this technique because it allows a minimally invasive procedure and its blunt punch prevents harming the follicles during the extraction.
This results in several benefits for our patients:
no visible scarring

pain-free surgery

short recovery

exceptional success rates with up to 90-95% regrowth
Why choose us?
At HairPalace, we are committed to delivering tailored hair loss treatment and making your procedure a smooth-running experience, whether you opt for a hair transplant in Ireland, England, or Hungary.
What do we offer for you?
Experienced surgeons

At HairPalace, your hair will be in the hands of skilled hair transplant specialists. Our doctors have 5-10 years of experience in surgical hair restoration and are equipped to find the best solution for you.

Natural-looking results

The goal of the surgery is to achieve a natural look. Our doctors will consider your individual qualities and needs to deliver natural-looking results.

Written guarantee

We offer a written guarantee on every procedure we perform. We guarantee that an 80% minimum of the implanted hairs will regrow – if not, we reimplant the missing amount free of charge.

No visible scars

One of the benefits of the FUE2 is that it is a minimally invasive procedure. As a result, the surgery does not leave visible scars.

Post-op care

Proper aftercare is essential to achieve the best results. Your doctor and team will remain available for help and will monitor your healing through regular check-ups.

Excellent price

With our comprehensive treatment packages, the hair transplant is available at affordable prices.
Our hair transplant experts in Ireland
Whether you choose to have your hair transplant in Ireland or elsewhere, a successful procedure will require refined skills.

We are proud to work with 6 experts who are not only skilled, but they also have vast experience in the field of hair restoration.

They are ready to provide you with the best hair transplant result in Ireland and are committed to delivering patient-focused care from the first consultation to the last check-up.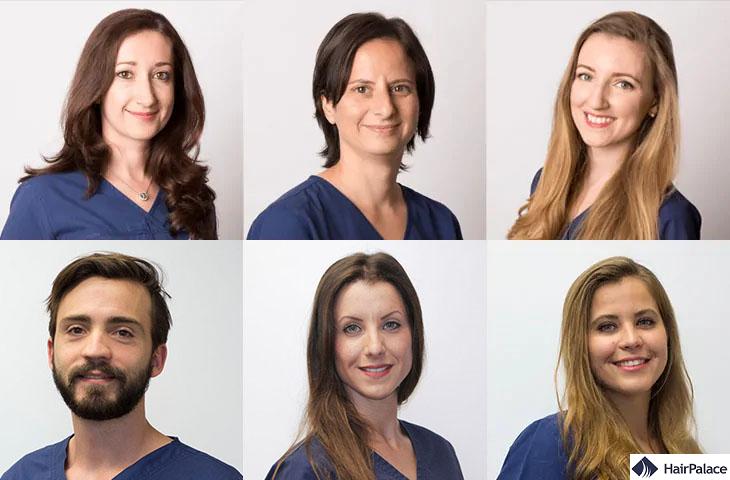 Ireland hair transplant reviews
Every year hundreds of patients entrust us with their hair transplant procedures. 
As such, we are prepared to make the whole journey smooth-running and comfortable. 
Hair transplant is a long-term investment in your appearance with lasting results.

As such, it is only natural to look for reviews and testimonials from previous clients.

Over the years we have received hundreds of reviews on platforms such as Trustpilot, Facebook and Google.

Get the inside story from our Irish patients who already see the result of their hair transplant with us.
What an amazing experience with amazing team. From start to finish can not thank you enough for your professionalism and care ye gave me from start to finish..6032 hairs to be exact 🙈.Can't recommend this team of surgeons and nurses enough absolutely amazing thank you so much
Denis from Ireland 🤗🤗🤗🤗
   Denis Buckley | Feb 17, 2020
Hi,
I'm just 4 weeks post op. I could go on and on as all of the other reviews, about the level of care, cleanliness and the utmost in professional standards but I won't, as it's all true.
I'm a sceptic. As with most people, I did a lot of research on procedures, warranties, value for money, location etc. The most important aspect was this part i.e. reading real customer reviews. I can confirm that this company offer the best of everything. Don't doubt, don't research any further and as the Nike advert says "Just Do It". You will not be disappointed. You will not get a better service at a better price.
All of the best to the HairPalace team and a very big thank you.
John (from Ireland)
  John | Jul 7, 2019