Hair Transplant in Wolverhampton: Costs and Services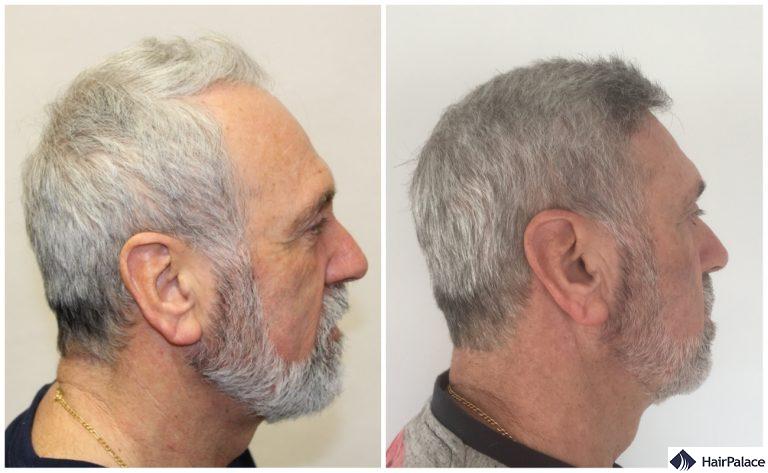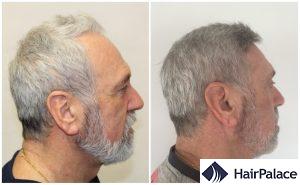 Alberto
Number of hair transplants: 1
Number of transplanted hairs: 6000
The revolutionary FUE2 hair transplant method made it possible for Alberto to regain the density of his hair. The complete change took a year. He is extremely satisfied with the result.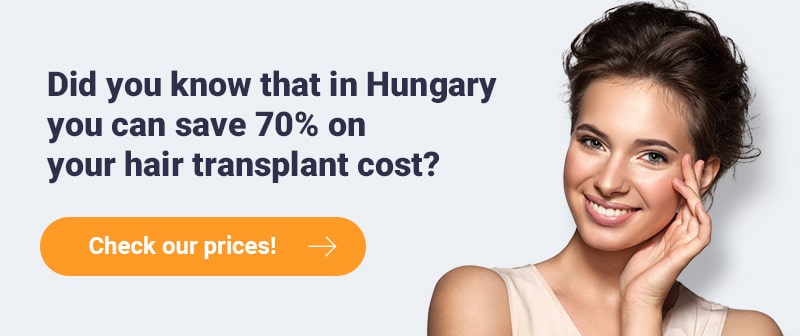 Get your free hair transplant consultation in Wolverhampton
Begin your hair restoration journey with a free, no-obligation consultation at our office in Wolverhampton.
Our specialists will conduct a thorough examination of your scalp and hair density using a state-of-the-art digital microscope.
We'll assess your unique needs and discuss what you want to achieve with your procedure.
Once we know more about the condition of your hair growth and scalp, we'll create a treatment plan just for you.
This will contain all the essential information about your hair transplant, including an accurate price for your peace of mind.
We'll answer any of your questions and provide insights into the results you can expect after your procedure. This free consultation will take approximately 20 minutes.
Advance reservation is a must for our hair transplant consultations — book an appointment with our colleagues on +44 20 7131 0229 now.
HairPalace Hair Clinic Wolverhampton:
84 Salop Street 3rd & 4th floors
Wolverhampton WV3 0SR
United Kingdom
Phone: +44 20 7131 0229
How much does a hair transplant in Wolverhampton cost?
Hair restoration prices are based on various factors, including your preferred method and the number of hair follicles required for effective growth.
You can expect to pay the same price for a hair transplant in Wolverhampton as you would in any other UK city or town. This is typically £2 to £4 per graft.
We have popular hair transplant clinics in London and Budapest, with our UK packages priced from £1989 to £9042.
Want to get the best hair transplant in Wolverhampton for a more affordable price?
With HairPalace, you can.
We're committed to making our hair restoration services available for all patients, which is why our Budapest team offers the FUE2 procedures from our London clinic at a lower rate.
Hungary's lower living expenses and wages make this possible.
You can still expect the same amazing service and results you would receive in a hair transplant clinic in Wolverhampton or London, for a fraction of the cost.
Our Budapest clinic packages range from just £1390 to £2590.
What hair transplant method does HairPalace use?
Experts at every HairPalace clinic use the FUE2 hair transplant technique.
This is a more effective version of the standard FUE method, and is the most advanced option available today.
As a result, you'll receive the same outstanding service and incredible results whether you visit our UK or Hungary clinic.
Our experienced doctors are happy to recommend the FUE2 method because:
FUE2 leaves no visible scarring
it's a painless procedure
FUE2 has success rates as high as 90 – 95%
the recovery period is short
it's minimally invasive
the donor area will be preserved well
Working with the best hair transplant specialists in Wolverhampton
HairPalace works with six experienced doctors with the skills and expertise to achieve the best hair restoration results.
You will get to meet with one of our surgeons during your free hair transplant consultation in Wolverhampton.
They will discuss your procedure and expected results in detail, to help you make an informed decision.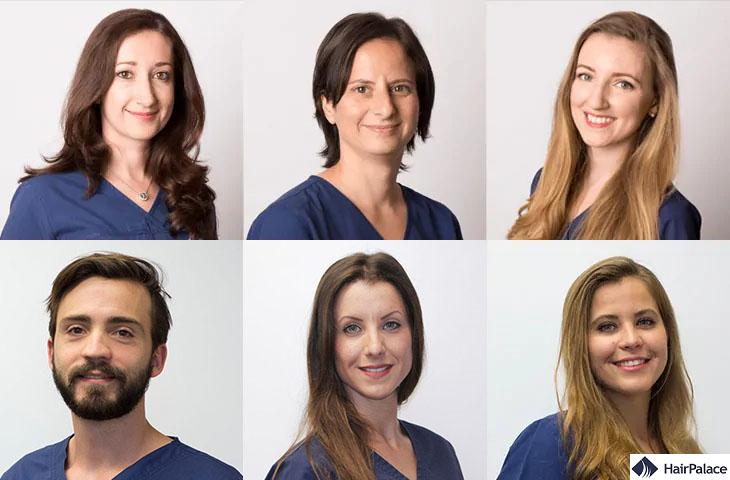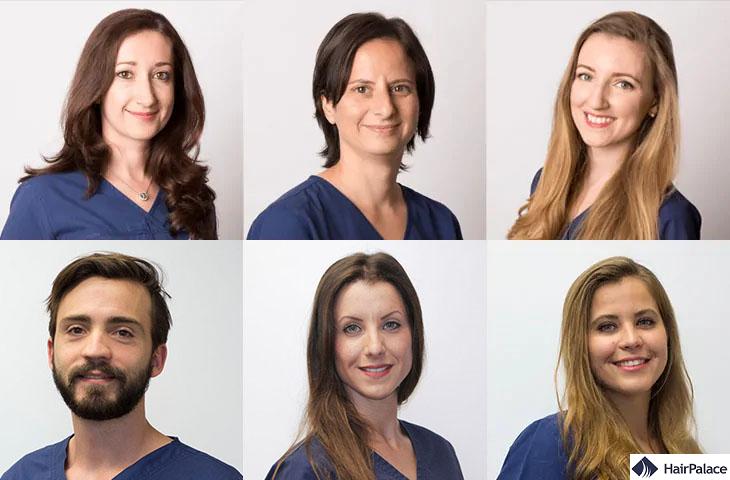 Why choose HairPalace for your hair restoration?
The huge variety of hair restoration clinics and treatments available can make choosing the right option for you much more difficult than you may expect.
But we're dedicated to helping you find the ideal solution to restore your hair, with our tailored treatment plans.
So, what can we offer you?
Experienced hair transplant doctors

Our hair restoration surgeons have between five and 10 years' experience of hair transplant procedures. They work closely with our team to provide tailored solutions and the best results.

Natural hair restoration results

The FUE2 method at our London and Budapest clinics enable us to reach high success rates and natural results.

Written treatment guarantee

We provide a written guarantee on our hair transplant procedures, as we use the most effective technique available. If less than 80% of the transplanted hairs grow out, we'll reimplant the missing amount completely free of charge!

No visible scars in donor areas

The FUE2 method involves extracting grafts one by one with a state-of-the-art micro punch. This leaves no visible scarring on the scalp's donor areas.

Post-procedure care

We've found effective aftercare to be crucial for the best hair transplant results, so we'll book you in for six check-ups following your procedure. We'll be here to answer your questions and offer expert advice.

Unbelievable prices

HairPalace offers highly-competitive hair transplant prices in Wolverhampton. Our packages cover all costs, and there are no hidden charges.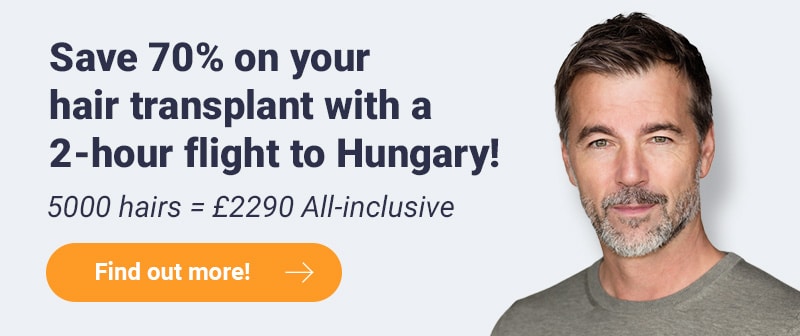 Read Wolverhampton hair transplant patient reviews
Year after year, hundreds of people undergo hair transplants with HairPalace.
Their genuine public patient testimonials on Trustpilot, Facebook, and Google offer more information on the quality experience you can expect.
They also motivate our team to keep providing service of the highest standard.
Read our hair transplant reviews from patients in Wolverhampton now!
I arrived yesterday in Budapest airport and was picked up immediately by their taxi driver who was very friendly and drove me directly to their premium apartment, which was very clean and comfortable.
The staff was very friendly, especially the dedicated translator and doctor, who guided me towards determining the final hairline.
I was given a meal of my own choice during the lunch break of superb quality.
Overall I can only recommend HairPalace to anyone thinking about getting a hair transplant.
They really made the process smooth and without pain. I am looking forward to see the final result in 6-12 months!
 Nicolas Lykke Iversen | Jan 28, 2020
A very welcoming and professional experience was had at Hair Palace.
Everything ran smoothly. We were met at the airport by a driver, as transfers were provided and then taken to the apartment where my wife and I stayed.
I must add that this was very clean and very comfortable.
The transplant went very well, with no pain except for the initial injections which were slightly uncomfortable.
The staff were very professional and very honest, giving a good clear understanding of what they expected to achieve for my individual self.
In otherwords, I didnt feel I was misled in anyway.
Good clear detailed instructions for after care were given on leaving.
You are very relax while they extract from the donor area and whilst they implant the hair follicles, you are able to watch a film of your choice.
A good substantial two course meal was also provided on both days.
I would highly recommend Hair Palace and look forward to the seeing the results that they have achieved.
Many thanks again to you all!
Frank Farkas
 Frank Farkas | Jan 25, 2020