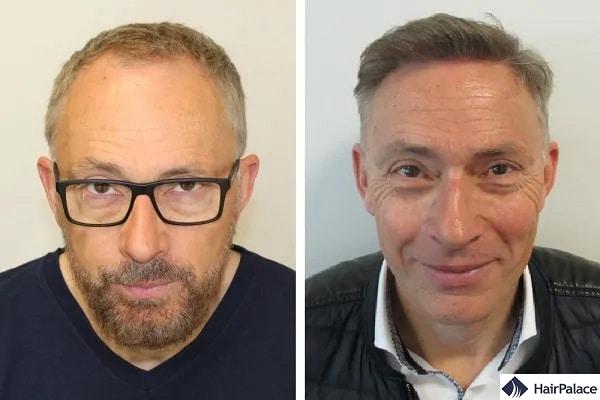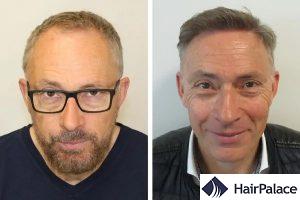 Denis
Number of hair transplants: 1
Number of transplanted hairs: 6200
Denis had been struggling with hair loss for 10 years before he decided to take action.
He had 5500 hairs transplanted to the front, and 700 hairs to the crown area to rebuild his original hairline.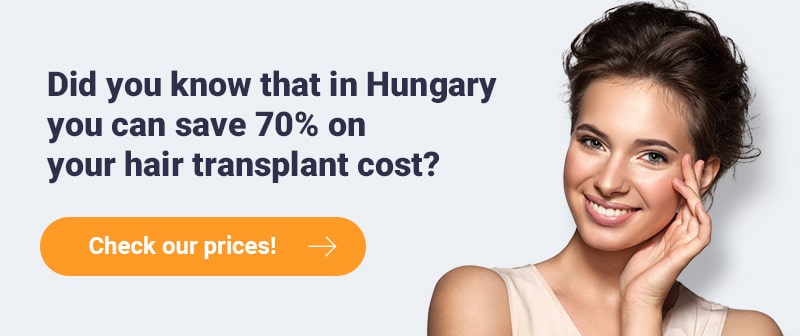 Get your free hair transplant consultation at our office in Uxbridge
Visit our Uxbridge office for a free consultation with one of our specialists.
We'll begin by examining your hair density and scalp with a high-end digital microscope. This helps us to understand the level of hair growth required for effective restoration.
With these essential insights, we'll put together a unique treatment plan tailored to you. You'll find all the crucial information on your hair transplant procedure inside this plan, including the cost.
Our experts can answer your questions and offer honest advice during your private, no-obligation consultation. This will take approximately 20 minutes.
Advance reservation is necessary — speak with our colleagues to arrange your consultation on +44 20 7131 0229 now.
HairPalace Hair Clinic Uxbridge:
The Charter Building
Uxbridge, London UB8 1JG
United Kingdom
Phone: +44 20 7131 0229
How much does a hair transplant in Uxbridge cost?
The price of a hair transplant is based on several key factors, including the method chosen and the number of follicles needed. Typically, a hair transplant in Uxbridge will cost the same as a procedure in any other town in the UK: between £2 and £4 per graft.
HairPalace provides cutting-edge hair restoration treatments at our clinics in London and Budapest. Our London team's procedures are available from £1989 to £9042.
Want to get the best hair transplant in Uxbridge for a more affordable price?
HairPalace can make it happen.
Our specialists in Budapest offer the same FUE2 procedures as the team at our London clinic — just at a more competitive rate.
We're able to do this because of the lower living expenses and wages in Hungary: we pass our savings on to you!
But rest assured: you can still expect to receive service of the highest standard and amazing results, just as you would at a hair transplant clinic in Uxbridge or London.
Our Budapest packages range from just £1390 to £2590.
What hair transplant method do we use?
Doctors at every HairPalace clinic use the state-of-the-art FUE2 technique to restore patients' hair. As it's an improved version of the traditional FUE method, the FUE2 treatment is today's most innovative hair transplant technology.
This ensures you'll receive the best hair transplant results at each of our clinics, whether you visit us in the UK or Hungary.
HairPalace's surgeons are incredibly experienced, and recommend the FUE2 method to patients for a number of vital reasons:
it leaves no visible scarring
the treatment is painless
high success rates (up to 90 – 95%)
the recovery period is short
it's minimally invasive
donor areas are preserved well
Meet seasoned hair transplant specialists in Uxbridge
We work with six highly-skilled hair transplant doctors with years of valuable experience. They work closely with HairPalace's team to achieve real results for every patient.
During your free consultation at our office in Uxbridge, you'll be able to discuss your procedure at length and ask questions about our services.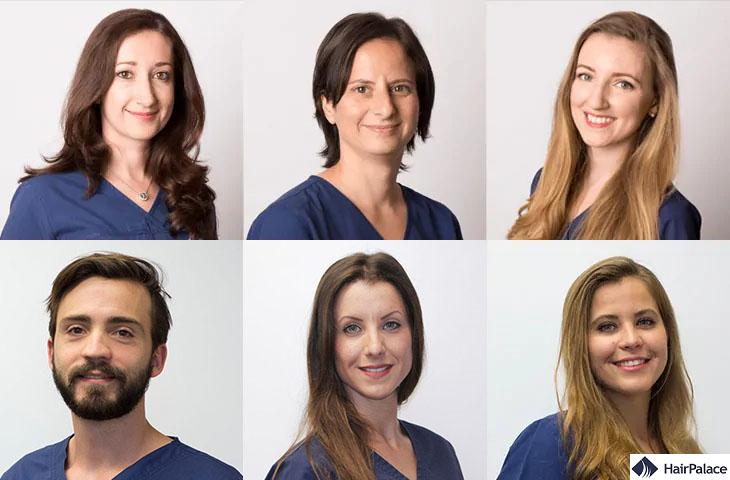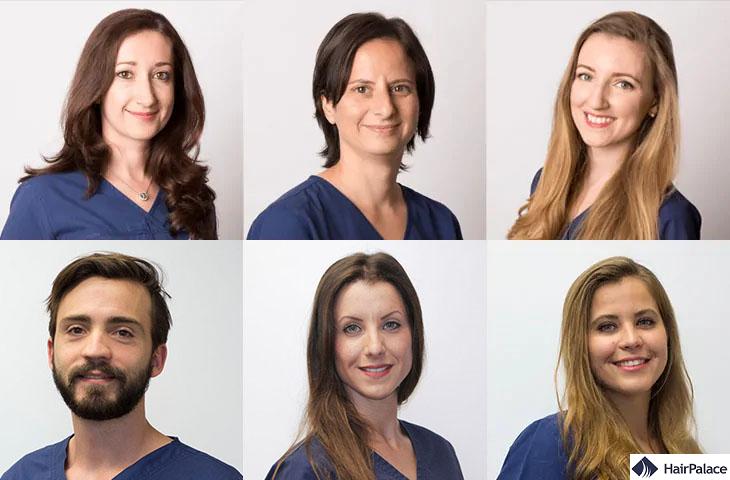 Why is HairPalace the right hair clinic for you?
With so many hair clinics and treatment options available, choosing one for your procedure can be a challenge. We know that.
But at HairPalace, we're committed to providing you with the information you need to find the ideal hair transplant option for you.
What can we offer?
Experienced hair transplant doctors


HairPalace's surgeons have from five to 10 years' experience of performing hair transplants. They're passionate about achieving successful hair growth for each patient.

Natural results

Using the most advanced technology available enables our surgeons to achieve exceptional success rates and natural results.

Written guarantees


We can provide you with a written guarantee on your treatment, as our surgeons use the latest FUE2 method. So, if less than 80% of your transplanted hairs grow out, we'll reimplant the missing amount for free.

No visible scarring


HairPalace's surgeons use a highly-accurate micro punch to extract one graft at a time during our FUE2 treatments. This will leave donor areas free of visible scars.

Quality post-procedure care


In our experience, proper aftercare is needed to achieve the best hair restoration results. We'll book you in for six post-surgery check-ups, which allow us to monitor your progress and answer questions you may have.

Competitive rates


Our hair transplants are available for affordable prices. As all costs are covered in our packages, you have no hidden charges to worry about!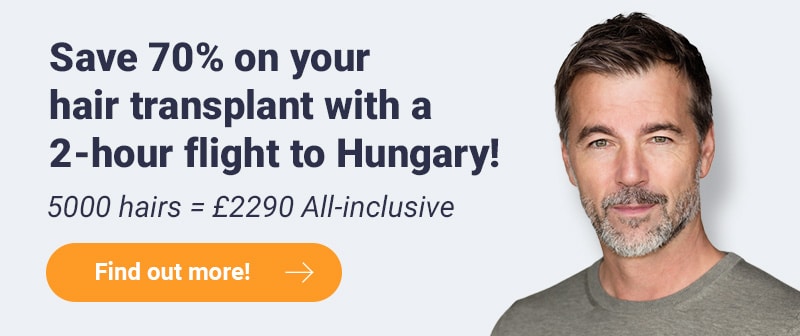 Browse real hair transplant reviews from our patients in Uxbridge
Every year, hundreds of patients visit our clinics for hair restoration procedures. You can read a huge range of public patient testimonials on TrustPilot, Google, and Facebook to get a clear idea of the results you can expect.
These also inspire us to keep providing the best hair transplant treatments and committed patient care.
Check out our hair transplant reviews from real Uxbridge patients now!
The whole trip including transfer, accommodation, blood tests, and surgery was extremely smooth and efficient. All the staff are very friendly and you are well taken care of. The surgeon does most of the procedure. Too early to comment on results at this point.
Joseph | May 28, 2021
Absolutely amazing service from start to finish. The doctor Lyubor Zsolnai is an absolute genius! She is so friendly and supported me throughout the procedure. This was my third time visit to the hairplace. Last two times I had 6,000 hairs each time, this time I had 3,000 (1,000 less than expected) and they refunded the difference with no hassle. It has completely transformed my hair, confidence and can't believe the difference. The service as well the support emails before, during and after the procedures are really nice and make sure if you have any worries you can always reach out to them. The extra support in terms of accomadation, taxi transfer and even lunch (very yummy choices available!) is so lovely and you feel your being looked after from the moment you step off the plane. Can't recommend this place enough. Thank you hair palace. Your Amazing!!
 James Hunt-Davies | Apr 20, 2018