Hair Transplant in Slough: Costs and Services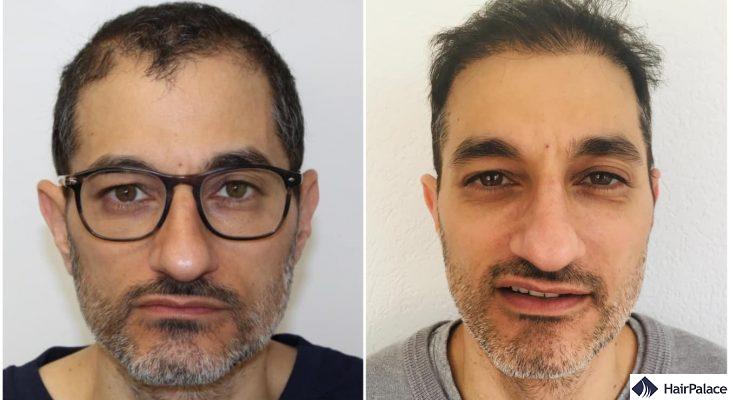 What will a hair transplant in Slough cost?
The cost of your hair transplant will be based on various factors, including the method chosen and the number of hair follicles needed to achieve effective growth.
Typically, the price of a hair transplant in Slough will be the same as in other towns or cities across the UK. This ranges from £2 to £4 per graft.
HairPalace operates hair clinics in London and beautiful Budapest. Our London team provides hair restoration treatments for between £1989 and £9042.
Want to get the best hair transplant in Slough at a more affordable rate?
We'll be happy to help.
The surgeons at our hair clinic in Budapest provide the same cutting-edge FUE2 hair restoration procedures as our London team.
But the price in Hungary is substantially more competitive, courtesy of the country's lower living expenses and wages.
You can still expect to receive exceptional service and amazing results, just as you would at a hair transplant clinic in Slough or London. The biggest difference will be the lower cost.
Our hair restoration packages in Budapest are available from just £1390 to £2190.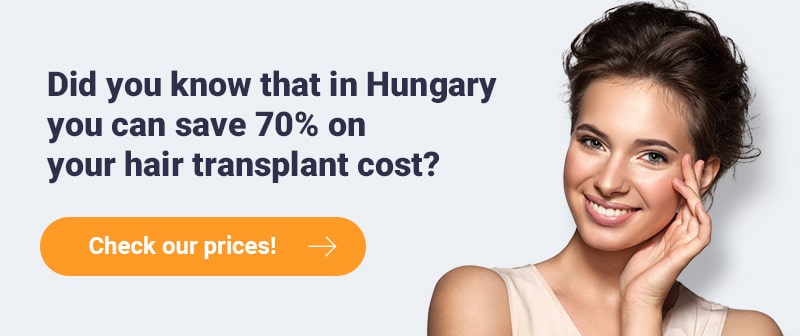 Get your free expert consultation at our office in Slough
Visit our office in Slough for a free, private consultation with one of our hair transplant specialists.
We'll start by examining your hair density and scalp closely, using a digital microscope. Next, we'll assess the condition of your hair growth and explore what you would like to achieve with your hair restoration treatment.
Our experts will create a tailored treatment plan just for you. Inside, you'll find all the crucial details on your FUE hair transplant, including a competitive price.
We'll be happy to offer advice and answer questions during your consultation, for your peace of mind. This will take approximately 20 minutes.
Advance reservation is vital — speak with our colleagues and arrange your consultation on +44 20 7131 0229 today.
HairPalace Hair Clinic Slough:
268 Bath Road, Slough
Berkshire SL1 4DX
Phone: +44 20 7131 0229
What hair restoration method do our doctors use?
Experienced doctors at every HairPalace clinic use the latest FUE2 technique for stunning hair restoration. This is an improved version of the standard FUE method, and is the most technologically-advanced option available to hair clinics today.
You'll receive the highest standard of service and achieve unbelievable results at any HairPalace clinic, whether you visit us in the UK or Hungary.
HairPalace's surgeons have helped hundreds of patients with our state-of-the-art FUE2 hair transplants. They continue to recommend this innovative method as it offers patients the following benefits:
no visible scars on donor areas
the procedure is painless
it can achieve success rates of 90 to 95%
the recovery period is short
FUE2 is minimally invasive
it can preserve donor areas effectively
Working with hair transplant specialists in Slough
HairPalace works with six accomplished doctors. Each has the vital skills and experience to ensure our patients receive the best hair transplants.
You can meet one of our hair restoration doctors during your free, no-obligation consultation at our Slough office.
You can discuss the procedure at length and ask questions you may have.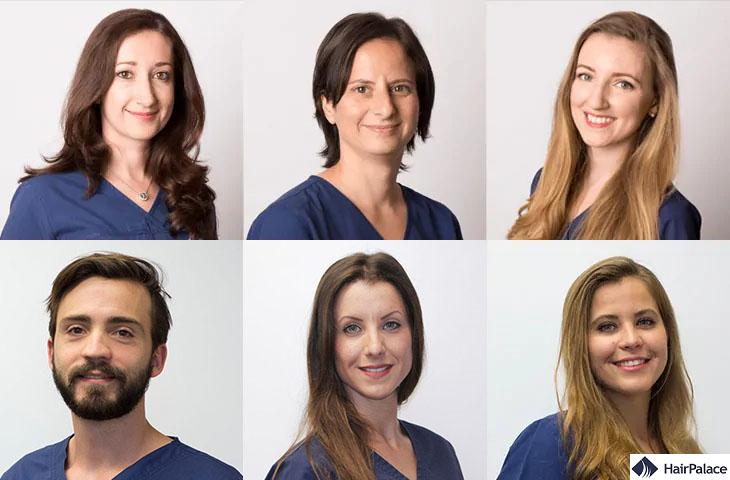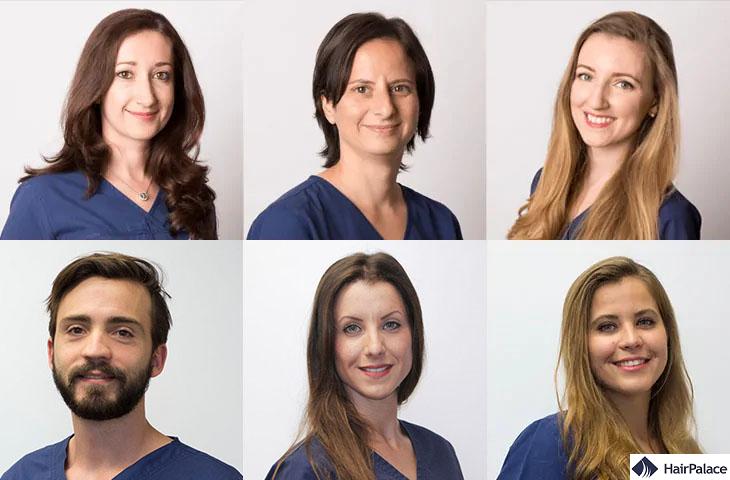 Why choose HairPalace for your hair restoration?
We know picking a hair clinic and treatment can be a challenge with so many options to choose from. But at HairPalace, we're committed to helping you understand which hair transplant is best for you.
What can HairPalace offer you?
Doctors with years of hands-on experience


As our surgeons have five to 10 years of experience performing FUE2 hair transplants, you're in the best hands. They work alongside our team to provide treatments tailored to each patient.

Natural results for effective hair restoration

Our doctors can reach high success rates and achieve dense, natural hair restoration.

Written guarantee on your treatment

Using state-of-the-art hair transplant technology enables us to provide a written guarantee: if less than 80% of your transplanted hairs grow out, we'll reimplant the missing amount for free.

No visible scars

HairPalace's surgeons extract grafts one at a time with a micro punch during FUE2 procedures. No visible scars will be left on the donor area.

Dedicated post-treatment care

We believe great aftercare is crucial to achieve the best hair transplant results, so we'll schedule six check-ups to evaluate your progress and answer your questions.

Affordable rates


Our hair transplant in Slough prices are highly competitive. As all costs are covered in our packages, you have no hidden fees to worry about.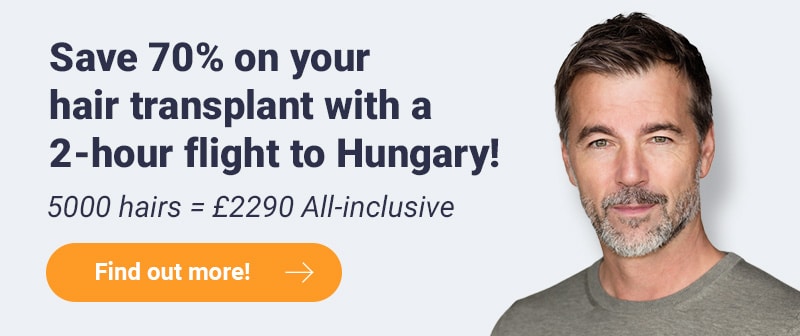 Real hair transplant reviews from Slough patients
Hundreds of patients visit HairPalace for hair restoration treatments every year.
You can browse our extensive range of public patient testimonials on Trustpilot, Facebook, and Google to learn more about our unparalleled service.
They also motivate us to keep providing every patient with the best hair transplant experience and results. Read hair transplant reviews from our real Slough patients now!
Being continuously aware of my hair thinning issue, I decided to get something done. Why did I decide on HairPalace? Not sure really, just google searches and looking at reviews. Wasn't the absolute cheapest, but seemed exactly what I needed and they always responded quickly to my emails.
Attended an office in London which is a rented office. In a way, this was good – I didn't want to see plush offices in the UK when they are based in Hungary – plush offices mean money, which inevitably I would be paying for! I paid for 6000 hairs, which is the max I could do. Had to get some lumps on my scalp removed first (which took 6 months! Eventually found someone in the UK that didn't charge over £1000 to remove 3 small lumps!!).
Anyway, revisited the London HairPalace office and was told I was good to go. Arrangements were thorough, I knew exactly where to be and what to expect. Was picked up from airport by a private company – the driver was a bit of a miserable person! Was taken to an apartment which was about 45 minute trip from airport.
Next day, was picked up by the same private transportation company, very friendly driver this time who dropped me at a blood test place (20 minutes drive from apartment). Blood test took 15 mins, then the rest of the day was spare.
TREATMENT DAY ONE Next day, walked from apartment to clinic (20 minute walk, if that). Nice offices with friendly staff. They explained procedure, obviously they took the payment (else this would be a non-starter!) then shaved my hair bald! In the treatment room, first I was face down while they extracted hair follicles from the back, then side of my head.
After being stabbed many many times with anaesthetic, the only sensation was this buzzing which was similar to a bee drilling around every follicle, then each one being removed with tweezers. Today they moved follicles from the back and right-hand side. Extraction took about 1 hour. Now the same process to the top of my head but in reverse – the hair that was once at the back of my head was now on the top of my head! Watched a couple of films during this time, with a break for lunch. Lunch was provided, but I was disappointed with myself for not noticing the pizza choice!! Instead I had a very large club-sandwich with chicken inside. Treatment started about 10am, left about 4pm. That night, had a bandage over the back part of my head. The blanket bandage they gave me become stuck to my head with the blood, not a pretty site but what do you expect with a hair transplant! Was kind of difficult to sleep, but got through it ok.
DAY TWO of the treatment, I was offered an extra 1000 hairs as the quality of my hair gave me this option. Paid another £300 for an extra 1000 so that my hair line would go back further. Same as yesterday, extract hair from back of head, plant in top of head. You cannot feel anything, as your whole head is numbed with the anaesthetic. The only pain, was being sat in a chair with a neck pillow for about 3-4 hours. The aching around my neck was almost unbearable, but in the end it's just something you have to deal with!

At the end of day 2, VERY PLEASED. Although this was 'fresh out of the clinic', my head was red and bloody, AT LAST I have a head of hair! Very spikey! There are many rules, such as you cannot touch, wash, cover your head for the first week. Pills to take every day for the first week, etc. I had the miserable driver back to the airport, who didn't like it when I picked up my own bag to put in the van. Maybe it was just a translation issue, but his reaction to be honest angered me as he appeared to go into the van and I didn't know if I should put my bags in the van or him. He came back and instead of saying "please don't worry I will do it", he said "no, leave the bags, this is MY job" with a very unfriendly and angry tone. Purposely didn't make eye contact with him on way back to airport which wasn't difficult.
On the plane I was a very proud person, until I looked at my face in the mirror and realised that the anaesthetic that had been injected all around my head over the past 2 days had inflated my head and I looked deformed! Just the natural procedure but it was a shock! Next day I woke up, now the front of my face was bulging and was a struggle to open my eyes, so it's essential to take some time off work so that the anaesthetic works its way through. This went away after about 3 days. Nothing major, just was a bit of a shock lol. First week, VERY SCABBY! When the skin on your head moves, thousands of scabs move. Very funny sensation (nice to start with) then it comes back to bite you with a sting. Nothing to worry about, was just weird! Clinic also request weekly photos, to make sure that I've kept to the rules and advise me on progress.
End of first week, the scabs are now moving along each hair! Thousands of them! And the back of your head, a scab per hair that was removed! Yuck! But again, what do you expect!? You've just had a transplant! Second week, water only, no scrubbing. Most scabs came off by the end of the week. I'm now at the 1.5 month period. About 75% of the transplanted hairs look like they have gone, which is all part of the cycle. My head looks like it did before I went out there, although slightly better). The hairs will regrow after the 3rd month. Only at 6 months will I get an idea of what it will look like in the future – again, all as per the plan, so it's just a matter of being patient to see the real results. Currently, I can "feel" things are happening on my head! It's like someone has placed a warm flannel on my head and left it there! Nice, tingling sensations! All in all, "as expected". Very good service, staff, and always responded to my emails either the same day or the next.
Definitely recommended and I'm looking forward to seeing what my hair looks like when the new follicles come back through in a couple of months.
Matt from UK | Mar 19, 2019