Hair Transplant in Salisbury: Costs and Services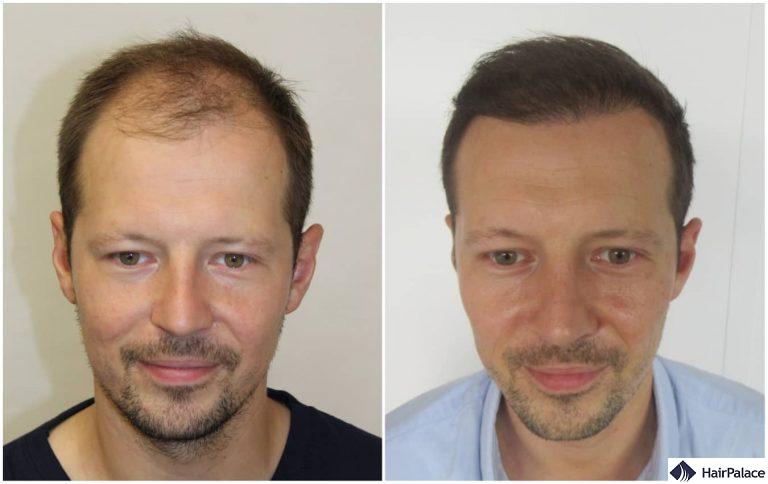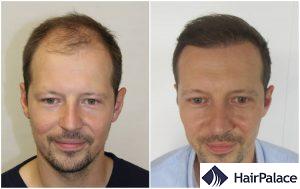 Romain
Number of hair transplants: 1
Number of transplanted hairs: 6021
Romain took the first step to achieve a denser hair by contacting our clinic back in 2018. With the FUE2 hair transplant method we implanted 6021 hairs to his bald areas. The result is incredible!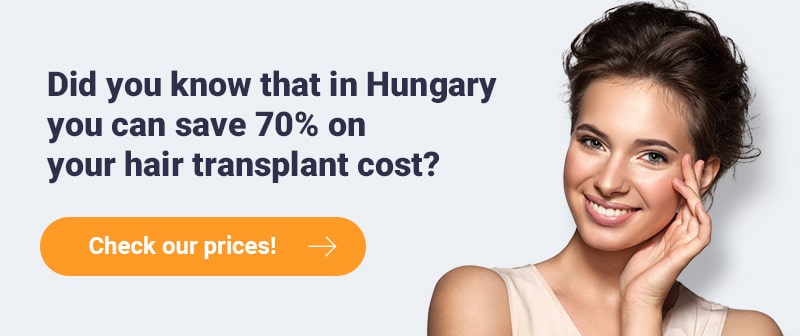 Visit our Salisbury office for your free hair transplant consultation
Join our hair restoration experts for a free, no-obligation consultation at our Salisbury office.
We'll assess your scalp and hair density carefully, using a top-of-the-line digital microscope. Next, we'll discuss your hair goals and requirements to understand what you hope to achieve.
Once we know more, we'll create a tailored treatment plan just for you.
Inside, you'll find all the information you need about your hair transplant, including its highly-competitive price.
Your free consultation for a hair transplant in Salisbury will take around 20 minutes.
Advance reservation is essential — you can book your consultation with our colleagues on +44 20 7131 0229 now.
HairPalace Hair Clinic Salisbury:
Cross Keys House
3rd Floor 22 Queen Street
Salisbury, Wiltshire SP1 1EY
Phone: +44 20 7131 0229
What does a hair transplant procedure in Salisbury cost?
Various factors determine the price of a hair transplant, including the number of follicles required for effective restoration and your preferred method.
For a hair transplant in Salisbury, you'll pay the same price you would in any other city in the UK. This is usually between £2 and £4 per graft.
HairPalace operates hair transplant clinics in London and Budapest, Hungary.
Our rates in London range from £1989 to £9042.
How can you get the best hair transplant in Salisbury for a more affordable price?
We'll make it easy for you.
Our Budapest clinic offers the same state-of-the-art FUE2 hair restoration procedure as our London team — but for a much more competitive price.
We're able to do this due to the lower living expenses and wages in Hungary.
You'll still receive the same exceptional service and results you would at a hair transplant clinic in Salisbury or London, yet at a fraction of the cost.
Our Budapest packages are available from just £1390 to £3090. That's a substantial saving compared to average UK rates.
What hair transplant method does HairPalace use?
The innovative FUE2 method is available at every HairPalace clinic.
This is an enhanced version of the standard FUE treatment, and utilises the latest technology for incredible results.
You can expect the same outstanding service and stunning results whether you choose to visit our hair clinic in Hungary or the UK.
Our doctors have years of experience in hair restoration, and recommend FUE2 treatments based on multiple key benefits:
no visible scars on donor areas
procedures are painless
success rates up to 90 – 95%
short recovery times
procedures are minimally invasive
donor areas are preserved well
Hair transplant specialists ready to meet you in Salisbury
We work with six remarkable surgeons with the skills and hands-on experience to achieve the best hair restoration results for our patients.
You can meet with one of these experts during your free hair transplant consultation in Salisbury. They'll be ready to answer your questions and help you understand why a FUE2 treatment may be the solution you're looking for.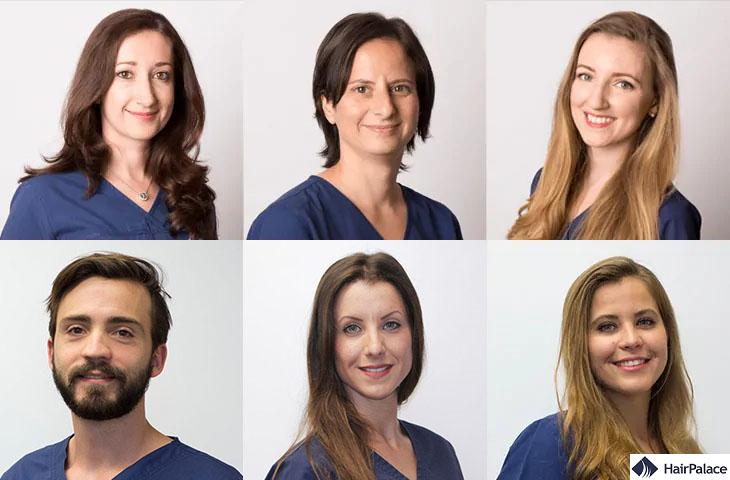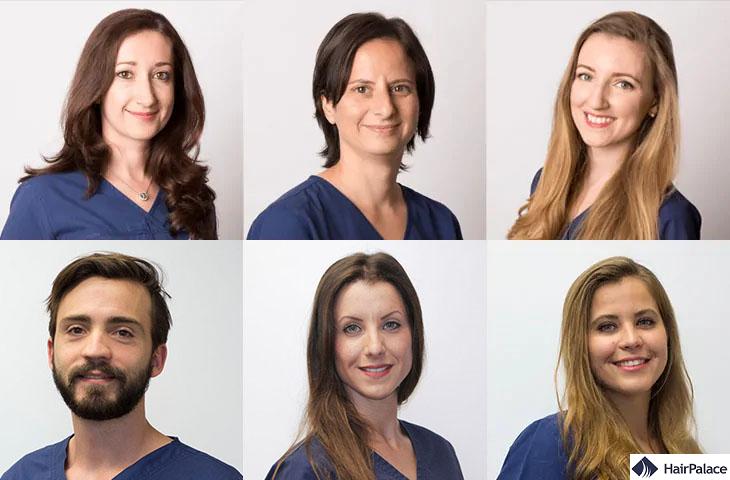 Why should you choose HairPalace?
We know choosing a hair clinic and restoration treatment can be difficult. There are so many options to consider today.
But HairPalace is committed to helping you find the ideal hair transplant package for your unique needs.
What can we offer?
Surgeons with extensive experience


Our doctors have between five and 10 years' experience providing patients with hair restoration treatments. Alongside our team, they're dedicated to bringing you tailored solutions and achieving the best results.

Natural hair restoration results

The FUE2 method empowers our team to reach amazing success rates and restore hair with a dense, natural look.

Written procedure guarantee


As we utilise the most effective hair restoration technique, HairPalace provides a written guarantee on your procedure.

If less than 80% of the transplanted hairs grow out as expected, we'll reimplant the missing amount for free.

No visible scarring


Our surgeons extract grafts one by one with a highly-accurate micro punch during FUE2 hair transplants. This causes no visible scarring on the donor area.

Dedicated postoperative care


HairPalace provides affordable hair transplant prices in Salisbury. As all costs are covered in our comprehensive packages, you have no hidden charges to worry about.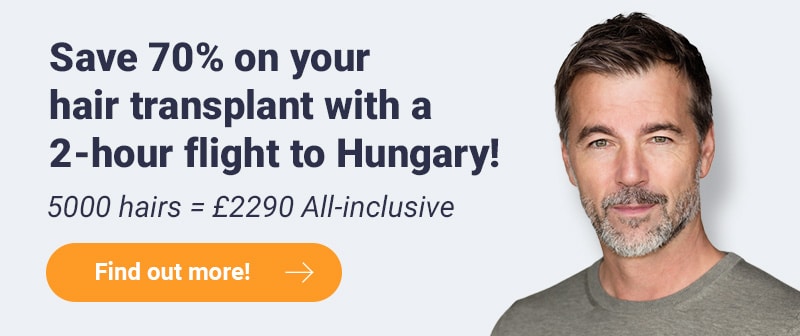 Read hair transplant reviews from real patients in Salisbury
Each year, hundreds of patients visit HairPalace to undergo hair transplants.
This has helped us to earn a vast number of patient reviews, ready for you to read on Google, Facebook, and Trustpilot now.
These will give you a clear idea of the exceptional results and friendly service you can expect when you choose HairPalace.
They also inspire our hard-working team to continually offer our patients an unparalleled hair restoration experience.
To learn more, browse some hair transplant reviews written by our Salisbury patients!
I am very pleased with my surgery and the accommodation was excellent very clean and all the staff was so friendly and helpful I couldn't fault anything, the treatment room is comfortable and clean and the food they provide is excellent. Overall very happy!
Bee jay | Apr 1, 2021
Hair Palace are amazing! The clinic is spotless and the staff are very friendly. The apartment which you stay in for the duration of your hair transplant is very comfortable and clean too. I had 6000 implants a year ago and my hair is virtually restored. I'm very happy and I would certainly recommend Hair Palace in Budapest.
JEFF SULLIVAN | Nov 22, 2018