Hair Transplant in Preston: Costs and Services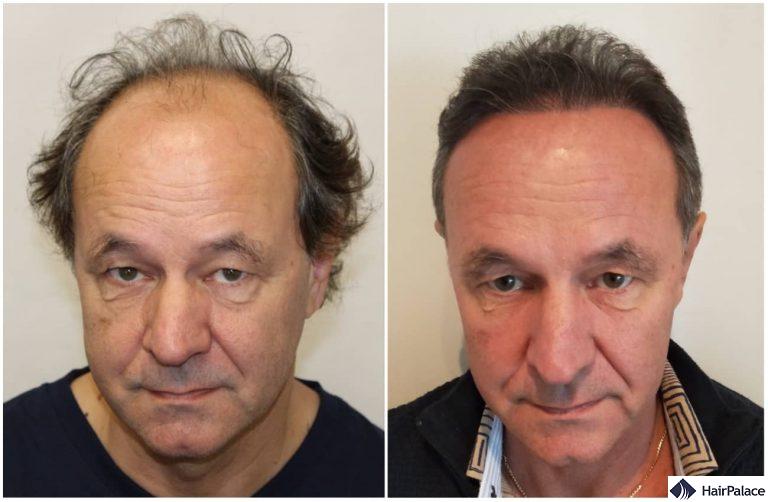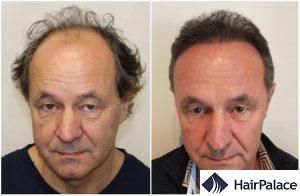 Patrick
Number of hair transplants: 1
Number of transplanted hairs: 6000
Patrick decided in 2018 to go under a FUE2 hair transplant. He did not regret his decision. A year later he was glad to see the dense results!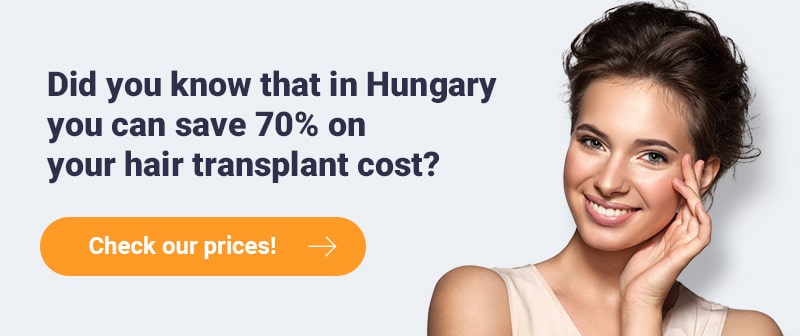 Visit our Preston office for your free, no-obligation consultation
Meet experienced hair transplant specialists at our Preston office for a free, private consultation.
To begin, we'll use a high-end digital microscope to examine your scalp and hair density. This enables us to assess your hair restoration requirements in depth before we discuss what you want to achieve with your procedure.
Next, we'll put together a treatment plan tailored to you. This includes key information on your procedure, such as the price. Our specialists will provide advice on your hair transplant and answer any questions you have.
Your consultation will take around 20 minutes.
Advance reservation is required for consultations — book yours on +44 20 7131 0229 now.
HairPalace Hair Clinic Preston:
The Pavilions Unit 5
Albert Edward House
Ashton-on-Ribble, Preston
Lancashire PR2 2YB
Phone: +44 20 7131 0229
How much does a hair transplant in Preston cost?
The price of a hair restoration procedure depends on several factors, such as the number of hair follicles needed for dense growth and the preferred technique.
A hair transplant in Preston will cost the same as it would elsewhere in the UK: usually between £2 and £4 per graft.
HairPalace has hair clinics in London and Budapest, Hungary. Prices at our London clinic range from just £1989 to £9042.
How can you get the best hair transplant in Preston for a highly-competitive price?
HairPalace will make it happen.
Our Budapest hair transplant surgeons offer the same state-of-the-art FUE2 procedures as the team at our London clinic.
But there's a big difference: our Hungary prices are substantially lower.
This is due to the lower wages and living expenses in Hungary. You'll still receive outstanding service and stunning results, just as you would at any reputable hair transplant clinic in Preston or London. Just at a fraction of the price!
For a hair restoration in Budapest, you'll pay between £1390 and £3090.
To learn more about HairPalace's hair transplants, visit our page covering hair restoration packages in Budapest now!
Which hair transplant technique do we use?
At every HairPalace clinic, our seasoned surgeons perform hair transplants using the innovative FUE2 method. This is a significant improvement on the standard FUE technique, and is the most advanced hair restoration option available today.
We offer service of the highest standard and can achieve amazing results at each HairPalace clinic, so you'll be in the best hands whether you choose our UK or Hungary team.
Our doctors have helped many patients with the latest FUE2 hair transplant procedures over the years. They're happy to recommend this method to patients for the following reasons:
donor areas remain free of visible scars
FUE2 is painless
we can reach success rates of up to 90 – 95%
the recovery time is short
it's minimally invasive
donor areas are preserved well
Meet our dedicated Preston hair transplant experts
We work with six surgeons, each with the skills to provide our patients with the best hair restoration experience.
During your free consultation at our office in Preston, you'll have an opportunity to speak with one of our experts and ask them any questions you may have about your treatment.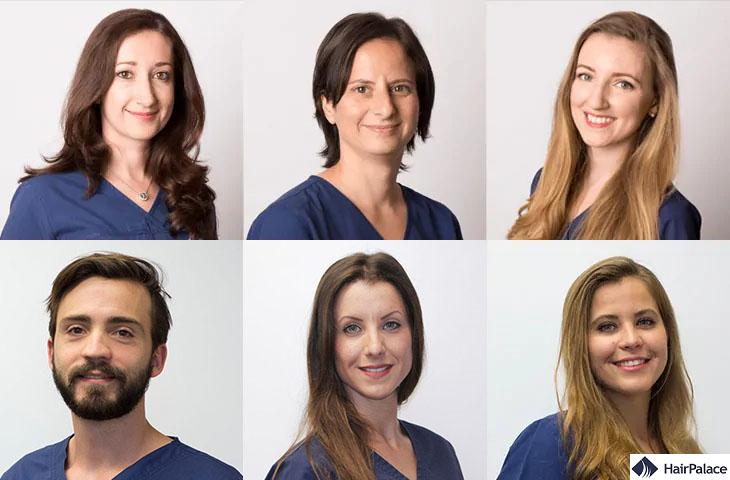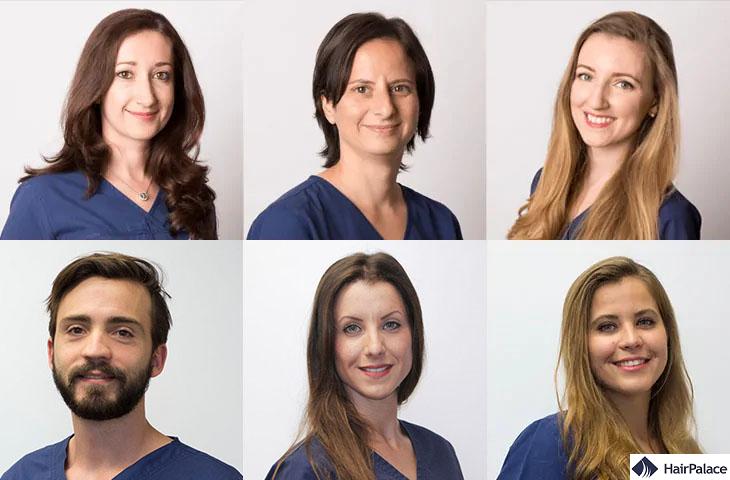 Why should you choose HairPalace?
Choosing a single hair transplant clinic or treatment method is incredibly tough today, when there are so many to consider. But at HairPalace, we're here to help you understand which hair restoration is right for your goals.
What do we offer?
Experienced hair restoration specialists


Our doctors have between five and 10 years' experience of undertaking hair transplants. Working closely with our team, they create packages tailored to patients' unique requirements.

Stunning, natural results

Our surgeons can achieve exceptional success rates and incredible, natural results.

A written guarantee


As HairPalace's doctors use the most effective hair transplant technology available, we can provide you with a written guarantee. If less than 80% of your transplanted hairs grow out, HairPalace will reimplant the missing amount, free of charge!

No visible scarring in donor areas


During FUE2 treatments, our doctors extract one graft at a time with a micro punch for maximum precision. This will leave your donor areas with no visible scars.

Committed aftercare for every patient


At HairPalace, we know that proper aftercare is essential to achieve the best hair transplant results. That's why we'll book you in for six check-ups to assess your hair growth and answer any questions you might have.

Competitive pricing


HairPalace's hair transplant in Preston prices are incredibly competitive and affordable for patients on diverse budgets. All costs are covered in our comprehensive packages, so there are no hidden fees!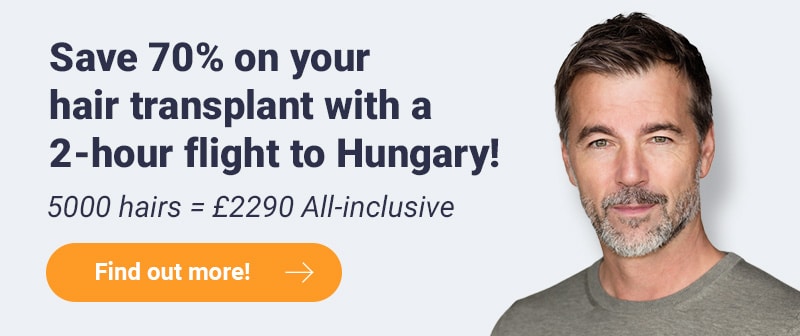 Read hair transplant reviews from real patients in Preston
HairPalace is the number-one choice for hundreds of patients every year. You can read many hair transplant testimonials on Facebook, Trustpilot, and Google to get a clear insight into our high-quality service.
These inspire us to provide every single patient with a hair restoration experience of the highest standard.
Browse real hair transplant reviews from patients in Preston to learn more!
Have just left the clinic following the last 2 days of a Procedure. Have been looking into a hair transplant for the last year or so now, a few friends had been over to Turkey and spoke highly of it but something was tugging at me not to go to Turkey. I started to have a look at other places and stumbled across HairPalace by pure chance. Being from Manchester, UK I had seen a few reviews by UK citizens. I had a consultation with Dr Sandor Tar in Manchester in July and he ran through what realistically could be done, I was going very thin with a waving hair line at the front and the back had completely gone. I opted for the 6000 hairs package to restore the front and give me a straight hair line once again. I arranged and booked the treatment through Bettina and arrived in Budapest on 16th October. The pick up from the airport was ok, there was an issue with the original driver so I had to ring Hair Palace in order to see what was happening and another driver was sent. The apartment was spot on, about 2.5km walk from the centre (but if you walk along the river you can see the many sights). Treatment began at about 930am on the first day due to the paperwork and haircut you receive (I grew my hair out in preparation for the trip but I needn't have bothered as they shave your head completely bald before anything is done). Completely reiterated to myself why I was having the procedure when I stood and looked at a bald man in the mirror. The facilities are fantastic, clean and modern. I had to get changed into their own clothes, your given a T-shirt, linen pants and some sort of flip flops to wear. I wouldn't say the procedure is painless, if you can stomach injections and tattoos with no real issue you will be fine. The injections are just quick short stabs into the back of your head. Hair is then taken and put into ice. Later on after dinner (great choice of food) I went back in to have the incisions into my head for the hairs to be implanted. I'm not going to lie, The injections across the front of the head do sting a little. The surgery it's self is painless but the injections aren't My translators were Balina for day 1 and Barbara for Day 2. Both were excellent. Doctor was Erika who was brilliant and patient. If she was working on an area which was sensitive she would put another injection on. All in all very impressed with the service, accomodation, facilities, staff, procedure and price. I'll be going back next year for part 2….!
James Stevens | Oct 20, 2019