Hair Transplant in Peterborough: Costs and Services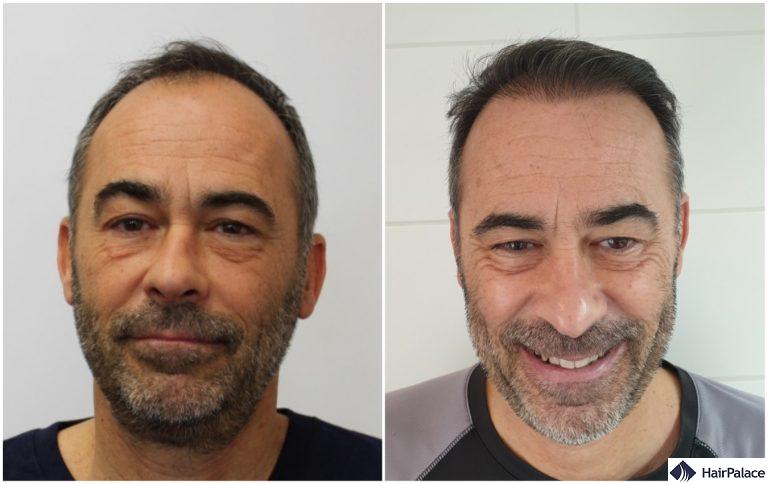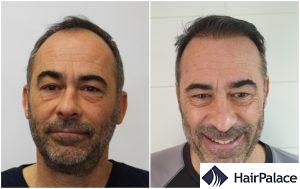 Philip
Number of hair transplants: 1
Number of transplanted hairs: 6341
With the revolutionary FUE2 hair transplant method we transplanted more than 6000 hairs to Philip's frontline. He was really happy to see the dense result!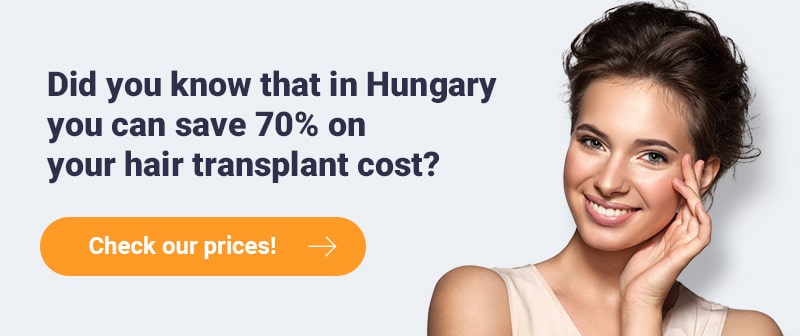 Get your free hair transplant consultation at our Peterborough office
Begin your journey to incredible hair restoration with a free, no-obligation consultation at our Peterborough office.
Our experts will perform a comprehensive assessment of your hair density and scalp, using a high-end digital microscope.
We'll explore your personal hair restoration needs and discuss what you would like to achieve in depth. Armed with all this information, our specialists will put together a tailored treatment plan just for you.
This will feature key information about your hair restoration procedure, including an accurate price. We'll answer all of your questions to help you make an informed decision.
Your private, free consultation at our Peterborough office will take approximately 20 minutes.
Advance reservation is required — make an appointment with our colleagues on +44 20 7131 0229!
HairPalace Hair Clinic Peterborough:
St John's Street Stuart House
East Wing, Peterborough
Cambridgeshire PE1 5DD
United Kingdom
Phone: +44 20 7131 0229
How much is a hair transplant in Peterborough?
Hair transplant costs are based on a range of factors, including the number of hair follicles needed and your chosen method.
Generally, you can expect to pay the same for a hair transplant in Peterborough as you would anywhere throughout the UK: from £2 to £4 per graft.
We have hair transplant clinics in London and Budapest, with our London hair restoration packages priced between £1989 and £9042.
Looking for the best hair transplant in Peterborough for a more affordable price?
We're happy to help. HairPalace is dedicated to delivering hair transplant services at the most competitive rates.
So, we provide patients at our Budapest clinic with the same cutting-edge FUE2 procedures from our London clinic — all for a substantially lower price.
This comes courtesy of Hungary's lower wages and living expenses.
You can still expect unbeatable service and remarkable results, just as you would at a hair clinic in Peterborough or London.
But you'll pay a more affordable price than UK clinics can offer.
HairPalace's Budapest hair restoration packages are available from just £1390 to £2590.
Which hair restoration method do we use?
Our specialists use the innovative FUE2 hair transplant method at every HairPalace clinic.
This is an improved version of the standard FUE restoration technique, and is the most advanced option available.
This means you'll always receive the finest service and results, whether you choose our clinic in Hungary or the UK.
HairPalace's hair transplant doctors recommend the FUE2 method for several key reasons:
it leaves no visible scars on the scalp
FUE2 is painless
it can achieve success rates of up to 90 – 95%
the recovery period is short
it's minimally invasive
FUE2 preserves the donor area well
Meet HairPalace's specialists at our Peterborough office
At HairPalace, we have the privilege to work with six seasoned hair restoration surgeons.
They have the essential skills and hands-on experience to achieve the best results.
You will have a chance to meet a HairPalace hair transplant doctor during your free hair transplant consultation in Peterborough.
They'll answer any of your questions in detail, for your complete peace of mind.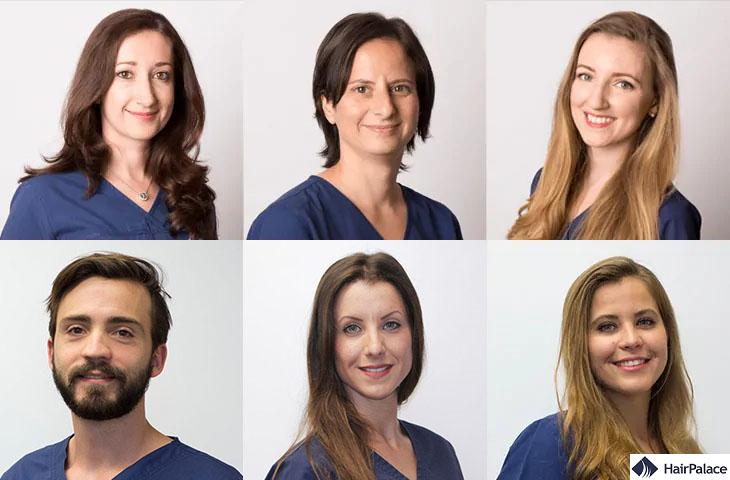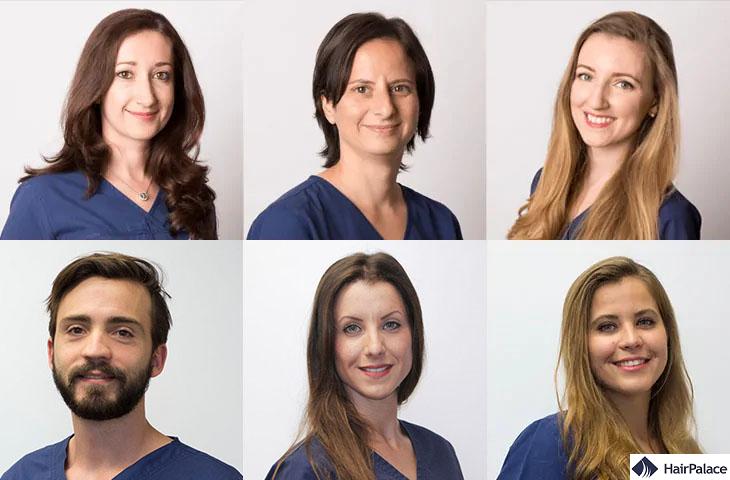 Why choose HairPalace?
The vast range of hair clinics and treatments can make it harder than ever to find the right one for you. But we want to make your choice simple.
What can HairPalace offer?
Doctors with years of experience

Our surgeons have five to 10 years of experience in hair restoration. Alongside our team, these experts provide tailored treatments and work hard to achieve unparalleled results.

Natural hair restoration results

Utilising the FUE2 method enables our specialists to reach high success rates and achieve natural results patients love.

Written treatment guarantee

We're so confident in the power of the FUE2 procedure, we'll provide a written guarantee on your hair transplant.

So, if less than 80% of your transplanted hairs grow out, we'll reimplant the missing amount — free of charge.

No visible scars in donor areas

Our doctors extract grafts one at a time during FUE2 hair transplants, using a highly-accurate micro punch. This means no visible scars will remain on donor areas.

Proper aftercare

In our experience, dedicated aftercare is vital to cultivate the best hair transplant results. We'll schedule six check-ups to monitor your progress, and we'll be ready to answer your questions along the way.

Unbelievable rates

We offer competitive hair transplant prices in Peterborough. As our packages cover all costs, there are no hidden charges.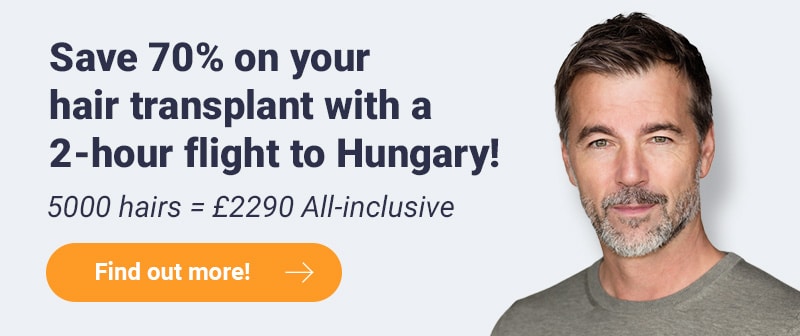 Real hair transplant reviews from patients in Peterborough
Hundreds of patients choose to visit HairPalace every year.
You can find some of their genuine public testimonials on Google, Facebook, and Trustpilot.
Reading patient reviews will give you an honest insight into HairPalace's results and service.
They also inspire us to keep performing at our best every single day.
Read real hair transplant reviews from our patients in Peterborough to learn more!
I first considered a hair transplant about a year before the surgery.
With an inherent nervousness about any type of invasive surgery I was unsure if it was the route I wanted to take.
I began to do a lot of research and discovered that there were all sorts of forums and discussions and Hair Palace came up frequently, so I decided to further research Hair Palace and one or two others.
I was pleased to see that free consultations were offered in London so I booked one and went along.
At that time I was using Regaine which had shown some improvement but didn't feel like a permanent solution.
The consultation was in central London, easy to get to and well organised.
I felt like I was given the necessary time to ask questions and explore it further as an option with no obligation.
I went away and 5 or 6 months later, having stopped using Regaine and noticed an escalation in the thinning,
I booked a second free consultation. This one was even better. As before there was a co-ordinator and a doctor there and they assessed my hair loss.
This time though, they brought an electronic microscope which was plugged into a screen that I could see to show the different areas around my head.
They also explained more about the science behind hair loss and the success of the treatment.
Again I felt no obligation to book with them, but I instantly made up my mind that I would.
They offer incentives if you book within a certain amount of time after your consultation so I decided to make the most of those.
I contacted my co-ordinator with a strict time frame and he explained that they would be able to find dates to suit me and so they did and it was booked.
The booking process was easy and there was constant assistance available at every step of the way.
No money changes hands until you are at the clinic on the first day of the procedure.
They organised transfers from the airport to the hotel and I also chose to have my blood test done in Budapest too, so the necessary extra days were tagged on and accommodated.
Transfers to the blood test lab were arranged and that whole process from leaving the hotel to returning was just an hour leaving the whole day to explore the city.
The next day I had the first day of my two day procedure.
I believe that they will transplant up to 6000 follicles and the assessment was that I needed around 5000.
Any more than 4000 tips you from a one day procedure to two days.
I was met at the clinic with a bright and professional co-ordinator called Marianna who was there throughout my two days.
She was clear, warm and very supportive.
I disclosed that I was nervous and she did all she could to reassure me.
I noticed that the clinic is clean and tidy and I'm given a cordoned off area with seats and a locker to get changed, go through paperwork, have a pre-surgical consultation with the doctor and take the necessary medication.
My head was shaved leaving my hair at about 1-2mm in length and then I was guided to the surgery room where the procedure began.
First it's anesthetic shots to numb the donor area, there are quite a few of these and I was lying facedown in a massage-style bed.
My doctor, Erika Gucsi was excellent explained everything to me as it was happening and was extremely swift with the anesthetic shots.
Once the area is numbed the extraction begins and the medication had set in to relax me, so I actually found myself falling asleep during the procedure.
After a few hours we broke for lunch. I was invited to look at my hair follicles if I wanted to.
They were each being cleaned and counted individually. I headed off back to my cordoned off area for lunch.
The selection is wide and the quality of the food is ok. Fairly basic.
Then we were off to the afternoon session and again I was guided through very professionally and with any questions I had being answered in full as we went.
The accommodation was comfortable enough, although the room could have been slightly larger, as there were other larger rooms available on the same floor of the hotel.
It was clean and tidy and close to decent food options and round the corner from the clinic.
The second day was much the same. I had a different doctor (which I'd been told would be the case the day before), Ljuba Zsolnai who's process was slightly different but equally as efficient and informative.
Both days the procedure is over by about 4pm.
Very clear instructions are given about what not to eat/drink before each day and then all the aftercare is explained and handed over in charts.
There is a requirement to take and send photos throughout the recovery process but the option to have free consultations with a doctor to check progress in London is also available at various junctures which is a great option.
I felt supported and that everything was exactly I had been explained and described to me beforehand.
The staff are exceptionally patient and I even met people who were going back for a second time to service a different area of their head, which was the best example of customer satisfaction that I could have imagined.
I'm now looking forward to the results which should begin to be noticeable by month 4 but should be fully visible from months 12-15.
I couldn't recommend Hair Palace more highly.
 Oliver Kaderbhai | Jan 14, 2020