Hair Transplant in Nottingham: Costs and Services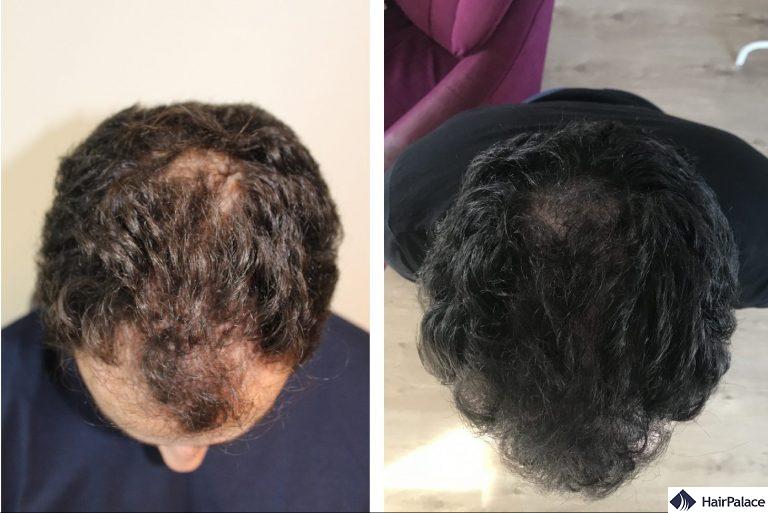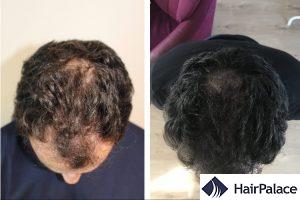 Alex
Number of hair transplants: 1
Total number of implanted hairs: 6302
Hair loss affected mainly Alex's front and crown, but he had some moderate thinning in the middle as well.
In a 2-day treatment, we could build up even density all over the scalp, that looks and feels completely natural -just what Alex expected from the hair transplant!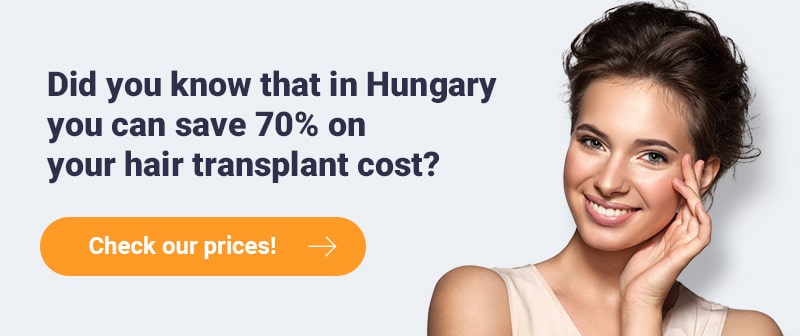 Get your free consultation with Nottingham hair transplant experts
As the quality of the hair, the features of the scalp and the hair loss process itself are quite unique, successful treatment requires a tailored approach. 
So the first step to restoring your thinning hair with a hair transplant in Nottingham is an in-depth assessment.
We offer in-person hair transplant consultations. The appointments take 20 minutes and are carried out by one of our surgeons.   
After discussing your needs and expectations, the doctor will examine you with a digital hair density and scalp camera.
Based on the examination, we will be able to determine the scope of the surgery and advise you accurately.
You will leave the consultation with a detailed treatment and quote, allowing you to make a well-informed decision.
For further information and appointment reservation, please contact us on +44 20 7131 0229.
HairPalace Hair Clinic Nottingham:
City Gate East
Tollhouse Hill, Nottingham
Nottinghamshire, NG1 5FS
United Kingdom
Phone: +44 20 7131 0229
How much is the hair transplant in Nottingham?
For a hair transplant in Nottingham, you'll be typically charged  £2-4 per hair. 
Naturally, the total costs will depend on several aspects, such as the size of the surgery you need, and the method used.

We offer FUE hair transplants at our clinics in London, Paris, and Budapest.
We have set the same standards and policies to ensure that you receive the same experience and quality at every HairPalace clinic.

However, there is one difference that you'll surely notice – the price. This is because hair transplant costs are also affected by a frequently overlooked factor, the local economic climate.

Running a private clinic in London is much more expensive than offering the same quality and ambience in Budapest.

FUE2 procedures cost between £1989 to £9042 at our London clinic. But thanks to the economic differences, at our Budapest clinic, we can offer the same service at a more affordable price point. Here, our prices range between £1390 to £2590 depending on the number of hairs you need.
Please feel free to reach out to our experts if you'd be interested in seeing a quote fitting your case.
What hair transplant method do we use?
We exclusively work with the industry-leading FUE2 SafeSystem method. 
This advanced follicular unit extraction technique offers a permanent solution to male pattern hair loss.
Its innovation lies in its blunt micro punch – it virtually eliminates the risk of damaging the hairs upon extraction leading to high regrowth.

With almost 10 years of experience in its use, we recommend this method for the following benefits it offers for our patients:
minimally invasive

reduces the recovery period

offers the highest success rates in the industry with up to 90-95% of the implants growing back

pain-free treatment

no large visible horizontal scars remaining
Meet our Nottingham hair transplant specialists

Hair transplantation is a highly technical procedure – for the great result, a trained and certified, and very skilled individual is needed.
Our 6 hair transplant surgeons have 5-10 years of experience in FUE hair transplants. They are dedicated to providing excellent, patient-focused service and care.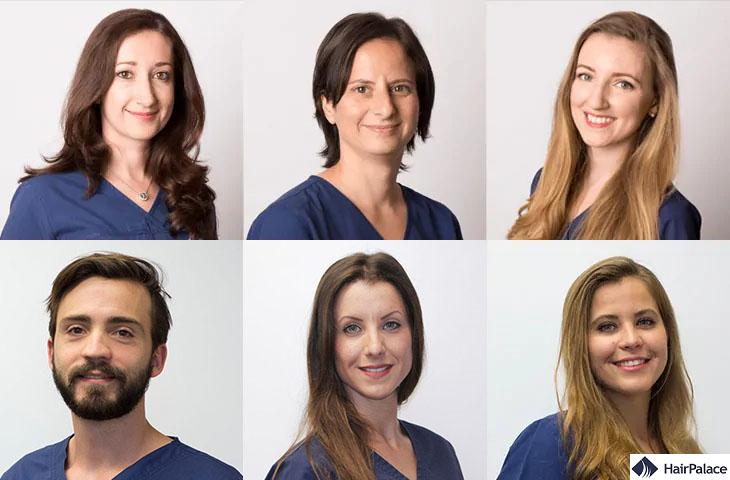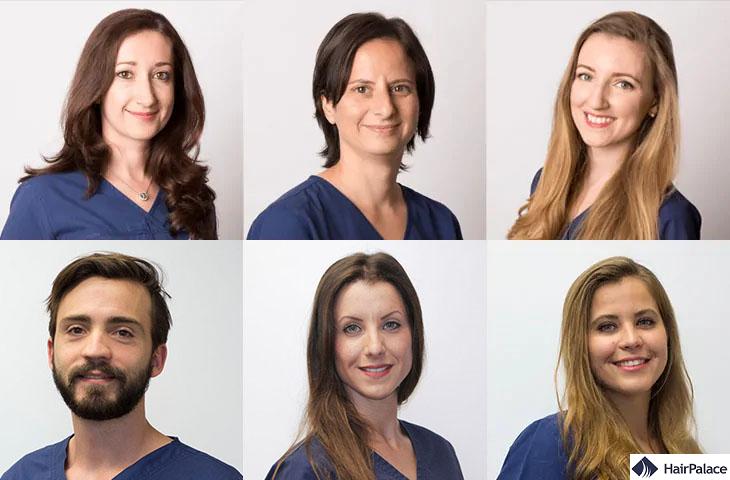 Why choose HairPalace?
There are inarguably a lot of aspects one needs to consider before taking the plunge and going under a hair transplant in Nottingham.

First, you need to consider which technique would be best for you. At HairPalace, we work solely with the FUE2 method, because it offers excellent success rates, and virtually pain- and scar-free procedures.

Secondly, even this advanced technology would not be effective without expert hands employing it. We work with 6 hair restoration specialists who possess the skills and experience to guide you through the treatment.

They will follow your progress after the transplant through 5 check-ups to help you achieve the natural and dense result you are looking for.

Besides, every surgery comes with our guarantee that at least 80% of the transplanted hairs will grow back. If the regrowth is below this minimum, we will implant the missing amount free of charge.

With us, you don't need a football star's paycheck to restore your hair. We offer high-quality service and care and natural results at affordable prices.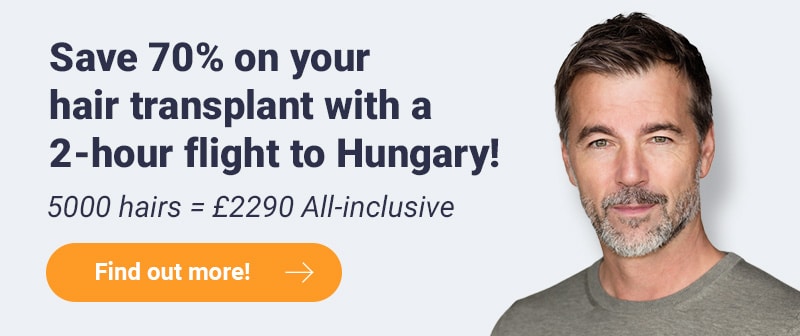 Nottingham hair transplant reviews
At HairPalace, we take pride in the growing number of patients who find us through word-of-mouth. 
Our primary goal as a hair transplant clinic is to deliver the highest level of care and service that you will find. The growing number of positive feedback we receive illustrates our commitment to this goal and helps us maintain our high standards.
We invite you to take a look at our reviews and find out what our customers have to say about their hair transplant with us.
Best hair Transplant on the world,
I did my hair last year and am so happy, staff nice and so friendly, and did best job,
Thank u so much for all u did best for me
 Andy Marcok | Mar 8, 2020
After my first day of just having 3000 hairs implanted I have to say that the HairPalace team were very professional and courteous. I found the transplant completely pain free. The only bit of discomfort was in numbing the area worked on which is to be expected and the surgeon even rubbed the area of the injection to ease any sensation. The team work very well together providing a friendly atmosphere. My self and the surgeon agreed on the areas of my hair loss that needed the most attention. After just getting back to my apartment from the first day I am looking forward to the second day of treatment for the next 3000 hairs to be implanted. From my experience so far I could not be any happier that I chose HairPalace to do the work.
 Gordon | Jun 27, 2017