Hair Transplant in Newcastle: Costs and Services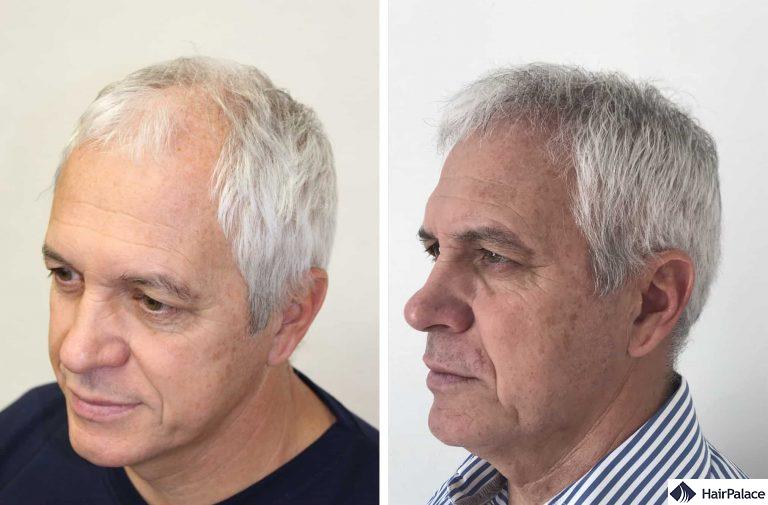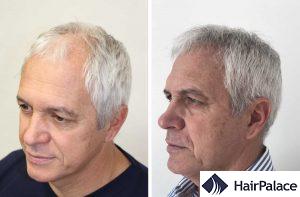 Christopher
Number of hair transplants: 1
Number of transplanted hairs: 6152
Christopher had his frontal area restored with us back in 2017.
A year after his FUE hair transplant he was glad to see the dense result – his new younger look brought his confidence back.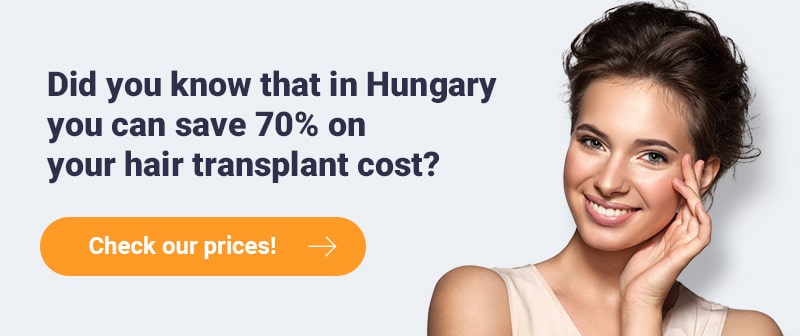 How to get your free consultation at our Newcastle office
The first step in your hair transplant journey is a professional consultation with one of our experts in Newcastle.
They will use a cutting-edge digital microscope to assess your scalp, hair density, and suitability for the procedure.
Your consultation enables us to determine your requirements and goals.
We'll answer any questions you may have, and provide transparent details on the results you can expect.
After your consultation, we will create a tailored treatment plan containing essential information (such as an accurate price).
Your free, no-obligation hair transplant consultation in Newcastle takes just 20 minutes.
Advanced bookings required — call +44 20 7131 0229 to schedule your appointment with our colleagues now.
HairPalace Hair Clinic Newcastle:
Merchant House
Newcastle upon Tyne
Tyne and Wear NE1 1EE
United Kingdom
Phone: +44 20 7131 0229
How much does a hair transplant in Newcastle cost?
Your hair transplant procedure's cost is based on a number of factors, including the number of hair follicles to be transplanted and your chosen method.
You can expect to pay the same fee for a hair transplant in Newcastle as you would in other cities throughout the UK: from £2 to £4 per graft.
HairPalace operates hair transplant clinics in London and Budapest.
Our London clinic's prices range from £1989 to £9042 — and these can be a barrier to many patients. But we make it easy for you to get Newcastle's best hair transplant at a much more affordable cost.
How?
We offer the same FUE2 procedures performed in our London clinic in stunning Budapest, bringing you the most state-of-the-art hair transplant technique at a more competitive price point.
Hungary's lower wages and living expenses enable us to deliver the same outstanding treatment and service you would receive in a London or Newcastle hair transplant clinic without their costs.
Our Budapest hair transplant package prices vary from just £1390 to £2590.
Which hair transplant method does HairPalace use?
Each HairPalace clinic utilises the FUE2 hair transplant technique, the latest version of the popular FUE procedure.
That means you'll receive the same unparalleled service and results, whether you book with our Hungary or UK clinic.
Our doctors boast years of hands-on experience performing FUE2 hair transplants, and recommend them due to the following advantages:
the procedure is painless
FUE2 transplants leave no visible scars
short recovery period for minimal downtime
success rates reach as high as 90 to 95%
FUE2 can preserve donor areas effectively
the procedure is minimally invasive, unlike FUT
Meet our Newcastle hair transplant experts
HairPalace works with six highly-trained, highly-experienced doctors for your total peace of mind.
They have the essential skills and technologies to deliver the best hair transplant results, for different hair types.
You will meet one of our surgeons in a welcoming environment during your free hair consultation in Newcastle.
They will take the time to assess the extent of your hair loss, your expectations, and more.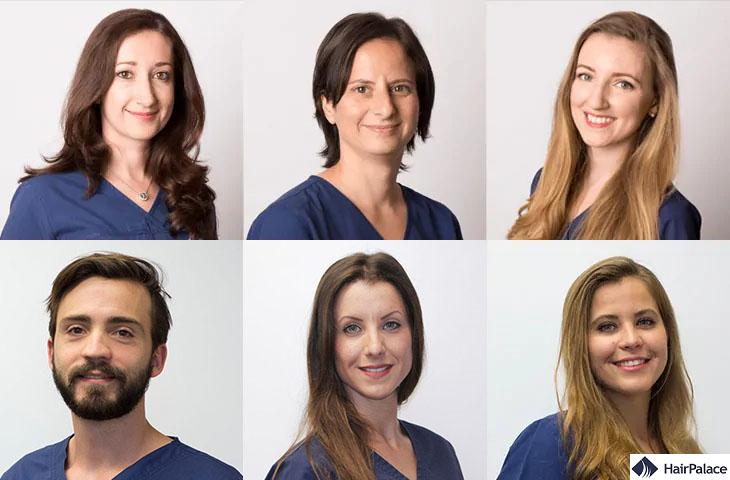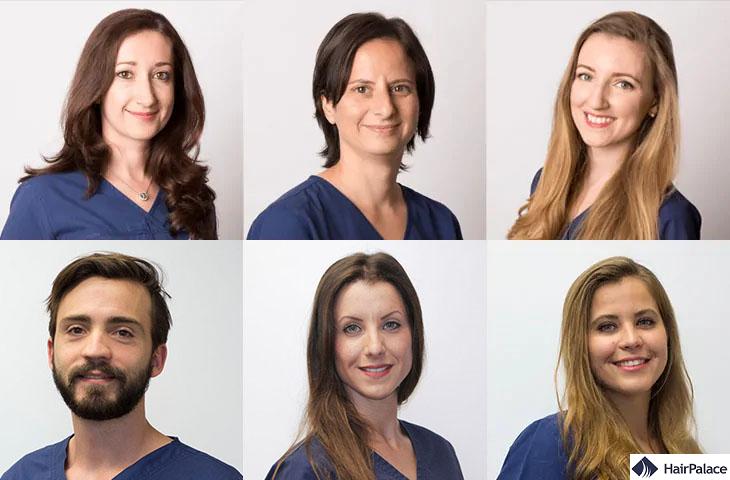 Why should you choose HairPalace over other clinics?
Choosing just one hair transplant clinic from the many available can be a daunting prospect.
But HairPalace's team is dedicated to helping you find the ideal hair restoration solution for you.
What do we offer?
Doctors with years of experience

Each of our surgeons has between 5 and 10 years of invaluable experience performing hair restoration procedures.

They are committed to providing tailored treatments, and work with our team closely to achieve outstanding results.

Natural, seamless results

The FUE2 technique allows us to reach exceptional success rates and natural, dense results.

Competitive written guarantee

Our experts leverage the most effective hair transplant technique available, which gives us the confidence to give you a written guarantee for your treatment's success.
If less than 80% of the hairs transplanted into your scalp grow out within the expected period, we will reimplant the missing amount completely free of charge.

Noticeable results without visible scars

FUE2 transplants take grafts from donor areas one at a time with a micro punch. This leaves no visible scars in the donor area.

Dedicated postoperative care

Efficient aftercare is crucial for the best hair transplant result, so we schedule six post-surgery check-ups to ensure quality results. We'll always be available if you have any questions.

Outstanding costs

HairPalace offers highly-competitive hair transplant prices in Newcastle. There are no hidden fees to worry about — our packages cover all costs.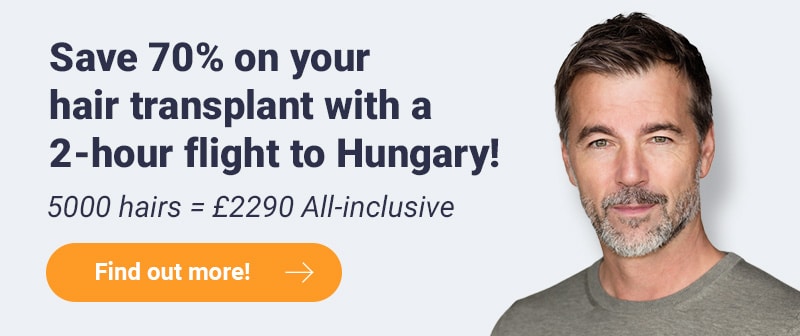 Newcastle hair transplant reviews
Hundreds of patients choose HairPalace for hair restoration each year.
Genuine Trustpilot, Facebook, and Google testimonials from our patients inspire us to maintain the highest standards of service, and provide you with a deeper insight into the quality experience you can expect.
Check out some of our patients' hair transplant in Newcastle reviews!
It's been more than a year and a half since I had my hair transplant with this clinic (i had it on July 19) and I am writing my review only now because I was told that to see the final result I had to wait 12/18 months after the operation takes place.
I can definitely say that I am thoroughly satisfied with the result achieved. The hair are fairly dense and though they are not as dense as they were when I had them all they are as good as they can get with a transplant.
It took me several months to decide in which country and what clinic have my hair transplant and in hindsight I am glad I have chosen this one which had very good reviews with reasonable price.
The people working there – from the receptionist to the doctor – were really good at taking care of me. They also answered any query I had in a matter of days ( 1 or 2 max) and consider this to be very important especially after the operation as most of the question may raise in the following 1/2 months with all the changes that may happen.
I was happy with the service they provide in Budapest, I was picked up by their driver (and took back to the airport) on the day of my arrival and dropped at one of their apartments which happen to be just 10 minutes away from the clinic.
The apartment was of a perfect size for two people and a very clean one, besides the meals they provided me with at the clinic in the two days i was there were tasty and of good quality.
I can't really find them a fault and if one day I decide to have a second operation I would surely chose them without a doubt. I take this opportunity to say a big thank you to all of the people of hair palace who took care of me, you were great!! 🙂
  Dec 28, 2020 | None
I'm a little over a week post op so can't comment on the results as yet. However I don't have one single criticism of my experience with hairpalace.
Erika and her team were fantastic from the moment I met with her in the UK and during my stay in Budapest.
I would like to say a big Thank You to Fruzsina my coordinator for organising my whole trip from the transfers accommodation and directions it went very smooth and she quickly responded to any questions before and post op.
The team at hairpalace put you at ease from the moment you arrive, the facilities are first class and a comprehensive lunch is provided each day.
They provide detailed instructions to follow post op and stay in regular contact, if you are contemplating the idea then I would definatly recommend them.
Sep 14, 2018 | Mark