Hair Transplant in Liverpool: Costs and Services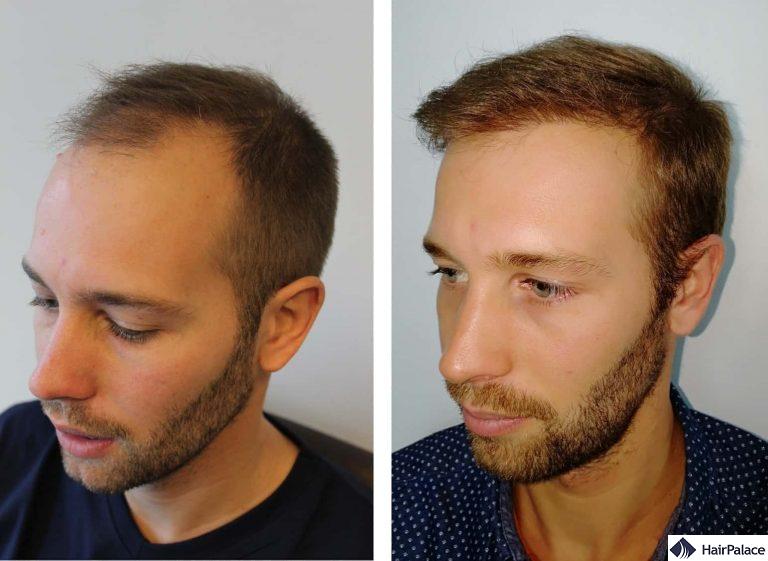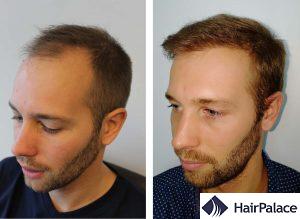 Jeremy
Number of hair transplants: 1
Total number of implanted hairs: 6196 hairs
In Jeremy's case, the male pattern hair loss affected the frontal area the most. He decided to go for an FUE hair transplant at our clinic, and his treatment was a great success –  he is enjoying his dense hairline and younger look ever since!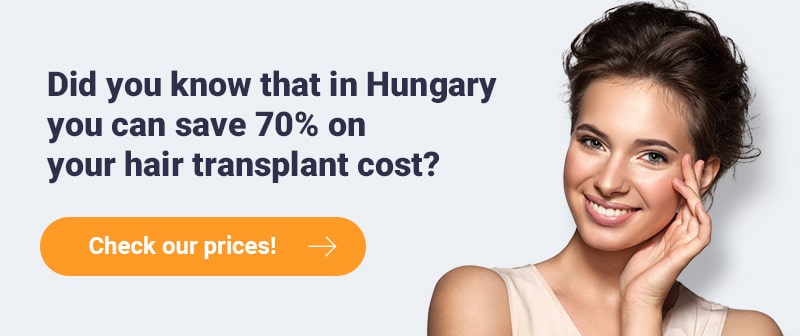 Visit us for a free hair transplant consultation
Whether you are looking for a hair transplant in Liverpool or elsewhere, your journey will start with an examination.
Every case is unique, so it is important to have a hair transplant expert to assess your condition and advise you accordingly.
The in-person hair transplant consultations take roughly 20 minutes.
The examination is carried out with a digital hair density and scalp camera so the surgeon can consider the quality of your hair and the extent of your hair loss. 
The doctor will also ask you about the result you are looking for, to draw up an accurate treatment plan.
We also offer online options in case the personal assessment is not favourable.
If you would like to set up an appointment to discuss your hair transplant in Liverpool or have any questions, please give us a call on +44 20 7131 0229!
HairPalace Hair Clinic Liverpool:
Horton House
Exchange Flags
Liverpool, Merseyside L2 3PF
United Kingdom
Phone: +44 20 7131 0229
How much is a hair transplant in Liverpool?
Hair transplantation is a lifelong solution against your hair loss.
But as an aesthetic procedure carried out by a trained doctor using special devices, it involves relatively high costs.
If you are looking for a hair clinic in Liverpool or other major cities in the UK, you can expect the costs to be 2-4 per hair on average.
Besides the number of hairs, always check the technique – newer methods may cost more, but they also have better results and no scars. 
HairPalace has clinics in London, Paris and Budapest.
We offer the same FUE2 transplants and our facilities and teams meet the highest standards in all of our locations.
At our London clinic, a procedure will cost you between £1989 to £9042. 
In case you would like to save some on your hair transplant treatment, but do not want to compromise the quality, we have a great deal for you. 
Our clinic in Budapest, – the capital of Hungary – was established more than 10 years ago and is equipped with the most modern devices. 
However, the rent of a surgery room and the salaries are lower in this region. Therefore, your procedure of the same size and quality will be more affordable. 
In Budapest, our hair transplant prices range from  £1390 to £2590.
For a personalized treatment plan option and a quotation, please contact us!
Which hair transplant method do we use?
Hair restoration is the only permanent solution against balding. Luckily, the methods have improved a lot over the years and now you can have pain- and scar-free procedure with natural results. 
We perform every surgery with the latest and safest technique, the FUE2. It is the advanced version of the FUE (follicular unit extraction).
Why do we believe in the FUE2 SafeSystem method?
It leaves no visible scars, so people who don't know you won't notice that you have had a hair transplant 

It is completely pain-free 

Has a short recovery time

Up to 90-95% of the implanted hairs grow out
Our hair transplant experts in Liverpool
At HairPalace, we work with 6 surgeons who possess the refined skills that the FUE hair transplant procedure demands. 
They are all certified medical doctors with 5-10 years of experience in surgical hair restoration.
They regularly attend international workshops to learn about new inventions in the field.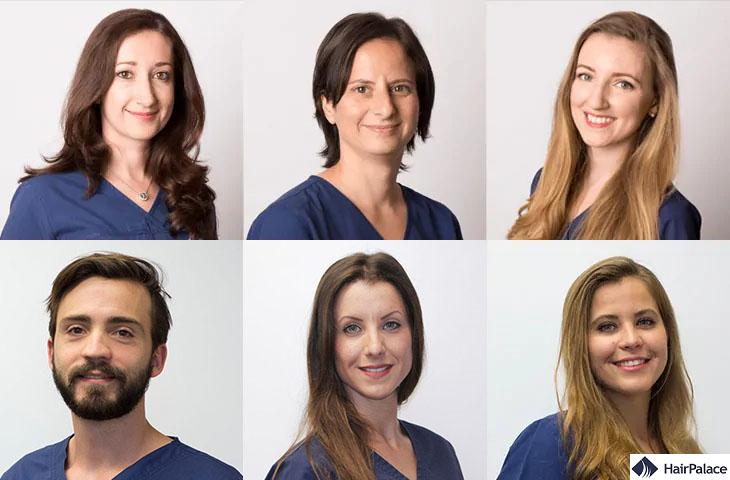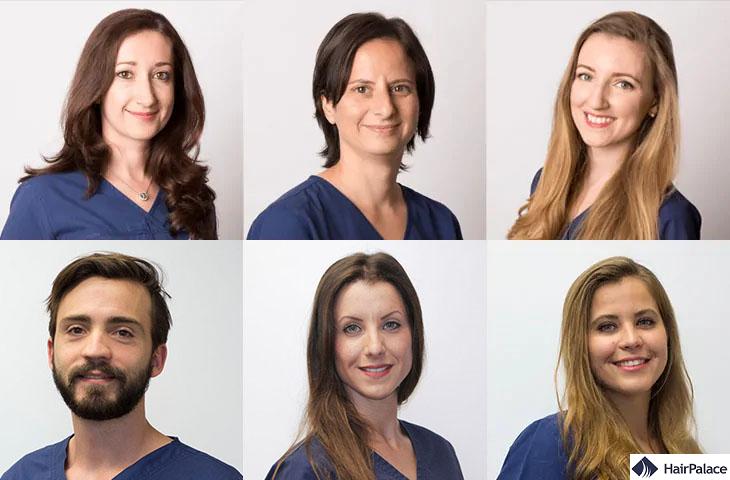 Why choose HairPalace?
From the first examination until the last check-up, a highly skilled and experienced hair transplant surgeon will care for you.
At all our clinics, we use the latest and most effective technique available, the FUE2. This minimally invasive method allows our teams to achieve remarkable regrowth and a natural look. 
Thanks to this, we can offer a written guarantee on each hair transplant. If less than 80% of the transplanted hairs grow out, we reimplant the missing amount to ensure that you get the result you expect.
We know that the post-op care is just as important as the quality of the surgery. There are 6 check-ups after the treatment to ensure that you can get the result you are looking for. Your surgeon and coordinator are also available to answer any questions you might have throughout the post-op period.
At a Liverpool hair clinic, the cost of the treatments can still be prohibitive for many.
At HairPalace, we offer comprehensive packages that include the treatments, accommodation and transfers as well.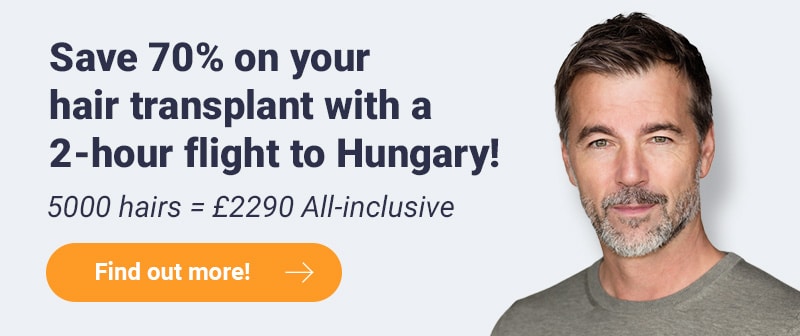 Liverpool hair transplant reviews
At HairPalace, we believe that a hair restoration procedure can change one's life. Every patient, every hair loss is unique. 
Therefore, our doctors are highly committed to providing customized treatment and care whether you choose us for your hair transplant in Liverpool, London, or Budapest.
Take a look at some of our reviews and learn more about what you can expect if you choose us for your hair transplant!
Hi. My name is Derek from Liverpool England. This is my second procedure at this clinic but this is my first review. Starting with my first procedure. From the first consultation to the actual procedure and post op the communications from the clinic were clear and easily understood.
The arrangements were well organised. From being pick up from airport to the apartment, to the Blood test lab and return to airport. The apartment itself was modern and well appointed and within walking distance from clinic.
The procedure was carried out by Dr Erica Gucsi. Dr Gucsi and her team were very professional and I felt I was in good hands so much so I was asleep for most of the procedure.
The post op follow up procedure was clear and the results were exactly as described by the clinic. I am very pleased with the result.
Onto second procedure. The communications and arrangements were still the same and I stayed at the same apartment. Again it was Dr Gucsi who was carried out the second procedure. Same result I fell asleep!
It's been nearly a week since the procedure and everything is healing nicely.
I would highly recommend without hesitation the Hair Palace for a high quality transplant procedure. It may not be the cheapest but the high standard of the clinic and staff, confirmed to me I had made the right decision and not just go for the cheapest.
   derek Evans | Dec 18 2018
All princes start after one of my friend recommended them for me. After I do my own research and compare some price I decide to go with them.
The way they deal it's really professional all process from first contact coming to Budapest and leaving Budapest it's well organised. For some People otc can be nerwes but really you shouldn't.
Acomandation it's amazing, safe, you can bring you partner friend who ever you want. On the first day at clinic everything going so nice. I don't know what else I should put on that review. For me that was the best decision I made and save a loot money coming to Budapest instead doing that in Uk.
  Jacob | Nov 19, 2018