Hair Transplant in Hull: Costs and Services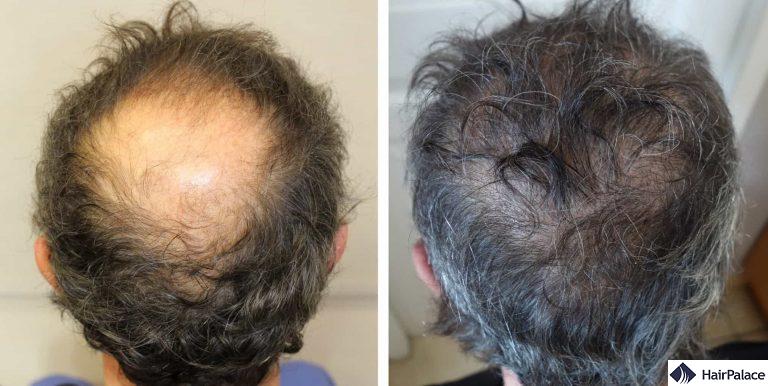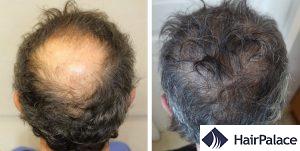 John
Number of hair transplants: 1
Number of transplanted hairs: 6036
When John visited us in 2018, he told us he'd love to gain his hair density back. The revolutionary FUE2 hair transplant method made it possible. The result speaks for itself!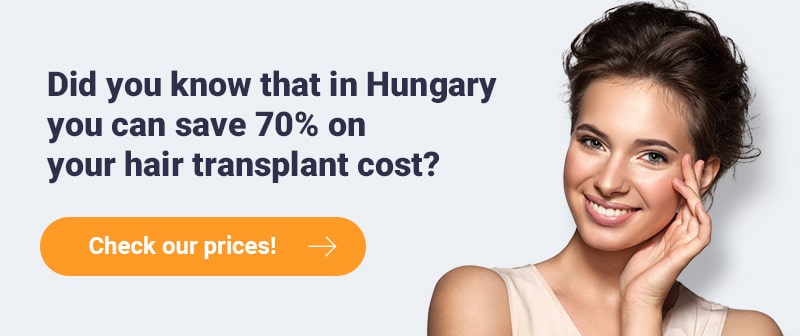 Get your free, no-obligation consultation at our Hull office
Take your first step on the path to hair restoration with a free consultation at our Hull office.
Our experts will use a digital microscope to conduct a thorough examination of your hair density and scalp.
This empowers us with the insights to assess your hair transplant requirements and discuss your goals.
Once we understand your needs, we'll create a tailored treatment plan containing essential information on your hair restoration procedure.
This includes an accurate, honest price.
Our specialists will be happy to answer your questions, address any concerns, and offer advice. Your consultation will take around 20 minutes.
Advance reservation is a must — speak with our colleagues and book your appointment on +44 20 7131 0229 today.
HairPalace Hair Clinic Hull:
Savile Street Norwich House
1st Floor Savile Street, Hull
East Yorkshire HU1 3ES
United Kingdom
Phone: +44 20 7131 0229
How much will a hair transplant in Hull cost?
Hair transplant rates are based on the number of follicles required and your preferred method. You can expect to pay the same price for a hair transplant in Hull as you would elsewhere in the UK.
This usually ranges from £2 to £4 per graft.
HairPalace operates popular hair transplant clinics in London and Budapest.
At our London clinic, procedures cost between £1989 and £9042.
Want the best hair transplant in Hull for a more competitive price?
We have the solution.
HairPalace's Budapest hair transplant clinic offers cutting-edge FUE2 hair restoration procedures, making our services more affordable for all patients.
This is the same type of treatment available at our London clinic.
Hungary's lower living expenses and wages allow us to keep our Budapest prices low, with no compromise on quality.
You can expect the same exceptional service you would receive in a hair transplant clinic in Hull or London — just at a far more affordable rate.
Our Budapest hair restoration packages are available for between just £1390 and £2590.
Which hair transplant technique is available at HairPalace?
Every HairPalace clinic team utilises the FUE2 hair transplant technique. This is an improved version of the traditional FUE method, and is the most advanced technology available.
This ensures you will receive the same excellent services and results whether you visit our UK or Hungary clinic.
Our doctors have years of experience performing hair transplants, and recommend the FUE2 technique based on several key benefits:
no visible scarring in target areas
the procedure is painless
FUE2 success rates reach up to 90 to 95%
recovery periods are short
it's minimally invasive
donor areas are preserved effectively
Meet our Hull hair transplant experts
We're proud to work with six incredible doctors, possessing the essential skills and invaluable experience to achieve amazing hair restoration results.
You can meet one of our experts for a free hair transplant consultation in Hull.
They will provide all the professional information and advice you need during this private one-to-one chat.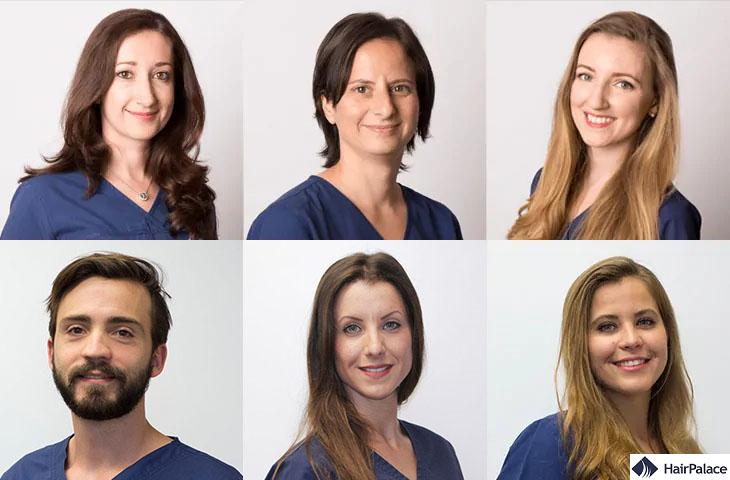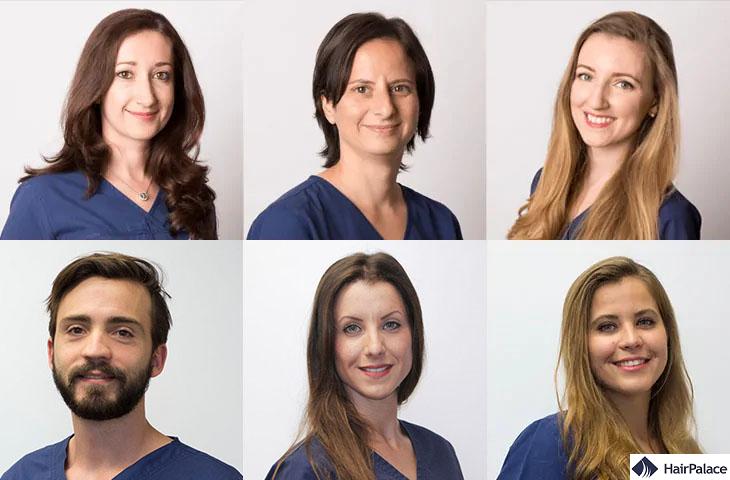 Why should you choose HairPalace?
Choosing just one hair transplant clinic and treatment option from the many available today isn't easy. We know this.
But we're dedicated to helping you understand which procedure is best to restore your hair.
What can we offer you?
Experienced hair transplant surgeons

HairPalace's doctors have five to 10 years' experience performing hair transplants.

They work with our team closely to provide tailored solutions, and are committed to achieving the best results.

Natural results

Our vast experience with the FUE2 technique enables our surgeons to reach outstanding success rates and deliver dense, natural restoration.

Written treatment guarantee

As our seasoned doctors utilise the most effective hair transplant technology, we're happy to provide a written guarantee on your FUE2 treatment.

If less than 80% of your transplanted hairs grow out, we'll reimplant the missing amount for free.

No visible scars on donor areas

The FUE2 hair transplant method involves extracting one graft at a time with a micro punch. This leaves no visible scars on the donor area.

Reliable post-procedure care

We believe proper aftercare is crucial to achieve the best results after a hair transplant. That's why we'll book you in for six check-ups following your surgery, to monitor your progress closely.

We'll be ready to answer questions and offer advice.

Amazing prices

HairPalace offers highly-competitive hair transplant prices in Hull. Our packages cover all costs, with no hidden charges to worry about.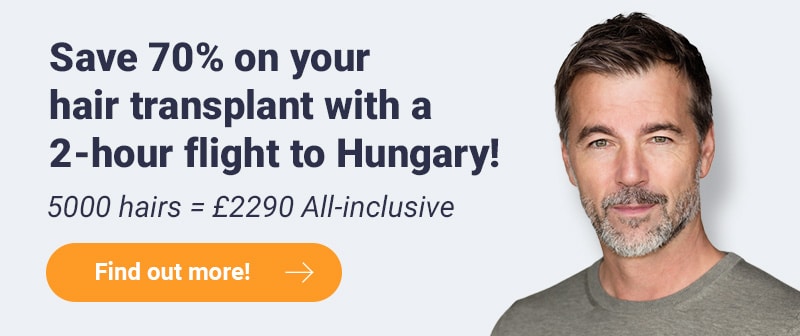 Hair transplant reviews from genuine Hull patients
Every year, hundreds of people choose HairPalace for their hair transplants.
Our public patient testimonials on Google, Facebook, and Trustpilot highlight the quality experience we offer.
These reviews inspire us to keep performing at our best, and provide you with a clearer idea of the results you can expect.
Browse the latest hair transplant reviews from our patients in Hull now!
Just returned back from my 2nd HT with HairPalace and the experience was excellent from start to finish.
The results from my first HT were amazing, so I decided that I wanted to do it again to fully complete my hair restoration.
The clinic now has its own apartment which is lovely and only 10 walk to the clinic. It's clean, modern, air con, with all appliances and even a balcony.
The procedure was carried out in the usual professional manner as with my previous HT. Now I'm waiting for my results to come through in 3-4 months, so can't wait to see new growth.
I wouldn't hesitate to recommend this clinic to anyone looking to improve the density of their hair.
Save yourself thousands of £££ and avoid rip-off UK-based hair clinics and fly to Budapest. Keep up the good work and maybe see you for a 3rd HT in a few years.
   Andy | Aug 30, 2019
It's now 4 weeks since i had my 7000 hair transplant in Budapest.
The service has been better than excellent from the start.
I give these guys 10 out of 10 for everything.
The service since I returned home has been great, they really care about what they do.
Now looking forward to seeing some great results and a new head of hair.
Thanks to all the team there!
  Robert Clarke | Jul 4, 2019