Hair Transplant in Harrow: Costs and Services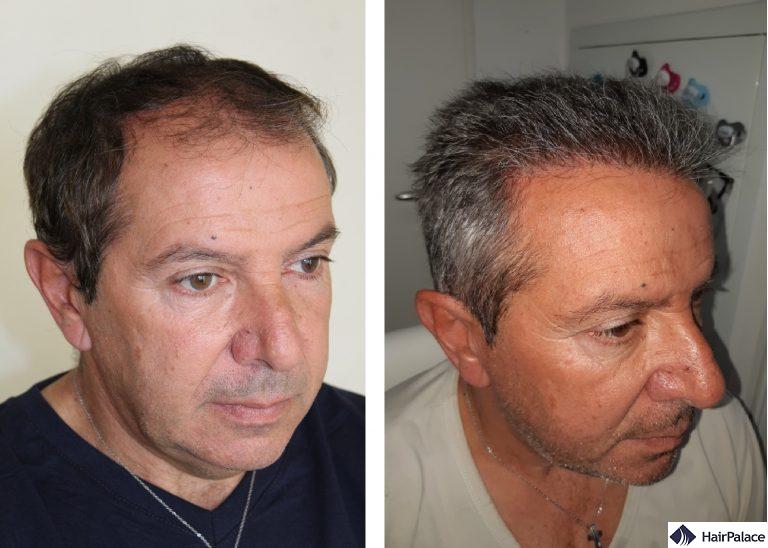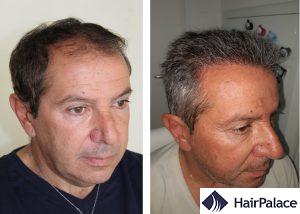 Christian
Number of hair transplants: 1
Total number of implanted hairs: 7143
Christian suffered from male pattern baldness. When he visited us first in 2017 he told us he misses his hair's youthful density. We offered him a solution. He was astonished by the result of his FUE2 hair transplant.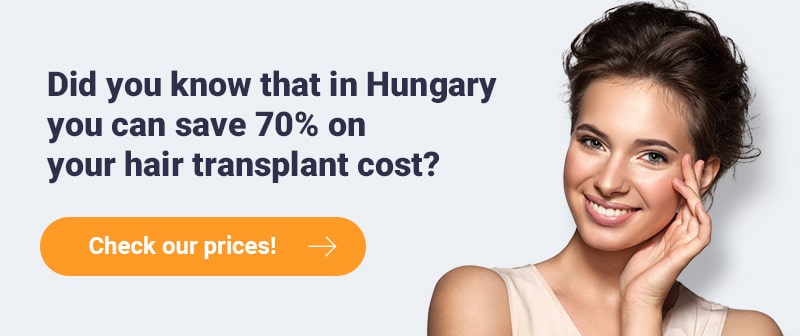 Visit our Harrow office for your free hair transplant consultation
Discover how our experts can restore your hair with a free consultation at our Harrow office.
We'll examine your hair density and scalp thoroughly to assess your needs, using a digital microscope. Next, we'll discuss what you want to achieve with your procedure before creating a tailored treatment plan.
This will contain all the information on your hair transplant, including an accurate price.
Our specialists will explain the procedure, answer your questions, and provide a clear insight into the results you can expect.
Your no-obligation consultation will take approximately 20 minutes.
Advance reservation is a must — book an appointment with our seasoned colleagues on +44 20 7131 0229 now.
HairPalace Hair Clinic Harrow:
79 College Road
London, HA1 1BD
United Kingdom
Phone: +44 20 7131 0229
How much is a hair transplant in Harrow?
Hair transplant prices are based on a range of factors, such as the number of follicles required for restoration and your method of choice.
The cost will be similar to other clinics in the UK, with hair transplant prices in Harrow ranging from £2 to £4 per graft.
We have hair restoration clinics in London and Budapest.
Our London packages cost between £1989 and £9042, depending on the extent of hair loss.
How can you get the best hair transplant in Harrow but at a more affordable rate?
HairPalace can help.
We offer the same FUE2 treatment at our Budapest hair transplant clinic as our team in London — but for a much more affordable price.
This is possible due to Hungary's lower wages and living expenses.
You can still expect the same incredible service and results you would receive at a hair transplant clinic in Harrow or London, but with substantial savings.
Our Budapest clinic packages are available for between just £1390 and £2590.
What hair transplant method do our specialists use?
All of HairPalace's clinics offer FUE2 hair transplants.
This is an enhanced version of the standard FUE method, and is the most advanced option available.
Using FUE2 technology enables us to provide you with the same amazing service and stunning results at our hair clinics in the UK and Hungary.
Our doctors have vast experience of performing FUE2 hair transplants, and recommend this service based on the following benefits:
FUE2 causes no visible scarring

the procedure is painless

success rates up to 90-95%

recovery is short

it's minimally invasive

FUE2 is effective in preserving the scalp's donor areas
Working with the best hair transplant doctors in Harrow
HairPalace works with a team of six hair transplant doctors.
They have the hands-on experience and skills to achieve the finest hair restoration results for patients just like you.
You can meet with one of our surgeons during your free hair transplant consultation in Harrow.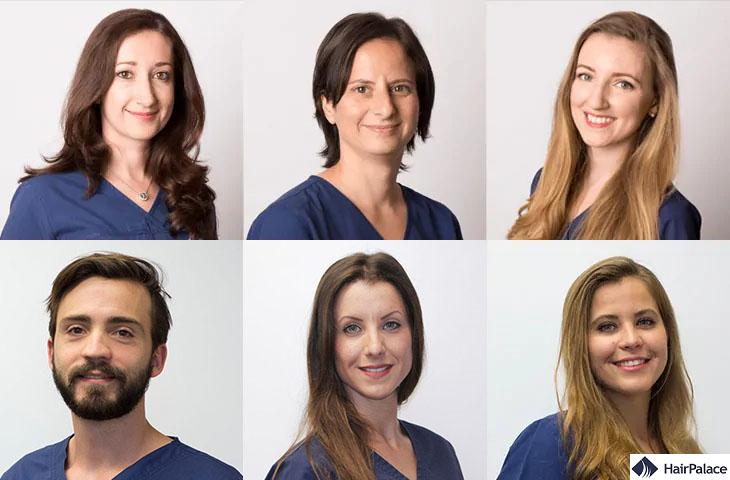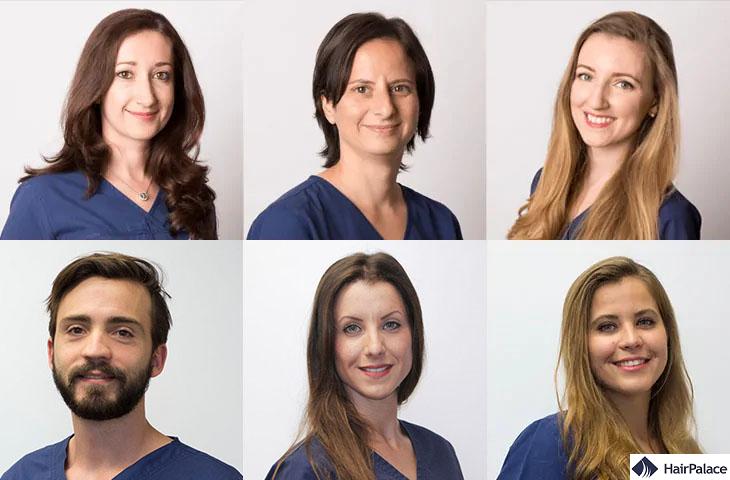 Why is HairPalace right for you?
Choosing a hair transplant clinic and treatment is a major decision.
We're here to help you find the right procedure for your hair restoration goals, and we work hard to deliver an exceptional patient experience.
What can HairPalace offer you?
Doctors you can trust

HairPalace's surgeons have five – 10 years' experience performing hair transplant procedures in the UK and Budapest.

They're committed to providing bespoke solutions and achieving outstanding results.

Hair transplant surgery with natural results

We utilise the latest FUE2 technology to achieve high success rates and bring patients natural, dense hair growth.

Written guarantee on procedures

As our surgeons have access to the most effective hair transplant technology, we provide a written guarantee. If less than 80% of your transplanted hairs grow out, we'll reimplant the missing amount for free.

No visible scalp scarring

During FUE2 hair restoration procedures, the innovative micro punch extracts grafts one at a time. This causes no visible scarring in patients' donor areas.

Effective post-treatment care

We've found that proper aftercare is vital to cultivate the best hair restoration results, which is why we'll book you in for six post-surgery check-ups.

We'll monitor your progress and answer any questions you might have.

Highly-competitive prices

HairPalace offers competitive hair transplant rates in Harrow. Our varied packages cover all costs, and you'll have no hidden charges to worry about.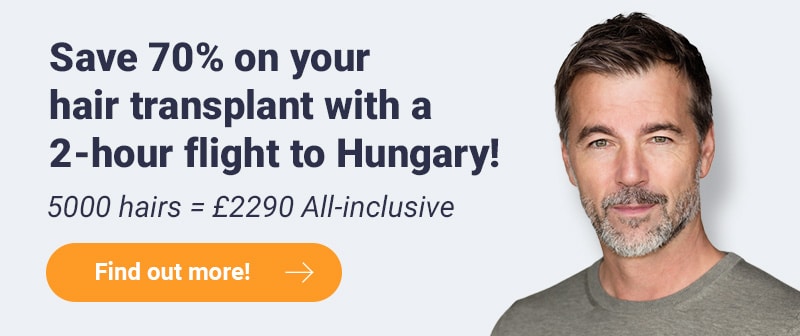 Browse real hair transplant reviews from Harrow patients
HairPalace performs hair transplants on hundreds of patients every year, and we have a large library of public testimonials across Trustpilot, Facebook, and Google.
These can give you a clear idea of the quality results you can expect at any of our clinics.
They also inspire us to keep offering the highest standard of service for every patient.
Read our hair transplant reviews from Harrow patients to learn more now!
I might be in a useful position to offer a review as, about 5 years ago, I had a transplant procedure here in the UK and so can offer a comparison between the procedure and experience here (which was excellent, by the way) and that I experienced with HairPalace.
In short, the overall experience, treatment and care, from the HairPalace were, in my opinion, at least as good, if not slightly better, than the UK experience.
I selected HairPalace on the basis of extensive internet research and the experience of a relative who had been for two procedures with them and I could see the results for myself.
From booking the first consultation here in the UK, to pre-travel advice, the experience and procedure in Hungary and the subsequent after-care, the experience was first class.
The accommodation in which you stay is very new and clean, if functional.
The clinic itself is modern, impressive and spotlessly clean.
The staff ratio is at least on a par with UK standards and may have been slightly better.
The treatment and procedure itself was identical to the UK. For those concerned about pain, the injections are uncomfortable for a fraction of a second – and then you don't feel anything for the remainder of the procedure.
And for those with a needle phobia, it is actually the lidnocaine, rather than the needle, which causes the sensation of discomfort.
I had been assessed as needing 4,000 grafts during consultation. When the procedure commenced the Dr advised me that she would try to achieve 4,000, but had to ensure that the donor sites could support this number and I would end up with the most natural and positive result.
In the end, she advised me that she could only harvest 3,000. Whilst this was a little disappointing – the key point here is that rather than "over-promise" and "over-harvest", the Dr was focused on the best and most natural outcome.
I think this is a very positive hallmark of their approach.
All the staff (and people I met elsewhere in Budapest) were extremely friendly and helpful.
Two weeks on, the results look very good – time will tell, but so far, so good. As many others comment – "I just wish I'd had it done a few years earlier".
And in terms of cost? About 20% of the cost of the earlier UK procedure. And although the procedure took virtually the same time as for 3,000 v 4,000 gratfs, so the staff were there all day and clinic in use all day for me – they refunded the cost difference for the 1,000 grafts without the issue even being raised.
Overall, extremely professional set-up and people, for a fraction of the price you'd pay here.
If I had enough donor-hair left for a third procedure(!) – I'd be going back to HairPalace without a doubt.
 David | Mar 24, 2020