Hair Transplant in Guildford: Costs and Services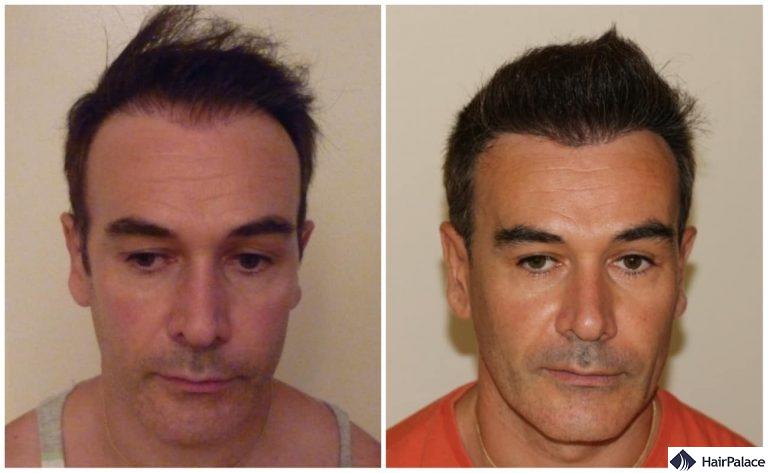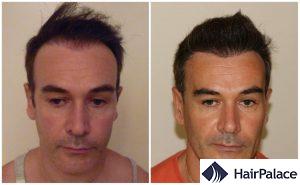 Alexis
Number of hair transplants: 1
Number of transplanted hairs: 6000
With the revolutionary FUE2 hair transplant method, we implanted 6000 hairs to extend Alexis' frontline. Just after a year, he told us he successfully regained his self-confidence. The result speaks for itself.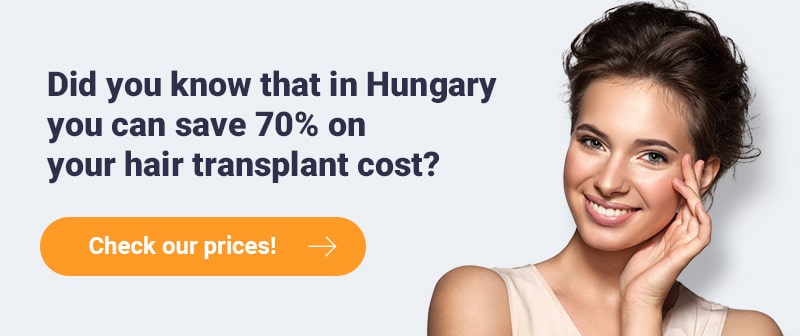 Visit our Guildford office for your free hair transplant consultation
Take the first step towards your hair restoration with a free consultation at our Guildford office. Our specialists will conduct a thorough examination of your hair density and scalp, using a digital microscope for maximum accuracy.
We'll assess your hair's condition, and discuss what you want to achieve with your hair restoration procedure.
Next, we'll put together a treatment plan tailored to you. This will contain everything you need to know about your hair transplant, including the price.
Our experts will answer any questions during your private, no-obligation consultation at our Guildford office. This will take around 20 minutes.
Advance reservation is required for consultations — call our colleagues to book yours on +44 20 7131 0229 now.
HairPalace Hair Clinic Guildford:
1 Farnham Road, Guildford
Surrey GU2 4RG
United Kingdom
Phone: +44 20 7131 0229
How much is a hair transplant in Guildford?
Hair transplant prices are based on specific factors, such as the number of hair follicles required and the technique you choose.
The typical cost of a hair transplant in Guildford will be the same as in any other area of the UK: from £2 to £4 per graft.
The more follicles you need, the higher the price will be.
We have hair restoration clinics in London and Budapest, with rates at our London location ranging from £1989 to £9042.
How can you get the best hair transplant in Guildford at a competitive rate?
It's simple.
At HairPalace's Budapest clinic, you can receive the same state-of-the-art FUE2 hair transplant as you would at our clinic in London for a far more affordable price.
We're able to keep our Budapest rates competitive because of Hungary's lower living expenses and wages.
But rest assured: you'll still receive the same outstanding service and results that you would at a hair transplant clinic in Guildford or London.
You'll just pay a much lower rate instead.
HairPalace's Budapest hair transplant packages range from only £1390 to £2590.
Which hair transplant technique does HairPalace use?
Surgeons at every HairPalace clinic perform hair transplants using the popular FUE2 method. It's a considerable improvement on the traditional FUE technique, and is the most high-end technology available today.
So, we're proud to say you'll be in the best hands whether you choose our hair clinic in the UK or Hungary.
Each of our surgeons has extensive experience undertaking FUE2 hair restoration procedures. Here are a few reasons why they recommend this method:
it causes no visible scarring
it's painless
success rates reach up to 90 to 95%
recovery times are short
it's minimally invasive
it's effective in preserving donor areas
Meet our hair restoration experts in Guildford
At HairPalace, we work with six remarkable hair restoration surgeons. They have the skills and experience to achieve the best results for our patients.
You'll get to speak with one of our surgeons and explore your procedure during a free consultation at our office in Guildford. They will discuss the treatment, answer questions, and help you understand what to expect.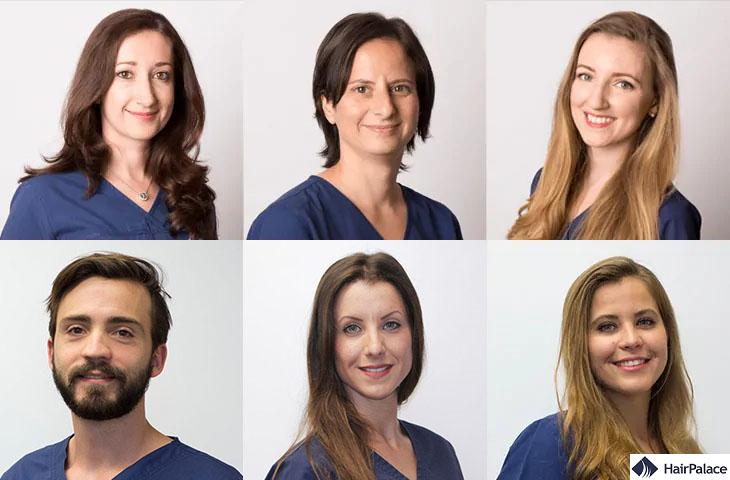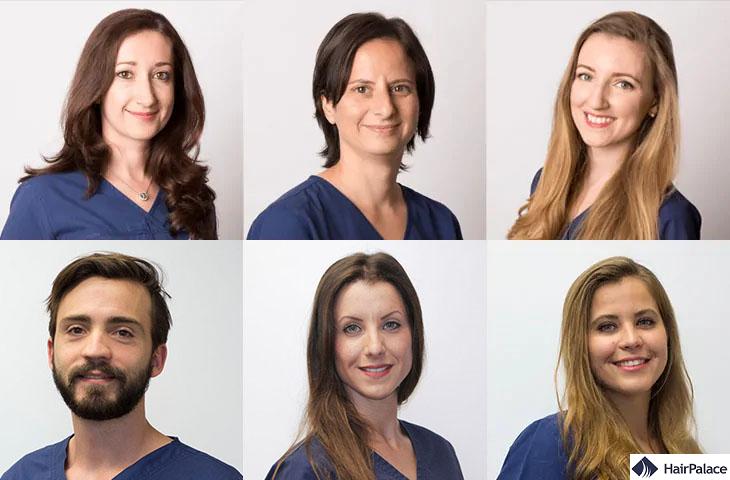 Why should you choose HairPalace?
Choosing a hair transplant clinic or treatment isn't easy when you have such a vast range of options to consider. But HairPalace wants to help you find the ideal hair restoration procedure for your goals.
What do we offer you?
Experienced hair transplant surgeons


Our doctors have performed FUE2 procedures for between five and 10 years, helping many patients achieve stunning new hair growth.

They'll work closely with our dedicated team to provide treatments tailored to your personal needs.

Natural hair restoration results

Using the cutting-edge FUE2 technology enables our surgeons to reach excellent success rates and achieve natural results.

Written procedure guarantee


As we utilise the most advanced hair transplant method available, we provide a written guarantee on your procedure.

If less than 80% of the transplanted hairs grow out, we'll reimplant the missing amount — completely free of charge.

No visible scarring to worry about


During FUE2 surgery, doctors use a precise micro punch to extract one graft at a time. This causes no visible scarring on the scalp's donor area.

Effective postoperative care


We know proper aftercare is a must for achieving the best hair transplant results for every patient.

So, we'll book you in for six check-ups to assess your progress and hair growth. We're here to help throughout your journey.

Competitive prices on FUE2 hair transplants


HairPalace's hair restoration rates in Guildford are incredibly competitive, and with all costs covered in our packages, there are no hidden fees.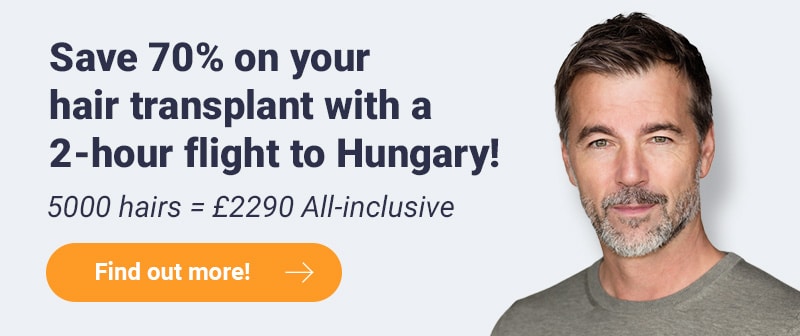 Hair transplant reviews from real patients in Guildford
Year after year, hundreds of patients choose HairPalace for their hair transplant procedures. You can browse a huge collection of public patient testimonials across Google, Trustpilot, and Facebook to learn more about their amazing experiences.
Patient feedback inspires the entire HairPalace team to maintain the highest standards of service at all times.
Read real hair transplant reviews from Guildford patients now!
Excellent service from start to finish. Highly recommend to anyone thinking of getting a hair transplant. Staff are unbelievable and are more than happy to help with anything you need.
Luke Kelly | Apr 1, 2021
I found Hair Palace Budapest to be amazing for the hair transplant. The staffs and the surgeon were very helpful and easy to communicate with. I had lots of concerns before undergoing surgery and they were able to address it properly. They arranged the accommodation and pickup and drop off to the airport which was very helpful. I have just done my hair-transplants and its hard to say about the results now. The surgery went smoothly and I am looking forward to the new hair in my head! I will provide the review regarding the results in few months time.
 Deep Joshi | Dec 6, 2018