Hair Transplant in Gloucester: Costs and Services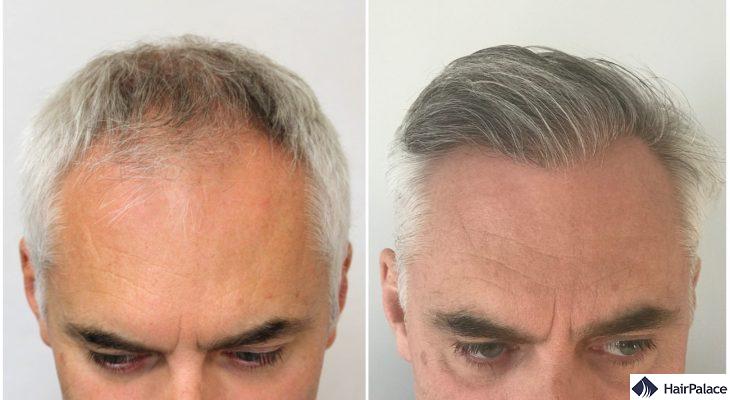 How much does a hair transplant in Gloucester cost?
The cost of a hair transplant procedure depends on multiple factors, including your preferred treatment method and the number of follicles required to achieve effective hair growth. You'll pay the same for a hair transplant in Gloucester as you would in any town or city in the UK. This will usually be between £2 and £4 per graft.
We have hair transplant clinics in London and Budapest. Prices at our London clinic vary from £1989 to £9042.
Want to get the best hair transplant in Gloucester for a more competitive price?
We can help.
Our team in Budapest provides the same cutting-edge FUE2 hair transplants as our London-based doctors — but for a much lower price.
We can offer this competitive service due to the lower living expenses and wages in Hungary. You'll still receive outstanding service and hair restoration results just as you would at a hair transplant clinic in Gloucester or London — you'll just pay a more affordable rate.
Our Budapest packages are available from just £1390 to £2190.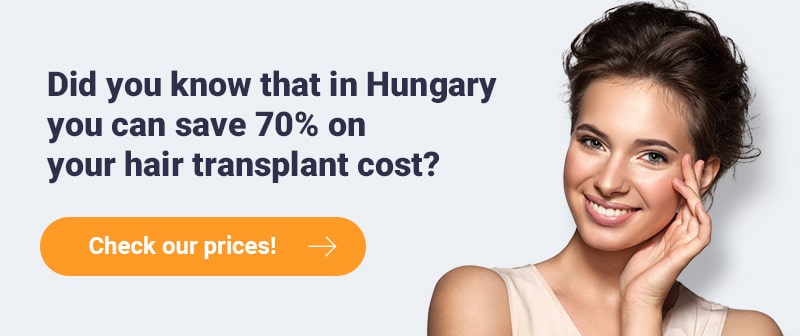 Free hair transplant consultations available at our Gloucester office
Find out how our experts can restore your hair with a free, no-obligation consultation at our office in Gloucester.
We'll conduct an in-depth examination of your scalp and hair density using a state-of-the-art digital microscope. This enables us to assess your hair transplant requirements and discuss what you want to achieve with your procedure in detail.
Next, we'll create a tailored treatment plan which includes all the essential information about your hair transplant, such as the price. Our specialists will be happy to answer any of your questions. Your one-to-one consultation will take approximately 20 minutes.
Advance reservation is needed for all consultations — book your appointment with our colleagues on +44 20 7131 0229 today.
HairPalace Hair Clinic Gloucester:
Gloucester Docks
North Warehouse
Gloucester GL1 2EP
Phone: +44 20 7131 0229
What hair transplant method is available at HairPalace?
Surgeons at every HairPalace clinic use the innovative FUE2 method for hair transplants. As this is an enhanced version of the standard FUE treatment, it's the most advanced technology in the industry.
As a result, you'll receive the same amazing results and service whether you visit our UK or Hungary hair clinic.
Our surgeons have years of experience of performing hair transplants with the FUE2 method. Here are just a few reasons they recommend it:
no visible scarring
the treatment is painless
success rates range from up to 90 to 95%
recovery periods are short
it's minimally invasive
the donor area is preserved well
Meet our Gloucester hair transplant specialists
We work with six incredible hair transplant doctors. They have the hands-on experience and skills to achieve the best hair transplant results.
You can meet with one of our doctors during your free hair transplant consultation in Gloucester. Learn more about our procedures, ask questions, and get a clear idea of the results you can expect.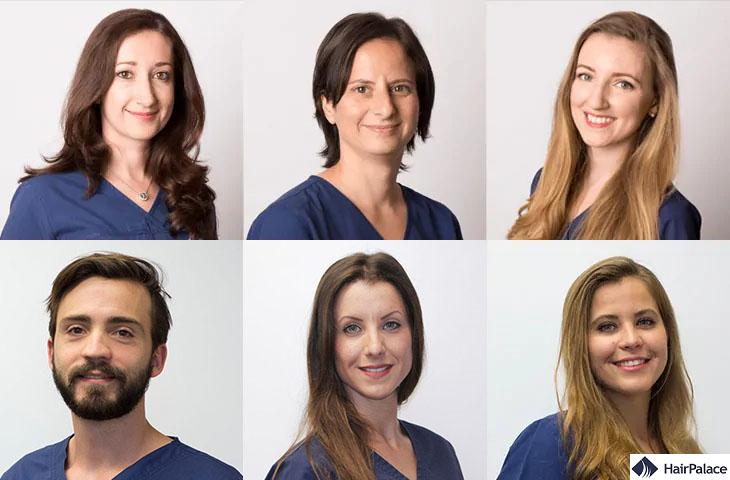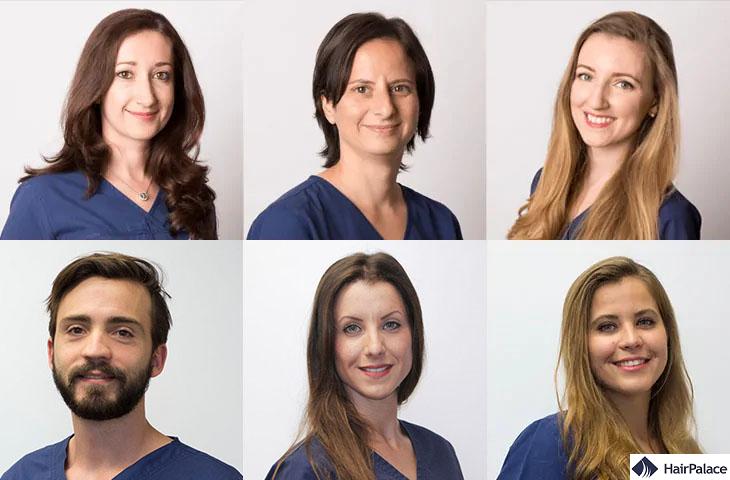 Why should you choose HairPalace for your hair restoration?
The wide variety of hair clinics and treatments available can make finding the right one for you hard. But HairPalace is here to help make it easy.
What can we offer?
Seasoned hair transplant doctors


We work with doctors who have between five and 10 years' experience performing hair restoration procedures. Alongside our committed team, they provide tailored solutions to achieve the finest results for all patients.

Natural results

The FUE2 procedure enables our specialists to achieve high success rates and dense, natural hair restoration results.

Written guarantee on treatments


As we utilise the most effective hair transplant technology today, we can provide you with a written guarantee. If less than 80% of transplanted hairs grow out, we'll reimplant the missing amount — totally for free!

No visible donor area scars


The FUE2 method extracts grafts one graft at a time, with an innovative micro punch. This leaves no visible scarring on the scalp's donor area.

Professional aftercare


We've found effective post-surgery care to be essential for achieving the best hair restoration results. We'll schedule six check-ups following your treatment to make sure your hair growth progresses well. We'll be on hand to answer your questions and offer advice.

Excellent rates


We provide every patient with highly-competitive hair transplant prices in Gloucester. All costs are covered in our packages, so there are no hidden fees for you to worry about!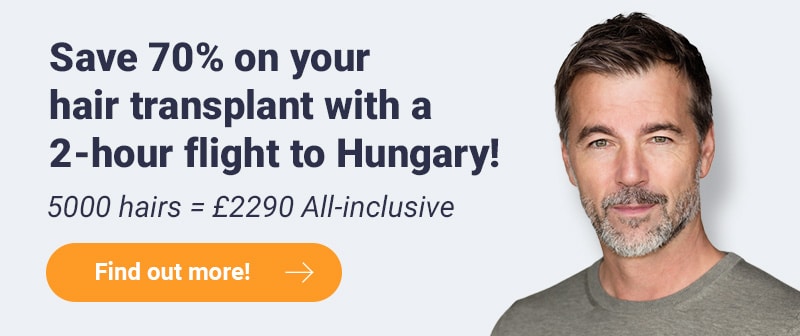 Read real hair transplant reviews from patients in Gloucester
Hundreds of patients pick HairPalace for their hair transplants every year. So, you'll find many genuine HairPalace public patient testimonials across Trustpilot, Facebook, and Google. They'll give you an insight into the quality of services and results you can expect.
Patient feedback also inspires our team to maintain our high standards and deliver the best hair transplant experience.
Browse hair transplant reviews from our Gloucester patients now!
I came across Hair palace during a google search. I had spent my time doing the rounds on Hair transplant clinics in Turkey, which presented to me a mixed bag of reviews. I was impressed by the amount of excellent reviews I saw from other patients of the hair palace and although more expensive than having the procedure completed in Turkey, It felt somehow more comforting to me, to have the procedure done in the EU.
The whole experience from start to finish was excellent. I booked the initial consultation in London, I was guided through the whole procedure, I booked my flight and had my bloods done in London. I found the whole procedure to be very organised, professional and very well explained, the team were just excellent. Upon arrival at the airport I was greeted by the taxi man, who took me to my clean and very comfortable apartment overseeing Budapest.
The clinic is top notch, lovely interiors, super clean, and the most friendly, well spoken english speaking staff who were so sweet. The procedure itself was very long, I had 5,000 grafts harvested and implanted, there were a few uncomfortable moments, the injections and having to lie face down on an area that could do with a bit more cushion (That is my only complaint)
Dr Erika Gucsi, the two assistants Zsanett and Klaudia and the interpreter Dóra were fantastic, The doctor spoke excellent english and she was very kind, she is a complete master at her job, she is very talented, patient, and hard working and a credit to the Hair palace, the doctor and her team. I'm also impressed getting picked up on time exactly by the taxi man to take me back to the airport. If you are doubting any of these reviews below, don't all these reviews are correct, I have experienced it first hand, and I wouldn't hesitate for a second to recommend the hair palace to anyone, the best hair transplant clinic in the European Union. I'm looking forward to achieve good results in the months to come, fingers crossed. 🙂
David Loughlin | Feb 22, 2018