Hair Transplant in Folkestone: Costs and Services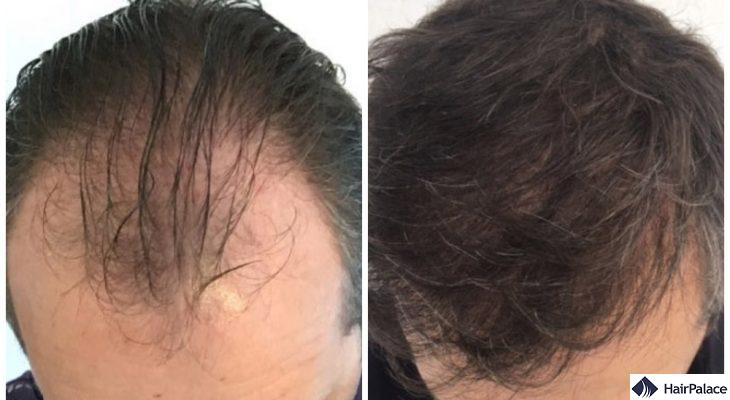 How much does a hair transplant in Folkestone cost?
The price of a hair transplant is based on several factors, from the number of follicles required for effective growth to the technique used.
Generally, you'll pay the same rate for a hair transplant in Folkestone as you would in any other UK town or city: £2 to £4 per graft.
HairPalace operates hair clinics in both London and Budapest, one of the most beautiful cities in Europe. Hair transplants at our London clinic are available for £1989 to £9042.
Want to have the best hair transplant in Folkestone for a more affordable price?
We can help.
HairPalace's hair restoration doctors in Budapest perform the same FUE2 procedures as our London team — just for a fraction of the cost.
Our hair transplant prices in Budapest range from just £1390 to £2190.
That's a substantial difference to UK rates. And it's all due to the lower living expenses and wages in Hungary — we pass our savings on to you.
But you'll still receive exceptional service and stunning results, just as you would at a hair clinic in Folkestone or London.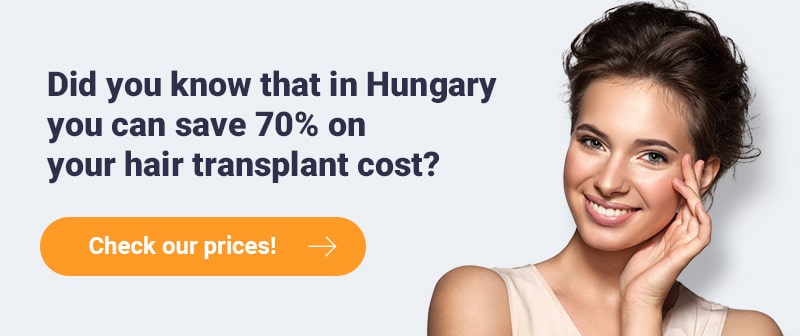 Book your free hair transplant consultation at our office in Folkestone
The first step in your hair transplant journey is a free consultation at our Folkestone office.
We'll start by examining your scalp and hair density closely, using a digital microscope. This enables us to assess your unique needs and discuss what you want to achieve with your transplant.
Once we have the insights we need, we'll prepare your bespoke treatment plan. This features key information about your hair restoration procedure, including a highly-competitive price.
Our specialists will answer your questions and offer honest advice during this one-to-one chat. Consultations typically take 20 minutes.
Advance reservation is required — you can book your appointment with our colleagues on +44 20 7131 0229 today.
HairPalace Hair Clinic Folkestone:
Shearway Road
Shearway Business Park
Folkestone CT19 4RH
United Kingdom
Phone: +44 20 7131 0229
Which hair transplant technique does HairPalace use?
Our surgeons utilise the cutting-edge FUE2 hair transplant technique at every HairPalace clinic. This is the most advanced technology available, and is a significant improvement on the standard FUE procedure.
So, you'll receive excellent treatment and amazing results whether you choose HairPalace's hair clinic in the UK or Hungary.
Our surgeons have years of experience in hair restoration, and recommend the FUE2 treatment based on the incredible advantages it offers over alternatives:
no visible scarring on donor areas
the treatment is painless
FUE2 success rates reach up to 90 to 95%
the recovery process is short
minimal invasiveness
the donor area is preserved well
Meet our hair transplant specialists in Folkestone
HairPalace works with 6 remarkable surgeons, each with invaluable experience in hair restoration. They're dedicated to providing our patients with unparalleled service and results.
You can discuss treatments, prices, and more with one of our doctors during your free, no-obligation hair transplant consultation in Folkestone.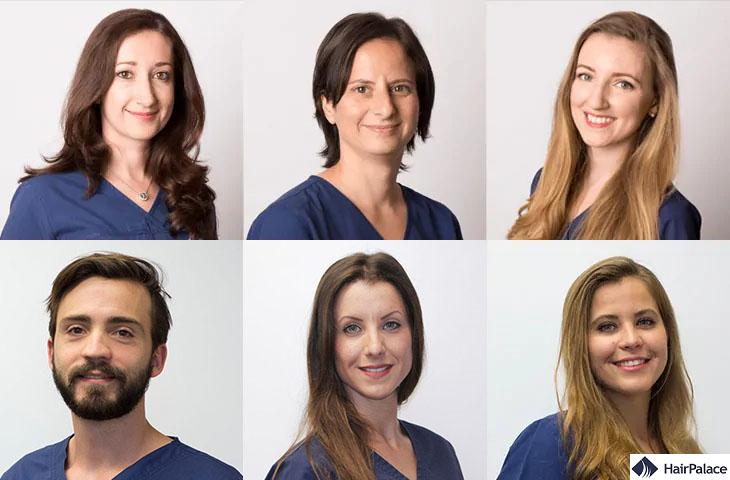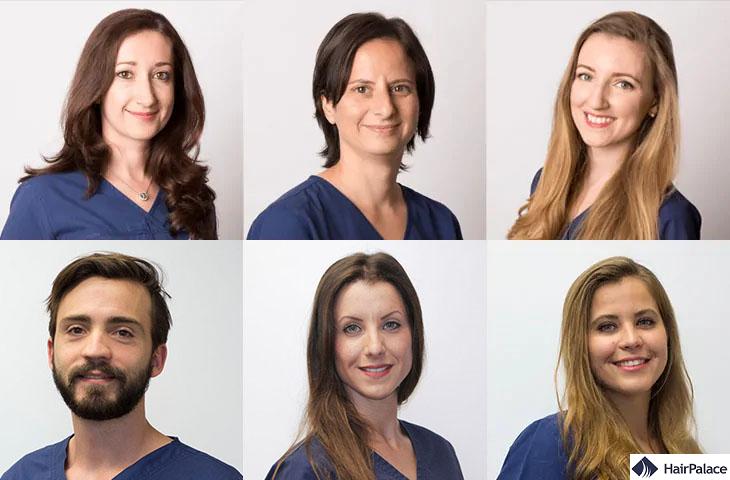 Why should you choose HairPalace?
Choosing just one hair clinic and restoration method can be a challenge with so many options available. But we're committed to helping you understand which treatment is best for you.
What can we offer?
Seasoned surgeons


HairPalace's doctors have between five and 10 years' experience of performing hair transplant procedures. They work with our team to ensure every patient receives a tailored treatment for the best results.

Natural hair restoration results


Using the state-of-the-art FUE2 method enables our surgeons to reach high success rates and achieve natural results.

Written treatment guarantee


With the most effective hair transplant technique in the hands of our accomplished specialists, we can provide you with a generous written guarantee. If less than 80% of transplanted hairs grow out, we'll reimplant the missing amount — completely free of charge!

No visible scalp scarring


FUE2 treatments leave no visible scars in donor areas, as grafts are extracted one at a time with an innovative micro punch.

Proper aftercare


We know fantastic post-treatment care is essential to achieve the best hair transplant results. That's why we'll schedule six check-ups for you after your procedure, so we can monitor your progress closely and answer your questions.

Unbelievable prices


HairPalace offers highly-competitive hair transplant prices in Folkestone. As our packages cover all costs, there are no hidden charges!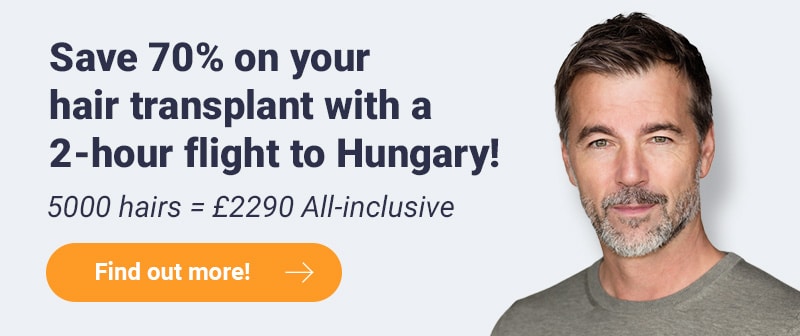 Browse real hair transplant reviews from Folkestone patients
Hundreds of patients visit HairPalace's clinics for a hair transplant every year.
We've accumulated a wealth of public patient testimonials, available for you to read on Google, Trustpilot, and Facebook now.
These offer an honest insight into our patient experience, and inspire our team to keep achieving the best results.
Take a look at our hair transplant reviews from real patients in Folkestone now!
I'd had a disappointing hair transplant 11 years earlier in England (only about 600 hairs transplanted for more than £4000) and after that was not sure whether to bother with another again, but on the spur of the moment a few weeks ago decided to look on the internet for clinics with good recommendations. I quickly realized that procedures abroad could be much cheaper than in England and looked at several in places like India and Turkey. However, although these had mostly good reviews from people who had had transplants at them, they had also quite a few bad reviews.
Then I came across Hair Palace and the more I read its website, the more optimistic I felt about trying for a transplant again. It had detailed information about the FUE Safe System procedure they used, together with info about prices (e.g. a whopping 6000 hairs transplanted for less than £3500, this price including 3 night's premium hotel accommodation overlooking the beautiful Danube plus taxi transfers to and from the airport). Review after review on the independent Trust pilot were very positive, and bad reviews were virtually non existent (just an occasional disgruntled person with a small complaint such as reacting badly to the anaesthetic for a few days after).
With no hesitation I typed my basic details (name, phone number, email and my choice of Birmingham for initial consultation) on a quick form and clicked the "apply now!"
Just the next day I received a phone call and after a discussion there was booked a free consultation for me in Birmingham a few days later, with detailed instructions given on getting from the railway station to the office where two charming Hungarian ladies greeted me. They looked closely at my hair, took some pictures and discussed ideas. They drew on me where, if I had 6000 hairs transplanted, my new hairline would be. It looked great so I said I was very interested.
After that there was a period of only a week or two before everything had been arranged by Hair Palace via emails regarding the procedure I chose (from two suggested by surgeons in Hungary who'd been sent the pictures of my hair from Birmingham) as well as dates of the three whole days in Budapest needed (1 for the blood test – the £129 cost much cheaper done there than would be in England, with a fourth night's stay at the hotel thrown in – to confirm I was all right for the procedure, plus the 2 days for the surgery itself); details of the airport transfers (such as where the taxi driver holding a board with my name would be standing in the airport); hotel where I'd be staying for 4 nights (with breakfast included); relevant maps of this hotel and blood test clinic and Hair Palace clinic; and what I was to do and experience and at what times over the three days in precise detail. It was all so easy, and all I had to do was sort out my travel to Budapest from England.
Everybody I met concerned with Hair Palace was great – whether it was the well-spoken interesting and informative taxi driver (Attila) who told me about life in Hungary, or all the lovely, charming and friendly ladies (not a man in sight!) at the clinic. Much has been written on other reviews about the nice food provided, films to watch, pain involved (only a little from the anaesthetic injections) and the procedure itself, so I shall not elaborate, except to say that something mathematical!…..
By the end of the two days they had generously transplanted 112 more hairs than the 6000 I paid for, and I could see a breakdown on a piece of paper left around of the number of follicles they had transplanted on each of the two days, listing the number of follicles they extracted which had 1, 2, 3, 4 or 5 hairs (apparently some people can have follicles with up to 7 hairs, but none like that were apparently found on me during those two days). They transplanted about 2200 follicles (about 1100 each day) with an average of about 2.77 hairs per follicle, adding up to the 6112 hairs. Very honest and precise ladies!
I have now been back home a few days, and tomorrow will email to Hair Palace the required 7 photos of my head at different angles 1 week after surgery. More photos will need to be sent at the 3 weeks, 3 months, 6 months and 12 months stages. It is so unlike the transplant I'd had done 11 years earlier in England, where the clinic was not at all interested in knowing anything more about me after the procedure took place!
These Hungarian ladies take pride in getting things done right, and want to make sure the end result of the transplant is great. At the moment I look like a Buddhist monk (all my hair was shaved). I will write about the result in a year's time when the hair has grown more or less into the final look. Looking in the mirror at what they have done, I imagine this follow up review will be as praiseworthy as this one.
Murray | Dec 23, 2017