Hair Transplant in Farnborough: Costs and Services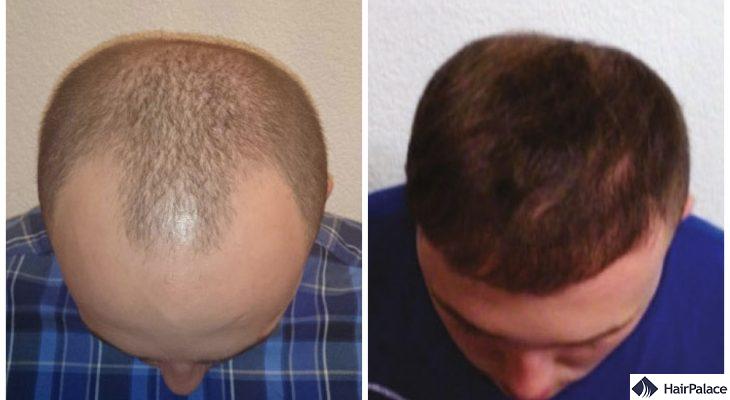 What price will you pay for a hair transplant in Farnborough?
The price of a hair transplant is based on multiple factors, such as the treatment method and number of follicles needed.
You can expect to pay the same rate for a hair transplant in Farnborough as you would in any other town or city throughout the UK. This is usually between £2 and £4 per graft.
HairPalace's seasoned team provides treatments at our clinics in both London and Budapest. Our hair transplant packages in London cost from £1989 to £9042.
Want to get the best hair transplant in Farnborough for an affordable price?
HairPalace is here to help!
We offer the same FUE2 procedures at our clinic in Budapest — but for more affordable prices than you would pay in the UK.
For just £1390 – £2190, you can undergo an innovative FUE2 hair restoration procedure at our cutting-edge clinic in beautiful Budapest.
Our packages are so competitively priced due to the lower wages and living expenses in Hungary. But you'll still receive outstanding service and amazing results, just as you would at a hair transplant clinic in Farnborough or London.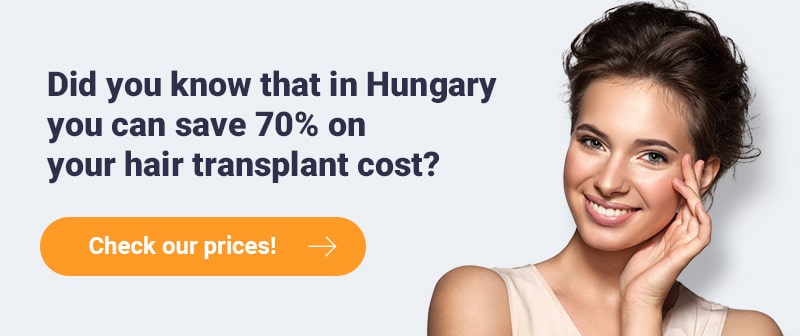 Get your free hair transplant consultation at our Farnborough office
Visit our Farnborough office for your free, no-obligation consultation with our hair transplant specialists.
We'll examine your hair density and scalp closely, using a high-end digital microscope for maximum accuracy. We'll assess your hair restoration needs and explore what you would like to achieve with your procedure.
Once we have the details we need, we'll prepare a treatment plan tailored to you. Inside, you'll find all the essential information about your transplant, including the price.
We'll be happy to answer your questions and offer expert advice during your private, one-to-one consultation. These typically take 20 minutes.
Advance reservation is required for consultations — arrange yours with our colleagues on +44 20 7131 0229 today.
HairPalace Hair Clinic Farnborough:
Fowler Avenue The Hub
Farnborough Business Park
North Hampshire GU14 7JF
United Kingdom
Phone: +44 20 7131 0229
What hair transplant method do HairPalace surgeons offer?
Doctors at every HairPalace clinic use the FUE2 technique. As this is an enhanced version of the popular FUE method, it's the latest in hair transplant technology.
So, you can expect the best hair transplant results whether you visit HairPalace in the UK or Hungary!
Our surgeons consistently recommend the FUE2 procedure for the remarkable benefits it offers:
no visible scalp scarring
the treatment is painless
success rates as high as 90 to 95%
the recovery period is short
it's minimally invasive
donor areas are preserved well
The top hair transplant specialists in Farnborough
We work with six accomplished hair restoration surgeons. They boast exceptional experience of providing state-of-the-art hair transplants, and work closely with our team to deliver the best patient experience.
During your free consultation at our office in Farnborough, you can discuss your procedure with one of our experts and get a comprehensive overview of our treatments.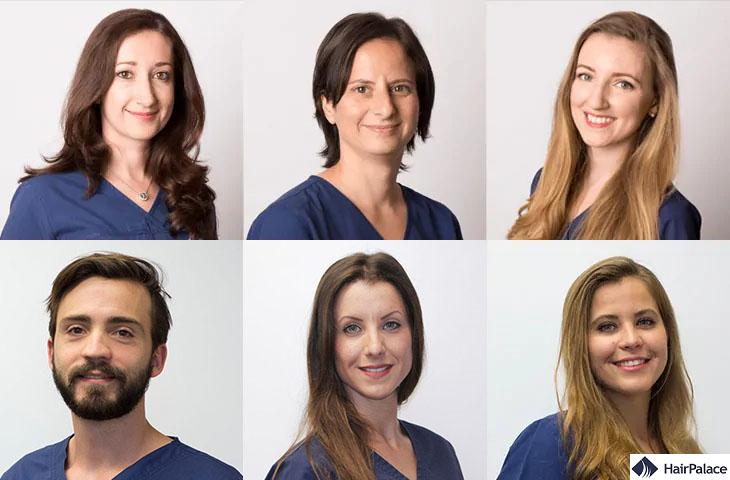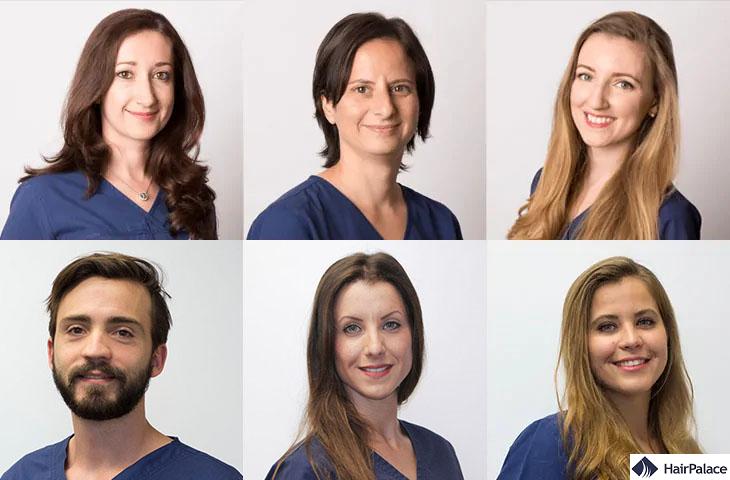 Why is HairPalace the right hair clinic for you?
Choosing one hair transplant clinic and method is difficult today, when there are so many available. But HairPalace is committed to helping you find the ideal solution for your hair restoration, based on your unique requirements.
What can we offer?
Experienced surgeons you can depend on


HairPalace's surgeons have five to 10 years of experience in hair restoration. Along with our team, they work hard to achieve the best results for each patient.

Stunning natural results


Our doctors can reach incredible success rates with the latest FUE2 method, achieving natural results for various hair types.

Written guarantees


As we use the most advanced technology, we can provide you with a written guarantee: if less than 80% of your transplanted hairs grow out, we'll reimplant the missing amount for free!

No visible scarring on donor areas


During FUE2 treatments, we extract one graft at a time using an extraordinary micro punch. This highly-accurate device leaves no visible scars on donor areas.

Committed post-treatment care


In our experience, effective aftercare is a must for achieving outstanding results. You'll be invited to six post-surgery check-ups, during which we'll assess your hair growth and progress carefully. We'll also answer any questions for your peace of mind.

Competitive rates


HairPalace's FUE2 hair transplants are available at incredibly affordable prices. Our comprehensive packages cover all costs, so you have no hidden charges to worry about.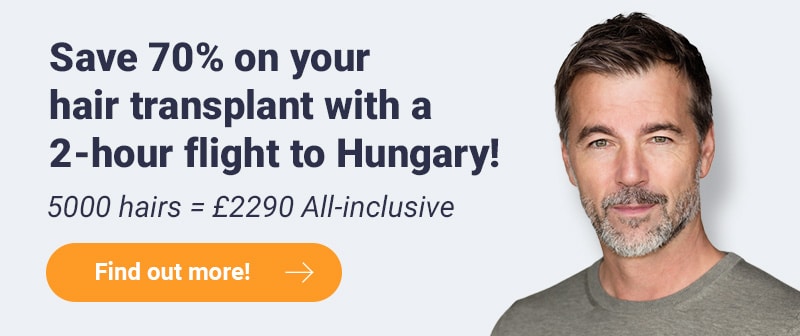 Honest hair transplant reviews from HairPalace's patients in Farnborough
We treat hundreds of patients every year, and have earned a wealth of public patient testimonials across Facebook, TrustPilot, and Google. These offer you genuine insights into our services, patient care, and more.
Reviews also motivate us to keep performing at our finest and to consistently achieve the best results for all patients.
Browse real hair transplant reviews from our Farnborough patients now!
Great service and medical staff were very helpful throughout the process. Despite the pandemic, the advice on entering locally was done efficiently with no problems. On the day of the procedure, the quality of care and service was seamless. The accommodation provided had excellent facilities, situated nearby a shopping mall. Will recommend
Aryan | June 7, 2021
I attended hair palace on the 10/11th of December 2017 for 6000 implants (managed 6030 with no extra cost) and without seeing the results I can say that any apprehension i had regarding the procedure was dispelled after I carried out an unannounced drop in visit of the facilities the day before the procedure. From initial consult to airport pick up, accommodation( I was accompanied by my wife and mother in law at a cost of €20 extra per night ,which is decent compared to paying for a hotel room) to communication, pleasant staff, immaculate procedure rooms , airport drop off , the complete package was streamlined and very efficient. Like all others I am apprehensive as to how the final outcome will be , and like everyone else I am sure , I will follow the recovery process to the letter and am hopeful the outcome will be as I expect.
Joe Hands | Dec 16, 2017