Hair Transplant in Exeter: Costs and Services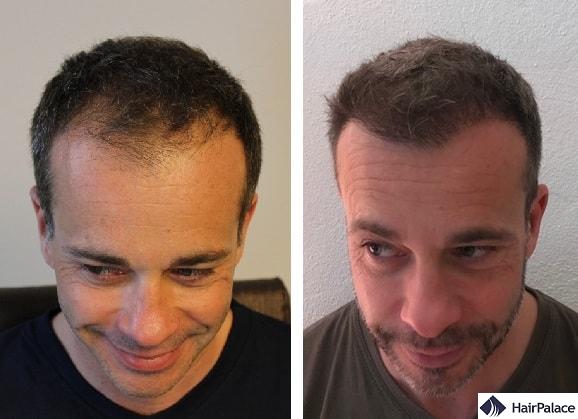 Peter
Number of hair transplants: 1
Number of transplanted hairs: 6438
Peter gained back his self-confidence after his FUE hair transplant in 2017.
The complete change took a year, but at the end he was glad too see the dense result and his new younger look!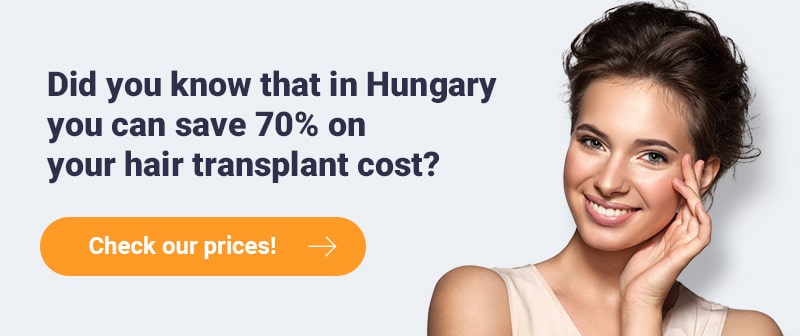 Free expert hair transplant consultations available at our Exeter office
A consultation with one of our hair transplant experts is your first step towards hair restoration surgery.
This face-to-face meeting is a chance for you to learn more about the benefits of our cutting-edge procedures.
Our expert will start by performing a thorough hair and scalp examination, using a state-of-the-art digital microscope.
They will assess the density of your hair, discuss your goals, and identify the right option for you. You can also ask any questions you may have.
Our next step will be creating a bespoke treatment plan for you. This covers everything you need to know about your procedure, including an accurate price.
Consultations for a hair transplant in Exeter usually last for 20 minutes, and advance reservation is a must.
You can book your appointment with our colleagues on +44 20 7131 0229.
HairPalace Hair Clinic Exeter:
Marsh Barton Trading Estate
Exeter, EX2 8LB
United Kingdom
Phone: +44 20 7131 0229
How much will a hair transplant in Exeter cost?
A number of factors will determine the price of your hair restoration, such as the number of follicles to be transplanted.
A hair transplant in Exeter tends to cost the same as it would in any other city throughout the UK: approximately £2 to £4 per graft.
Procedures at our London clinic vary in price, from £1989 to £9042.
Want to undergo the best hair transplant in Exeter at more affordable rates?
HairPalace is committed to providing exceptional hair transplant services at competitive prices — which is why our Budapest clinic is such a popular option.
Our Budapest team is able to offer specialist hair restoration solutions at more affordable price points, utilising the same FUE2 procedures as our London-based experts.
Hungary's lower wages and living expenses enable HairPalace to pass savings onto you directly: you will benefit from the same outstanding service and results, just at a far lower cost.
Our Budapest hair transplant clinic's prices range from £1390 to £2590, depending on the number of follicles required.
What hair transplant method do we use at our clinics?
Our teams employ the same FUE2 technique at each clinic. This is the most advanced hair transplant technology available.
Our FUE2 procedure brings you the same incredible service and results in any HairPalace clinic, whether you choose to visit us in the UK or Hungary. Our doctors have years of experience working with this technology, and recommend it based on the following advantages:
No visible scarring
Procedures are painless
Success rates can be as high as 90 to 95%
Recovery periods are short
FUE2 is minimally invasive
Donor areas are preserved effectively
Trust our dedicated team for the best hair transplant in Exeter
HairPalace's team works with six talented doctors to ensure we deliver the finest hair transplants. They have exceptional skills and access to the latest hair restoration technologies.
You will meet with one of our surgeons during your free consultation in Exeter. They're always honest, open, and happy to answer your questions.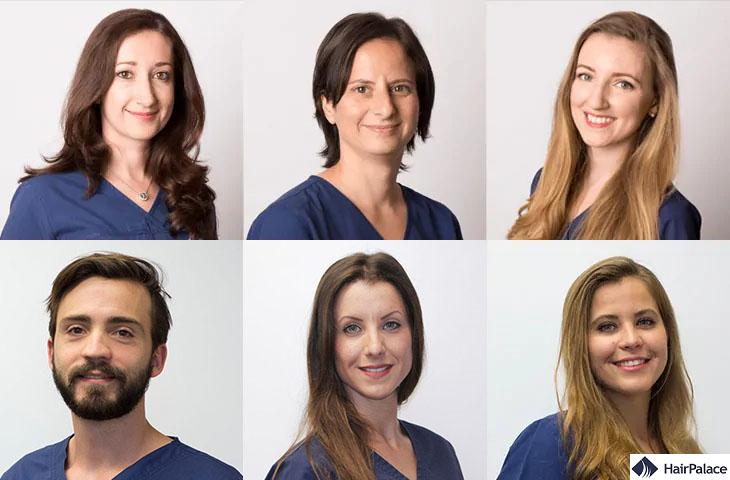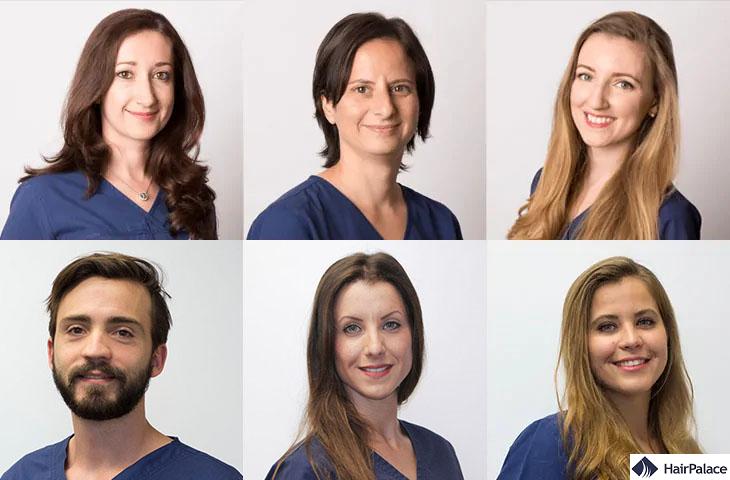 Why should you choose HairPalace for your hair transplant?
Picking just one hair transplant clinic can be difficult. But HairPalace is passionate about helping you find the ideal hair restoration solution for your goals.
What can you expect when you choose us?
The most natural results

The FUE2 technique empowers us to achieve outstanding success rates, providing patients with natural results and high-density growth.

An experienced team of doctors

HairPalace's surgeons have between five and 10 years of hair restoration experience each. They work with our team to offer tailored solutions, and are driven to achieve results of unparalleled quality.

Peace of mind with your written guarantee

We will provide you with a written guarantee for your treatment — that's how confident we are in our hair transplant procedures. If less than 80% of your transplanted hairs grow out, we will reimplant the missing ones for free.

No visible scarring

As the FUE2 technique extracts one graft at a time using a micro punch, there will be no visible scars in your donor area.

Committed postoperative care

Effective aftercare is fundamental to achieve the finest hair transplant results. We provide six post-surgery check-ups to ensure everything develops as it should.

Incredible rates

HairPalace's hair transplant prices in Exeter are highly competitive. Each of our comprehensive packages covers all costs, with no hidden fees to worry about.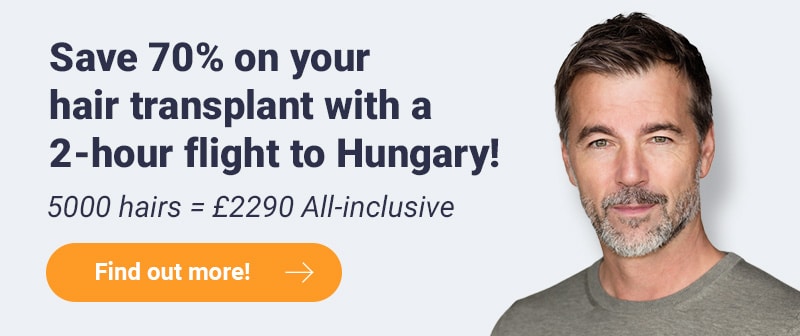 Exeter hair transplant reviews from genuine patients
Hundreds of patients choose to undergo a hair restoration procedure with HairPalace every year.
We're proud of the quality of our patient testimonials across Trustpilot, Facebook, and Google. These inspire us to maintain the highest of high standards, and will give you a clearer insight into the results you can expect.
Browse our hair transplant reviews from genuine Exeter patients to learn more!
I lost ALL of my hair on top by my late 20's and I had a 7000 hair transplant in Ireland by my mid 30's.
Through no fault of their own it was just not enough for good full coverage and I had to (inevitability over) saturate my scalp with nanogen hair fibres to thicken it up and I would use so much it would fur together and start to stick to my scalp just making my head look dirty. Even then in the light or sun, you could still see it's thinness.
I decided to go for round two a year ago. I did a lot of research including here on Trustpilot and came to a clear conclusion to pack my bags and head to Beautiful history rich Hungary and have my treatment done at HairPalace.
I had previous contact with them around four years ago as they fly over to the UK to various cities so that you can have a consultation and chat about everything.
Yes I bottled it at the time and tried to think less of it for the next nearly four years until I got so tired of not getting my hair to look right even after a large transplant.
In the interest of being honest, I must say that the treatment pricing left me shocked and it was the main initial draw for looking further into HairPalace.
I know hair transplants have come down in recent years but I was looking at paying a quarter of what I paid in Ireland.
That is not a criticism of that clinic as clinics were commanding those sort of fees back then but even by today's costs, HairPalace is seriously extraordinarily good value!
If you are thinking of going abroad to save literally thousands of pounds but have that voice in your ear saying the standards and prognosis won't be as good or as high as having the treatment in the U.K, or you get what you pay for, all those sort of things like I had… well I can tell you that I'm writing this review nearly a YEAR after my visit and NOT just after when people have a had a highly professional experience and are elated at having their treatment completed.
I'm writing this review after the treatment has had chance to show whether it was successful or not.
It was an OVERWHELMING success!
The difference is almost unbelievable. It has utterly transformed what I can do with my hair.
I can grow it , style it, crop it and still look like I've got a full head of hair!
  Jan 4, 2021 | Chris