Hair Transplant in Crowborough: Costs and Services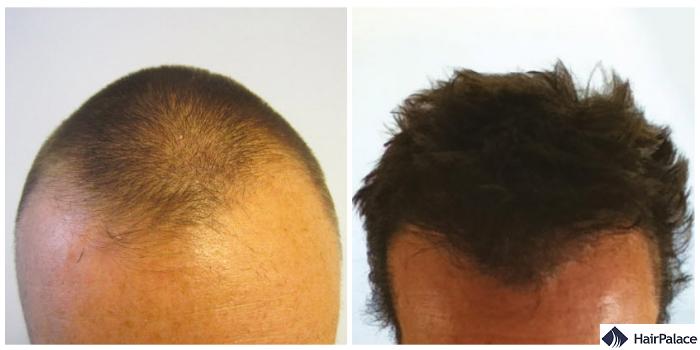 What does a hair transplant in Crowborough cost?
Hair transplant prices are based on multiple factors, from the method chosen to the number of hair follicles required for successful growth. For a hair transplant in Crowborough, you'll pay the same rate you would elsewhere in the UK: usually £2 – £4 per graft.
HairPalace operates clinics in London and beautiful Budapest, Hungary. Our London packages are available for between £1989 and £9042.
Want to have the best hair transplant in Crowborough but for a more affordable price?
With HairPalace, you can.
Our Budapest team offers the same FUE2 procedures available at our London clinic but at much more competitive rates.
We can do this because of the lower living expenses and wages in Hungary. And you can still expect the same exceptional treatment and service you would receive at a hair transplant clinic in Crowborough or London — just for a fraction of the UK price.
For between £1390 and £2190, you can find the ideal package to restore your hair with amazing results.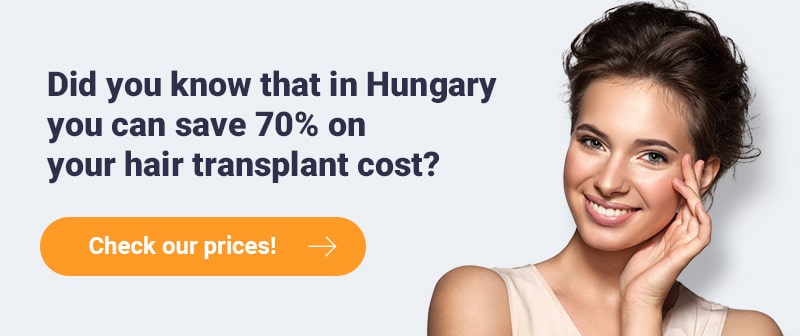 Visit our Crowborough office for your free hair transplant
Discover how our specialists can restore your hair with a free, no-obligation consultation at our office in Crowborough.
We'll start by conducting a thorough examination of your hair density and scalp, using a high-end digital microscope. Next, we'll determine your hair restoration needs and explore what you would like to achieve with your procedure.
Once we have the essential details, we'll create a tailored treatment plan just for you. This will feature all the information you need on your hair transplant, including the price.
Our experts will be happy to answer questions and offer advice during your one-to-one chat. This will take approximately 20 minutes.
Advance reservation is required — you can book your consultation with our colleagues on +44 20 7131 0229.
HairPalace Hair Clinic Crowborough:
Pine Grove, Crowborough
East Sussex TN6 1DH
United Kingdom
Phone: +44 20 7131 0229
What hair transplant method is available at HairPalace?
Surgeons at every HairPalace clinic use the innovative FUE2 hair transplant method to achieve the finest results. This is an updated version of the standard FUE procedure, and is the most advanced technique available.
That means you'll receive the same excellent hair restoration service and results whether you visit HairPalace in the UK or Hungary.
Our surgeons have years of experience performing FUE2 hair transplants, and recommend it based on the following benefits:
no visible scarring in donor areas
it's a painless procedure
success rates reach up to 90 to 95%
recovery is short
FUE2 is minimally invasive
it effectively preserves donor areas
We work with the top hair transplant experts in Crowborough
HairPalace is proud to work with six remarkable doctors with the experience and skills to provide patients with the best hair restoration results.
During your free hair transplant consultation in Crowborough, you'll be able to speak with one of our doctors. They'll answer your questions in depth and offer honest advice to help you make an informed decision.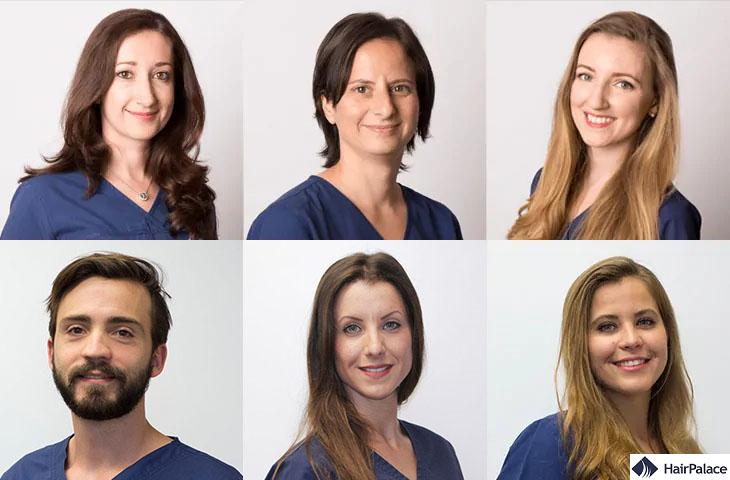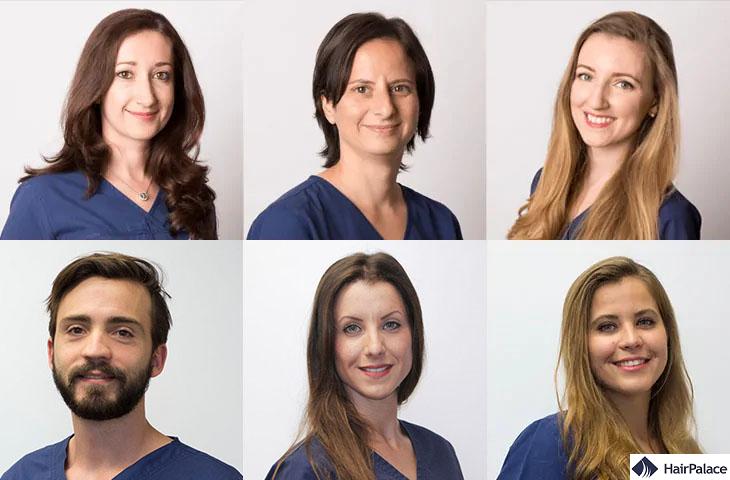 Why is HairPalace the right hair clinic for you?
It's not easy to choose a hair clinic and treatment when you have so many to consider. But HairPalace is committed to helping you find the right option for your hair restoration goals.
So, what can we offer?
Experienced hair transplant surgeons


HairPalace's doctors have from five to 10 years of experience in hair restoration treatments. They work closely with our team to bring patients tailored solutions for stunning results.

Amazing natural results


As we use the FUE2 method, we can reach the highest success rates and provide natural, dense, seamless hair growth.

Written treatment guarantee


Using the most effective hair restoration technique enables our surgeons to offer a written guarantee on your procedure. If less than 80% of your transplanted hairs grow out, we'll reimplant the missing amount completely free of charge.

No visible scarring in the donor area


Our doctors extract one graft at a time with an advanced micro punch during FUE2 hair transplants. This leaves no visible scarring on donor areas.

Quality postoperative care


HairPalace offers dedicated post-transplant care to ensure quality results. We'll schedule six check-ups to assess your progress, and we'll be available to answer your questions.

Incredible prices


HairPalace offers highly competitive hair transplant rates in Crowborough. And as our packages cover all costs, there are no hidden fees.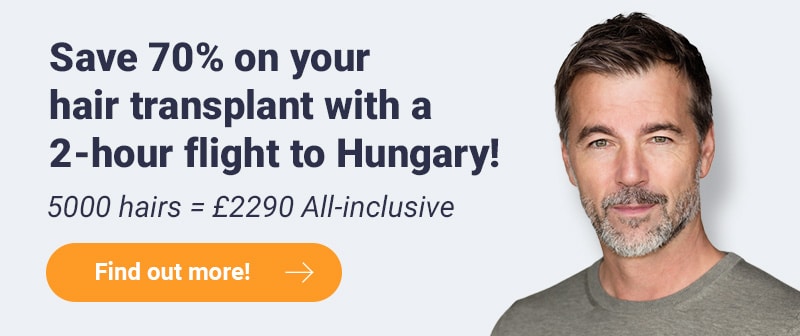 Hair transplant reviews from Crowborough patients
Hundreds of people visit HairPalace for hair transplants each year, and there are many public patient testimonials on Facebook, Google, and Trustpilot available for you to read.
These will provide you with an insight into the results you can expect, and inspire us to keep working at our best.
Browse our hair transplant reviews from real Crowborough patients now!
An A+++ experience from pickup at the airport through to drop off for my flight home. The logistics were all sorted making the whole process seamless.
The 1 bedroom apartment is in a new purpose built block about 10-12 minute walk away from the clinic, with a double bed and all new mod cons. I travelled alone, but regret not bringing the family. It would easily have accomodated my wife and 2 very young children (although may have needed a small travel cot for one child).
I had the blood test at a local clinic the day before the procedure, picked up by a taxi driver in the AM.. As another reviewer posted, i also experienced the nurse taking blood without use of disposable gloves (which i also found a bit odd indeed, and not what one would experience back in the UK). I think she should have worn gloves.
Anyway….
The clinic itself is clean, modern and hygienic – all staff wore scrubs and when appropriate masks whilst in clinic during procedure).
Staff were friendly and all spoke English (I believe there were also French speaking staff available too).
I was treated by Dr. L. Zolnai who was excellent. I had a brief pre-op consultation to agree what would be done and was given a few medications that would help during procedure. There was little to no pain during the procedure. If i was rating the pain i'd say 1-2 out of 10 was the most i felt (the feeling is like a small pin-prik on the back of your head). Even then, this is only really in the morning whilst donor hairs were being extracted from back of head. In the afternoon when hairs were being transplanted i hardly felt a thing, whilst i enjoyed watching a movie of my choice.
I had just over 5000 hairs implanted (zone 3-4 mainly) so the procedure ran over 2 days. The process was the same on each day. Donor hairs extracted in AM, and transplanted after lunch. Lunch was great, with a wide variety of nice healthy options (even for vegetarian diet).
I would, without hesitation, highly recommend Hairpalace to anyone looking to have a hair transplant procedure. I myself am likely to return >12 months post-op to have the zone 1-2 done.
I.P. | Oct 29, 2017