Hair Transplant in Coventry: Costs and Services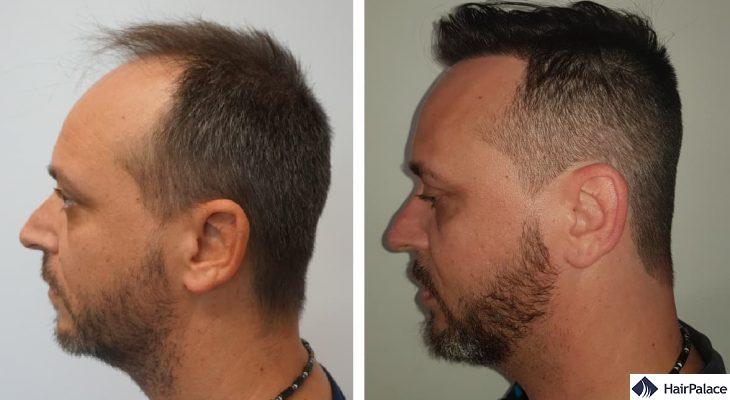 What is the price of a hair transplant in Coventry?
Hair transplant prices depend on various factors, such as the number of hair follicles required and your chosen treatment method.
You can expect to pay the same amount for a hair transplant in Coventry as you would in other cities or towns across the UK. Typically, this is between £2 and £4 per graft.
HairPalace operates hair transplant clinics in London and Budapest. Rates range from £1989 to £9042 at our London clinic.
Want to undergo the best hair transplant in Coventry at a more affordable rate?
We can make it happen.
HairPalace's Budapest clinic offers the same cutting-edge FUE2 hair restoration procedure as our London team — but for a more affordable price.
Our Budapest hair transplant packages cost between £1390 and £2190.
We're able to provide such competitive deals due to Hungary's lower wages and living expenses. This means you can make significant savings while receiving exceptional service and results.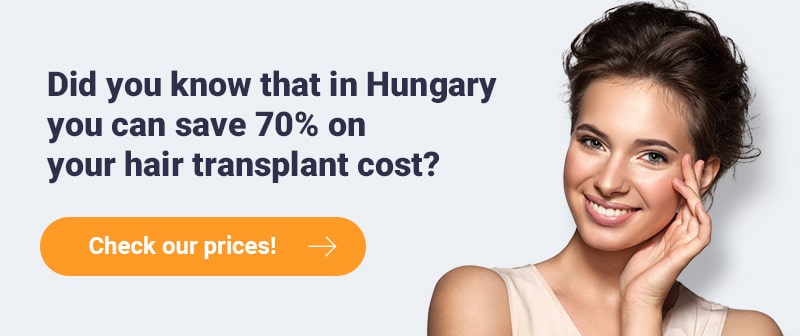 Free hair transplant consultation at our Coventry office
Start your journey to incredible hair restoration with a free, no-obligation consultation at our office in Coventry.
We'll begin by conducting a thorough examination of your hair density and scalp with a state-of-the-art digital microscope.
This helps us to assess your hair restoration requirements before we discuss your personal transplant goals.
Our experts will use this information to put a tailored treatment plan together for you. This will feature all the need-to-know details about your hair transplant, including an accurate price.
During your private consultation, our specialists will be happy to answer your questions and offer advice to help you make an informed decision.
Your Coventry hair transplant consultation will last around 20 minutes.
Advance reservation is necessary — to book an appointment with our colleagues, call +44 20 7131 0229.
HairPalace Hair Clinic Coventry:
3 Warwick Road
The Quadrant, Coventry
West Midlands, CV1 2 DY
United Kingdom
Phone: +44 20 7131 0229
What hair transplant method does HairPalace offer?
Every HairPalace clinic offers the FUE2 technique. This is an improved version of the popular FUE transplant procedure, and is the most advanced technique available.
Rest assured: you'll receive the same outstanding service and results whether you visit our hair clinic in the UK or Hungary.
Our doctors continue to recommend the FUE2 treatment for a number of key reasons:
FUE2 hair transplant leave no visible scarring
the procedure is painless
success rates can be as high as 90 – 95%
recovery after FUE2 transplants is short
treatment is minimally invasive
donor areas are preserved effectively
Meet our Coventry hair transplant specialists
HairPalace is delighted to work with 6 highly-skilled, experienced doctors with a history of achieving the best hair transplant results.
You will have a chance to meet one of our surgeons during your free hair transplant consultation in Coventry, and ask any questions you may have about the FUE2 procedure.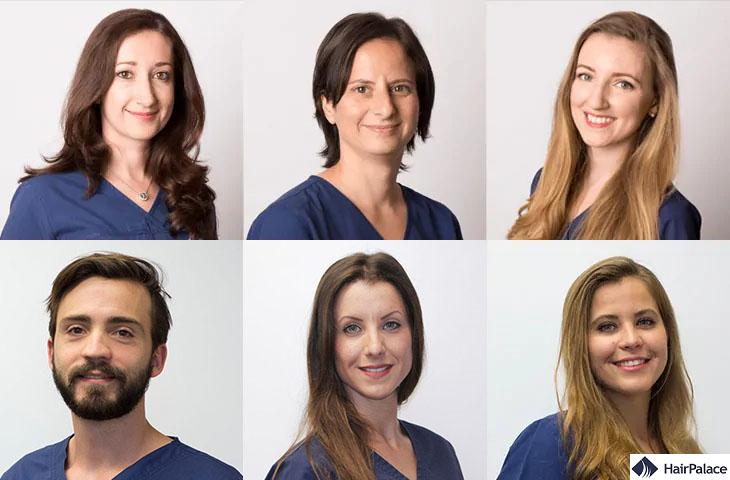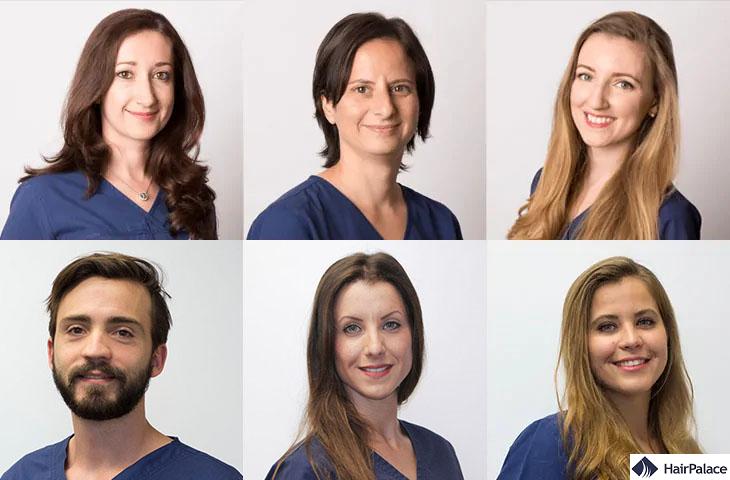 Why choose HairPalace for your hair transplant?
Choosing one hair restoration clinic and technique from the many available can be incredibly difficult.
But don't worry: HairPalace is dedicated to helping you find the ideal option for your hair transplant.
What do we offer?
Surgeons with years of experience

Our doctors have five to 10 years of experience in performing hair transplants. Alongside our team, our surgeons are committed to achieving the best results through tailored treatment plans.

Natural hair restoration results

Thanks to the advanced FUE2 technique, HairPalace can reach astounding success rates and deliver dense, natural restoration results.

Written guarantee for your peace of mind

As HairPalace's experts have access to the most effective hair transplant technique, we provide a written guarantee on your procedure.

If less than 80% of your transplanted hairs grow out when they should, we'll reimplant the missing amount — totally free of charge!

No visible scarring

As the FUE2 procedure involves extracting one graft at a time via a micro punch, no visible scars will remain on the donor area.

Effective post-treatment care

We know great aftercare is critical to achieve impressive hair transplant results.

We'll schedule six post-surgery check-ups to ensure your restoration progresses as it should. We'll be here to provide answers and advice when you need us.

Stunning rates

HairPalace offers competitive rates on our hair transplant packages in Coventry. These cover all costs, and there are no hidden fees to watch out for.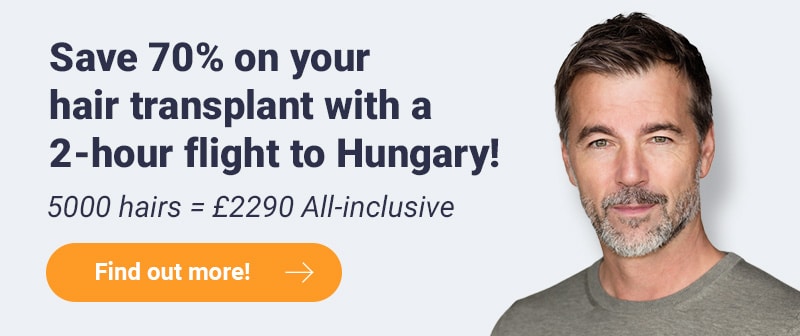 Coventry hair transplant reviews
Hundreds of individuals choose HairPalace for their hair transplants each year. You can find many genuine public patient testimonials on Trustpilot, Google, and Facebook right now.
These inspire us to continually deliver service and results of the highest standard.
They can also help you understand what to expect when you choose us for your hair transplant.
Browse hair transplant reviews from our Coventry patients to learn more now!
I am 5 days post-surgery at Hair Palace.
I was treated by Dr. Sandor Tar and his able team – the guy is a legend – performing the 2 day surgery which was painless.
I slept, for the majority of the 2 days, being awoken gently to ask if I was okay!
The clinic clearly prides itself on its professionalism as well as the skill of the team. I would wholeheartedly recommend to anybody considering.
I am just hoping that I can book in for the crown procedure before another year is out!!
   Daniel | Jul 30, 2019
Everything was perfect the transfer from the airport to the apartment was smooth.
The apartment was very clean modern and comfortable. The girls at the clinic where really nice and very professional and made me feel at ease all through the intervention.
Special thanks to Dr katalin sereny and her team and also to my translator maya who was brilliant and explained everything to me very clearly.
I only just had my operation so I haven't seen the results of the intervention but it definitely felt like I was in safe hands and I couldn't have been treated any better.
I definitely recommend the clinic to anyone thinking of having their operation here.
 Connor Patterson | Jun 18, 2019