Hair Transplant in Chepstow: Costs and Services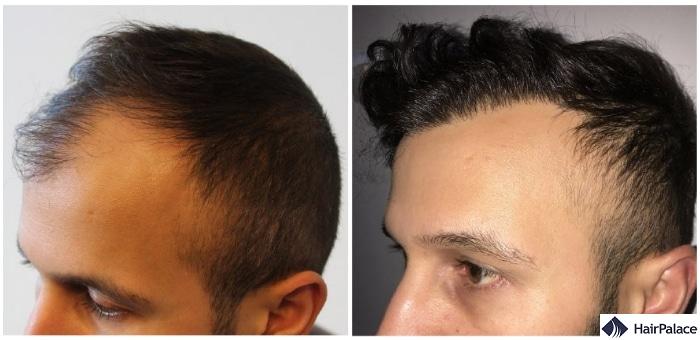 How much will a hair transplant in Chepstow cost?
The price of a hair restoration procedure is based on numerous factors, from the chosen treatment technique to the number of hair follicles needed to achieve effective growth. You can expect to pay the same rate for a hair transplant in Chepstow as you would anywhere in the UK. Typically, this ranges from £2 to £4 per graft.
HairPalace offers hair transplants at our clinics in London and Budapest, with London packages available for £1989 to £9042.
How can you get the best hair transplant in Chepstow for a more competitive price?
With HairPalace, it's simple.
Our team in Budapest provides the same FUE2 procedures as our London specialists — but at a much more affordable rate.
We can offer highly competitive prices in Budapest due to Hungary's lower living expenses and wages. But you'll still receive exceptional service and amazing results, just as you would at a hair transplant clinic in Chepstow or London.
You'll pay just £1390 to £2190 for a hair transplant at our Budapest clinic, depending on the extent of your hair loss.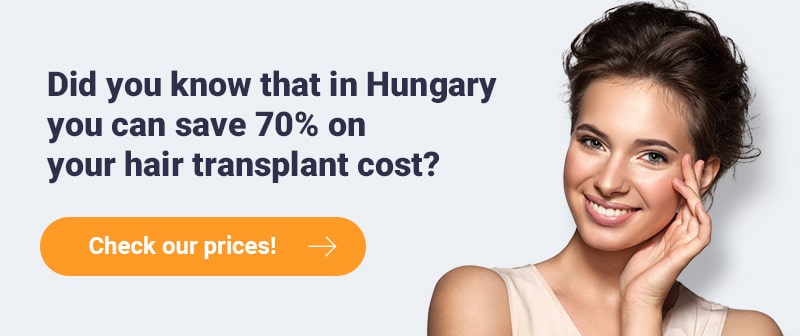 Visit our office in Chepstow for your free hair transplant consultation
Start your hair transplant journey with a free, no-obligation consultation at our office in Chepstow.
Our specialists will begin by examining your hair density and scalp with a high-end digital microscope. We'll explore your unique hair growth requirements and what you want to achieve with your procedure, before we prepare a tailored treatment plan.
This has all the details you need to know about your hair transplant, including the price. Our experts will also answer your questions during your private, one-to-one chat, and they'll provide honest advice to help you make the right decision for your hair.
Your hair transplant consultation in Chepstow will take around 20 minutes.
Advance reservation is needed — you can book an appointment with our colleagues today by calling HairPalace on +44 20 7131 0229.
HairPalace Hair Clinic Chepstow:
Riverside Court, Beaufort Park
Chepstow NP16 5UH
United Kingdom
Phone: +44 20 7131 0229
Which hair transplant technique do we use?
Surgeons at every HairPalace clinic use the innovative FUE2 hair transplant technique. This is an improved version of the traditional FUE procedure, and is the most advanced technology available.
This ensures you'll receive the same outstanding service and results at any HairPalace clinic, whether you choose our UK or Hungary clinic.
Our doctors have years of invaluable hands-on experience with the FUE2 technique, and recommend it for patients based on these key benefits:
no visible scarring
the procedure is painless
success rates as high as 90 – 95%
short recovery period
it's minimally invasive
donor areas can be preserved effectively
Meet our Chepstow hair transplant experts
We're proud to work with 6 remarkable surgeons with the right skills and experience to achieve the best results.
You'll be able to ask one of our specialists any questions you may have, and learn more about how our treatments can restore your hair successfully.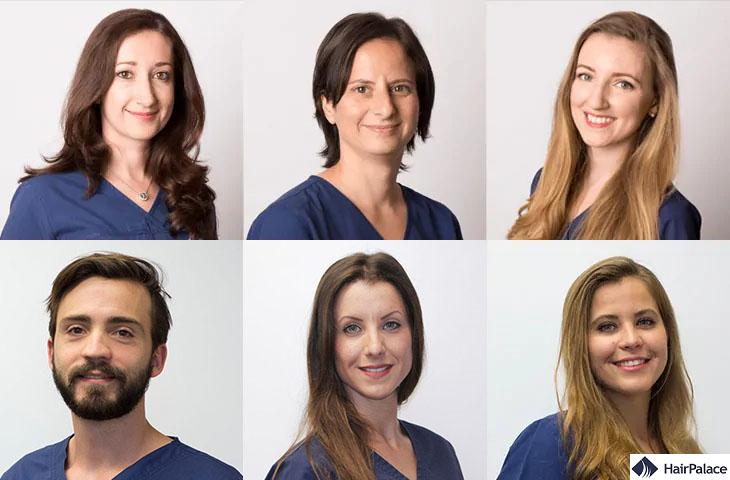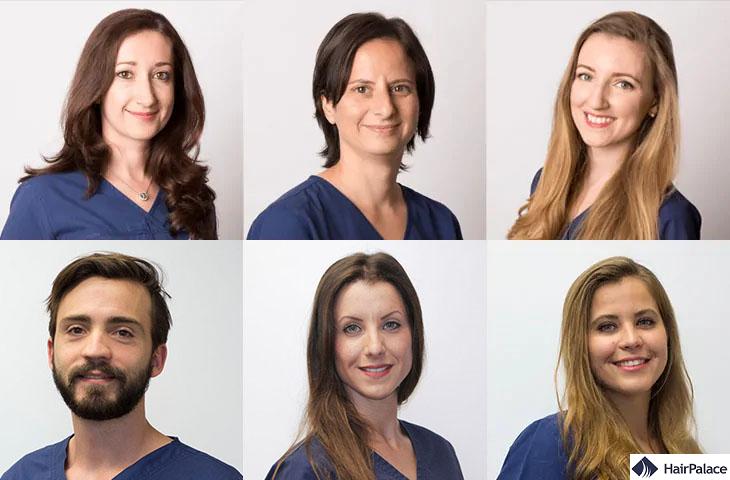 Why should you choose HairPalace?
We know it's not easy to choose one hair clinic and treatment for your hair restoration, with so many options to consider today. But HairPalace is committed to helping you find the ideal solution to restore your hair successfully.
What do we offer you?
Surgeons with vast experience


HairPalace's doctors have from five to 10 years' experience performing hair transplants. They work closely with our team to bring patients tailored solutions and stunning results.

Natural results


The FUE2 method enables our surgeons to reach incredibly high success rates and achieve natural, dense hair growth.

Written hair transplant guarantee


As our experts have access to cutting-edge technology, we can provide you with a written guarantee on your treatment. If less than 80% of your transplanted hairs grow out, we'll reimplant the missing amount — for free!

No visible donor area scars


Grafts are extracted one by one during FUE2 hair transplants, using a state-of-the-art micro punch for maximum precision. This causes no visible scarring on donor area(s).

Dedicated postoperative care


Proper aftercare is vital to cultivate the finest hair transplant results, so we'll book you in for six post-surgery check-ups. Our team will monitor your progress and answer your questions, for your complete peace of mind.

Competitive prices


HairPalace provides competitive hair transplant prices in Chepstow, and as our comprehensive packages cover all costs, there are no hidden charges.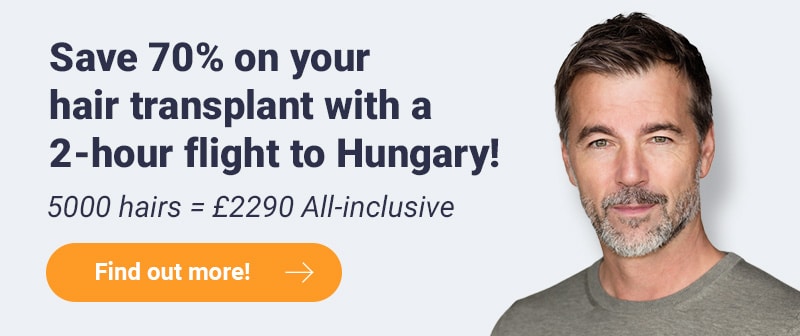 Read genuine hair transplant reviews from patients in Chepstow
Every year, hundreds of people visit HairPalace for hair transplant treatments. You can read many of their public testimonials across Trustpilot, Facebook, and Google to get a better idea of our services.
These also motivate our team to keep providing patients with service and treatments of the highest standard.
Browse our hair transplant reviews from real Chepstow patients now!
Just had 6000 hairs done and could not be happier. Everyone is so friendly and appreciate that I was a bit nervous coming from England. I suppose a helpful review would be to give you a background of myself:
I am 25 years old and started losing hair significantly a couple years ago. This was most noticeable in both corner triangles at the front, diffuse thinning at the front, and a bit at the Crown. I went to the consultation in London and they gave me a treatment plan for the front, middle and back of my head.
I flew out to Hungary 7 months later ( I could not get the time off work earlier) and have just today finished 6000 hairs over 2 days. The extraction of the donor hair is completely painless. There is a couple stings that feel like little pinches. I would rate this pain as 1/10. they implanted the hair at the front of my head on the first day (3000 hairs). The anaesthetic was as little bit more painful here, but again pain would be the wrong word. Its quick pinch and it's done. The lunch was great ( got a chicken salad) and watched Inception ( although I have seen it a million times!) There's a range of about 80 movies which are all really good
I have seen alot of posts say that both days were painless. I don't want to lie. There was about 45 minutes of the procedure on day 2 that really hurt. This was because they were implanting alot of hairs near the site they had done previously, and the area was odemateous. Not everyone feels this pain , but I would definitely say it was worth it. After lunch, the pain was gone with some painkillers.
Overall, hair palace is incredible. I'm not sure what I was expecting, but I definitely wasn't expecting such high standards. I would definitely recommend it and already have. I can not speak about my results as I have just got the procedure done, but I can see exactly where the hair will grow out and other results on the website and pictures in hairpalace look great. They were very honest with me aswell. They told me as I'm 25, there is chance I could lose more hair, so we altered the plan slightly. We decided to leave the crown, and focus the 6000 hairs in the front and middle of the head. Its like getting a haircut. A good hairdresser will actually recommend you do something else if you think it will suit you better, rather than just doing what you tell them to do.
A couple negatives I would say, but these are really not major issues:
Would have been nice if they left some water in the fridge when I arrived. I arrived really late, but luckily the driver ( who picked us up promptly from the airport) offered to stop off to get some stuff.
I specifically asked for a surgeon and this was confirmed twice via email due to a recommendation. However, they day I got there someone else was doing it. It was a bit annoying, but the Dr who did mine seems to have done an amazing job, so I presume everywhere is really good who works there
Finally, they only provide 2-3 days worth of saline for the treatment afterwards and I am buying some more tomorrow. It would have been nice if they had given me the weeks supply but you really can't complain given how cheap the intervention was. You really won't find a cheaper FUE transplant centre for the quality they provide. There are also some great places in Turkey ( reviews and results I have seen) but they are twice as expensive and the results are pretty much the same.
Nick | Oct 5, 2017