Hair Transplant in Cambridge: Costs and Services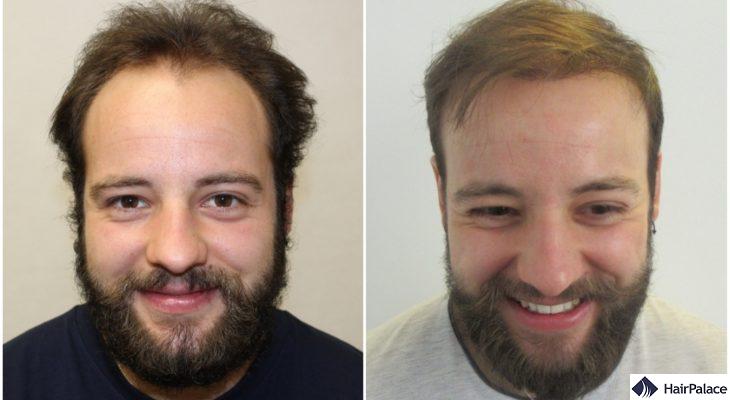 How much will a hair transplant in Cambridge cost?
Hair restoration prices are based on several factors, such as the method chosen and the number of hair follicles needed.
You'll pay the same rate for a hair transplant in Cambridge as in any other part of the UK: between £2 and £4 per graft.
HairPalace has hair clinics in both London and Budapest. Procedures at our London clinic cost from £1989 to £9042.
How can you get the best hair transplant in Cambridge for a competitive rate?
HairPalace is here to help!
Our Budapest hair transplant team offers the same FUE2 treatments as our London clinic, but at a much more competitive rate.
We're able to do this due to the lower wages and living expenses in Hungary. We'll still provide you with the outstanding service and exceptional results you would receive at any hair restoration clinic in Cambridge or London — just at a fraction of the price.
Hair transplants in Budapest cost between £1390 and £2190 with HairPalace.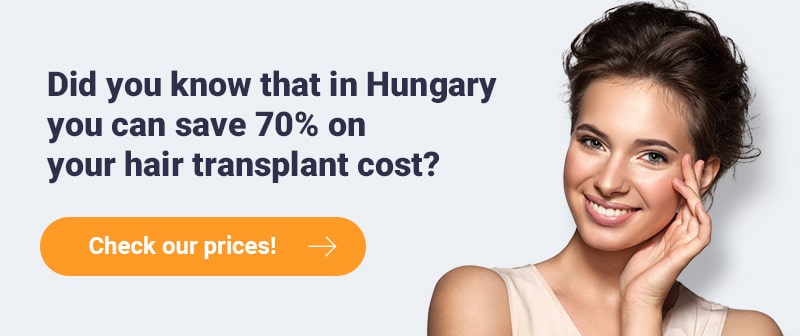 Visit our Cambridge office for your free consultation
Discover how our hair transplant specialists can help you with a free consultation at our office in Cambridge.
First, our experts will use a cutting-edge digital microscope to examine your hair density and scalp thoroughly. We'll assess your unique hair restoration requirements and discuss what you want to achieve.
After gathering these vital insights, we'll prepare a treatment plan tailored to you. This contains all the information you need to know about your procedure, including the price.
During your 20-minute no-obligation consultation, you can ask any questions you have. We want to help you make an informed decision.
Advance reservation is crucial — book your hair transplant consultation on +44 20 7131 0229 now.
HairPalace Hair Clinic Cambridge:
East Road Wellington House
Petersfield, Cambridge
Cambridgeshire CB1 1BH
Phone: +44 20 7131 0229
Which hair transplant technique do we use?
Our surgeons use the state-of-the-art FUE2 hair transplant technique for the most amazing results. As an enhanced version of the standard FUE procedure, this is the most advanced technology in the industry.
This ensures every patient will receive service and results of the highest standard at all HairPalace clinics, whether you visit our Hungary or UK team.
Our surgeons have vast experience in hair restoration treatments, and recommend the FUE2 procedure for the key advantages it offers:
no visible scars on the donor area
it's a painless treatment
success rates reach up to 90 – 95%
the recovery process is short
it's minimally invasive
the donor area is preserved effectively
Meet our Cambridge hair transplant experts
We're proud to work with six highly-skilled, experienced hair transplant surgeons.
Their unparalleled knowledge of the latest FUE2 technology ensures they achieve stunning results for our patients.
During a free consultation at our Cambridge office, you can ask one of our experts any questions you may have about your hair transplant.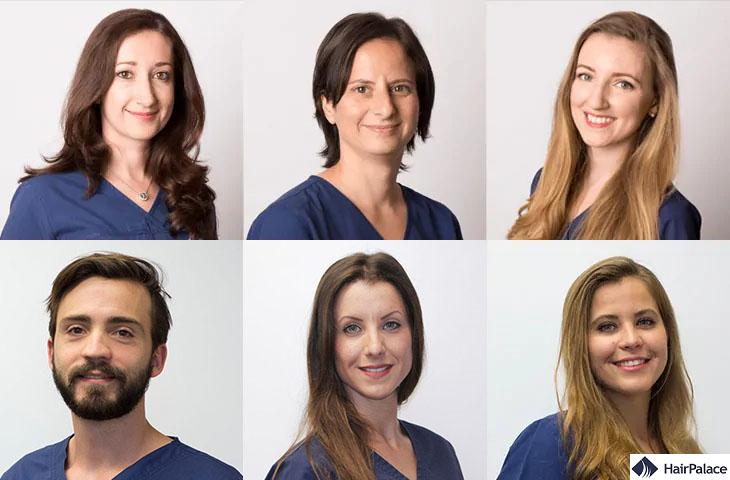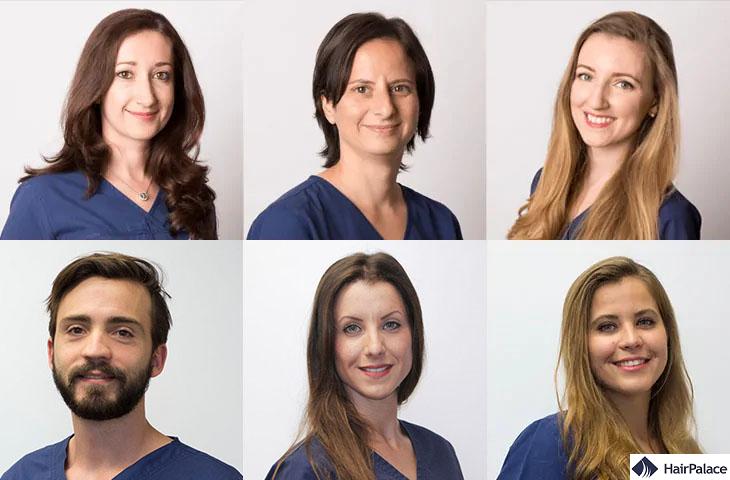 Why visit HairPalace for your hair transplant?
At HairPalace, we know there's an immense range of hair restoration clinics and treatments to choose from today. That makes deciding on just one harder than it perhaps should be.
But we're here to provide transparent advice and help you find the right solution.
So, what do we offer?
Seasoned hair restoration surgeons


Our hair transplant doctors have between five and 10 years of experience providing patients with unbelievable results. Along with our skilled team, they work hard to create tailored packages for each patient.

Hair transplants with natural results

At HairPalace, our doctors reach astounding success rates and achieve dense, natural results.

Written treatment guarantee 


Using advanced FUE2 hair restoration technology enables us to offer written guarantees on our treatments. If less than 80% of the transplanted hairs grow out, we will reimplant the missing amount — free of charge.

No visible scarring on the donor area


During FUE2 procedures, our doctors use a high-precision micro punch to extract one graft at a time. This leaves your donor area free of visible scars.

Reliable post-treatment care


We've found that proper aftercare is vital to cultivate the best hair transplant results. We'll schedule six check-ups to monitor your hair growth and answer your questions.

Highly-competitive prices


HairPalace's hair transplant prices in Cambridge are incredibly affordable. Our packages cover all costs, and there are no hidden fees to worry about.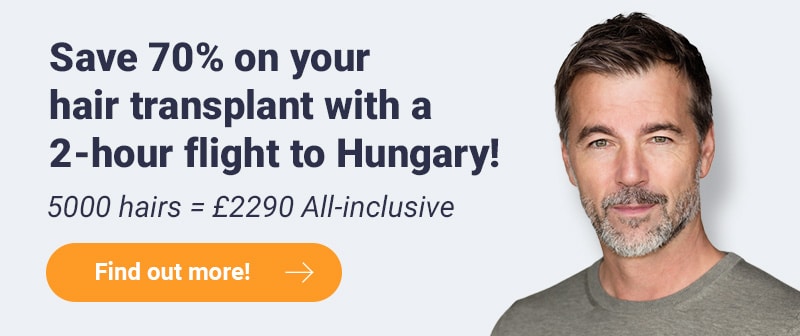 Genuine hair restoration reviews from patients in Cambridge
Every year, hundreds of patients visit HairPalace for a hair transplant. That's why we have amassed a huge range of public patient testimonials on Facebook, Trustpilot, and Google.
Browse our reviews to find out more about the quality service and results HairPalace's team offers. These also inspire us to keep working at our very best and achieving the finest results.
Check out honest hair transplant testimonials from our Cambridge patients!
Great experience with the clinic, very professional team, everything has been very well organised starting from arranging the dates and payments, the airport pickup, the blood test, to the procedure itself, exactly as advertised.
The procedure was split over two days as planned due to the number of hairs to be implanted. The doctor as well as the co-ordinators were excellent and explained everything very clearly in English.
Surprisingly, the procedure was not painful and there has been very little pain even during the recovery, although painkillers were provided just in case. I think the doctor has done a very good job in terms of density and symmetry of the implants, although it is too soon to see the final results yet.
Free lunch provided on the day of the procedure was also very good. The apartment was very nice and reasonably convenient to the clinic (15 min walk) and a large shopping centre (5 min walk). Overall, I would definitely recommend the clinic.
MH | Oct 6, 2018
Since I contacted them they have been very accommodating to my needs before the trip, giving be treatment plans, restaurants and recommendations.
The transfer from the airport was smooth and the apartment is brand new and about a 10 minute walk from the clinic. The staff are very friendly and caring. So far the treatment has been pain-free and easy. Can't wait to see the results.
jose morgado | Sep 25, 2018