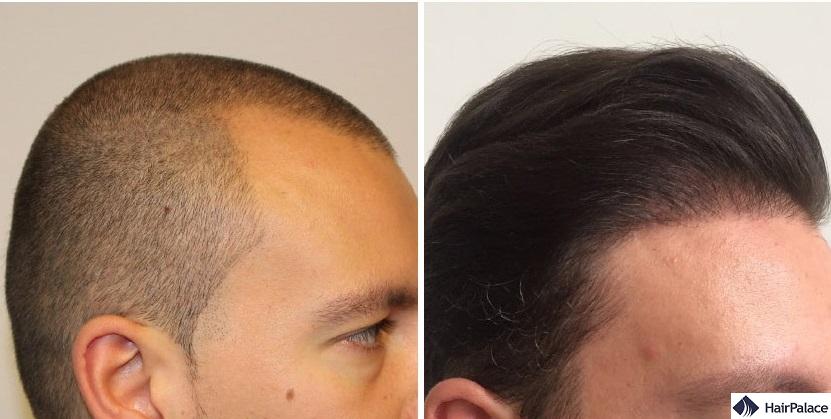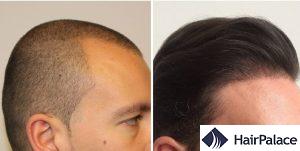 Xavier
Number of hair transplants: 1
Number of transplanted hairs: 4000
Xavier had his frontline extended by 4000 hairs. The hair restoration was a success: he was amazed by his new, youthful look!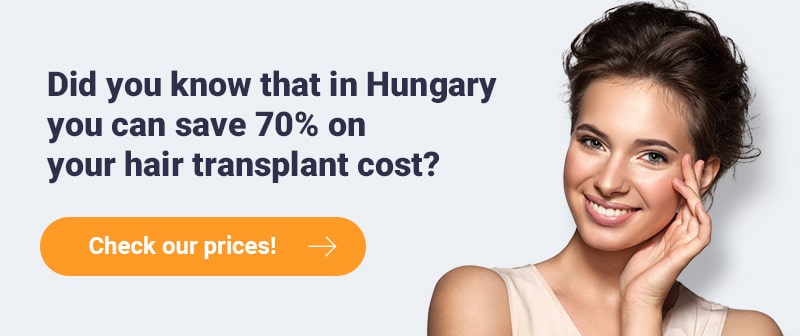 Get your free, no-obligation hair transplant consultation at our office in Camberley
Begin your hair transplant journey with a free consultation at our Camberley office.
The first step involves using a high-end digital microscope to examine your scalp and the density of your hair. We'll assess your hair restoration requirements, and discuss in detail what you want to achieve with your treatment.
When we have the information we need, we'll create a treatment plan tailored to you. This includes key details on your procedure, such as the price.
Our experts will answer your questions and provide you with transparent insights into the results you can expect to see. Your consultation will take around 20 minutes.
Advance reservation is needed — book your consultation with our colleagues on +44 20 7131 0229.
HairPalace Hair Clinic Camberley:
377-399 London Road
Camberley, Surrey
GU15 3HL
United Kingdom
Phone: +44 20 7131 0229
What will a hair transplant in Camberley cost?
The cost of a hair transplant is based on a range of factors, from the method chosen to the number of hair follicles required for effective growth. You can expect to pay the same price for a hair transplant in Camberley as you would across the UK: from £2 to £4 per graft.
We operate hair clinics in London and Budapest. Procedures are available for between £1989 to £9042 at our London clinic .
How can you get the best hair transplant in Camberley at a highly competitive rate?
HairPalace has the solution.
At our hair clinic in Budapest, our surgeons offer the same FUE2 treatments as our London team. The only difference is the more affordable price.
This is due to the lower living expenses and wages in Hungary. And you'll still receive the incredible service and results you would at a hair transplant clinic in Camberley or London.
You'll just pay significantly less for it.
Our hair restoration packages in Budapest range in price from just £1490 to £3890.
Which hair transplant technique do we use?
At each HairPalace clinic, our doctors utilise the state-of-the-art FUE2 technology to restore patients' hair. FUE2 is an improvement on the traditional FUE method, and is the most advanced option available today.
So, rest assured: you'll receive excellent service and stunning results at any HairPalace clinic, whether you visit us in the UK or Hungary.
Our surgeons have a wealth of experience in hair restoration. They're happy to recommend the FUE2 technique for patients based on the following reasons:
no visible scarring
it's a painless procedure
success rates as high as 90 – 95%
short recovery periods
FUE2 is minimally invasive
effective preservation of donor areas
Our hair restoration specialists in Camberley
We work with six committed surgeons at every clinic. They have the skills and experience to achieve the best hair transplant results.
You'll be able to speak with one of our doctors during your free hair transplant consultation in Camberley. They'll discuss your treatment in depth and answer your questions.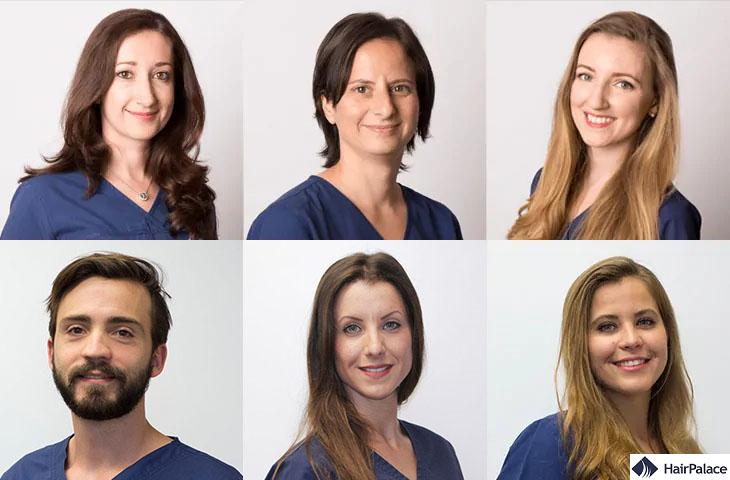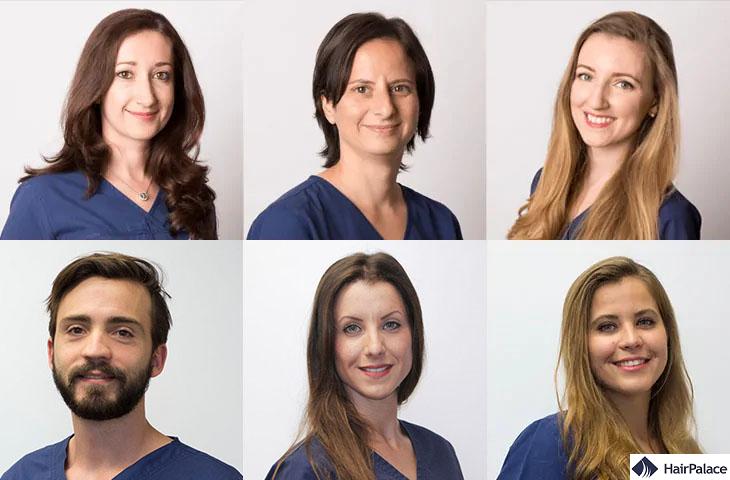 Why should you choose HairPalace?
With so many hair clinics and treatment options to consider, choosing just one can be incredibly difficult. But we're here to help you find the right procedure to restore your hair.
What can we offer?
Experienced surgeons


Our doctors have between five and 10 years' experience in hair restoration. Alongside our team, they provide patients with tailored solutions for the finest results.

Natural treatment results


Using the cutting-edge FUE2 hair transplant method enables our surgeons to reach remarkable success rates and achieve natural hair growth.

Written guarantee on procedures


As we use the most advanced hair restoration technology, we can give you a written guarantee on your surgery. If less than 80% of the transplanted hairs grow out, we'll reimplant the missing amount for free.

No visible scarring


Our surgeons extract one graft at a time during FUE2 hair transplants, using a high-precision micro punch. This leaves no visible scars on the donor area.

Quality aftercare


We believe that proper aftercare is essential to cultivate the best hair transplant results. You'll have six check-ups after your surgery, so our team can track your progress and answer your questions.

Highly competitive rates

We offer hair transplants in Camberley at affordable prices. Our packages cover all costs, with no hidden charges.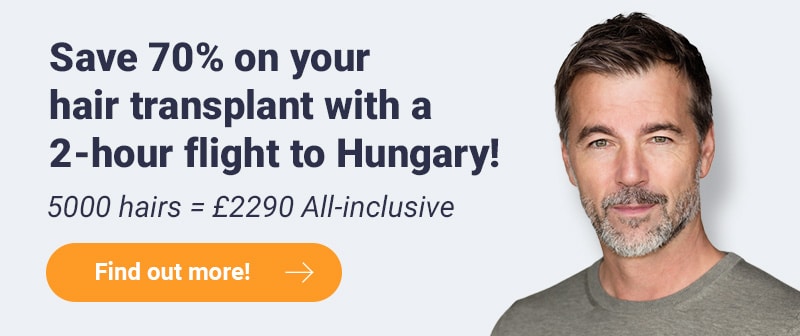 Hair transplant reviews from real Camberley patients
HairPalace provides hundreds of patients with innovative hair transplants every year. Public patient testimonials on Trustpilot, Facebook, and Google offer a clear insight into the unparalleled quality of our services.
They also motivate the HairPalace team to maintain our high standards and achieve the best results for each patient.
Read honest hair transplant reviews from our Camberley patients to learn more!
When I decided that I would like to have a hair transplant I carried out online research. I was apprehensive about going abroad so I went to see a specialist in Harley Street, London. The cost and invasive nature of the treatment encouraged me to reconsider a specialist abroad. I had already come across the Hair Palace's website which reassured me to book an assessment in London with them. With the assessment completed I was given a quote and dates when the procedure could be undertaken. I decided to book and was impressed with the communication regarding the logistics and how I should prepare. Flying to Budapest in Hungary, I was naturally a little apprehensive, but everything went to plan and I was collected from the airport and taken to my hotel. I was pleased once I had arrived at the Hair Palace clinic the following morning where I was made to feel comfortable and everything was explained to me. The facilities are modern and stylish and the staff very friendly. The procedure was not painful and I watched films of my choice during that time. The food I chose at lunchtime was delicious and the aftercare instructions thorough. The results have been excellent with my receding hairline restored. The regular assessments are easy to adhere to and underline the care the Hair Palace has for its patients. I would not hesitate to recommend the Hair Palace to anyone wishing to have a hair transplant.
Simon Down | Oct 17, 2017