Hair Transplant in Brighton: Costs and Services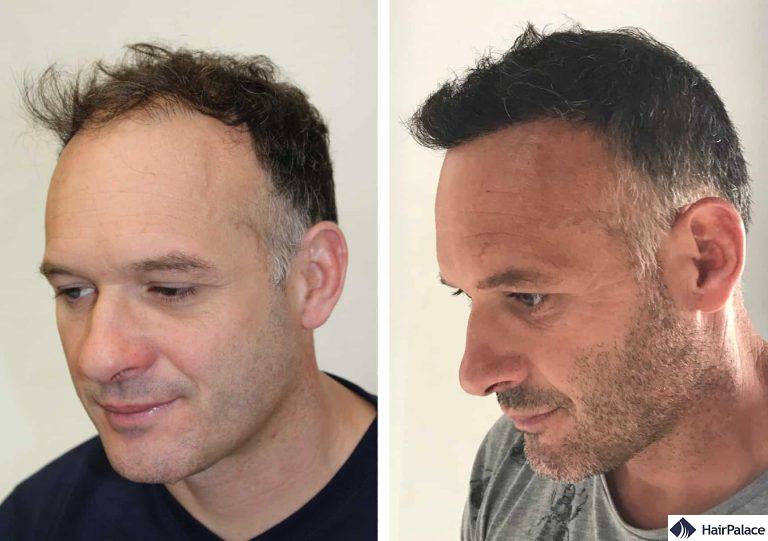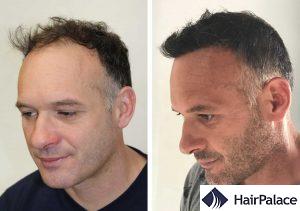 Emmanuel
Number of hair transplants: 1
Number of transplanted hairs: 6558
Emmanuel visited us back in 2018 to get a FUE hair transplant. After a year, he told us he feels like a brand new person with a young and confident look.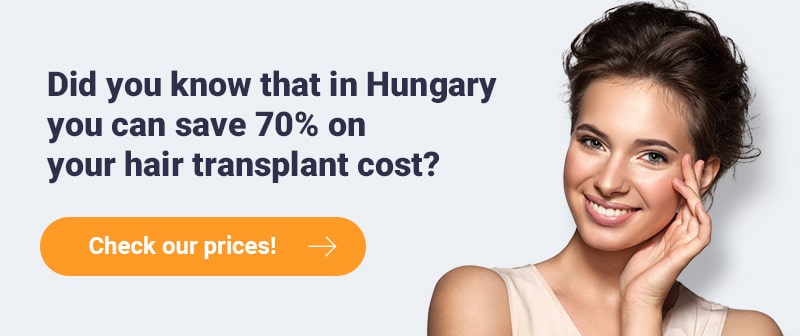 Get a free expert consultation at our office in Brighton
Your journey towards a transformative FUE hair transplant starts with a free, no-obligation consultation in Brighton.
This is your chance to speak with one of our experts and learn more about our amazing services.
We'll examine your scalp and assess the density of your hair using a state-of-the-art digital microscope. We'll follow this by discussing your goals and expectations in detail.
Once we know more about your scalp and hair loss, we'll create a bespoke treatment plan.
This will feature crucial information about your procedure, including an accurate price for your peace of mind.
We'll answer your questions honestly, and offer transparent advice on the right treatment for your hair loss.
The entire consultation should last around 20 minutes. Advance reservation is essential.
Call +44 20 7131 0229 to book your appointment with our colleagues today.
HairPalace Hair Clinic Brighton:
Queensberry House
Brighton
East Sussex
BN1 3XF
United Kingdom
Phone: +44 20 7131 0229
How much will a hair transplant in Brighton cost?
Your hair transplant cost will vary depending on the number of follicles to be transplanted and the method required.
Generally, you can expect to pay the same price for a hair transplant in Brighton as you would in any other part of the UK. This is between £2 and £4 per graft.
HairPalace has hair transplant clinics in London and beautiful Budapest, Hungary. Our London clinic prices range from £1989 to £9042.
How can you get the best hair transplant in Brighton for a more competitive rate?
HairPalace provides the same FUE2 procedures at our Budapest clinic as at our London clinic. But these are available at a more affordable price point.
Why? Because Hungary's living expenses and wages are lower than the UK's.
This enables us to offer the outstanding service and treatment quality you would receive at a hair transplant clinic in Brighton or London at a much lower rate.
Our Budapest hair transplant packages vary from just £1390 to £2590.
Which hair transplant method do our surgeons use?
Experts at each HairPalace clinic employ the latest FUE2 hair transplant technique. This is an improved version of the standard FUE (Follicular Unit Extraction) procedure, and is the most advanced technology available.
This empowers us to deliver the same exceptional service in the UK and Hungary. Our doctors have years of hands-on hair restoration experience, and recommend the FUE2 because it:
leaves no visible scarring
is a pain-free procedure
has success rates of up to 90 – 95%
involves a short recovery period
is minimally invasive
preserves donor areas effectively
Meet our hair transplant in Brighton specialists
At HairPalace, we work with six incredible doctors.
They have the invaluable training, skills, and experience necessary to achieve the best results.
You will meet one of our dedicated surgeons during your free hair transplant consultation in Brighton.
They will be happy to answer your questions, discuss any concerns you may have, and explain how the procedure works.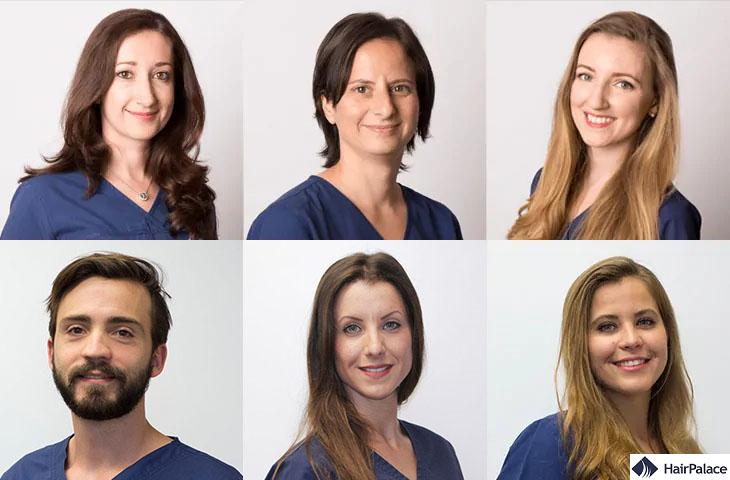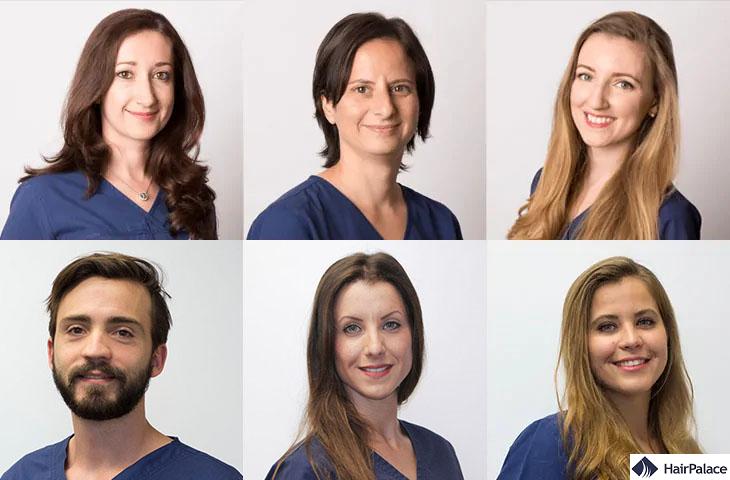 Why should you choose HairPalace for your hair restoration?
Choosing just one hair clinic and treatment out of the many available can be difficult. But we're committed to helping you find the ideal solution for your hair transplant.
What do we offer?
Doctors with unparalleled experience

HairPalace's doctors have between five and 10 years' experience performing hair transplants.

Alongside our team, these doctors are dedicated to bringing you a bespoke solution to achieve the finest hair restoration.

Natural, authentic results

The remarkable FUE2 hair transplant technique enables our surgeons to achieve amazing success rates.

Restored hair will match existing hair, blending seamlessly for the most natural results.

Unique written guarantee

As we have access to the most effective hair transplant technology, we're confident enough to offer a written guarantee on your procedure.

If less than 80% of your transplanted hairs grow out, we'll reimplant the missing hair for free!

No visible scarring on the scalp

The advanced FUE2 technique extracts one graft at a time via a revolutionary micro punch. This leaves no visible scars in the donor area.

Reliable post-treatment care

We believe post-operative aftercare is crucial to achieve the right results. That's why we'll schedule six check-ups to check you're progressing properly after your procedure.

We'll be at your side during your journey to hair restoration, ready to answer your questions at any stage.

Incredible pricing

HairPalace offers affordable hair transplant prices in Brighton, and our packages cover all costs. You have no hidden charges to worry about.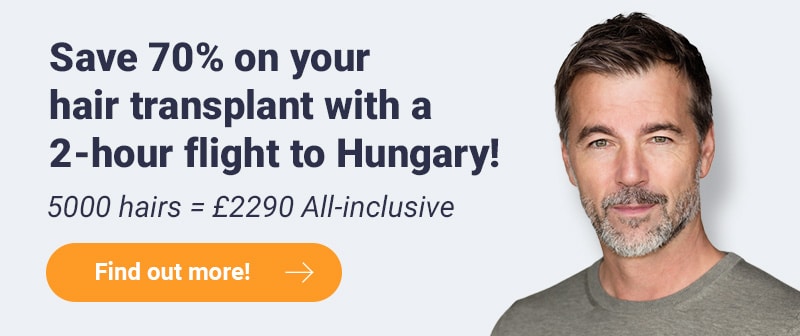 Authentic Brighton hair transplant reviews
Hundreds of patients pick HairPalace for a hair transplant procedure every year. You can learn more about their success in genuine public testimonials on Trustpilot, Facebook, and Google.
Such fantastic feedback motivates us to keep performing to the highest standard and provide you with a clearer idea of the astounding results you can expect.
Browse our hair transplant reviews from patients in Brighton now!
I had been thinking about having a hair transplant for years, then it got to the point that I either needed to shave it off or finally get it done.
I had researched the UK option quite a bit and had consultations, but it always felt like it was 'car salesman' pitch for high priced offering but with not enough grafts to do an effective job.
I had read that Budapest was becoming a hotspot for hair transplants and I came across HairPalace by a friends recommendation. Knowing somebody that had been through the processes who was willing to share his experience really gave me the confidence to go for it!
My first consultation was in the UK and I then had my first surgery 18 months ago, which successfully restored my hairline.
I have just completed my second surgery and hope to get the same results as the first!
The HP service is excellent:
– Very friendly, helpful and honest with great communication throughout. Their approach really does make it easy for you.
– Relaxed sales approach – no pushy sales technics like in the UK.
– Janos who co-ordinated my second treatment was amazing, great communication and I was nervous travelling during the pandemic and getting through the boarder, but Janos arranged everything to ensure it was a smooth process. He even found me alternative flights when my initial flights were cancelled!
– Very nice accommodation provided which is close to the clinic, transfers to and from the airport all pre arranged with the driver providing the keys and showing you to the apartment.
– The clinic is very nice, clean and comfortable and the HP staff make you feel very welcome and relaxed – to the extent that I have fallen asleep in each of my surgeries!
– I couldn't believe how painless the first surgery was. The surgeons are very attentive and when I did get some minor soreness on the second surgery they were quick to provide additional painkillers to ensure I was comfortable.
– Excellent lunch provided on surgery days and entertainment for during the surgery – extensive options for both.
I'm not getting anything in return for this review, just happy to share my experience – if somebody hadn't done the same for me I may never have done it!
Thank you again to the HP team!
  Dec 10, 2020 | Chris