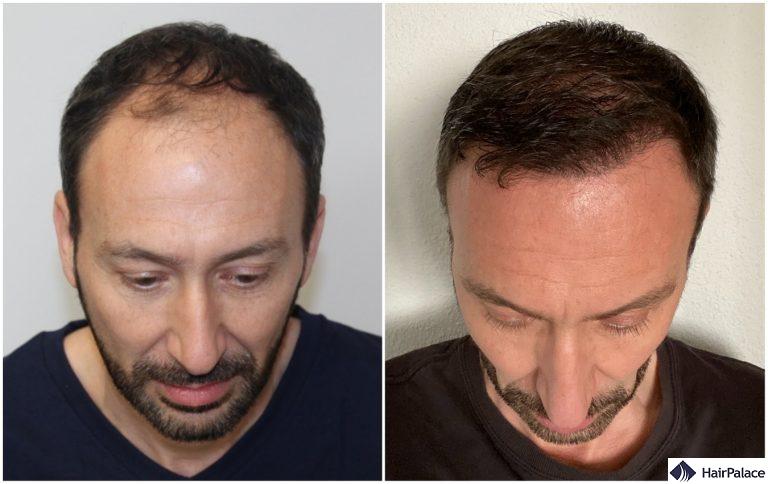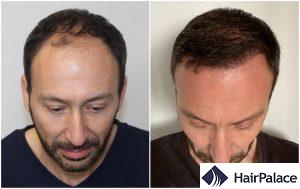 Norbert
Number of hair transplants: 1
Number of transplanted hairs: 6313
In just a year, Norbert gained a spectacular look. We lowered his hairline by transplanting more than 6000 hairs. He was extremely glad to see the dense and natural result.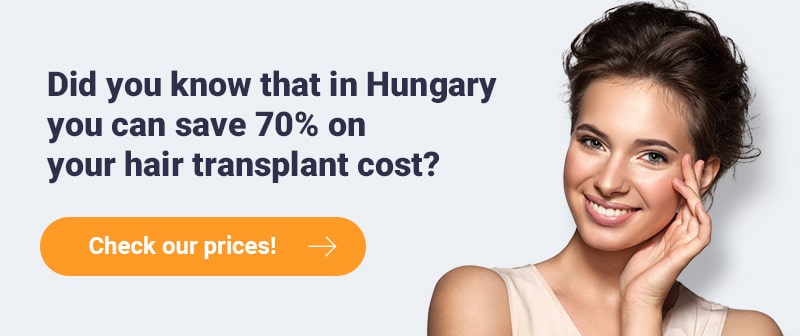 Get your free, no-obligation hair transplant consultation at our Brentwood office
Visit HairPalace's office in Brentwood to speak with one of our hair transplant specialists and find out how we can restore your hair using the latest technology.
We'll start with a thorough examination of your hair density and scalp, using a digital microscope. During this process, we'll assess your hair restoration needs and discuss what you would like to achieve with your treatment.
These insights will help us create your tailored treatment plan, which includes the price and other vital information.
During your free, one-to-one consultation, we'll answer any questions you have. This meeting will last approximately 20 minutes.
Advance reservation is needed for consultations — books yours with our colleagues on +44 20 7131 0229 today.
HairPalace Hair Clinic Brentwood:
3 The Drive, Jubilee House
Great Warley, Brentwood
Essex CM13 3FR
United Kingdom
Phone: +44 20 7131 0229
How much is a hair transplant in Brentwood?
The cost of a hair transplant depends on multiple key factors, including the method chosen and the number of follicles needed for dense growth.
You will pay the same rate for a hair transplant in Brentwood as you would in other towns and cities in the UK. Typically, this is between £2 and £4 per graft.
HairPalace has popular hair transplant clinics in London and Budapest. At our London hair clinic, procedures cost from £1989 to £9042.
Want to get the best hair transplant in Brentwood for a more affordable price?
We'll make it happen.
Our hair restoration doctors in Budapest perform the state-of-the-art FUE2 procedure available at our London clinic — but for a much lower price.
We're able to offer more competitive packages in Budapest due to Hungary's lower living expenses and wages. And you'll still receive the amazing, dedicated service you would at a hair transplant clinic in Brentwood or London.
You'll just pay significantly less for it.
HairPalace's hair restoration treatments in Budapest range from just £1390 to £2590.
To explore these deals further, check out the page covering our hair transplant prices in Budapest now!
Which hair transplant method do we offer?
Surgeons at every HairPalace clinic use the innovative FUE2 technique to restore patients' hair. FUE2 is an improved version of the traditional FUE method, and is today's most advanced hair transplant technology.
This ensures you'll receive the best hair transplant results whether you choose our hair clinic in the UK or Hungary.
Our surgeons have years of experience in hair restoration, and consistently recommend the FUE2 technique due to the number of benefits it offers:
FUE2 leaves no visible scars
the treatment is painless
our success rates reach up to 90 – 95%
the recovery process is short
it's minimally invasive
effectively preserves the donor area
Meet our seasoned Brentwood hair transplant experts
We work with six accomplished doctors with invaluable skills and experience in the latest hair restoration method. They're committed to achieving excellent results every time.
You'll have an opportunity to meet one of our specialists for an in-depth chat during your free consultation at our office in Brentwood.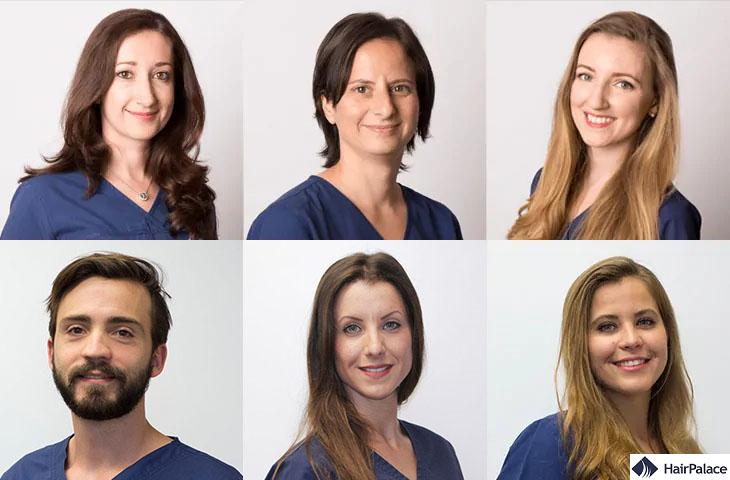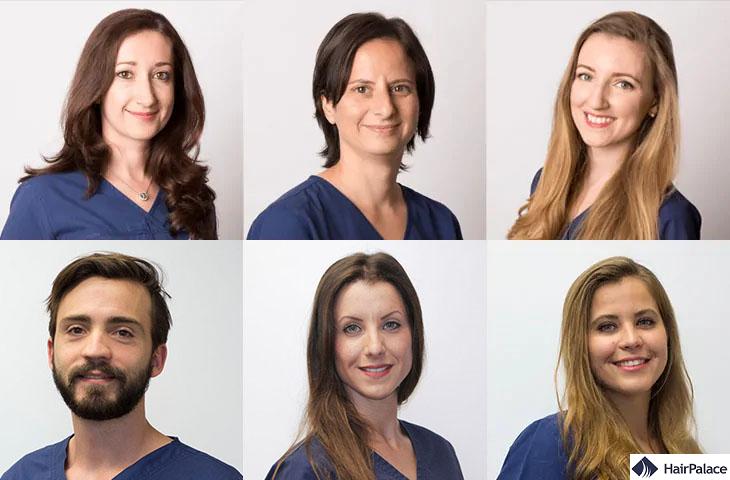 Why is HairPalace the right hair clinic for you?
With so many hair clinics and treatments available, knowing which one is right for you can be incredibly difficult. But HairPalace's team is here to help you find the ideal solution for your hair restoration, based on your individual needs and goals.
What can we offer?
Doctors with invaluable hands-on experience


HairPalace's surgeons have five to 10 years' experience providing patients with cutting-edge hair transplants. They work closely with our skilled team to deliver unbeatable service and stunning results.

Outstanding natural results

Using the latest FUE2 method enables our surgeons to reach remarkable success rates and achieve dense, natural hair growth.

A written treatment guarantee


We provide you with a written guarantee on your hair transplant, as we use the most innovative technology available. If less than 80% of your transplanted hairs grow out, we'll reimplant the missing amount for free.

Hair restoration without visible scars


HairPalace's doctors extract grafts one by one using a highly-accurate micro punch. This precision ensures donor areas remain free of visible scars following the treatment.

Proper post-surgery care


We believe that effective aftercare is crucial to achieve the finest results. That's why we'll book you in for six check-ups after your surgery. This allows us to assess your progress and answer your questions. We'll be here to help throughout your hair restoration journey.

Exceptional rates


HairPalace provides patients with incredible hair transplants at affordable prices. Our packages cover all costs, so there are no hidden charges.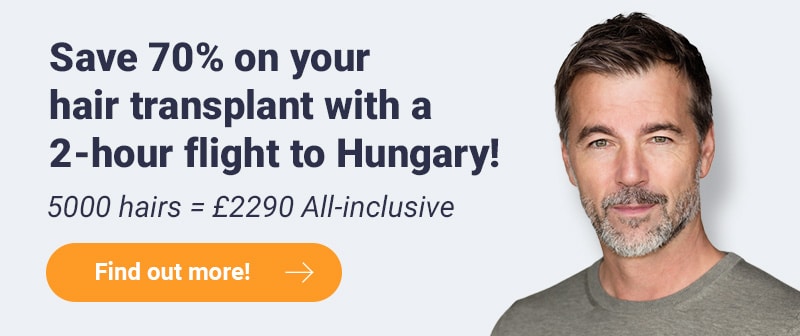 Read honest hair transplant reviews from patients in Brentwood
Every year, hundreds of patients visit HairPalace for hair restoration surgery. Many write public patient testimonials on Google, Trustpilot, and Facebook, all available for you to reach now.
These can give you a clear idea of the results you can expect, and inspire us to keep performing at our best.
Browse real hair transplant reviews from our Brentwood patients now!
Hi just like to say I'm only 6 months in and I can not believe my results, I'd had my hair done previously with someone else (beautytravels24) and was scammed out of £5000 and left with a funny looking head of hair so I contacted hair palace and from start to finish the girls made me feel so much different and believed in the stress this can cause as it's a massive problem to lose your hair, I was made very welcome and taken absolute great care of from landing to leaving, every bit of help was offered to me, now 6 month on and let me tell you the results are out of this world especially as this was a big decision for me after being scammed, I can't thank the girls and there amazing company hair palace for the way they have brought my hair back to life and totally got rid of the damaged look, I would recommend them to anyone and everyone looking for hair transplantation, they have made me so very happy and 110% more confident. Thank you so much!
Darren | Mar 21, 2018
Hungary is a very nice place to vist, language is different to most but still i find it very relaxing to listen to. Excellent staff, Lovely clean clinic. 10/10 if your looking for a honest clinic this is the place to go!! Apartment was very clean modern and well decorated. Went for 6000 grafts well worth it. Procedure was painfree apart from injections which are a little painful for a second then you're numb!! Cant thank them enough!!
 Matthew w | Feb 24, 2018