Hair Transplant in Bournemouth: Costs and Services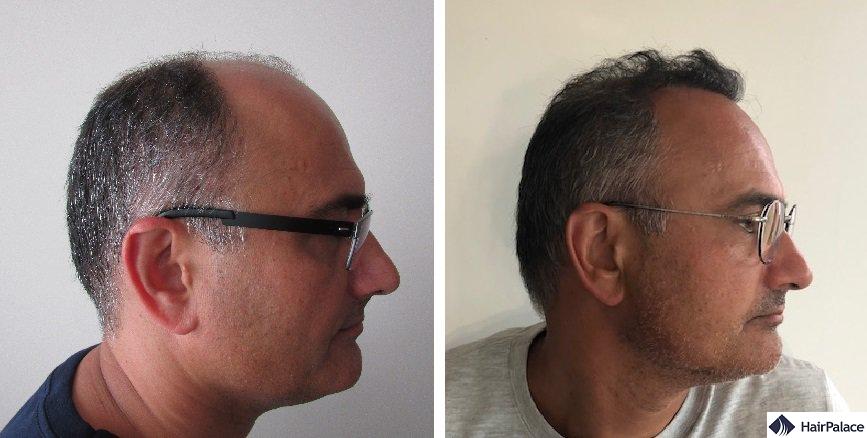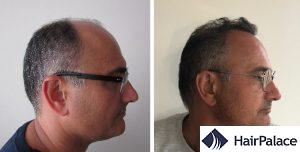 John
Number of hair transplants: 2
Number of transplanted hairs: 12.280
John visited us in 2016 and 2019. The FUE hair transplant went successful, he was extremely satisfied with the result. His change is super visible!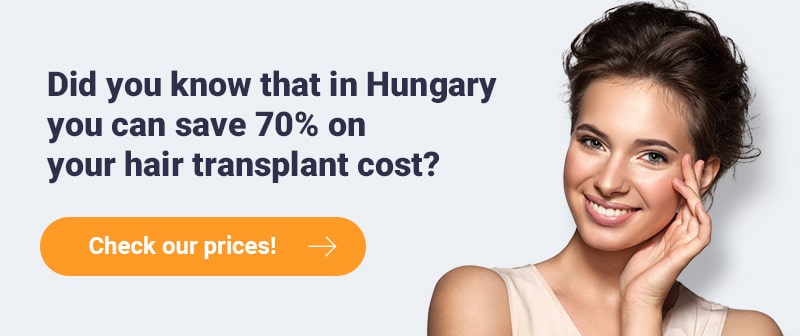 Visit our Bournemouth office for a free no-obligation consultation
Start your journey to incredible hair restoration with a free consultation at our Bournemouth office.
This is a private, one-to-one meeting with a hair transplant specialist.
Our expert will use a state-of-the-art digital microscope to examine your hair density and scalp. They will assess the extent of your hair loss and discuss your personal restoration goals.
Next, we'll prepare a tailored treatment plan for you based on our findings and your needs.
This will contain all the details you need to know about your hair transplant, including an accurate price.
Our specialists will be happy to answer any of your questions and offer insights into the procedure.
Your no-obligation consultation will last around 20 minutes.
Advance reservation is required for our Bournemouth hair transplant consultations — you can book your appointment with our colleagues by calling HairPalace on +44 20 7131 0229 today.
HairPalace Hair Clinic Bournemouth:
19 Oxford Road
Bournemouth
BH8 8GS
United Kingdom
Phone: +44 20 7131 0229
How much does a hair transplant in Bournemouth cost?
The price of hair transplants varies depending on multiple factors, such as the number of follicles you need for successful restoration and your preferred method.
For a Bournemouth hair transplant, you would pay the same rate as in any other UK city: typically, from £2 to £4 per graft.
HairPalace has hair transplant clinics in London and Budapest, Hungary. Our London prices range from £1989 to £9042.
Would you like to receive the best hair transplant in Bournemouth at a more affordable price?
HairPalace can make it happen.
To make our services available at more competitive rates, we have brought the advanced FUE2 procedures from our London clinic to our Budapest clinic.
We can offer the outstanding quality of service you would expect at a hair transplant clinic in Bournemouth or London for a much lower price.
This is due to Hungary's lower living expenses and wages.
Amazingly, our Budapest hair transplant packages are available for between just £1390 and £2590.
Which hair transplant technique do we use?
Every HairPalace clinic uses the cutting-edge FUE2 method of hair restoration.
This is an improved version of the traditional FUE procedure and is the most advanced technology available today.
This ensures you'll receive the same amazing service and results whether you visit our hair clinic in the UK or Hungary.
Our doctors have years of experience using the FUE2 hair transplant technique, and continue to recommend it to patients for the following reasons:
no visible scarring remains after surgery
FUE2 is painless
success rates reach as high as 90 – 95%
recovery period is short
FUE2 is minimally invasive
the donor area is preserved effectively
Our hair transplant specialists in Bournemouth
HairPalace's team is proud to work with six exceptional doctors.
They have the invaluable skills and hands-on experience necessary to achieve the finest hair transplant results.
You will meet one of our surgeons during your free hair transplant consultation in Bournemouth, one of the UK's most popular coastal towns.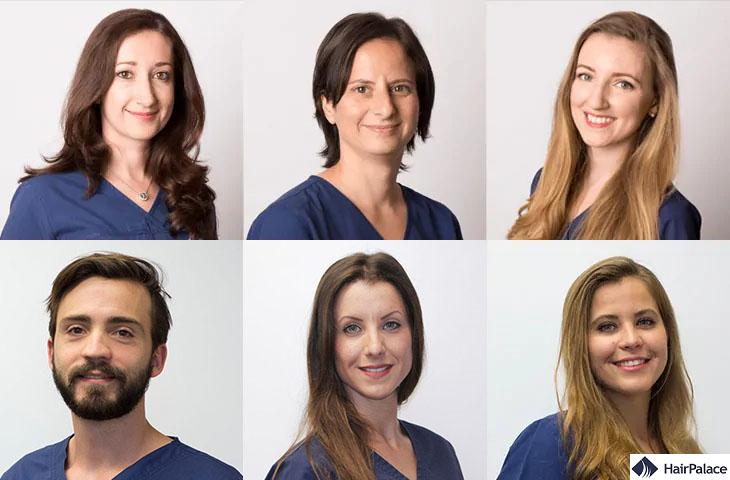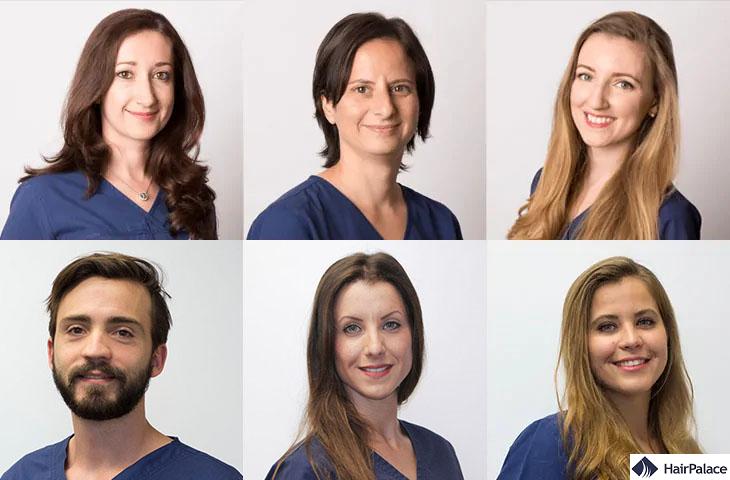 Why should you choose HairPalace?
We know you have numerous hair transplant clinics and restoration techniques to choose from. We know the variety of options can make choosing just one difficult.
That's why we're dedicated to helping you find the right solution for your hair restoration.
What can HairPalace offer you?
Doctors with years of experience

The doctors we work with have between five and 10 years of experience in hair transplant procedures.

Alongside our hard-working team, these surgeons are committed to bringing you a tailored solution designed to achieve the finest results.

Natural results for seamless hair restoration

We can achieve exceptional success rates and dense, natural results with the latest FUE2 method.

Written guarantee for your treatment

Having the most effective hair transplant technology at our clinics, we're happy to provide a written guarantee: if less than 80% of the transplanted hairs grow out, we'll reimplant the missing amount for free!

No visible scars

The FUE2 technique involves extracting one graft at a time with a precise micro punch. This leaves no visible scarring in the donor area.

Proper aftercare

Effective aftercare is crucial to achieve the best results. That's why we'll schedule six check-ups following your surgery, to ensure your hair restoration progresses as it should.

We're here to answer any questions you may have at any stage.

Outstanding rates

HairPalace offers highly-competitive hair transplant prices in Bournemouth. Our packages cover all costs, so there are no hidden charges to worry about.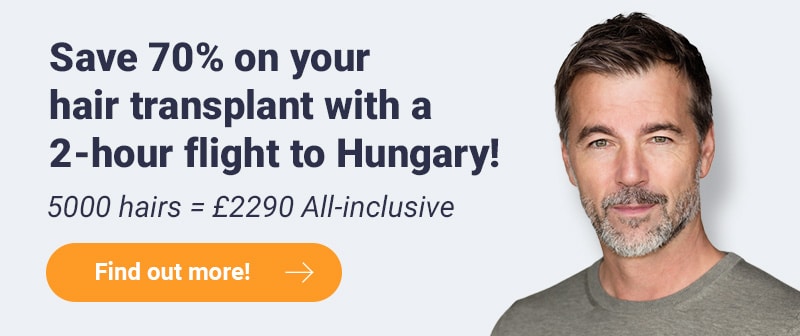 Hair transplant reviews from Bournemouth
Hundreds of patients pick HairPalace for their hair restoration surgery every year. Many leave genuine public patient testimonials on Trustpilot, Facebook, and Google.
These inspire us to maintain the highest standards and demonstrate the incredible quality you can expect from our experts.
Check out some of our Bournemouth patients' hair transplant reviews to learn more!
My experience at HairPalace was great, and I always felt good and looked after.
I was very nervous on the first day but after meeting Dr. Kitti I immediately felt at ease and reassured that everything will be good and I will be in the best hands.
The staff is professional and the facilities clean and well equipped. I am now looking forward to seeing the results in the next few months.
Thanks to everyone for your service and all the best! GG
   Giacomo | Jan 16, 2021
WOW is all I can say, the staff here are so friendly, I was very nervous at the beginning but every single member of staff made me feel at ease throughout the whole thing.
I had 6000 hair implanted so was their for 2 days.
Sandor Taoz was my surgeon and he was brilliant!
He talked me through the whole process before we started, also talked me through everything he was doing before he did it, from the injections, to spraying the head down.
Anyone who is thinking of getting a hair transplant done I would 100% recommend these guys you will not be disappointed!
 Ben Prior | Feb 21, 2019