Hair Transplant in Aberdeen: Costs and Services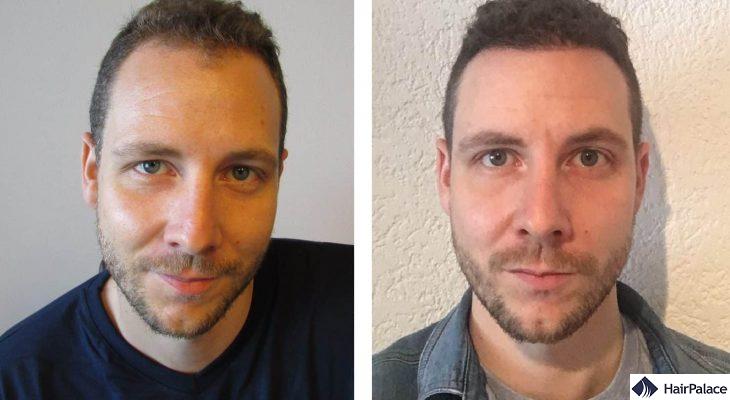 How much is a hair transplant in Aberdeen?
The number of hairs you need and the surgical technique of your choice will greatly affect the hair transplant cost in Aberdeen.
In recent years, many public figures have endorsed these aesthetic treatments, gradually making them more available for the wider public.
But while the prices are not stellar anymore, Aberdeen hair transplant costs can still be prohibitive for many.
In Scotland, the clinics' expenses including salaries, medication, equipment and overhead keep the prices relatively high too.
Hair transplant clinics in Aberdeen or Glasgow usually charge £2-4 per graft, thus the total costs can quickly add up to £7000-15000 for a single session.
With HairPalace, you can have your procedure done in London or in Budapest. The service and the care are the same, and our teams follow identical protocols and procedures in all of our locations.
At our London clinic, hair transplants cost between £1989 to £9042.
However, at our hair clinic in Budapest, you can opt for more affordable prices.
There are large economic differences between the UK and Hungary. As a result, for us to offer the same, high-quality service and environment for you to restore your hair is much lower in Hungary. 
This translates to package prices ranging from £1390 to £2190, depending on the number of hairs you need.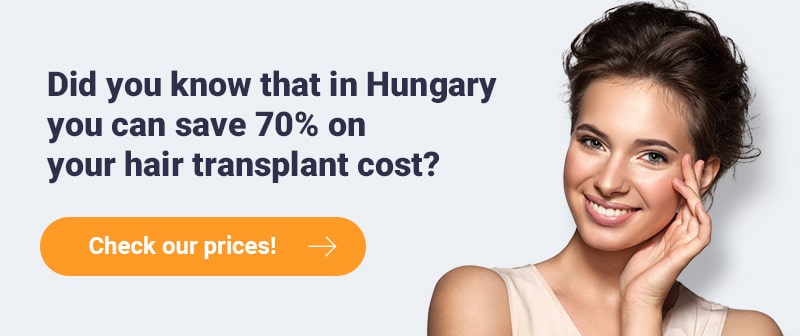 Visit us for a free hair transplant consultation
Looking for a hair transplant in Aberdeen, one should take the first step in time to achieve the best possible result. 
As each case is unique, the best way to get accurate advice in your case is to have your condition examined. 
During the examination, one of our hair transplant surgeons evaluates your condition with a digital hair density and scalp camera.
This allows us to discuss your options accurately and answer all questions you have about the hair transplant procedure.
After the assessment, you will receive the treatment plan and quote tailored to your needs.
For advance reservation and further information, please contact our team on +44 20 7131 0229!

HairPalace Hair Clinic Aberdeen:
Circus Building
6 International Avenue, Aberdeenshire
AB21 0BH
United Kingdom
Phone: +44 20 7131 0229
Which hair transplant method do we recommend?
Hair transplantation results are permanent, so it is important to choose the right technique.
Currently, the most advanced method available is the FUE2; we use it for all our hair restoration procedures. 
Similarly to the original FUE, it extracts the follicular units one by one. As it uses a blunt punch, it ensures that the hairs are not harmed during the surgery.
It reduces not only the risks of complications and the recovery time, but it also offers the highest success rate in the field.
Furthermore, the FUE 2 SafeSystem method is:
completely pain-free

doesn't leave visible scars

up to 90-95% of the transplanted hairs grow back

provides natural-looking results 

reduces recovery time 
Our hair transplant experts in Aberdeen
Hair transplantation is a highly technical and delicate aesthetic procedure. As such, the personnel must be properly trained, certified and they need a significant amount of experience in the field.
Our surgeons are working exclusively in surgical hair restoration making them masters of their medicine.
They regularly attend international conferences to provide you with the best of care and they are available to discuss your hair transplant in Aberdeen!
Why choose HairPalace?
Choosing the right hair clinic in Aberdeen – or anywhere else – is not easy.
At HairPalace, we are dedicated to providing comprehensive and patient-focused service and care.
We believe that our seasoned experts equipped with the latest technology can help you achieve the best hair transplant result in Aberdeen.
Here is what we offer for you:
Experienced surgeons

Each surgery is carried out from start to finish by a doctor. Our surgeons have 5-10 years of experience in hair transplantation and possess the necessary skills to provide you with customized treatment.

Natural hair transplant results

With the FUE2, up to 90-95% of the implants grow back. As the hairs are transplanted one by one, natural look and high density can be achieved.

Written guarantee

We offer a written guarantee on our hair transplant procedures. If less than 80% of the hairs grow out, we reimplant the missing amount, free of charge.

No visible scars

The FUE2 is minimally invasive, it uses a blunt micro punch to extract the hairs. As a result, it doesn't leave visible scars leaving you the option to go for shorter hairstyles later on.

Post-op care

The result of the hair transplant surgery takes 12-15 months to show properly. We will monitor the process through 6 check-ups, to ensure that you achieve the result you are looking for. In addition, your surgeon and team will be available to answer any questions you might have in the post-op period.

Excellent price

With our clinics in London, Budapest and Paris, you do not need Rooney's paycheck to get back your dense hair. We offer comprehensive package prices that include your stay, without hidden charges.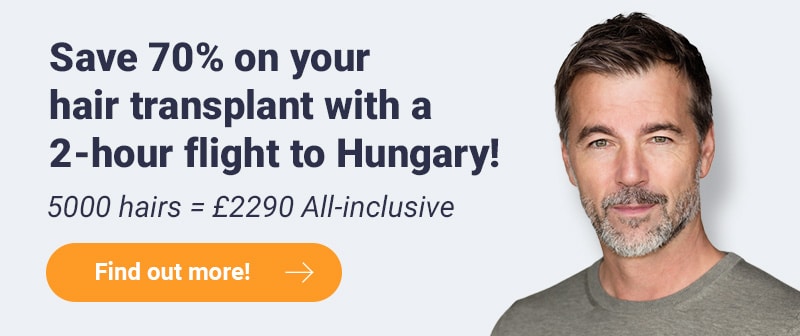 Aberdeen hair transplant reviews
Hair transplant treatments are not taboo anymore. In the last couple of years, this aesthetic treatment has seen incredible growth.
Each year we treat more than 500 patients with more and more of them opening up about their struggle with baldness and their procedures.
Their feedback is invaluable for us and we believe that their insight can help you learn more about the services we provide.
Feel free to take a look at our reviews from many of our satisfied patients throughout the country!
Just received my hair transplant and cant speak highly enough of the hair palace clinic.
From the first consultation to the actual procedure I was very impressed with the staff and facilities.
I was picked up from the airport and taken to a great apartment which is 10 minutes walk to the clinic and close to local shops etc. The staff were all very professional, welcoming and everything was explained clearly which made me feel at ease.
I highly recommend getting treatment here and thanks again to the hair palace team for making me feel so comfortable. Also the service is provided at an affordable price.
   David Mycroft | Aug 31 2019
I have completely regained my self confidence and no longer feel self conscious around other people or when I look in the mirror. I used to be forever adjusting my hair to try and hide my receding hairline and worried about what other people thought. Now 4 months since have a hair transplant I feel completely different and couldn't be more satisfied with the results. The hair will continue to get thicker too, so I'm really looking forward to the end result. Thank you again to HairPalace and all the team, keep up the great work
   Phil Grant | Sep 25 2017