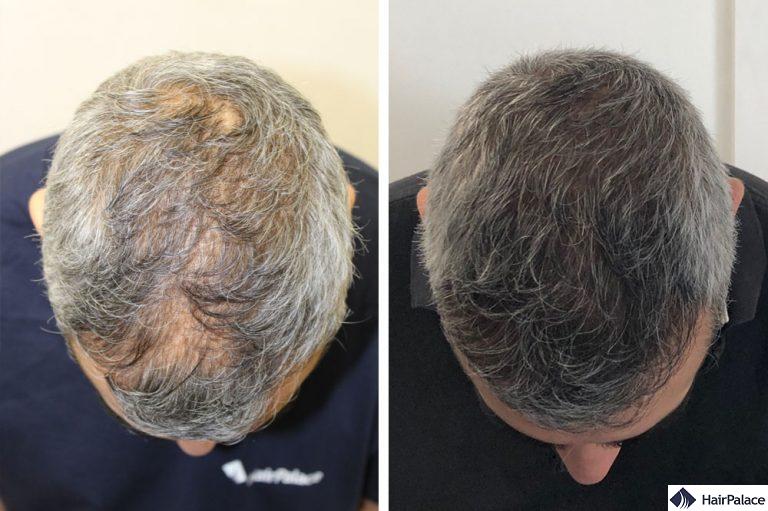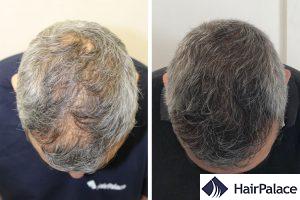 Ezra from London
Number of hair transplants: 1
Total number of implanted hairs: 5057 hairs
Ezra's hair thinned out at the top of the head. With his hair transplant, we have rebuilt the density and restored his full head of hair.
Visit our hair transplant clinic in the UK for a free consultation
The first step towards your FUE hair transplant in the UK is to have your condition thoroughly checked.
We offer free hair transplant consultation with our surgeons at multiple locations in the UK and in Ireland.
The no-obligation examination takes roughly 30 minutes.

First, we will discuss your history with hair loss, and find out what you would like to achieve with the hair transplant.

Then, the doctor will thoroughly examine your hair and scalp with a digital hair density and scalp camera. In light of your condition and needs, we can advise you more accurately about the best course of action. 
Advance reservation is required – contact us on +44 20 7131 0229 or info@hairpalace.co.uk for available appointments!
Where can you meet us in the UK?
If you are looking for hair transplants UK, with HairPalace's network of clinics and offices, you can easily get expert advice about hair loss near you:
You can also meet us in Ireland
How much is a hair transplant in the UK?
Recent years saw an increased interest in men's hair transplant in the UK. While these aesthetic procedures became affordable for a wider public than ever before, UK hair transplant prices are still on the higher end.
With the average price being £2-4 per hair, quotes can be up to £15000 for a single session.
Many factors are defining the total cost of hair transplant. The major ones are the number of hairs you need, the method of transplant, and the location of the clinic.
HairPalace offers men's hair transplant in the UK, France and Hungary too.
Our clinics in London, Paris and Budapest are equipped to meet the highest international standards and provide your hair transplant in an exclusive, comfortable setting.
While our services are the same, whether you have your hair transplant in the UK or in Hungary, the economic differences allow us to offer more affordable options without sacrificing quality:
Package
Number of hairs to be implanted
Cost of hair transplant in the UK
Cost of hair transplant in Hungary
Package 2000
2000
£ 3358
£ 1590 

£ 1390

Package 3000
3000
£ 4832 
£ 1990 

£ 1790

Package 4000
4000
£ 6305
£ 2190 

£ 1990

Package 5000
5000
£ 7779 
£ 2390 

£ 2190
In addition, with the advanced FUE2 technique in our seasoned experts' hands, we guarantee the success of your hair transplant surgery.
For more information, and a tailored quote, contact us on +44 20 7131 0229!
Which hair transplant method do we use?
At every HairPalace clinic, we use the latest hair transplant method, the  FUE2 technique. 
Similarly to the original FUE,  it extracts the hairs one by one with a special micro punch. Then, after cleaning and preparing them appropriately, the hairs are implanted to the recipient area.
However, the FUE2 has a rounded drill head that virtually eliminates the risk of cutting the follicles, making this technique by far the most effective available.
With years of experience in its use, our doctors recommend the FUE2 for the benefits it offers for the patients:
leaves no visible scars

the surgery is pain-free 

up to 90-95% of the implants grow out

short recovery period

minimally invasive

helps preserving the donor area for future sessions
Our hair transplant experts in the UK
We are proud to work with some of the best hair transplant surgeons in the UK.

They provide patient-centred care and offer tailored solutions to male pattern hair loss.
They have the required skills, training, and experience to provide you with the best hair transplant result in the UK.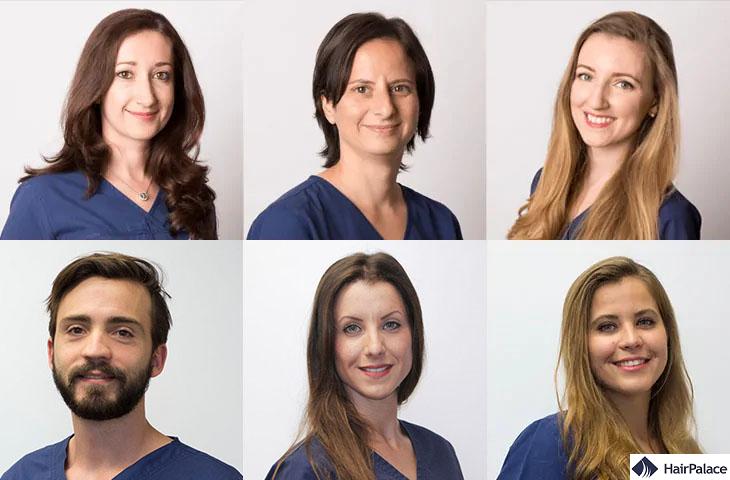 Why choose us?
We are dedicated to providing you with superior service and a smooth-running hair transplant experience.
When you choose us you can count on our decade of experience in the industry to provide you with a customized solution to restore your hair.
What do we offer you?
Experienced doctors

Our surgeons have 5-10 years of experience in the field and they perform FUE hair transplants exclusively. They will guide you through the hair transplant in the UK from the examination to the last check-up.

Natural hair transplant results

Every head of hair is unique. We transplant the hairs one by one and mimic your pattern of hair growth to achieve a dense and natural look.

Written guarantee

Since our skilled hair transplant surgeons work with the most effective hair transplant method, we can provide a written guarantee on your hair transplant.
If less than 80% of the transplanted hairs grow out, we reimplant the missing amount free of charge.

No visible scars

The FUE2 technique extracts the hairs one by one with a blunt micro punch, that is less than 1mm in diameter. As a result, the hair transplant will not leave visible scars.

Postoperative care

In our experience, proper aftercare is essential to reach the best hair transplant result. There will be 6 check-ups after the surgery to ensure that everything goes well. We will accompany you throughout your journey and our team will be at your disposal if you have any questions along the way.

Excellent price

We offer affordable hair transplant prices in the UK. Our comprehensive treatment plans cover all costs, there are no hidden charges.
UK hair transplant reviews
Each year hundreds of patients choose one of our clinics in the UK to regain their full head of hair.
We are proud that many of them find us through recommendations. At HairPalace, we are committed to delivering natural results, and excellent service and care from the first contact.
Check out our patients' latest reviews of hair transplants UK!
Hair Palace is absolutely first class with all of the things the clinic has to offer,great transfers from airport to apartment and back,very good quality food given to you in the clinic and medication pack.
Apartment is very clean,private and of very good quality.I highly recommend what the package has to offer.
Translation was also provided to a very good standard and Mia did a very good job and was very hospitable and professional throughout the whole time spent inside the clinic.
I have to say as my second time coming to Hair palace I would never go anywhere else for hair transplantst's its that good.
I have to say the very best things about Dr Ljuba she is more than good she is beyond Excellent! She is the very best and master of hair transplants,I would only ever go to Ljuba no matter where she is working in the world,I I would travel anywhere in the world to receive treatment from her,she is my Doctor and the best!,So professional and hard working,she can make your dreams come true.you are absolutely in the best hands lovely person and caring and very experienced and I can proudly say that Ljuba was my Dr for both of the times I went to the clinic.
Over all if you go to Hair palace you get quality with everything
I highly recommend Hair palace 10/10.
   James from London UK | Jun 7, 2019
Very professional service from start to finish. Team was excellent at explaining every step of the process and would happily answer all questions. Highly recommended!.Can't wait my final result.
  Hassan Nazmul | Updated Feb 8, 2018