Hair Transplant Canada — TOP 10 Clinics in 2023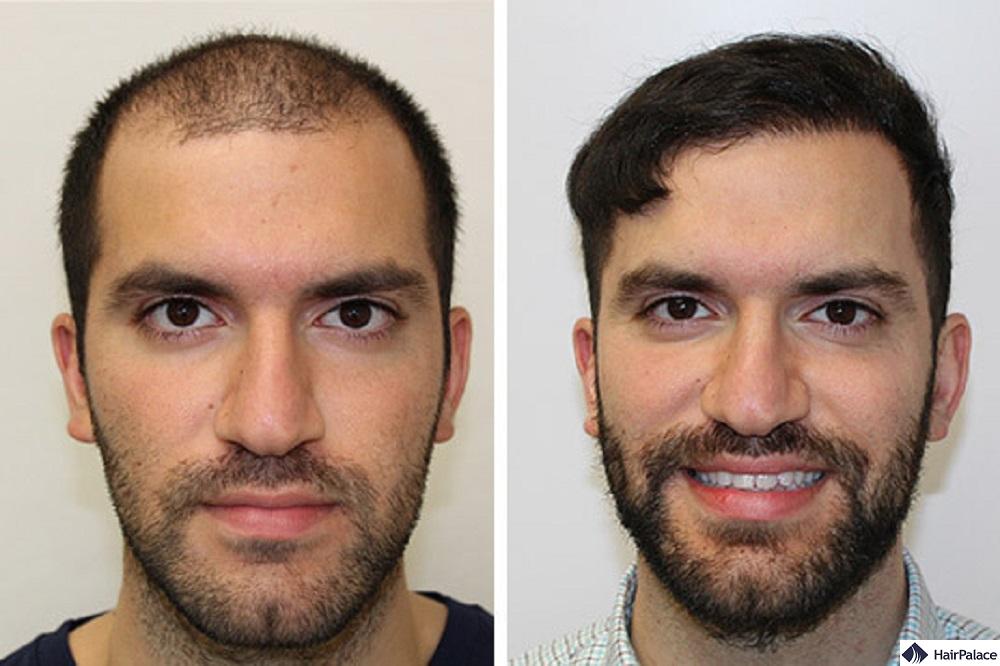 Hair transplants are fast becoming of the most popular procedures across Canada. The number of patients opting for procedures rose by 40% during the pandemic – and it's continuing to rise.
But why Canada? Well, Canada has some of the world's best clinics and offers a full range of procedures and treatments – all at competitive prices.
HairPalace has conducted extensive research to help you find the best clinic for your needs. Our top 10 recommendations will meet all your needs and more.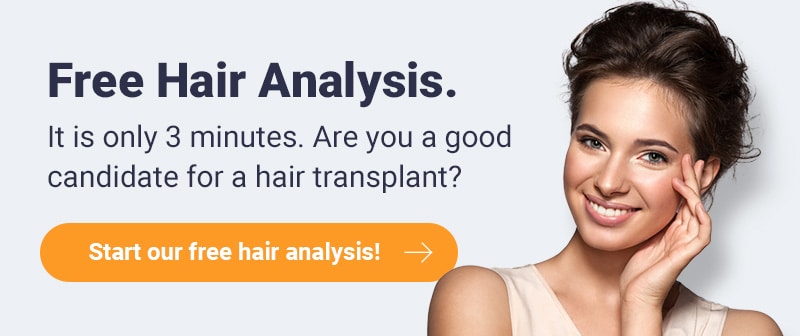 Fast facts
Hair transplants in Canada
Techniques
FUT, FUE and DHI
Duration of surgery
6 to 8 hours
Anaesthesia
local anaesthesia
Shaving
required
Pain
none to slight
Potential side effects
swelling, redness, numbness of the scalp
Scarring
practically undetectable
Recovery
FUE and DHI: 7-10 days
FUT: around 10-14 days
Return to work
in 2-5 days
Exercise
from 3-4 weeks post-op
Hair wash
2 weeks after treatment
Result
in 12-15 months
Hair transplant cost Canada: Price comparison
Hair transplant surgery costs are often the main factor that influences which clinic you ultimately decide on.
We've compared prices from the top 10 clinics across Canada. From smaller procedures (3000 hair grafts) to extensive procedures (5000), you'll have a better understanding of expected costs, and where you can get the most affordable healthcare.
The prices are based on information provided by doctors, users or other portals. The actual prices can only be determined after a medical consultation, taking into account the physical requirements and individual wishes.
Hair transplant cost Toronto
The cost of a hair transplant in Toronto can vary greatly depending on the type of procedure, the experience of your hair transplant surgeon and the extent of your hair loss. Generally speaking, hair transplant cost in Toronto ranges between 6,000 $ and 16,000 $. The average price of hair transplantation in Toronto is roughly around $9,500.
How many grafts will you need?
Every patient is unique, and the number of grafts you will require will depend on the condition of your scalp, the state of your hair loss if it has stagnated completely, and your expectations.
Some patients opt to go for bigger grafts first and follow up with smaller amounts to improve density.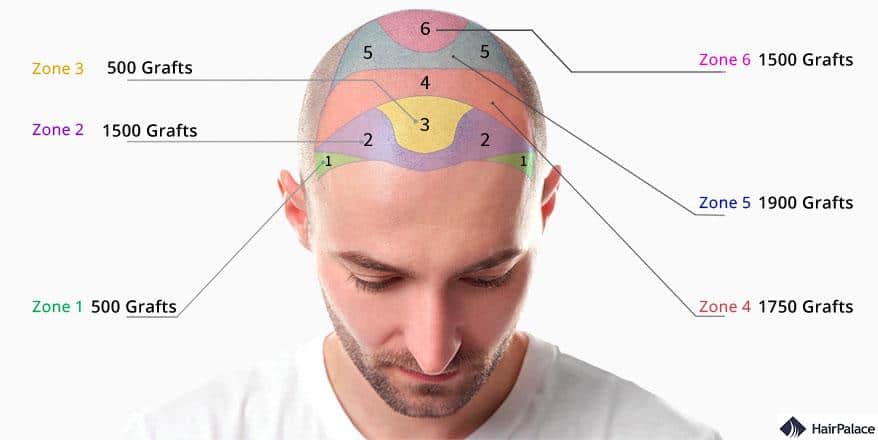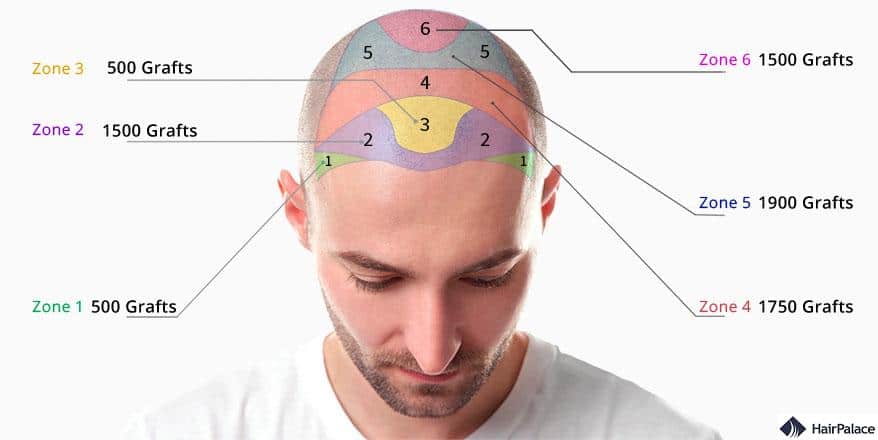 What is included in the hair transplant price in Canada?
Most Canadian hair transplant clinics offer several affordable packages that make surgery very inviting.
And whilst every clinic will differ on the specifics, you can expect the following in most cases:
Consultations with the surgeon and specialist team
The hair transplant procedure itself
Prescription of any medications/topical treatments needed
Customer support in the lead-up to and aftermath of surgery
Post-surgery: follow-up visits & examinations.
Hair transplant in Canada: Advantages and disadvantages
With more and more men travelling to Canada for their hair transplants, including from abroad, we have to ask: is Canada the right choice for your hair transplant procedure?
Let's weigh up the advantages and disadvantages:
Advantages
Great selection of clinics
A wide variety of treatments are available
Well regulated
Minimal travel required
Easy to attend follow-up appointments
Disadvantages
Can be more expensive, especially versus clinics abroad
Some packages may not be all-inclusive
More popular, so expect longer waiting times
Consultations and follow-up appointments may be charged separately
The TOP 10 hair transplant clinics in Canada
There are many hair transplant clinics across Canada – all fighting for your custom. To help you whittle down your choices, we've researched the top ten clinics.
With extensive packages, cutting-edge treatments, and a plethora of highly-skilled surgeons, we're confident our recommendations will provide everything you need to know.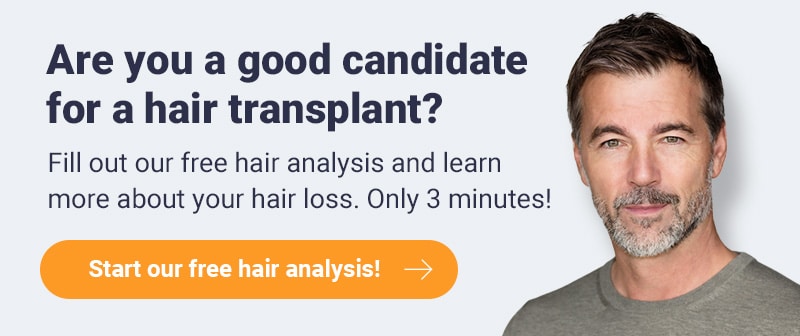 1. Toronto Hair Transplant Centre
Location:
435 Reynolds St #206,
Oakville, ON L6J 3M5
Treatments: FUE (Follicular Unit Extraction)
Costs: 3000 hairs = 8250 $, 5000 hairs = 13750 $
Treatments performed by: Dr. Jonathan Huber, Dr. Ashlin Alexander and Dr. Robert Jones
Rating: 4.6

based on 106 Google reviews
Website: torontohairtransplant.com
For over 35 years, The Toronto Hair Transplant Centre has been at the forefront of Canadian hair transplant surgery.
This clinic specializes in providing Follicular unit extraction only – which is still one of the most popular treatments across Canada and particularly useful for treating extensive hair loss.
All clinic consultations are completed virtually – you can start your hair transplant journey in the comfort of your own home, right now!
And with a team of some of the best surgeons in the industry, like Dr. Jonathan Huber, Dr. Ashlin Alexander, and Dr. Robert Hones, your hair will be in safe hands.
2. Sure Hair International
Location:
2115 Finch Ave W Suite #401,
North York, ON M3N 2V6
Treatments: FUE, Robotic FUE, FUT & eyebrow transplant
Costs: 3000 hairs = 6000 $, 5000 hairs = 10000 $
Treatments performed by: Dr. A. K. Gupta and his team
Rating: 4.3

based on 192 Google reviews
Website: surehair.com
With over 5,000 transplants completed, and over 20 years of experience, Dr. A.K. Gupta of Sure Hair International comes highly recommended.
The clinic offers a variety of procedures, including FUE and FUT surgeries. An extensive team of specialists, including 9 technicians, ensures that your surgery will be conducted both quickly and with the highest quality possible.
3. The Toronto Hair Transplant Clinic
Location:
59 Hayden St Suite 702,
Toronto, ON M4Y 2P2
Treatments: FUE, PRP, beard & eyebrow transplant, scalp tattooing
Costs: 3000 hairs = 7500 $, 5000 hairs = 13200 $
Treatments performed by: Dr. Cory Torgerson, Dr. Michael Brandt
Rating: 4.8

based on 120 Google reviews
Website: torontohairtransplantclinic.com
Dr. Cory Torgerson of the Toronto Hair Transplant Clinic has an endless supply of qualifications and experience, that has him at the forefront of hair transplantation in Canada.
He is a trained head and neck surgeon with the Royal College of Physicians and Surgeons and has over 18 years of experience.
And with in-depth knowledge of diagnosing the root causes of hair loss, your treatment here will be all-encompassing and highly effective.
4. Rahal Hair Transplant Ottawa
Location:
2081 Merivale Rd #1300,
Nepean, ON K2G 1G9
Treatments: FUE, Eyebrow transplant
Costs: 3000 hairs = 9500 $, 5000 hairs = 15000 $
Treatments performed by: Dr. Rahal and his team
Costs: 4.3

based on 39 Google reviews
Website: www.rahalhairtransplant.com
With over 13,000 hair restorations (and counting), the Rahal Hair Transplant clinic in Ottawa has utterly changed the hairlines of Canada for the better.
The surgeon behind the clinic, Dr. Rahal, comes highly recommended for his attention to detail and great results.
A special guarantee ensures you'll always be happy with the work; non-growing hair grafts will be replaced free of charge!
5. Dr. Alain Sabourin – Hair Transplant Montreal
Location:
990 Rue Notre Dame O Suite 300,
Montréal, QC H3C 1K1
Treatments: FUE, FUT, Artas
Costs: 3000 hairs = 6000 $, 5000 hairs = 10000 $
Treatments performed by: Dr. Alain Sabourin & his team
Rating: 4.4

based on 22 Google reviews
Website: www.dralainsabourin.com/en/
With over 15,000 micrograft procedures completed and over 25 years of experience in the industry, Dr. Sabourin has revolutionized hair transplant surgery in Canada.
The clinic has state-of-the-art facilities and offers a variety of procedures.
And with a high-skilled team of specialists, including 8 nurses, a laser technician, a respiratory therapist, and an aesthetician, you'll be in safe hands from your first consultation to your last appointment.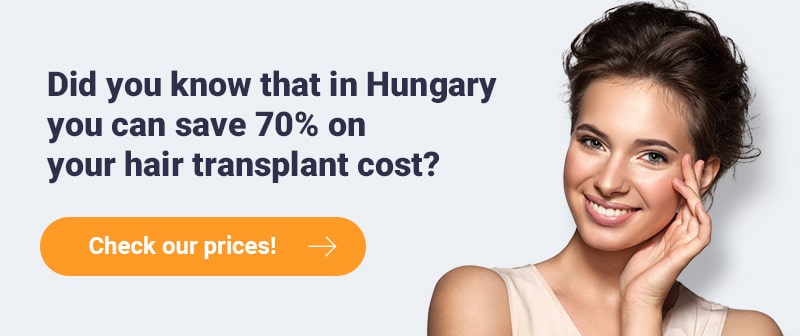 6. HairClub Montreal
Location:
3500 Maisonneuve Blvd W Suite 2402,
Westmount, Quebec H3Z 3C1
Treatments: FUE, FUT, BioGraft
Costs: 3000 hairs = 9000 $, 5000 hairs = 13500 $
Treatments performed by: A team of surgeons
Rating: 4.1

based on 105 Google reviews
Website: www.hairclub.com
HairClub Montreal is a bilingual hair transplant clinic that offers free consultations in English and French.
The centre manager Steven Baranoff is a hair specialist who knows firsthand the devastation one goes through during hair loss.
Steven has earned a great reputation for providing highly effective, compassionate care to any hair loss sufferer, from men and women to children.
7. Hasson & Wong Hair Transplant Clinic
Location:
1001 W Broadway #600,
Vancouver, BC V6H 4B1
Treatments: FUE and FUT method
Costs: 3000 hairs = 12000 $, 5000 hairs = 15000 $
Treatments performed by: Dr. Victor Hasson & Dr. Jerry Wong
Rating: 4.6

based on 103 Google reviews
Website: hassonandwong.com
With over 20 years of experience and over 20,000 surgeries performed, Dr. Victor Hasson and Dr. Jerry Wong have an impeccable reputation in the Vancouver area.
Often regarded as pioneers in the field, the doctors provide a variety of restoration procedures that suit both men and women. The doctors are also known for being on the cutting edge of the latest techniques and patient care.
8. Groupe Medical PAI (Quebec City)
Location:
325 Rue du Marais Bureau 220,
Quebec City, Quebec G1M 3R3
Treatments: FUE, PRP
Costs: 3000 hairs = 7550 $, 5000 hairs = 11500 $
Treatments performed by: A team of surgeons
Rating: 4.8

based on 16 Google reviews
Website: www.greffecheveuxpai.com
With 4 clinics in Quebec province and 15 across North America, PAI Medical Group is incredibly convenient for many patients travelling from abroad.
The clinics have helped over 11,000 men and women recover hair, including scalp, eyebrow, and beard restorations. Founded by surgical pioneer Pierre Amelotte, the clinics are world-renowned and are in high demand by Canadians and oversea patients alike.
9. Winnipeg Hair Transplant Clinic
Location:
233 Kennedy St #1601,
Winnipeg, MB R3C 3J5
Treatments: FUE
Costs: 3000 hairs = 10000 $, 5000 hairs = 14000 $
Treatments performed by: Experienced surgical team
Rating: 3.0

based on 1 Google review
Website: hairtransplantcanada.com
Winner of the 2008 and 2009 Consumers' Choice Award for Excellence in Hair Restoration, Winnipeg Hair Transplant Clinic comes with rave reviews and high customer satisfaction.
Established in 2001, the clinic has a comprehensive surgical team equipped with the latest techniques available in hair restoration. And with a twin clinic in Vancouver, travelling for appointments can be very convenient.
10. HQ Hair Transplant Clinic Halifax
Location:
1480 Bedford Hwy,
Bedford, NS B4A 1E4
Treatments: FUT (Strip method)
Costs: 3000 hairs = 7000 $, 5000 hairs = 10000 $
Treatments performed by: Dr. Wadden
Rating: 4.4

based on 7 Google reviews
Website: hqhairtransplant.ca
Open since 1990, the HQ Hair Transplant Clinic in Halifax has carved out an impeccable reputation for providing hair restoration solutions to patients.
A team of highly-skilled, seasoned experts carries out both surgical and non-surgical procedures, including surgical hair restoration, micropigmentation, laser treatments, and custom wig and hair systems.
Consultations are offered for free and should only take 30 minutes of your time.
Hair transplant Canada: Before and after
Latest trends and statistics in hair restoration surgery in Canada
The hair transplant industry is constantly evolving. Each year new treatments, new procedures, and new techniques are developed.
It's little wonder that new trends emerge. According to the 2020 practice census, several key factors have changed how an average hair transplant is conducted – from average patient age, and the procedure type to the amount of hair grafted per procedure.
Here are some of the findings as they relate to hair transplantation in Canada: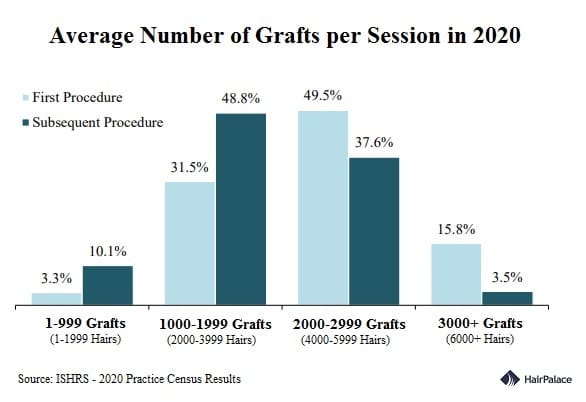 Every patient is unique. You won't know what treatments you qualify for until your surgeon examines your scalp and asks you what your goals are.
But one trend can help predict the size of your procedure.The trends show patients choose larger procedures (2000-2999 grafts) first and follow up with smaller surgeries to 'touch up' their scalp.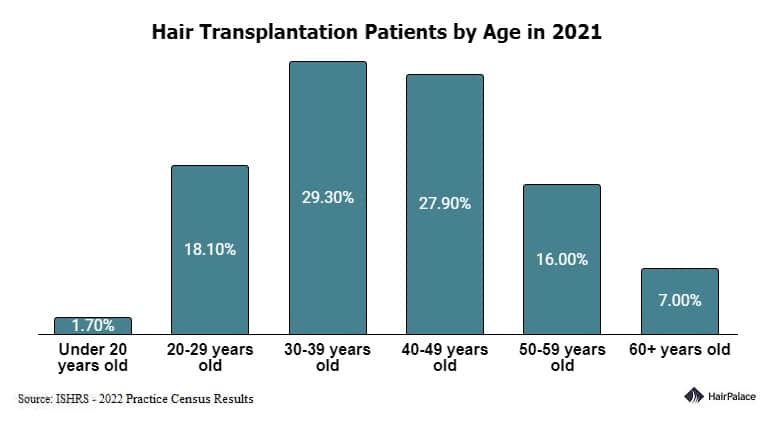 In 2021, the most common age for a hair transplant was between 30 and 50 years old.
That's not to say people outside this bracket can't get one – so long as you are in good health and your hair loss has stagnated, chances are high you can have a procedure done.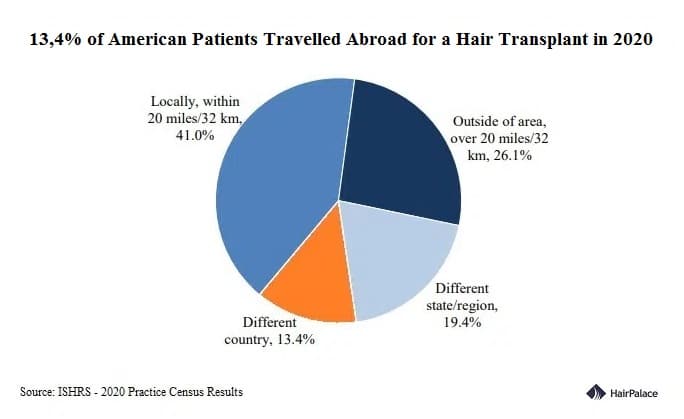 One of the biggest shifts in the hair transplant industry is the number of patients willing to travel abroad for treatment.
The majority of these patients are looking for cheaper treatment.
As Canada is still quite expensive, in terms of both travel and hair transplant prices, it's not popular with overseas patients just yet.
Hair Transplant Canada: The TOP 3 techniques
Because of the many highly skilled surgeons working in its clinics, Canada promises a wide variety of treatments and procedures for patients.
But research from 2021 shows that three procedures proved to be the most popular with patients.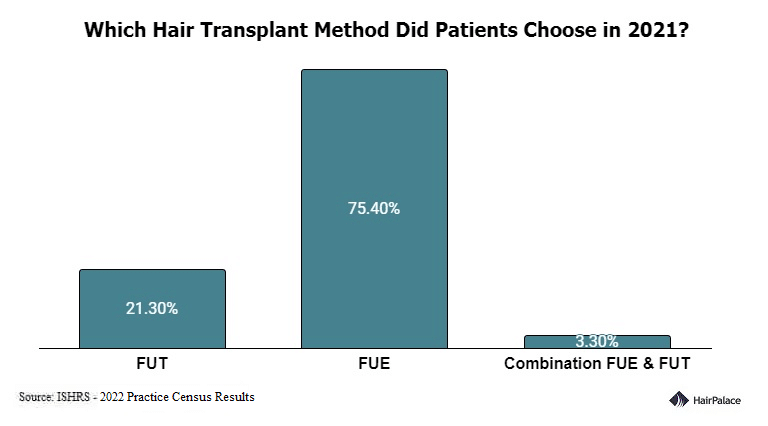 1. FUE hair transplant in Canada
The most popular procedure by hair restoration surgeons and patients alike is Follicular Unit Extraction, often referred to as an FUE hair transplant.
FUE has many advantages over other procedures. It is the least invasive option and leaves virtually no signs of scarring.
It also has one of the fastest recovery times of any surgery, while also providing natural-looking healthy hair growth.
There are two stages to the surgery:
Your surgeon will harvest follicles one by one with a micro punch.

They will open channels in the receiving area and implant grafts.
2. DHI hair restoration
The DHI hair surgery is almost identical to FUE.
Instead of opening channels, your surgeon will use an implanter pen to insert follicles directly into the thinning areas.
DHI hair restoration is ideal for smaller areas and to achieve a higher density with the donor hair.
3. FUT or strip hair transplant
The second most popular treatment is Follicular unit transplantation, otherwise known as strip hair transplant or FUT.
It's readily available in many clinics and offers permanent hair restoration results. Your surgeon will cut a narrow strip from the donor area, and extract the hair follicles. It's useful for transplanting a large number of grafts.
The major downside to FUT is that it is more invasive, and can leave linear scarring in areas where hair is kept short.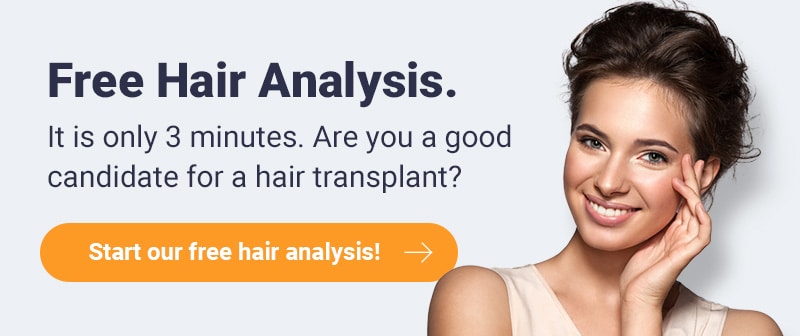 3 steps to get hair transplantation in Canada
1. Consultation
The first step to your hair transplant is a consultation with a specialist. You will be asked about your health and what result you are hoping for.
The specialist will examine your scalp and assess the extent of your hair loss. Afterwards, they will recommend a course of action, including topical treatments and/or surgery.
At this point, you can ask any questions you may have about the transplant, including risks, complications, the procedure itself, and the length of recovery.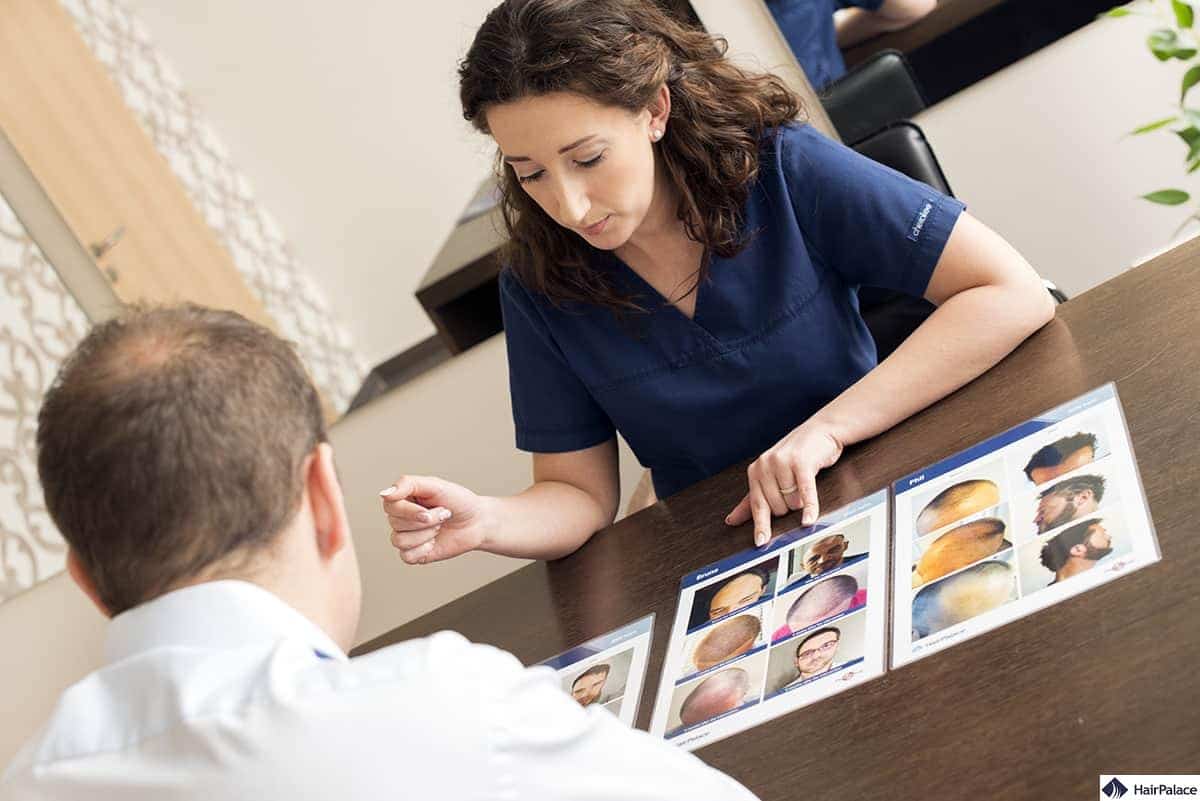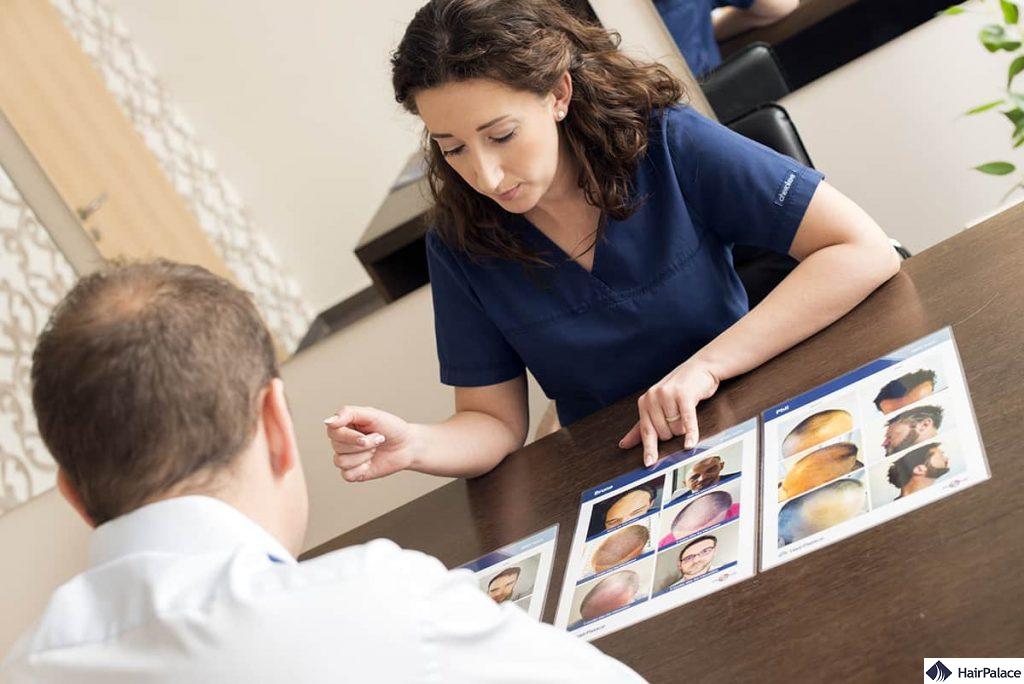 2. How is a hair restoration in Canada performed?
On the day of your hair transplant in Canada, you will have to arrive at the clinic at around 8 am.
A typical hair transplant in Canada will begin at 8 am when you will meet with your surgical team. They will prep you for surgery, including giving you medication and shaving your head.
Following a consultation with your surgeon, the procedure will begin.
The surgeon will disinfect your scalp. You'll be given lidocaine injections to numb the donor area.
Afterwards, the surgeon will begin extracting the hair follicles.
Surgical assistants will clean and prepare follicles for implantation.
After extraction, there will be a short lunch break.
After lunch, the surgeon will again disinfect your scalp and numb the receiving area of your scalp.
The surgeon opens channels and implants the grafts safely and securely.
Altogether the surgery should take between 6-8 hours in total. Your surgeon will talk you through the recovery process, including what medications to take and how to clean/protect your scalp.
When you feel better and the team is happy with your initial recovery from surgery, you will be allowed to return home.
3. Aftercare
Canadian clinics often have a strict aftercare regimen to ensure your hair transplant is a success. Don't worry – this usually involves practical advice that is easy to follow!
These may include:
Taking a few days after surgery to properly recover
Using sterile saline sprays to treat your scalp
Take antibiotics
Avoid wearing hats, scarves, and harsh shampoo
Avoid exercising, tanning, or swimming for 3-4 weeks.
It's normal for your scalp to scab and appear red during recovery. Small wounds will heal quickly (about 10-14 days).
You can also expect some mild swelling around your forehead, too. One month after surgery, implanted hairs will fall out – do not panic! This is a normal occurrence, and regrowth will begin again by the third or fourth month.
As time goes on, you will notice denser hair throughout the donor area. You can expect the final result of your surgery after 12 months.
It's highly advised you attend your follow-up appointments with your clinic so they can monitor your progress and recovery.
Best hair transplant in Canada: Review comparison
Still unsure which clinic offers you the best treatment? Why not consult the experts – the customers!
Hair transplant reviews can tell you so much about a clinic. From their customer service and prices to patient aftercare, results, and more! Reading these reviews will give you first-hand experience of what clinics can deliver the best results.
Clinic name
City
Google rating
Toronto Hair Centre
Toronto
4.6
based on 106 Google reviews
Sure Hair International
Toronto
4.3
based on 192 Google reviews
The Toronto Hair Clinic
Toronto
4.8
based on 120 Google reviews
Rahal Hair Transplant
Ottawa
4.3
based on 39 Google reviews
Dr. Alain Sabourin
Montreal
4.4
based on 22 Google reviews
HairClub
Montreal
4.1
based on 105 Google reviews
Hasson & Wong Hair Clinic
Vancouver
4.6
based on 103 Google reviews
Groupe Medical PAI
Quebec City
4.8
based on 16 Google reviews
Winnipeg Hair Clinic
Winnipeg
3.0
based on 1 Google reviews
HQ Hair Clinic
Halifax
4.4
based on 7 Google reviews
Hair transplant clinics: Who to trust?
Find the best hair transplant clinics near you
Canada is a great destination for quality treatment and excellent patient care.
Don't worry if you're still wondering which clinic offers you the best value. Our free hair transplant analysis takes just 2 minutes to complete and will offer you tailored advice on the best clinics nearby.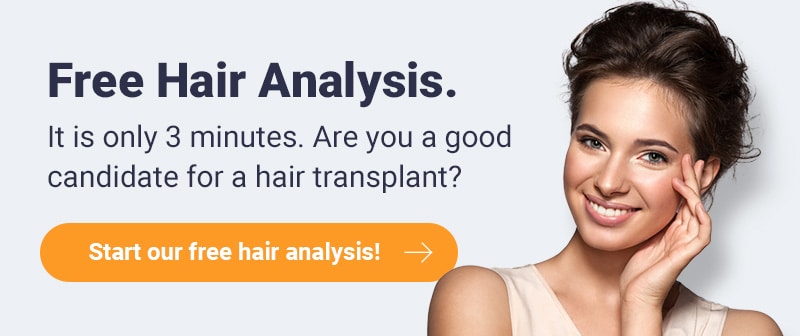 FAQ
How much is a hair transplant in Canada?
While prices can vary greatly from clinic to clinic. You can generally expect to pay anywhere between 6,000 $ and 16,000 $ for your hair transplant in Canada.
How much is 2000 hair grafts?
Based on our research, the average cost per graft is around 4 $. This means that the cost of 2000 grafts would likely be around 8,000 $.
How much is 4000 hair grafts?
Sticking to the average cost specified above, the cost of 4000 grafts would likely be around 16,000 $.
HairPalace relies on scholarly sources, including peer-reviewed articles, as well as publications of medical associations and academic & research institutions. We follow strict sourcing guidelines and avoid tertiary references. Read our editorial policy for further information on how we keep our content up-to-date and accurate.