Hair Tattoos: Costs, Results, Benefits and Risks
A hair tattoo is an increasingly popular option whether you want to cover up bald spots, hide scars or improve the density of your hair.
Hair tattoos help create the illusion of more hair on your head. Tiny dots are skilfully placed around your scalp to imitate natural tiny hair follicles, with impressive results.
And as a non-invasive treatment, many people consider hair tattooing the go-to solution for treating thinning hair or baldness.
But is it right for you? What are the benefits? And what should you be aware of beforehand?
In this article, we'll guide you through everything you need to know about hair tattooing. We'll explore the entire process and answer all of your burning questions. We'll also highlight before and after photos to showcase what results you can expect!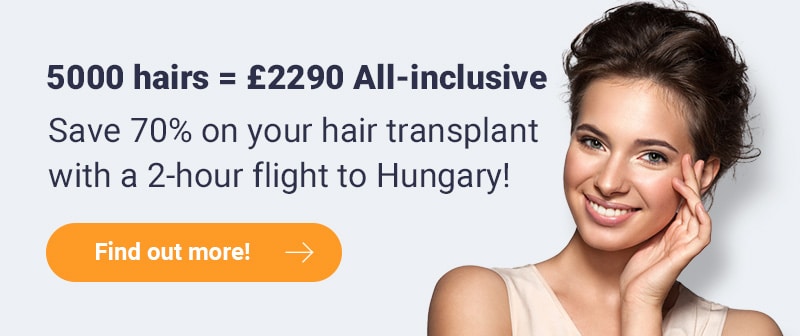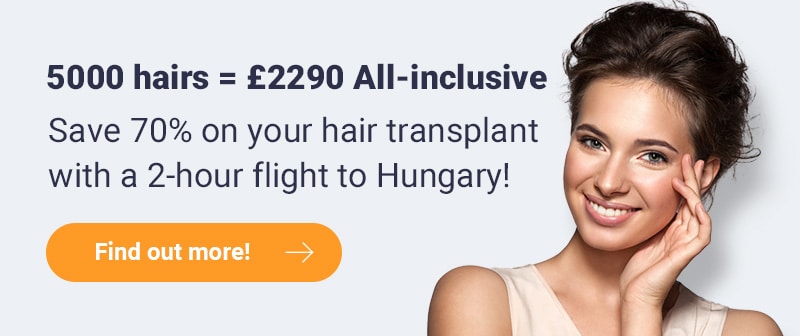 What are hair tattoos?
A men's hair tattoo is when hundreds, sometimes thousands, of tiny pigment deposits are tattoed into the upper dermis of your scalp.
Otherwise known as scalp micropigmentation (SMP), a hair tattoo for bald spot requires training and specialist equipment to achieve great results.
Despite its name, it differs entirely from traditional tattoos on arms or legs. An SMP technician uses a specialized microneedle to perform the tattoo, matching the natural shade and pigment of your scalp to create the appearance of a closely shaven scalp.
These tattoos may cover receding hairlines or be specially targeted to improve the appearance of bald spots.
Scalp micropigmentation is fast becoming a popular treatment for men and women suffering from various hair conditions. It is non-surgical, almost painless, and can achieve outstanding, natural-looking results in a very short time.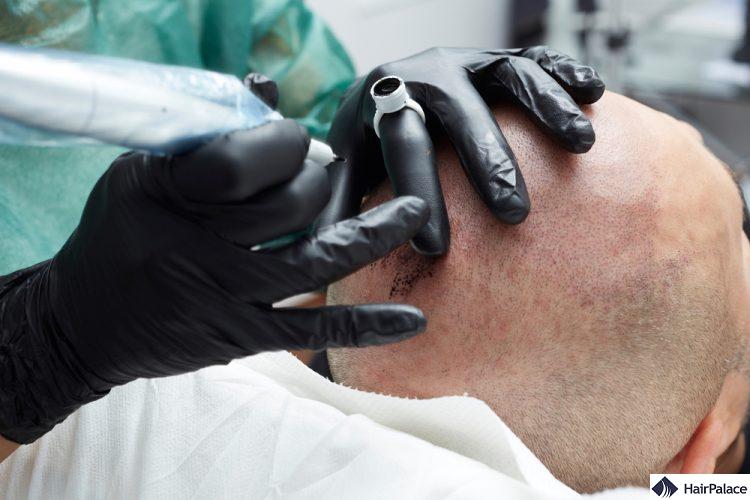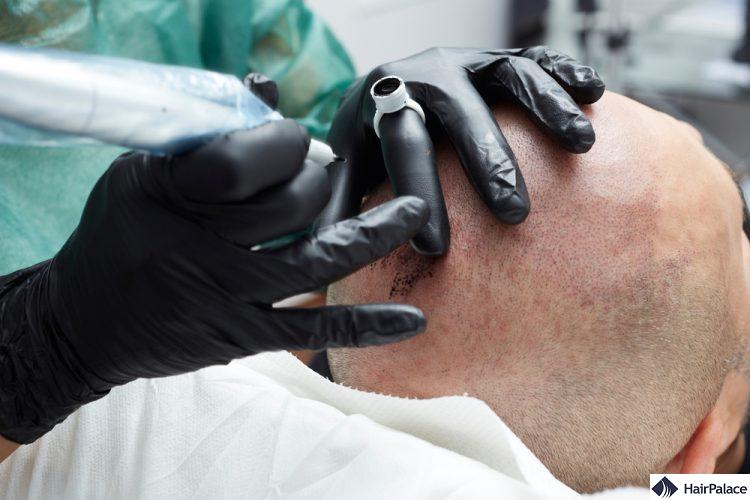 Is a hair tattoo suitable for your type of hair loss?
A hair tattoo for men can be an excellent hair loss solution for most people. More than likely, you will make for an ideal candidate.
Patients include those with early signs of a receding hairline, who have genetic conditions, are suffering from alopecia (like alopecia areata), or are receiving medication that results in hair loss.
Why are tattoos popular all of a sudden? Unlike transplants, for example, scalp micropigmentation is a safe procedure with minimal downtime.
It can add density to thinning areas, cover bald spots effectively, and is suitable for various skin types.
But you should only consider receiving a hair tattoo for bald head from a trained professional.
The haircare industry is constantly evolving, and scalp specialists, including trichologists, are continually expanding the field.
Only by attending a consultation with a specialist can you know for sure the most appropriate treatment to pursue.
Can you get a hair tattoo if you're completely bald?
Hair tattoos do not require any pre-existing hair, so they are a highly effective option for both men and women who've lost significant amounts of hair or are battling a sizeable receding hairline.
They can also be an excellent option for completely bald people, giving the appearance of a "buzz-cut" hairstyle, as seen below.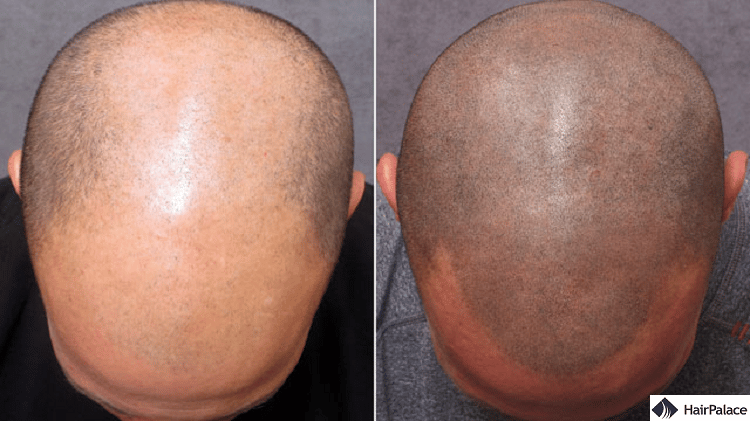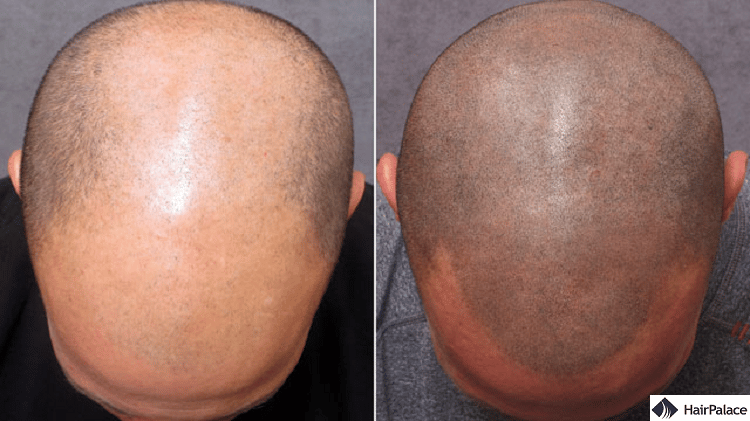 Can hair tattoos cover scars?
A hair transplant can be a life-changing solution to hair loss. But depending on your procedure, you may have some noticeable scarring as a result.
This is especially true if you've undergone a Follicular Hair Transplant (FUT). This is when a surgeon removes a strip of skin from the back of your scalp to harvest hair follicles. This invasive procedure often leaves noticeable scars along your scalp.
Many people grow their hair long to cover these scars. But a scalp tattoo can improve and mask these scars, giving you the option to keep your hair short if you want.
That said, a Follicular Unit Extraction (FUE) is a less-invasive transplant procedure that is arguably the preferred choice for many patients.
Donor hair follicles are taken individually from donor areas, leaving virtually no scarring to worry about.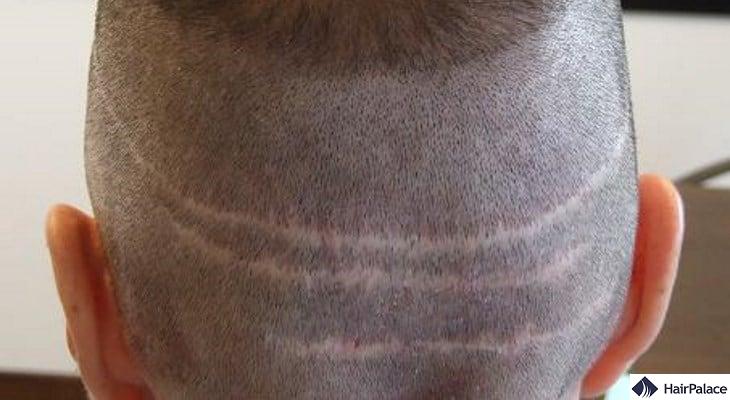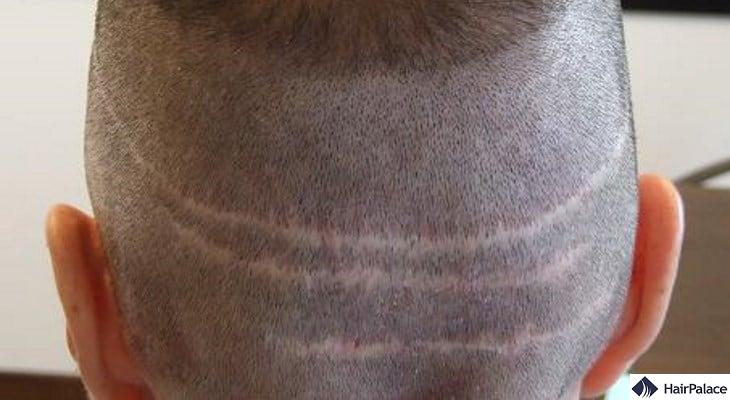 How much does a hair tattoo cost?
Cost can be one of the deciding factors for choosing to undergo a hair tattoo or not. Below are five factors that can influence its price:
The extent of your hair loss and the size of the treatment area
The amount of remaining hair and its density and quality
The amount of blending required to achieve a natural result
The skill and reputation of your practioner
If any scars need to be covered over, too
Let's take a look at the most common scenarios to estimate costs:
The cost of a standard scalp micropigmentation for diffuse or thinning hair can start from £2,500.
Scar camouflaging may cost around £500.
Extensive hair loss may cost as much as £2,800 to £3,400.
Top-up treatments typically cost £300.
That said, only by attending a consultation, where a specialist can examine your scalp closely, will you know for sure how much your tattooing will cost.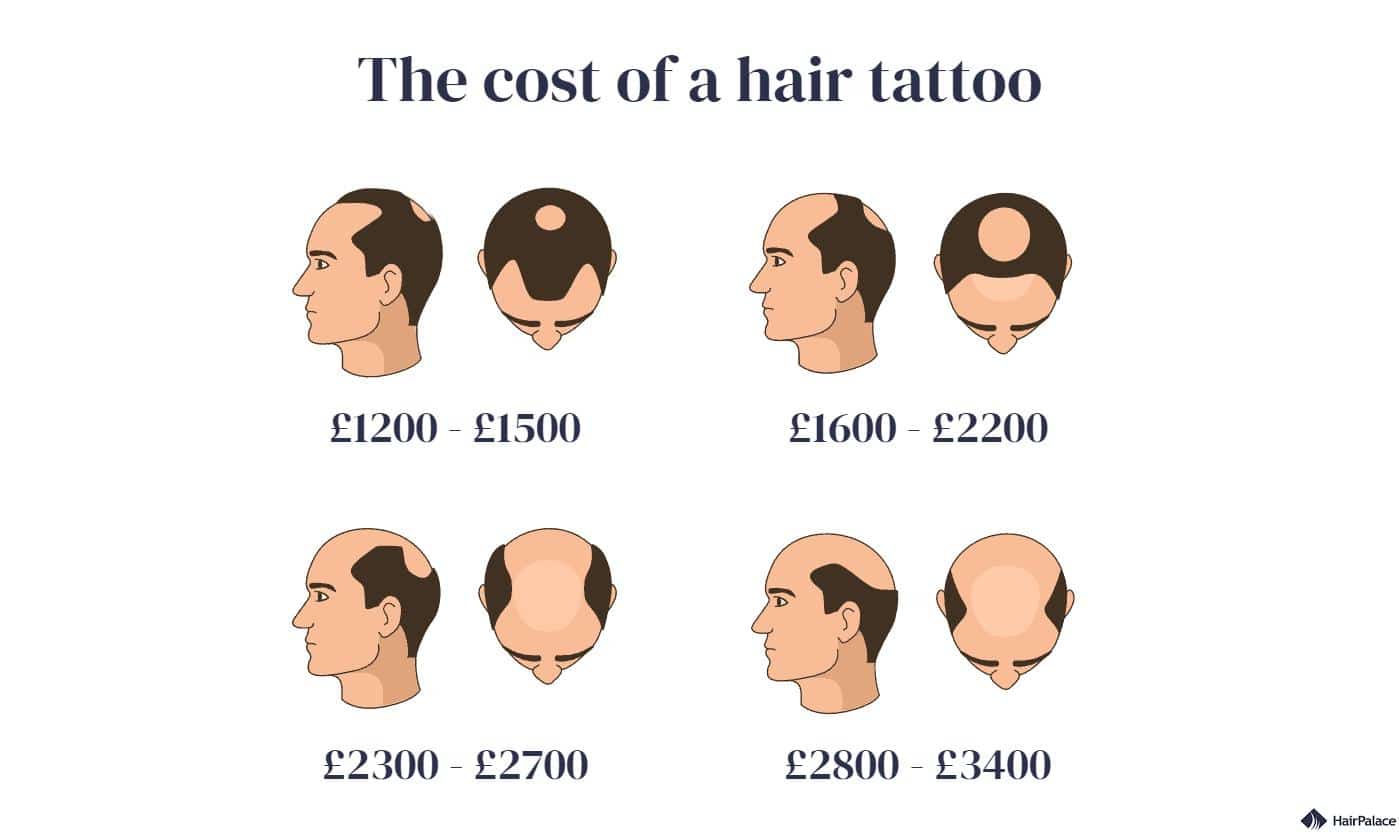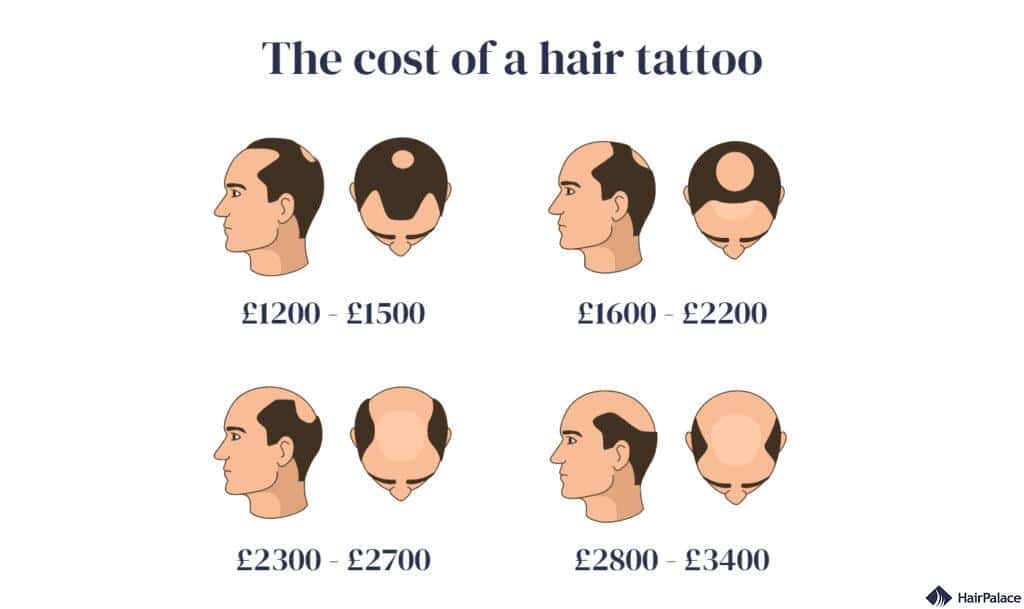 3 steps: What it's like to get hairline tattooing as a man?
Curious about what a hair tattoo actually entails? We'll explain briefly what a typical treatment plan involves. Remember that some patients require two, three, or more appointments for successful scalp pigmentation.
Consultation

Every hair tattoo process starts with an initial free consultation. Here you will be encouraged to ask any questions about the procedure.

First session

The first tattooing session lays down the foundations for your hairline tattoo. It will be small-scale and gives you a taste of how the procedure is conducted. Expect to heal from the session in only one or two days.

Second treatment

Your follow-up session will see your tattooist treat a larger area of your scalp, applying different pigment shades to create natural-looking hair texture and colour on your scalp. In the majority of cases, patients will only need two sessions.

You may need additional sessions to achieve the desired appearance if you have dark natural pigments on your skin.
Hair tattoo before and after photos
Take a look at the best hair tattoo before and after pictures.
What are the advantages of hair tattoos?
If you are losing hair, a tattoo can offer several advantages to help restore confidence and self-esteem. These include:
Great appearance from afar: From a distance, scalp micropigmentation creates a natural-looking result. It is hard to tell that it's actually a tattoo hair design.
Volume: As well as adding coverage to your full head appearance, strategical hair tattooing can add volume and depth to areas with thinning hair.
Lasting results: Scalp micropigmentation can last up to 7 years and requires less maintenance than similar treatments like wigs and hairpieces.
Affordable: Depending on the extent of your hair loss, small hair tattooing can be more affordable than other treatments.
Almost painless: While hair tattooists use a tattoo machine, it is typically less painful than receiving a traditional tattoo. Most often, your skin will be numbed using a gel beforehand.
Quick recovery: Expect to heal from your scalp tattoo in about 10 days. Then, the final results will be visible.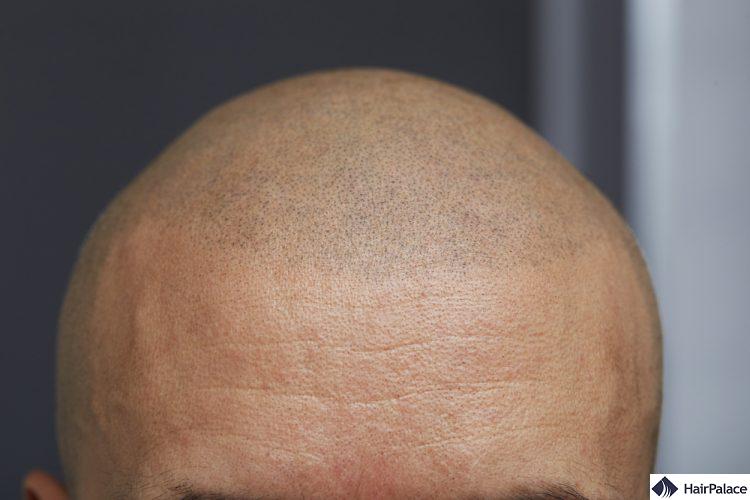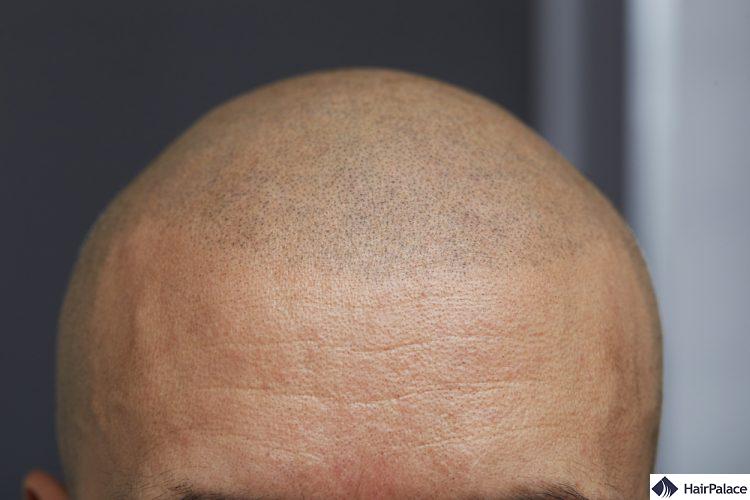 What are the risks associated with hair tattoos?
As with any cosmetic treatment, there are some risks involved with getting a hair tattoo for baldness. These range from little to no results to health and safety concerns that you must be made aware of.
They include:
Your hair won't naturally grow back: scalp micropigmentation adds an illusion of hair density, but there will be no increase in real hair or effect on hair growth.
Improvement only from a distance: hair tattoo for hair loss is effective at long distances. Up close and personal, people may be able to see the tattooing for themselves. Furthermore, the treated areas will feel differently than the actual hair.
Problems resulting from treatment: Although this is rare, some people may develop an allergic reaction to the ingredients used in the tattoo. Their scalp may also suffer an infection if contaminated equipment is used.
Metals: The metals used in the tattoo's pigment may cause complications when receiving an MRI scan.
Lack of research: As a new type of treatment, there is still so much we don't know about the long-term effects and results of hair tattooing. Some studies have found a link between pigments travelling to other body parts. There are also no concrete studies on the potential carcinogenic properties of hair tattooing.
Lengthy procedure: A typical hair tattoo can take anywhere from 4 to 5 hours on average, making it an extensive treatment. For this reason, many people undergo several sessions to achieve coverage on their full head.
Non-permanent: Although a hair tattoo may last up to 7 years, many people require regular touch-up sessions to maintain results. This means the cost of hair tattooing can continue to increase and go beyond your initial budget.
What happens after your hair tattoo treatment?
You may experience some mild discomfort during and after your hair tattoo treatment. The tattooist's needle penetrates the skin deeper than other treatments.
Following your session, you may see red dots appear across your scalp. Don't panic – this is a normal phenomenon and is only a temporary phase. Soon enough, dots on your skin will dry and fall off and are often painless.
That said, it's worth remembering that although scalp micropigmentation procedures heal fast and are less invasive than surgery, results are not everlasting. Bald areas will remain bald; you only create the illusion of hair.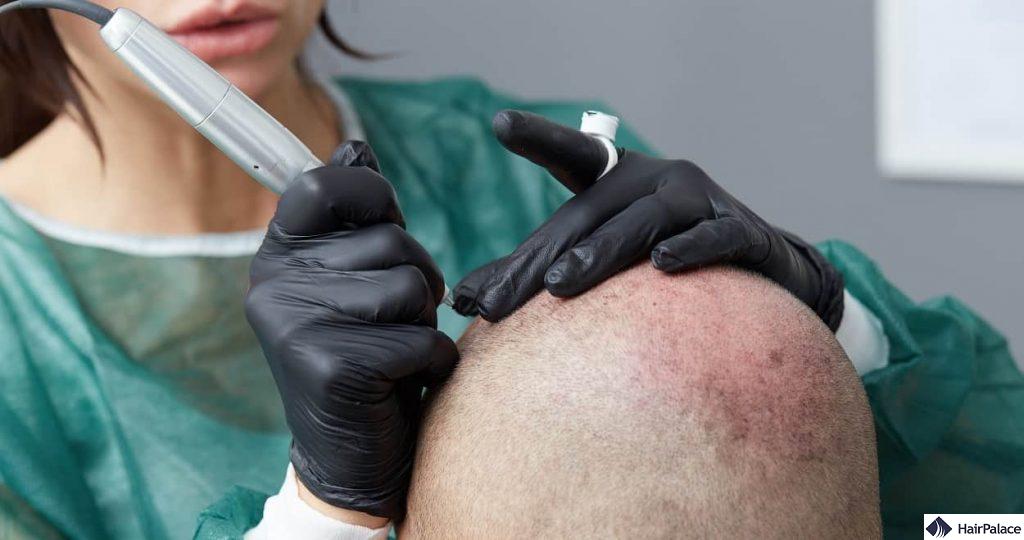 There are some aftercare instructions you must follow after a tattoo hair loss treatment. These include:
Moisturizing your scalp for several days afterwards
Refrain from regular haircare regime (like shaving) for 2 weeks
Avoid direct sunlight for at least 1 month
Use sunscreen to preserve the colour of the pigment
Avoid intense exercise or hot environments (like saunas), as sweat can affect pigmentation
Avoid swimming, where harsh chemicals can irritate the scalp
Despite it being a non-invasive treatment, you must still take time to rest and protect your scalp after any SMP treatment.
Your technician will explain all the steps you need to follow during recovery, including what you can and can't do.
Start your hair restoration journey with the best hair transplant clinic
Although a hair tattoo for bald guys can help create the illusion of naturally thick hair, it is not a permanent solution to your hair loss troubles.
Regardless of whether you get a hairline tattoo or receive natural piments for bald spots, it will only last a few years before requiring touch-up sessions.
Hair transplants offer a simple, straightforward, long-term hair loss solution. One operation can correct hair woes stemming from various conditions, including a receding hairline, male pattern baldness, and other forms of alopecia.
HairPalace offers cutting-edge procedures by a team of highly skilled surgeons to ensure outstanding results. We offer the most popular technique, FUE2, which promises a quick, safe recovery with natural-looking regrowth.
A straightforward operation is all it might take to correct years of hair loss. Surgeons use state-of-the-art equipment to extract hair follicles from the back and sides of your head and implant them strategically into balding areas. Within 12 to 18 months, healthy regrowth of hair is visible.
Want to learn more about how your hair and confidence can be restored? Then you need to book a consultation with our expert team.
Not only can we assess your condition, but we can offer advice on the best solution to you and your hair loss.
What are other treatment options available for thinning hair?
Hair tattooing is just one hair loss solution you might consider. Below are some recommended options: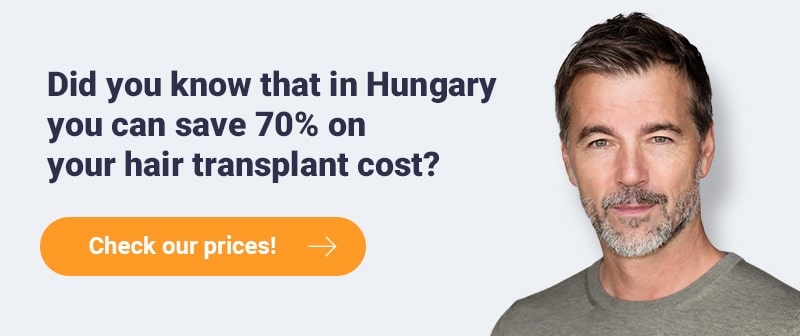 FAQ
How long do hair tattoos last?
Generally speaking, you can expect hair tattoos to last anywhere from 4 to 6 years. You can expect some fading during this time, but nothing a touch-un can't fix. That said, as long-lasting as a medical hair tattoo is, it is not permanent.
Does hair grow back over the tattoos?
Over time, hair will gradually regrow over tattoos.
Can tattoos cause hair loss?
A medical hair tattoo does not cause further hair thinning or loss. It won't amplify the effects of current conditions like alopecia. While hair may continue to fall out, this is not due to the treatment.
Do hair tattoos create realistic results?
Yes, this is an effective hair replication treatment, so long as an experienced technician is tattooing you. They can strategically shape and style hair tattooing to create a dense, trimmed look across your scalp. They can also restore your forehead's appearance with a natural-looking hairline tattoo.
Do head tattoos affect hair growth?
Tattooing involves using needles to deposit ink into the dermis layer of the skin. If the process damages hair follicles, it can impair hair growth in the tattooed area. However, this is usually not the case, and hair tattoos are generally considered safe.
HairPalace relies on scholarly sources, including peer-reviewed articles, as well as publications of medical associations and academic & research institutions. We follow strict sourcing guidelines and avoid tertiary references. Read our editorial policy for further information on how we keep our content up-to-date and accurate.
Rassman, William R., et al. "Scalp micropigmentation: a concealer for hair and scalp deformities." The Journal of Clinical and Aesthetic Dermatology 8.3 (2015): 35.
Traquina AC. Micropigmentation as an adjuvant in cosmetic surgery of the scalp. Dermatol Surg. 2001 Feb;27(2):123-8. PMID: 11207683.