Shaquiri Hair Transplant: Botched surgery?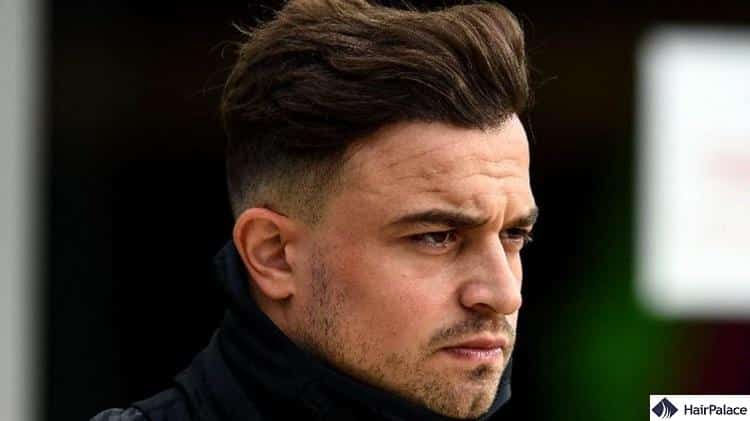 The former Liverpool winger reportedly wasn't aware that he wouldn't be allowed to head a ball for nearly 2 months after having a hair transplant.
Shaqiri enjoyed a successful carrier in both the Bundesliga and the Premier League winning trophies in both leagues.
Sadly, he was hit hard by injury which eventually forced him out of the elite leagues of football. However, according to a sports journalist, one of his injuries wasn't as serious as he made it seem.
Shaqiri missed a good portion of the latter half of 2019 due to a calf injury back in September.
Rumours now suggest that the former Swiss international was missing time due to a hair transplant. The surgery meant that he couldn't engage in aerial battles, and had to go easy on exercise.
So why did Xherdan Shaqiri have a hair transplant? What type of method did he choose? and was his procedure a success?
This article will tell you all there is to know about the Shaquiri hair transplant story.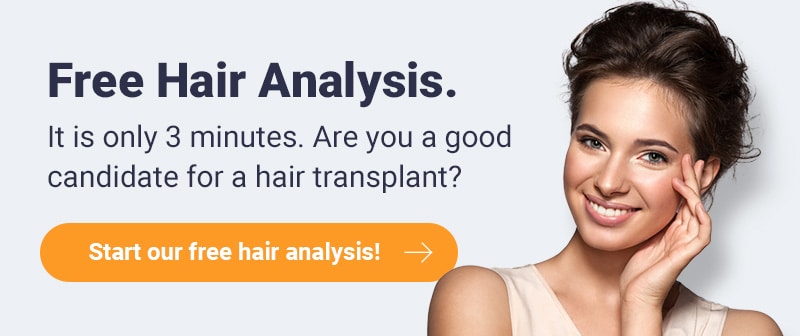 Who is Xherdan Shaqiri?
Xherdan Shaqiri began his career at FC Basel, before making the big jump to Bayern Munich. In January 2015 he was bought by Inter Milan and later moved to Stoke City just 7 months after signing for Inter.
When Stoke City got relegated to the Championship he was transferred to Liverpool. He was part of the UEFA Champions League winning team in his first season with the reds.
His playing time gradually decreased at Liverpool before eventually moving on to Chicago Fire. However, he managed to make a couple of headlines before his transfer.
Not because of his stellar performance on the pitch, but due to his strange-looking hair transplant.
Shaqiri's hair loss journey
Shaqiri was suffering from male pattern baldness, the most common form of male hair loss. Shaqiri is among the small minority of men who develop a receding hairline before the age of 21.
Receding corners can have a major impact on your self-esteem and confidence, especially as a young adult.
Most celebrities are reluctant to openly talk about having hair transplant surgeries. However, there are numerous Premier League players who talked freely about having surgery.
Wayne Rooney, Rob Holding, and most famously, Antonio Conte were very honest about their issues with hair loss and their hair transplants.
FC Basel days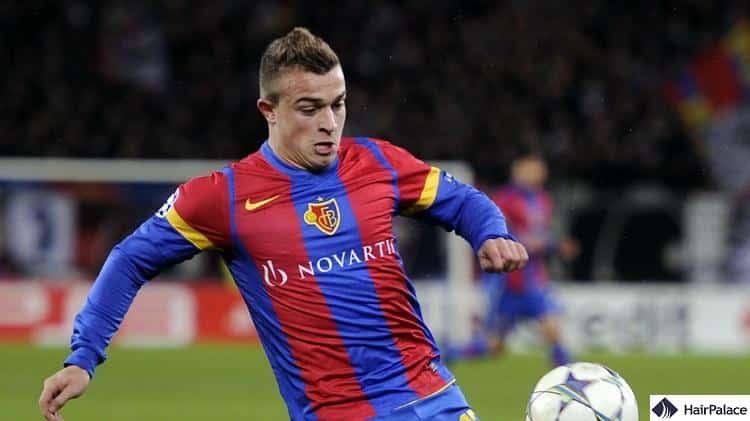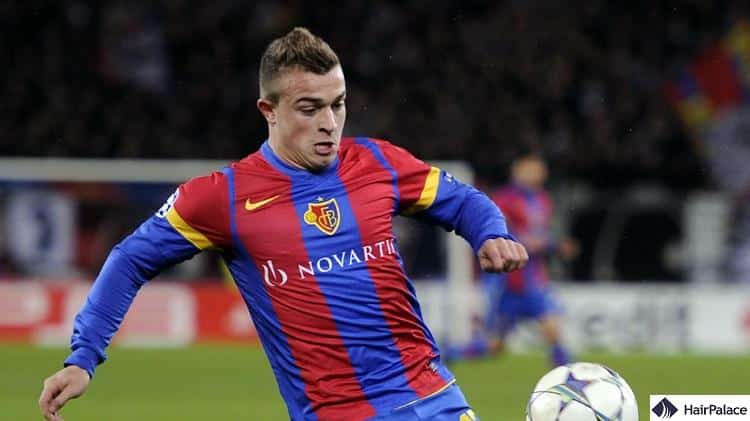 Just look at his hair in the FC Basel days, and you'll see that the footballer's hairline is receding.
His hair loss seems to be quite advanced for his age, as the temple sits quite high and there are noticeable bald spots on his frontal hairline
FC Bayern Munich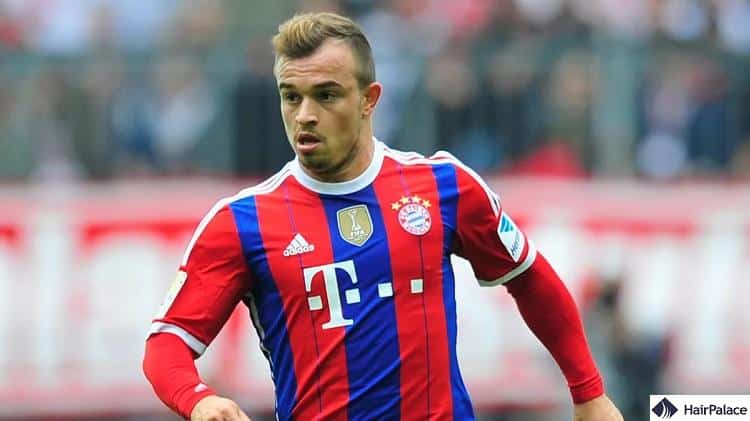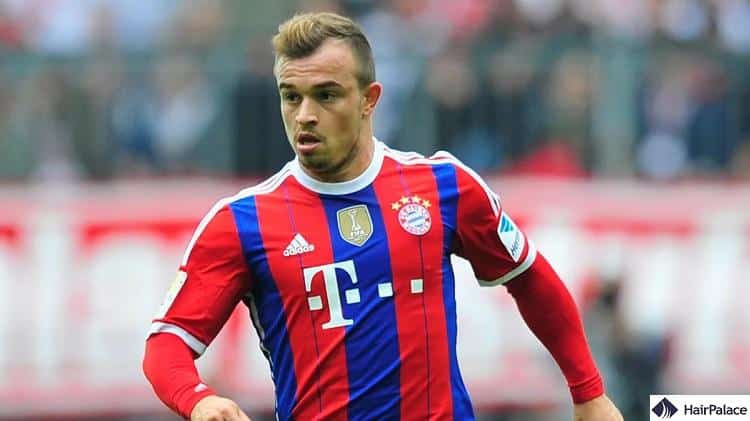 During his stint at Bayern Munich, his hair loss progressed further. You can notice a distinct M shape forming along his forehead. He appears to be on stage 3 of the Norwood scale.
In some cases, hair loss can also impact the vertex or crown area at stage 3. Luckily, this wasn't the case for Xherdan Shaqiri as he appears to have plenty of density at the top.
Stoke City and Liverpool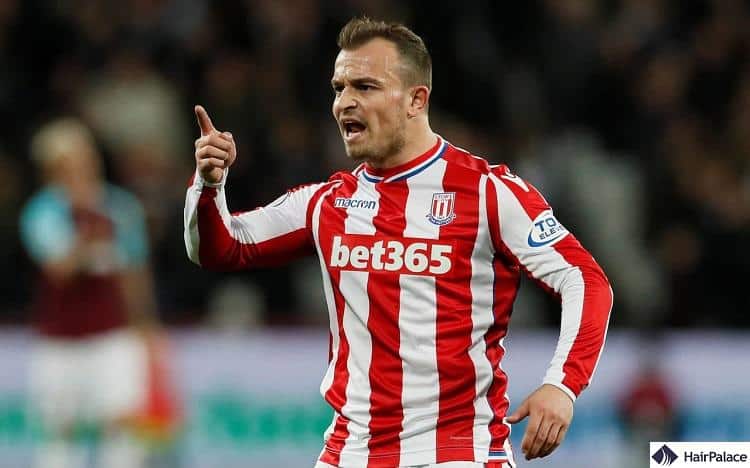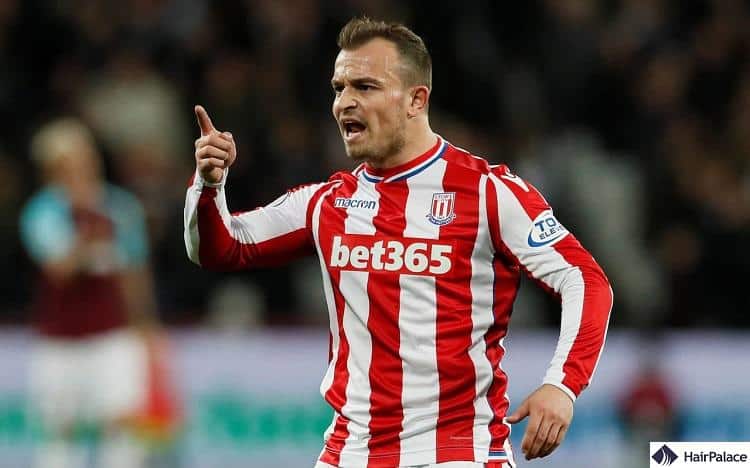 Things didn't get any better throughout his stay at Stoke City and Liverpool either, he seems to have reached stage 4 on the Norwood scale.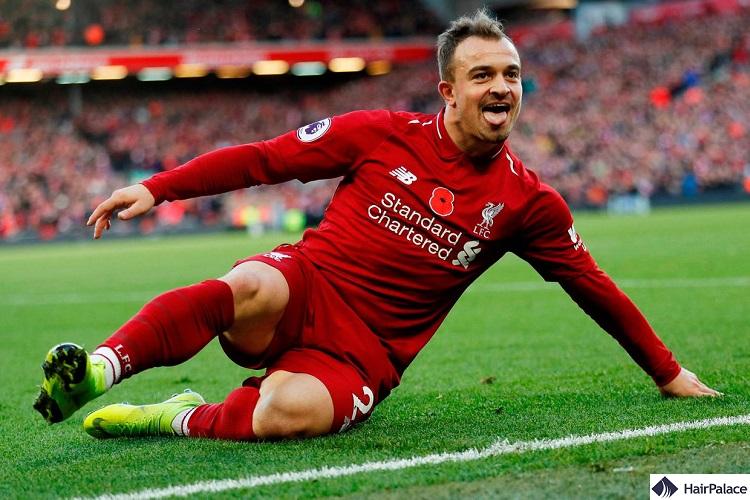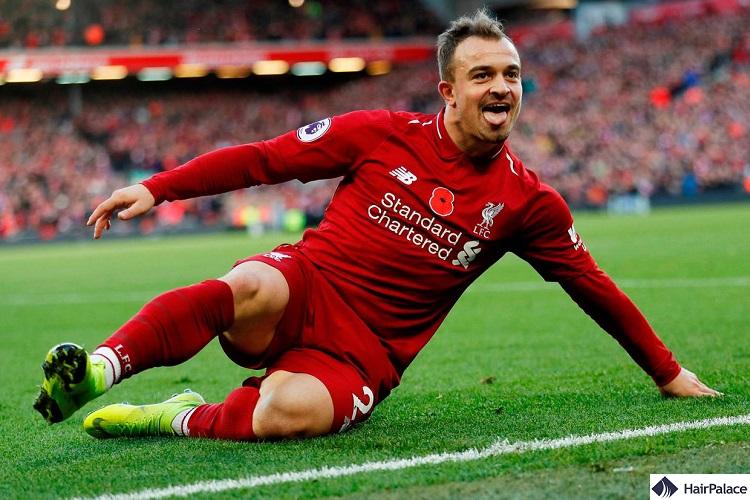 Stage 4 means an extensive amount of thinning around the crown and the frontal hairline. Judging from the pictures he was just around the edge of stage 4 in 2018.
When did the Shaqiri hair transplant take place?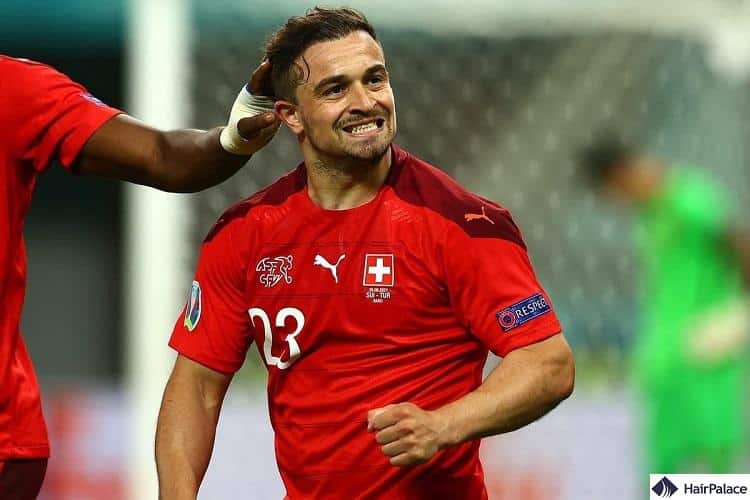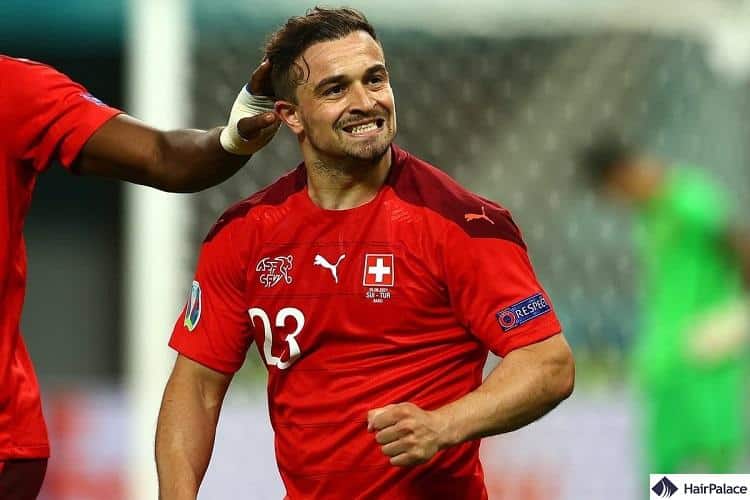 There's a stark contrast when we compare his photos from 2018 to the ones from 2020.
The majority of hair loss occurred at the front, but by 2020 Xherdan Shaqiri's hair appears much denser and fuller around both the temples and the hairline. That dreaded M shape seems to be completely gone.
Shaqiri suffered a calf injury that put him on the sidelines for the better part of 2 months. He most likely had his hair transplant done during this time.
A recent tweet from Chris Williams seems to suggest that he wasn't injured at all, and he only missed time due to his hair transplant.
Apparently, he didn't realise he couldn't head a ball for months after the procedure.
Surgeons tend to advise against strenuous physical exercise in the first few weeks of recovery, which may have been another reason for his absence.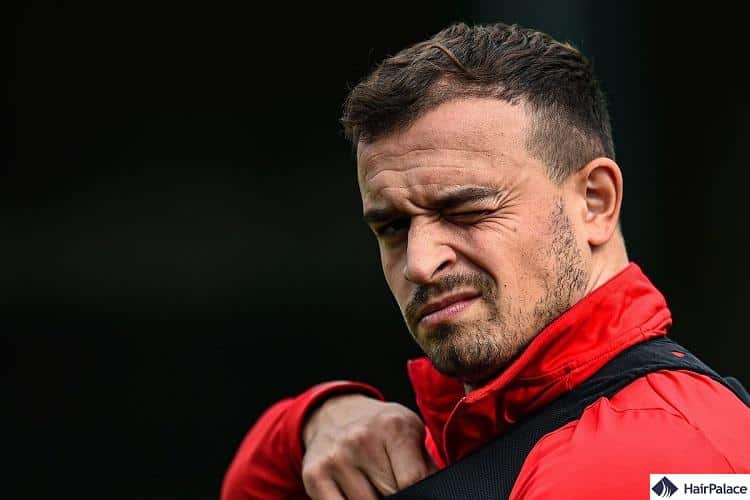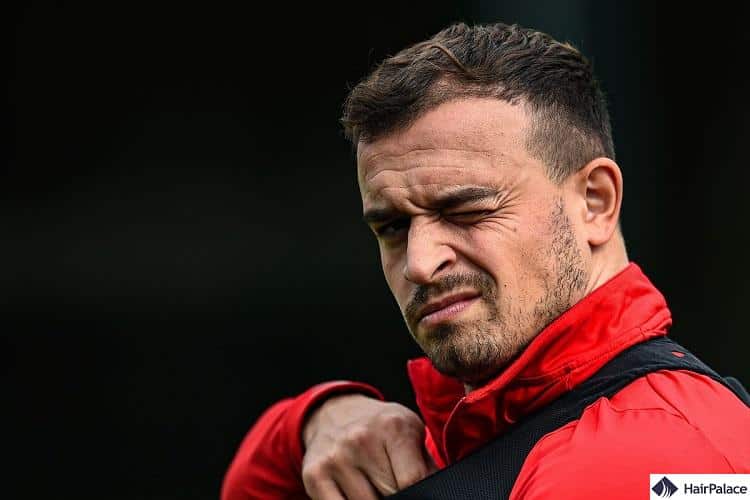 When he returned, making his debut in 2020, we saw a significant change in his hair.
Of course, the player hasn't confirmed whether he actually underwent surgery, however, we can certainly draw conclusions from the visible thickness of his hair now, compared to early 2019 and before.
Shaquiri hair transplant analysis: which method was used?
Shaqiri's hair transplant was likely done with the FUE method or one of its variants.
During FUT surgery, the surgeon removes a strip of flesh from the donor area and then harvests follicles from this strip.
This leaves a linear scar across the back of the head, that tends to be visible with short hair.
As there is no sign of scarring in Shaqiri's hair, he surely chose a different technique.
According to the ISHRS, nearly 80% of patients opted for FUE hair transplants.
FUE hair transplants offer the quickest recovery and lead to no visible scars. This is mainly why this method enjoys larger popularity than traditional FUT surgery.
Another reason why so many men opt for FUE is that it is far more efficient in terms of healing and much less invasive than FUT.
Overall, FUE is the ultimate answer to baldness, as it has high success rates, no scarring, and almost no downtime.
This makes it the perfect method for someone like Xherdan Shaqiri who can't afford to stay inactive for several months.
How many hair grafts did he need?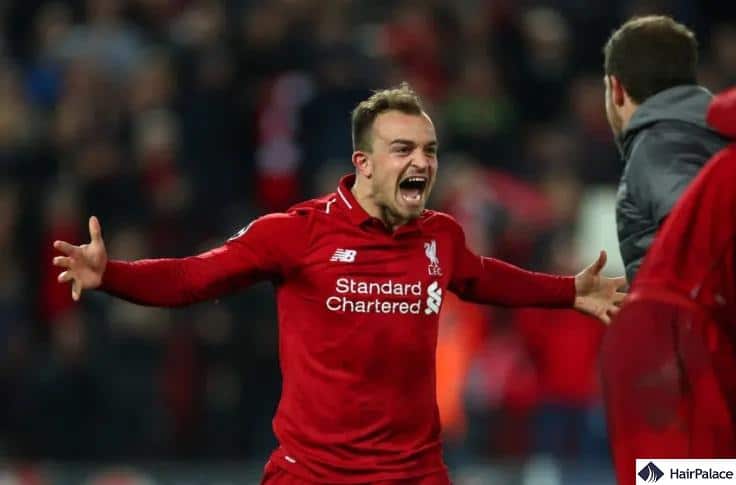 It's hard to give a definite answer about how many grafts were used during the Shaquiri hair transplant but we can make educated guesses.
Given the amount of hair loss Shaqiri suffered and the thickness of his new hairline, we can estimate that he needed around 2000-2500 grafts.
How much did it cost?
There's no information about where he had his procedure, and the price of surgery can vary greatly from clinic to clinic.
However, based on our UK price guide, a hair transplant involving the transplantation of 2000 to 2500 grafts can cost between £6,000 to £10,000.
The actual cost of the Xherdan Shaquiri hair transplant likely falls somewhere in between.
Shaquiri hair transplant results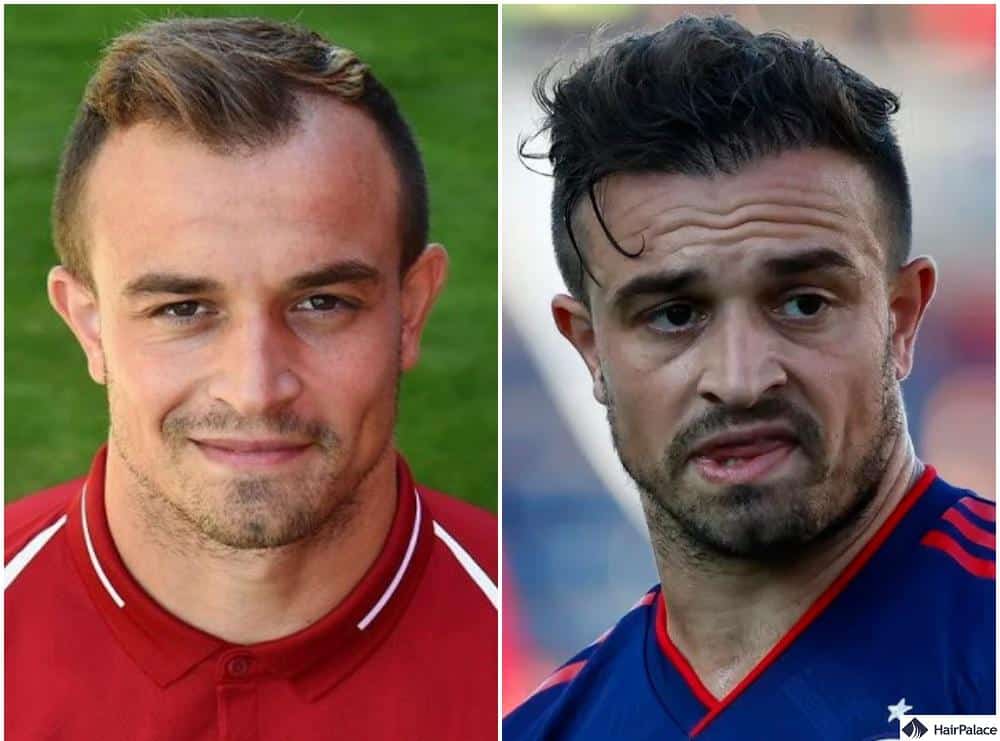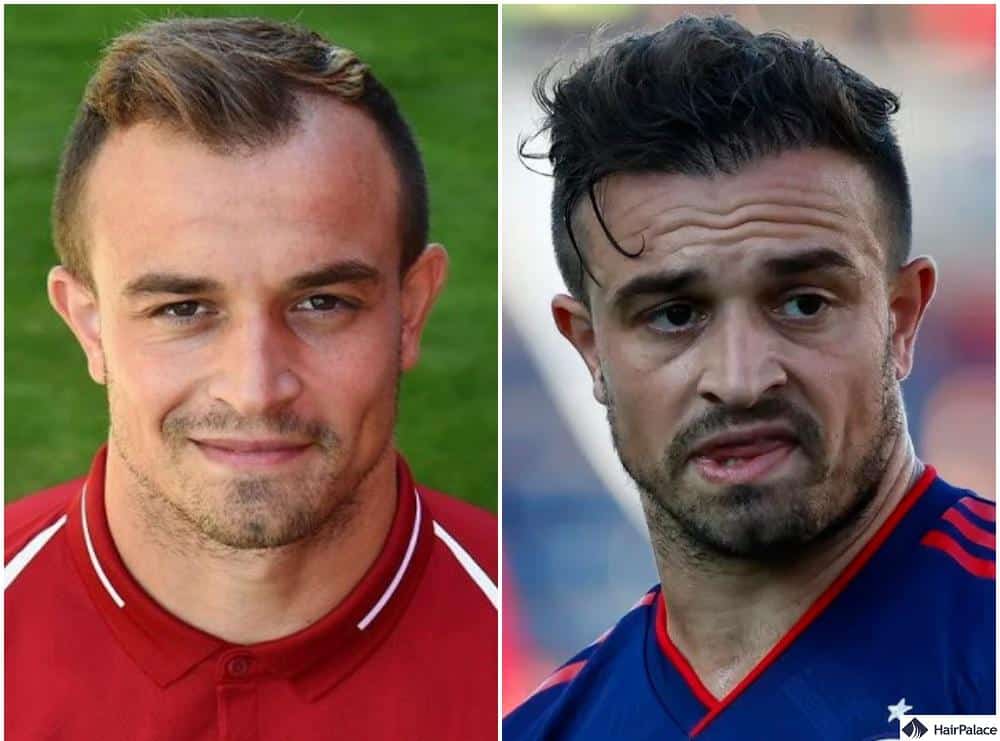 Was the Xherdan Shaquiri hair transplant a succesful one?
Although the man himself seems to be content with the full result, something seems odd about his new head of hair. His hairline appears to be uneven and unfitting for his age.
The transplanted hair bundles seem to have created a harsh zig-zag pattern along his hairline.
This is why we always stress that patients should do extensive research about clinics and surgeons. This way you can avoid unnatural or unsatisfactory results, and spend your money wisely instead of wasting it.
Opting for an FUE hair transplant is usually a great decision that completely reshapes your appearance, and restores your self-esteem.
However, in certain cases, the hair transplant can be done poorly, leaving you with unnatural-looking results.
What went wrong with Xherdan Shaqiri's hair transplant?
It's glaringly obvious that the Shaqiri hair transplant is not the most natural. But why did his hair transplant go wrong?
Unfortunate timing
The main downside of Xherdan Shaqiri's hair transplant is that the procedure would have called for a period of rest.
The first few weeks are critical in determining the success of an operation. The newly implanted grafts are extremely vulnerable in this period.
All the running, diving, and colliding that comes with being a professional football player creates a less-than-ideal environment for recovery.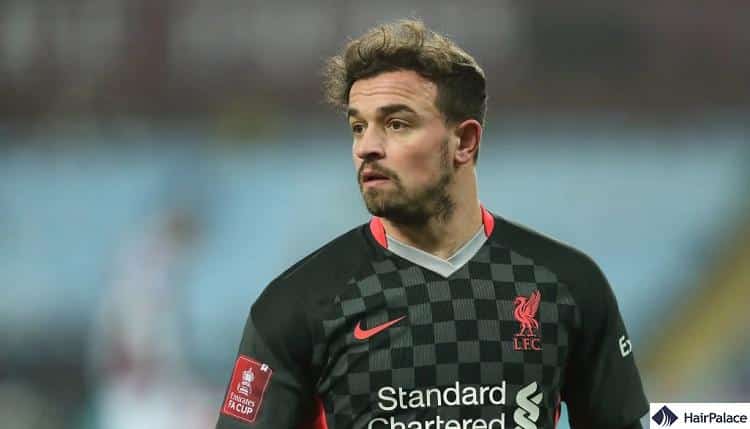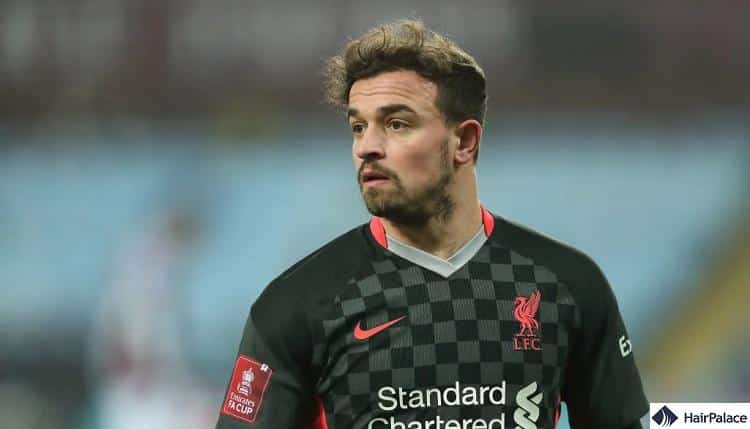 Unnatural results
While hairs are usually implanted in a zig-zag pattern at the hairline to make it look more natural.
However, in Shaquiris' case, it was overdone and resulted in a harsh, unnatural hairline. From the photos, it also seems that larger grafts were placed in the frontal hairline.
Despite all this, Shaqiri's hair looks dense, and while his hairline certainly looks unnatural this may have been the look he was going for.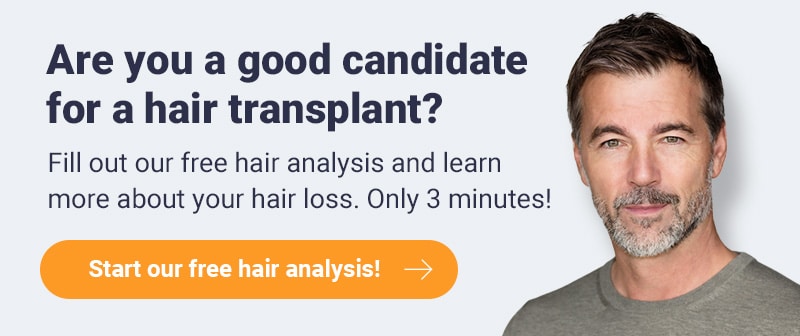 Other celebrity hair loss stories
The footballer is not the only one to struggle with hair loss. Check out other celebrity hair stories:
HairPalace relies on scholarly sources, including peer-reviewed articles, as well as publications of medical associations and academic & research institutions. We follow strict sourcing guidelines and avoid tertiary references. Read our editorial policy for further information on how we keep our content up-to-date and accurate.