Scalp micropigmentation is just one option to consider if you want to tackle your hair loss.
But what is it? How does the process work? And what results would you expect to see if you tried it?
In this post, we'll explore everything you need to know about scalp micropigmentation, to help you find the right hair restoration solution for your goals.
What is scalp micropigmentation?
Scalp micropigmentation is a cosmetic treatment designed to create the impression of thicker, fuller hair.
It involves no surgery or transplantation, which may immediately seem appealing if you're concerned about undergoing a more complex procedure. But scalp micropigmentation does NOT achieve real growth like a hair transplant does.
Instead, a trained professional will essentially "draw" hair onto the scalp by implanting pigment with a handheld device.
This may be applied to one or more areas of the scalp to cover up signs of baldness. Different hues are available to suit diverse hair and skin colours.
Scalp micropigmentation shares similarities with microblading, which has become a hugely popular way to enhance the appearance of eyebrows.
But scalp micropigmentation is a more comprehensive treatment, performed with an electric tattoo device (due to the power required to penetrate the epidermal layer).
It also covers a wider area of skin than microblading, which is restricted to the eyebrows only.
Who is scalp micropigmentation for?
Scalp micropigmentation is suitable for a wide range of people, including those losing hair due to:
cancer treatment (e.g. chemotherapy)
alopecia
male or female pattern baldness (beginning with a receding hairline and/or baldness at the crown)
thinning hair
Scalp micropigmentation can transform your appearance: it suggests that you have healthy hair growth but have chosen to shave it close to the skin.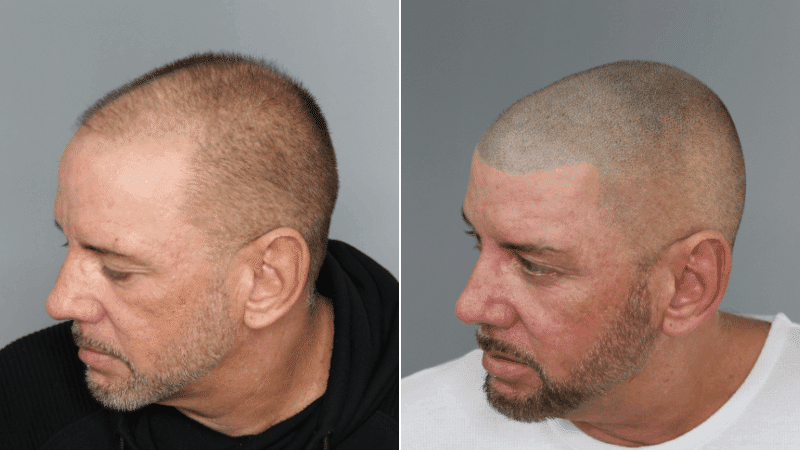 It may be particularly useful if you have a mild receding hairline (or a mature hairline) and want to make it appear lower. Or if you want people to think that your short hair is a personal choice rather than the result of a medical condition.
How does it work, and does it hurt?
During the scalp micropigmentation process, a specific pigment is injected just below the scalp to imply the presence of hair where it no longer grows.
A high-precision device essentially tattoos the pigment onto the head, positioning tiny dots in large quantities to create an illusion of density.
In fact, if you have tattoos anywhere on your body, the procedure may seem familiar. The pigment will be applied to follow the natural pattern of your hair follicles.
A consultation is typically required before the procedure.
This enables an expert to assess your scalp and hair loss, before explaining the results you should expect to see. It also gives you an opportunity to ask questions and address any concerns you might have.
You might not be a suitable candidate for scalp micropigmentation if you have psoriasis or are prone to keloid scarring, as it may be too difficult to successfully apply pigment to the target areas.
On the day of the procedure, a topical agent will be applied to numb the relevant areas of the scalp (e.g. the crown, the hairline) first. But it's possible that you might still experience some discomfort during the treatment.
Again, if you have one or more tattoos, you may know what to expect once the process begins.
How many treatments are required?
You may require multiple treatments to achieve your ideal results.
Each one will likely last around four to five hours, though lengths can vary from one case to the next.
The number of treatments you need will depend on the amount of scalp involved.
A smaller area (such as a patch near the front) may be finished within three or four treatments, though more will be necessary for bigger areas.
The first treatment will typically focus on laying a foundation. Subsequent sessions will add further layers, to achieve the shade and coverage required.
Treatments will be separated by a few weeks. These intervals give the scalp time to heal.
When will you see results?
You will see immediate results from scalp micropigmentation: the pigment is applied directly to the skin, so you can see the treatment taking shape during the procedure.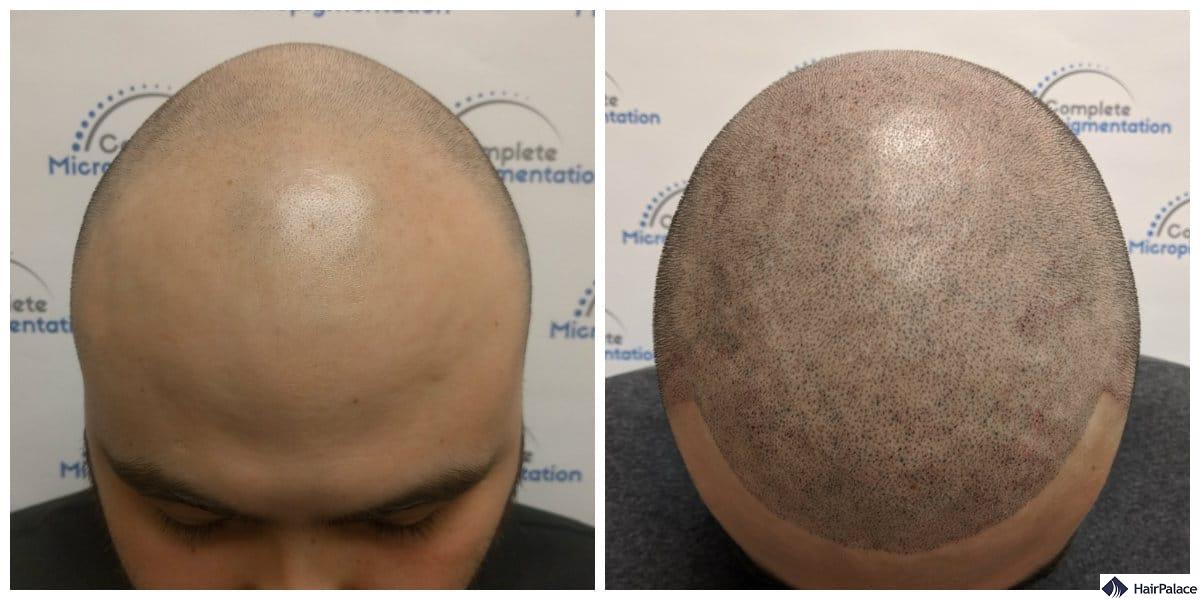 However, as the first treatment usually centres on laying a foundation upon which to build during future sessions, you may be surprised by how light the pigmentation appears at first.
What should you pay attention to after the treatment?
Certain precautions will be recommended after your scalp micropigmentation, depending on your personal circumstances.
Measures may include:
avoiding swimming for a set period
avoiding strenuous exercise for a number of days
staying out of steam rooms and saunas for around one month
moisturising your scalp between treatments
staying out of the sun for around one month (and using a high-SPF sunscreen after this period)
You'll be provided with more specific instructions before and after your treatment.
Does scalp micropigmentation have further benefits?
Scalp micropigmentation offers further benefits than simply reducing the effects of hair loss. It can also be used to conceal birthmarks, scars, and burns on the head.
How much does scalp micropigmentation cost?
The cost of scalp micropigmentation varies depending on:
the size of the treatment areas (whole scalp, crown, etc.)
whether you have scars, burns, or birthmarks to cover
the number of sessions required to achieve your desired look
the clinic, its team, and location
Price is one of the most important factors to consider. You may be presented with a competitive rate for a single session, but these will add up over time.
It's crucial that you confirm the full price for your course of treatments before you choose a particular clinic.
Generally, though, you may be able to undergo scalp micropigmentation targeting the hairline or crown for less than £700.
The cost will rise as more and more coverage is required: if the entire top of your head is bald but you still have healthy growth around the back and sides, you could find a treatment for around £1000 or less.
Covering burns and scars can be more complex, so prices for these treatments will be higher.
How long does scalp pigmentation last?
Scalp micropigmentation does NOT achieve permanent results.
Typically, the pigments injected into your scalp could remain visible for close to a decade — but they will fade dramatically during this time.
You may even start to see reduced visibility after around four to six years following your final treatment.
Why? Because the skin will naturally exfoliate itself, and fading could be accelerated if you have dry, flaking skin. The colour may grow lighter too.
You'll need to keep undergoing touch-up sessions every three to six years to maintain quality results.
This is why you should think carefully before you decide whether or not to try scalp micropigmentation.
It's an ongoing commitment: you may be required to schedule treatments every few years for the rest of your life if you want to keep the pigment at its best.
Considering the costs involved, scalp micropigmentation can become more expensive than you may expect over time.
Other hair loss treatments are available, and may be a better option if you want to restore your hair growth.
Hair transplant surgery is the most effective solution: it can restore growth in bald/thinning areas with permanent results.
It doesn't simply cover up hair loss — it implants your own donor follicles into your scalp to cultivate new, seamless growth.
Once your transplant is complete and your hair grows back across the following 12 to 18 months, you may never need another treatment.
Are there any risks or side effects of the treatment?
Scalp micropigmentation does involve a degree of risk.
One of the biggest potential issues is choosing the wrong practitioner.
Effective training is essential to handle the electric tattoo device with maximum accuracy, and to follow the scalp's follicular pattern to achieve a natural look.
Other possible risks and side effects include:
allergic reactions to the pigment/ink
injury caused by the needle (particularly a risk with insufficient training or experience)
Scalp micropigmentation can help people living with certain conditions or looking to enhance the appearance of their hair in small ways, such as filling in the hairline.
However, hair restoration procedures (such as FUE) can restore full hair growth — providing a more effective solution.
To learn more, speak with HairPalace's team today.
FAQ
What is SMP?
Scalp micropigmentation is a cosmetic treatment: pigment is applied to the scalp with an electric tattoo device. This creates the appearance of healthy hair growth in one or more areas affected by baldness/thinning hair.
How much does it cost?
The price of scalp micropigmentation varies, depending on the size of the areas to be treated, the number of sessions required, and the clinic. But smaller sessions are available for below £1000.
How long does it last?
The results of scalp micropigmentation can last for several years, but they will fade during that time. Touch-up sessions will be required every three to six years to maintain best results.