Hair Transplant New Zealand — TOP 5 Clinics in 2023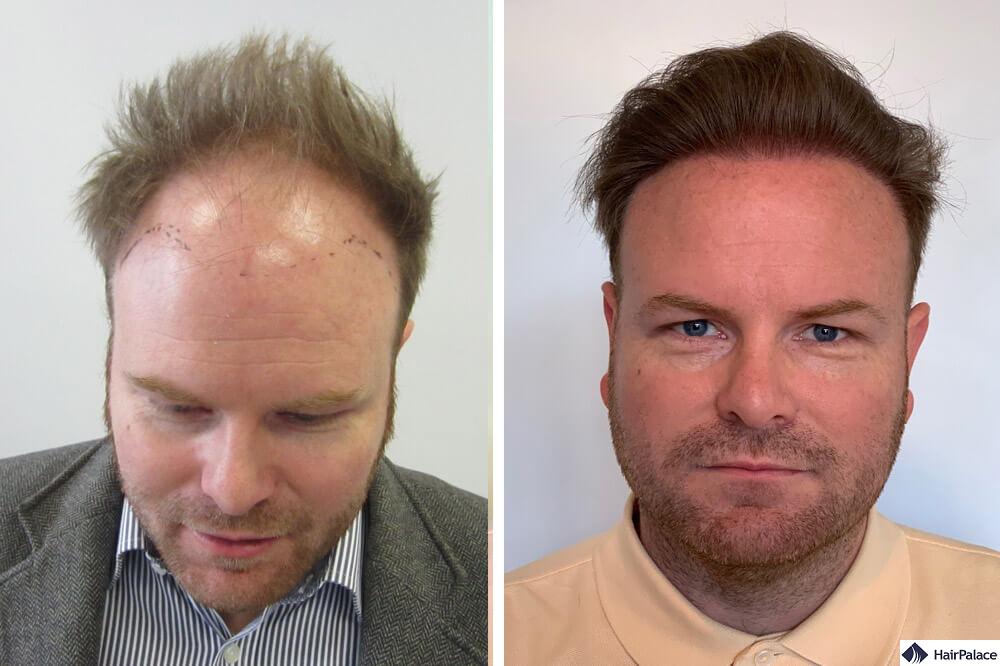 A hair transplant in New Zealand can be a life-changing procedure, and more people are deciding to boost their confidence and restore their hair to its former glory.
But with so many clinics to choose from, it can be difficult to know where to start.
At HairPalace, we're here to help. We've conducted extensive research across all hair clinics in New Zealand, to highlight our top 5.
Our recommendations will help you make an informed decision on your hair loss treatment. From the best clinic, the best prices, and the best procedure to pick from, your hair is in safe hands with us.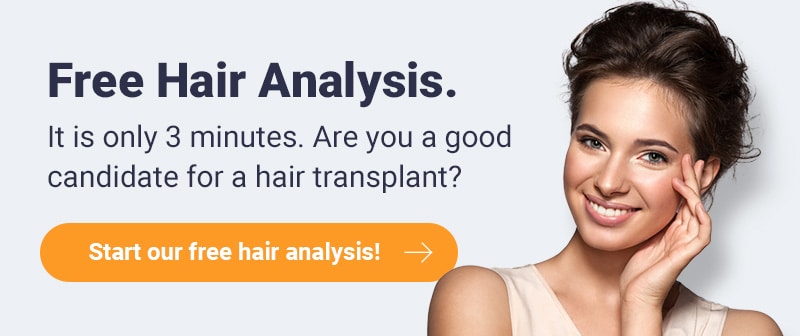 Fast facts
Hair transplants in New Zealand
Techniques
FUT, FUE and DHI
Duration of surgery
6 to 8 hours
Anesthesia
local anesthesia
Shaving
required
Pain
none to slight
Potential side effects
swelling, redness, numbness of the scalp
Scarring
practically undetectable
Recovery
FUE and DHI: 7-10 days
FUT: around 10-14 days
Return to work
in 2-5 days
Exercise
from 3-4 weeks post-op
Hair wash
2 weeks after treatment
Result
in 12-15 months
Hair transplant NZ cost
Price can be one of the most important factors you must consider. Your goal should always be to find the best patient care, at the best price.
We've compared the price of hair transplants across the top 5 hair clinics in New Zealand.
Our data includes both small and large procedures to give you the full picture of how much your treatment will cost.
The prices are based on information provided by doctors, users or other portals. The actual prices can only be determined after a medical consultation, taking into account the physical requirements and individual wishes.
How many grafts will you need?
The size of your surgery will ultimately depend on the number of grafts you will need. Typically, different parts of your scalp require more or less attention.
Our diagram below gives an estimate of the common areas of hair loss, and how many grafts they often require during surgery.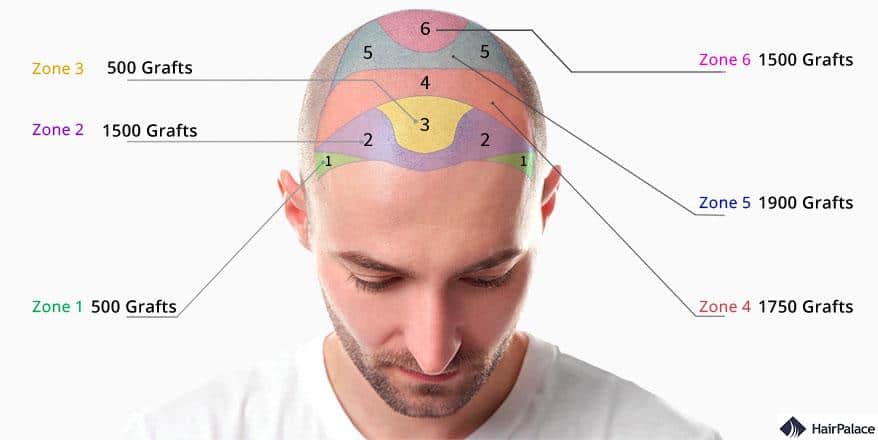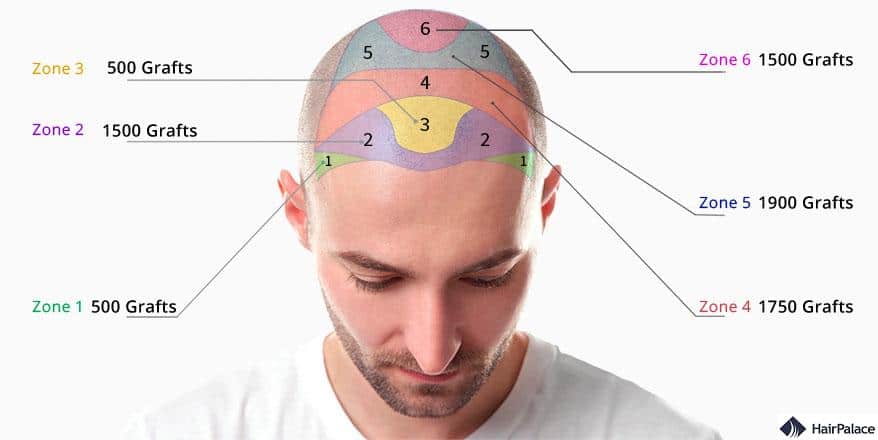 What is included in the price of a hair transplant in New Zealand?
Every clinic is unique, and will often offer packages to reduce the cost of procedures for customers, while still providing extensive, high-quality care.
In general, hair transplants in New Zealand include:
Consultation with a specialist
The surgery
Prescription of medications
Post-surgery aftercare, including follow-up visits.
The TOP 5 hair transplant clinics in New Zealand
New Zealand has so many world-renown hair transplantation clinics across the country. And with so many choices, it can be hard to know where to begin.
We've used verified patient reviews to find the 5 best clinics across New Zealand. Each one comes highly recommended across several factors, including patient care, price, and most importantly – results!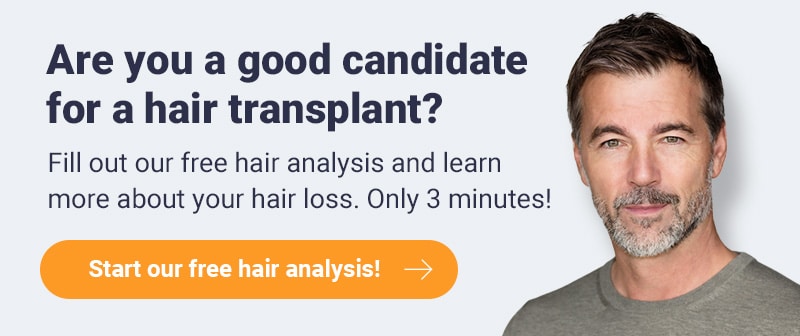 1. Ashley and Martin Auckland
Location:
L6/5 Short St Newmarket,
Auckland, 1001
Treatments: FUT and FUE methods
Costs: 3000 hairs = 12000 $, 5000 hairs = 15500 $
Treatments performed by: the medical team
Rating: 4.4

based on 106 Google reviews
Website: ashleyandmartin.co.nz
The Ashley and Martin Medical Hair Centres offer world-class patient care, and some of the most qualified specialists in the industry.
A team of expert pharmacists ensures that you are well cared for, with individualized treatments and compounds created to suit your every need.
The clinic offers free consultations, making this a prime destination for any curious person looking at their options. And with a host of effective treatments offered, this clinic is suitable for men and women in all stages of hair loss.
And with clinics across New Zealand, including Auckland, Wellington, and Hamilton, slots are readily available and convenient to attend.
2. The Knudsen Clinic
Location:
7 Morgan Street,
Newmarket,
Auckland 1023
Treatments: FUT (Strip), FUE and ARTAS (Robotic FUE)
Costs: 3000 hairs = 13000 $, 5000 hairs = 20000 $
Treatments performed by: Dr Russell Knudsen and his team
Rating: 4.5

based on 15 Google reviews
Website: knudsen.co.nz
Established in 1984, the Knudsen Clinic is considered one of the pioneers in modern hair transplant surgery across New Zealand and Australia.
The clinic is led by the legendary Dr Russel Knudsen, who has performed over 1,000 procedures and counting across 37 years. Suffice it to say, he and his team are incredibly experienced and offer a plethora of treatments.
Their goal is simple – provide patients with consistent, life-changing results in a safe, secure environment.
3. New Zealand Hair Transplantation Institute
Location:
26 College Hill,
Freemans Bay,
Auckland 1011
Treatments: FUE, Direct Hair Implantation
Costs: 3000 hairs = 7000 $, 5000 hairs = 12000 $
Treatments performed by: Dr Garsing Wong, Dr Thomas Doo and other professional experts
Rating: 5.0

based on 4 Google reviews
Website: www.nzhairtransplant.co.nz
As Auckland's first full-time FUE hair transplant clinic, it's no surprise that the New Zealand Hair Transplantation Institute is New Zealand's premier clinic for hair transplant surgery.
Why? They offer some of the most cutting-edge technologies in the industry, including the revolutionary Trivellini Tech vacuum-assisted multiphasic FUE hair transplant system, which is a game-changer in hair transplant surgery.
What's more, doctors who work in the clinic are locally trained and work full time in Auckland. The Institute hosts teaching and senior medical students from the school of Medicine at the University of Auckland, showcasing they are setting the standard in patient care and treatments.
4. Gro – Auckland Clinic
Location:
Remuera Surgical Care Level 1/122
Remuera Road, Remuera,
Auckland 1050
Treatments: FUE hair transplants
Costs: 3000 hairs = 12500 $, 5000 hairs = 17500 $
Treatments performed by: a medical team
Rating: 5.0

based on 4 Google reviews
Website: groclinics.co.nz
Using minimally invasive surgeries like FUE, Gro Auckland Clinic aims to give the highest-quality results to both men and women suffering from hair loss.
Every procedure is completed by a highly-skilled doctor, who puts great care into the strategic placement of grafts.
Doctors are all well-versed in the latest Scientific research. Combined, the medical team has over 50 years of experience in the industry, ensuring only the most effective and appropriate treatments. The result? An incredibly natural-looking hairline with little to no signs of surgery present.
5. Advanced Hair Studio
Location:
30 Saint Benedicts Street,
Eden Terrace,
Auckland 1010
Treatments: FUE
Costs: 3000 hairs = 9990 $, 5000 hairs = 13990 $
Treatments performed by: an advanced medical team
Rating: 3.5

based on 24 Google reviews
Website: www.advancedhair.co.nz
With over 65 global clinics and over 1 million happy patients, the Advanced Hair Studio is renowned for exceptional hair transplantation surgery.
These clinics offer a variety of advanced hair care solutions to men and women of all ages.
With 5 clinics in New Zealand, including Auckland, Christchurch, and Wellington, booking an appointment is quick, easy, and well worth your efforts.
Their growing list of celebrity patients is also a testament to their high-quality results, like cricketer Darren Gough, and international models like Evelize Moraes Rocha receiving treatments here.
The most common procedures in New Zealand
NZ hair transplant clinics offer a whole range of procedures. Looking at the statistics, we can see there are clear favourites when it comes to getting a hair transplant procedure in New Zealand.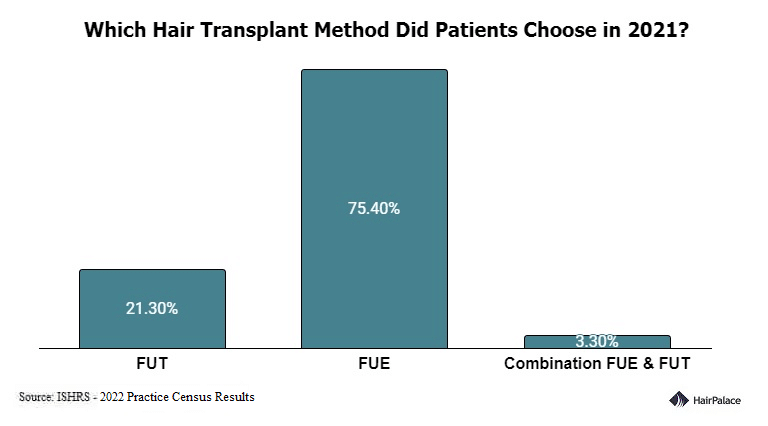 From the offset, it's clear patients want the least invasive surgery. FUE is by far the most popular technique in recent years. Following that, both DHI and FUT techniques are also common.
1. FUE hair transplant in New Zealand
Follicular Unit Extraction, also known as FUE, is one of the most popular procedures.
It is the least invasive option, with virtually undetectable scarring on your scalp. It also provides great results with a quicker recovery.
FUE surgery has two simple stages.
The surgeon will harvest follicles one by one with a micro punch.
Afterwards, they will open channels in the receiving area for implantation.
2. DHI hair restoration
A DHI hair transplant, also known as Direct Hair Implantation, is almost the same as the popular FUE procedure. The main difference is that there are no channels made during the implantation of your own hair.
Instead, your surgeon will use a special implanter pen to implant grafts directly into targeted areas of your scalp.
3. FUT or strip hair transplant
Follicular Unit Transplantation, or FUT, is an effective procedure for treating larger areas of hair loss.
Your surgeon will cut a narrow strip of hair from a donor area. They will then extract a larger number of hair follicles.
It is more invasive than other techniques, and there may be some noticeable scarring if the hair is kept short.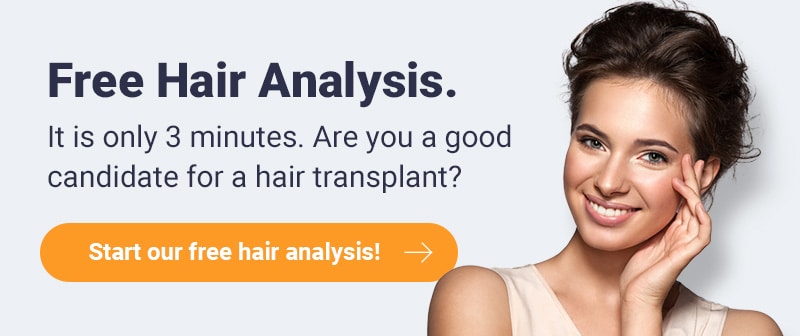 Hair transplant NZ advantages and disadvantages
Although New Zealand has some of the most experienced doctors and renowned clinics in the industry, is it the right place for your surgery? Let's weigh up the pros and cons.
Advantages
Great selection of clinics located across the country
Minimal travel required
Well-regulated industry
In-person appointments available
Disadvantages
Often more expensive
Prices may not be all-inclusive
Clinics abroad may offer similar services but for much less
Longer waiting lists
Overseas clinics may offer high-quality services at a fraction of the cost. We highly recommend you spend time researching all your options.
Hair transplant New Zealand results
New Zealand clinics pride themselves on high-quality patient aftercare. Follow their advice thoroughly to ensure the best results. These typically include:
Cleaning your scalp using sterile saline sprays
Taking antibiotics
Avoid hats, scarves, and harsh hair treatments (shampoos, etc.)
You should take a few days post-surgery off from work, as you can expect redness, mild swelling, and scabbing to take place.
Small wounds should heal in 10-14 days. To ensure they heal quickly, you should use natural hair products, and avoid exercising, tanning, and swimming for 3-4 weeks.
After about 1 month, your implanted hairs will begin to fall out. Regrowth will begin at 3-4 months post-surgery. Gradually, your hair will grow back denser.
You can expect the final result of your hair transplant surgery around 12 months after your procedure. Attend check-ups and examinations to ensure your scalp and hair are recovering properly.
Best hair transplant in New Zealand: Review comparison
Still undecided about which hair clinic is right for you? We're here to help.
Hair transplant reviews offer great insight into how a clinic works. Patients share first-hand experiences of their time there, including customer care, price, and hair restoration results.
Examining patient experiences gives you a behind-the-scenes, honest account of how clinics work day in and day out.
Clinic name
City
Google rating
Ashley and Martin Auckland
Auckland
4.4
based on 106 Google reviews
The Knudsen Clinic
Auckland
4.5
based on 15 Google reviews
New Zealand Hair
Transplantation Institute
Auckland
5.0
based on 4 Google reviews
Gro – Auckland Clinic
Auckland
5.0
based on 4 Google reviews
Advanced Hair Studio
Auckland
3.5
based on 24 Google reviews
Video: Rod's hair transplant in New Zealand
Find the best hair transplant clinics nearby
Still undecided about what hair clinic is right for you? Unsure if you'd make a great candidate for surgery in the first place?
Our free hair transplant analysis will only take 2 minutes to complete. It offers you personalized advice on the best clinics available to you.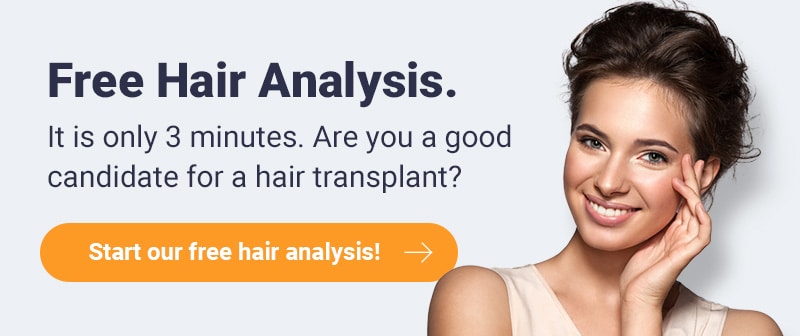 HairPalace relies on scholarly sources, including peer-reviewed articles, as well as publications of medical associations and academic & research institutions. We follow strict sourcing guidelines and avoid tertiary references. Read our editorial policy for further information on how we keep our content up-to-date and accurate.