Hair Transplant in Dublin – Top 5 Clinics in 2022
The TOP 5 Hair Transplant Clinics in Dublin are:
A hair transplant in Dublin is a popular option for men looking to treat a mild hairline recession or full baldness with lasting results.
The latest hair restoration treatments use your own follicles to cultivate growth on one or more areas of the scalp. This creates natural, seamless results over a period of 12 to 18 months.
And if you're based in or near Dublin, you can choose from several reputable hair transplant clinics. But it's vital that you research your options before you make a decision — you may be disappointed with the results or pay more than you need to if you pick the wrong clinic.
To help you find the right location for you, we've chosen 5 of the top clinics offering hair transplants in Dublin. We'll compare them based on their range of treatments, costs, and teams.
Hair transplant cost in Dublin: Price Comparison
We've compared the hair transplant costs at the TOP 10 hair clinics in Dublin. Most clinics work with package prices; however, the services included might differ.
The prices are based on information provided by doctors, users or other portals. The actual prices can only be determined after a medical consultation, taking into account the physical requirements and individual wishes.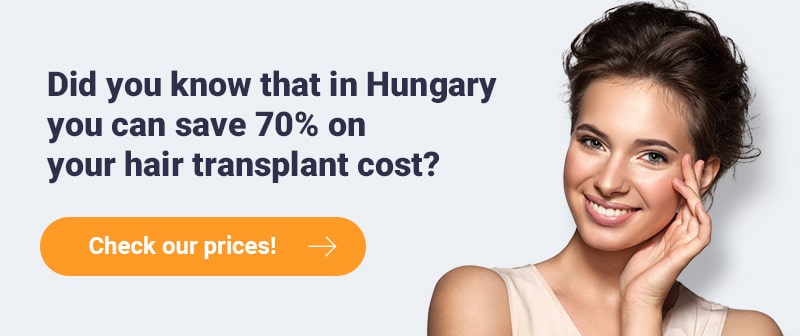 Hair transplant in Dublin: Reviews Comparison
We've compared for you the 10 best hair transplant clinics in Dublin based on their Google reviews. Find out which hair clinic got the most and the best reviews from their patients.
Clinic name
City
Google rating
Premier Hair Clinic
Dublin
4.9
based on 214 Google reviews
Ailesbury Hair Clinic
Dublin
4.9
based on 133 Google reviews
Hair Restoration Blackrock
Dublin
4.2
based on 34 Google reviews
Tir na nÒg Clinic
Dublin
4.8
based on 29 Google reviews
Medical Hair Restoration
Dublin
4.1
based on 14 Google reviews
HairPalace Hungary
Budapest
4.9
based on 244 Google reviews
1. Premier Hair Restoration Clinic (PHRC)
Location:
The Mews,
Rear of 19,
Leinster Square,
Rathmines,
Dublin 6,
Treatments: Follicular Unit Extraction (FUE)
Costs: 3000 hairs = 7200 €, 5000 hairs = 10500 €
Treatments performed by: Trichologists
Rating: 4.9

based on 214 Google reviews
Website: premierhairclinic.ie
PHRC provides patients with a selection of surgical and non-surgical hair loss treatments. FUE hair transplants are available for those looking to restore their hair through one of the most popular methods. Other options include:
Laser hair regrowth therapy
Non-surgical hair replacement
The PHRC team has more than 35 years of combined experience, and the clinic is part of the World Trichology Society. This provides its staff with access to new insights into hair loss and treatments.
Besides a hair transplant in Dublin, the clinic offers various trichological treatments to target several conditions, such as:
Male and female pattern baldness
Diffuse alopecia
Anagen effluvium
Alopecia areata
2. Ailesbury Hair Clinic
Location:
26 Clare Street,
2nd and 3rd Floor,
Dublin 2
Treatments: FUE
Costs: 3000 hairs = 7500 €, 5000 hairs = 12500 €
Treatments performed by: No information provided
Rating: 4.9

based on 133 Google reviews
Website: www.ailesburyhairclinic.ie
Ailesbury Hair Clinic treats patients with a unique combination of methods:
Aesthetic Hair Integration (AHI) FUE
Follicle multiplication in donor sites (to prevent thinning after extraction)
PRP treatment to reinforce hairs after transplantation
Application of specialised trichology hair products after the procedure
Laser light rejuvenation therapy after two months to stimulate circulation and toughen follicles
The AHI treatment is based on FUE, and performed with a specially designed pen that allows users to position follicles at precise angles for a natural look.
3. Tir na nÒg Clinic
Location:
Donaghmede Clinic:
Grange Clinic,
Grange Rd,
Donaghmede
Dublin 13,
D13F7H9
Treatments: FUE, Follicular Unit Transplantation (FUT)
Costs: 3000 hairs = 7200 €, 5000 hairs = 12200 €
Treatments performed by: Hair transplant surgeon and technicians
Rating: 4.8

based on 29 Google reviews
Website: https://tirnanogclinic.com
Treatments available at Tir na nÒg Clinic include hair restoration and medical aesthetics procedures, such as anti-wrinkle injections, micro-needling, and blepharoplasty.
Its team comprises surgeon and co-founder Dr. Kevin McDonald MB MRCS MCh and several hair transplant technicians. They restore patients' hair with both FUE and FUT treatments.
Tir na nÒg Clinic offers hair transplants in Dublin in three locations: in Donaghmede, the city centre, and Tallaght.
4. Hair Restoration Blackrock (HRBR)
Location:
Samson House,
Sweetman's Avenue,
Blackrock,
Dublin
Treatments: FUT
Costs: 3000 hairs = 9000 €, 5000 hairs = 14000 €
Treatments performed by: Hair transplant surgeon
Rating: 4.2

based on 34 Google reviews
Website: www.hrbr.ie
HRBR has treated multiple high-profile celebrities, including:
Anton Du Beke (dancer and judge on Strictly Come Dancing)
James Nesbitt (actor known for Cold Feet, Stan Lee's Lucky Man, and The Hobbit trilogy)
Louis Walsh (former judge on The X-Factor and music manager)
Each of these has provided a testimonial for HRBR. The clinic provides both non-surgical treatments (such as minoxidil) and FUE hair transplants in Dublin. However, minoxidil is a topical treatment and must be continually applied to maintain any growth that develops. It requires long-term use, and doesn't guarantee results.
HRBR also treats patients for dermatological conditions and provides laser hair removal.
5. Medical Hair Restoration (MHR Clinic)
Location:
51 Grafton Street
Dublin 2
D02K635
Treatments: FUE, Unshaven Follicular Unit Extraction (U-FUE)
Costs: 3000 hairs = 8500 €, 5000 hairs = 12000 €
Treatments performed by: Technicians
Rating: 4.1

based on 14 Google reviews
Website: www.mhrclinicireland.com
At MHR Clinic, patients can choose from the FUE or U-FUE technique. The latter involves extracting donor hairs carefully from the back or sides of the head without shaving the area(s) first. This keeps hairs intact while they're transplanted to target areas.
However, it's more expensive than some other hair loss treatments due to the extra time required.
MHR Clinic also restores beard hair through a similar process: extracting donor follicles from one or more areas of the beard to fill in thinning or bald patches.
These five hair clinics in Dublin offer a wide range of treatments, whether restoring hair through transplantation or using scalp micropigmentation to create the illusion of growth. But some have achieved better reviews than others, so check feedback from other patients before you decide to book a consultation.
You may find that people experiencing a form of hair loss similar to your own are dissatisfied with their results or a specific aspect of their treatment. That's no guarantee that you would be equally unhappy with your hair restoration, but it should encourage you to consider your options carefully.
Wherever you go in Dublin, you may find that prices are higher than you expect. That tends to be the case at many hair clinics in the UK too.
But HairPalace offers a more cost-effective way to restore your hair.
Our Budapest clinic provides state-of-the-art, guaranteed FUE treatments at incredibly competitive prices — you can save up to 70% on standard prices in the UK.
If you want to learn more about our affordable hair transplants, book a consultation with one of our specialists in Dublin today.
Discover more about the best hair transplant clinics
Besides having your hair transplant in Dublin at one of the clinics above, you have several more options across the country and abroad: