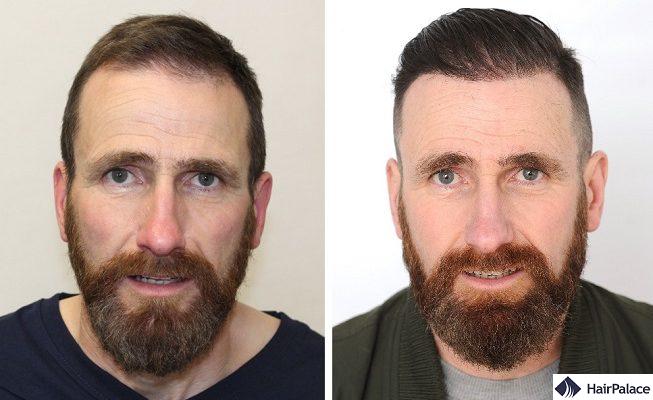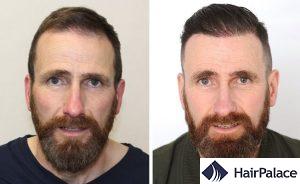 Andrew from Dublin
Number of hair transplants: 1
Number of transplanted hairs: 2777
We have corrected Andrew's hairline with 2777 hairs on the 21st of May 2018. He was so satisfied with the results, he recommended us to his family and friends.
Visit our office in Dublin for a free consultation
The very first step to resolve your hair loss issue and get your hair transplant done is a no-obligation examination. This is essential to ensure that the hair transplant can be carried out safely and effectively and to get an accurate quote for your treatment.
You can meet our hair transplant experts for a free consultation in our Dublin office too. 
During the consultation, one of our surgeons and a coordinator will give you accurate medical advice and answer all your questions about the surgery.
The doctor will examine your hair and scalp with a digital hair camera to be sure that the operation can be carried out.
We will check that you have enough donor hairs and that your scalp is in good condition.
Then, we will discuss your needs and expectations and determine how many hairs are required for the ideal result.
The free consultation takes 20 minutes. At the end of the meeting, you will receive your quote, which will include all the information you need to know about the hair transplant at our clinic. 
Book in for a consultation and meet us in person to discuss your hair transplant in Dublin!
HairPalace Hair Clinic Dublin:
Pembroke House
Upper Pembroke Street 28-32,
Dublin, D02 EK84, Ireland
Phone: +44 20 7131 0229
How much is a hair transplant in Dublin?
Hair transplants have become more affordable in recent years than ever before.
However, there are huge differences, as many factors are involved in determining the prices.
Among others, the number of hairs you need, the technique of your choice and the location of your hair transplant clinic will all affect the price of your hair restoration.
Hair transplant costs in Ireland typically range between 3000€-10000€ per session.
HairPalace has a hair transplant clinic in Dublin, London, Paris and Budapest too. 
Regardless of which clinic is the most convenient for you, we provide the same FUE2 transplants and the same exceptional care in all our clinics.
However, due to the economic differences, our prices do vary.
The overall running expenses of a high-end private hair transplant clinic in Hungary is the fraction of upkeeping the same in Ireland or in the UK.
As a result, our hair transplants in Budapest range between 1890€ and 4290€.
For an accurate price and a detailed treatment plan, please contact us for an in-depth assessment!
Which hair transplant technique do we recommend?
At HairPalace, we use the enhanced version of the FUE: the FUE2 SafeSystem. 
The most significant difference between the regular FUE and the FUE2 method is the drill used for the procedure. 
During the FUE2 treatments, the doctor is using a special blunt drill, which has a blocking system. 
This prevents cutting too deep into the skin, so it cannot damage the grafts accidentally.
Today it is the most effective method available in hair transplantation.
Around 95% of the implanted hairs grow out in 12 months after the FUE2 surgery and stay in place for a lifetime.
Our hair transplant experts in Dublin
The surgical hair restoration is a delicate procedure requiring extensive, specialized training and refined aesthetic sense.
We work with 6 surgeons who have vast experience in the field of hair restoration and the necessary skill set to achieve outstanding results.
They are dedicated to offering tailored solutions and will be available to advise you throughout your hair transplant in Dublin!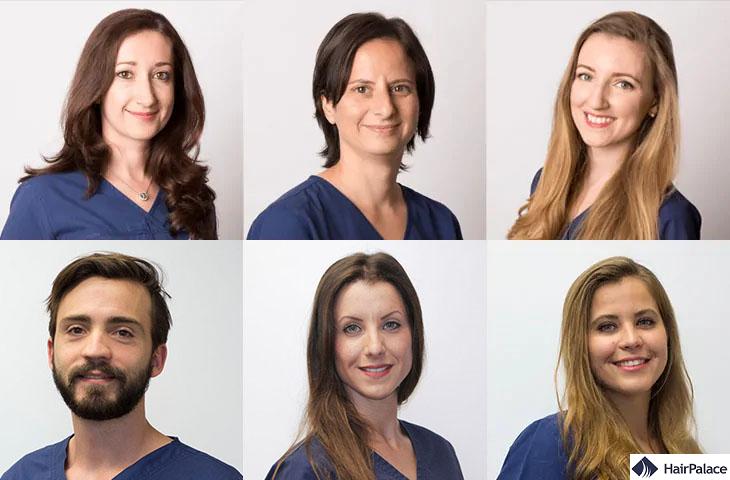 Why HairPalace?
We have more than 10 years of experience in the field of hair transplantation, and we have helped thousands of clients to regain the density of their hair. 
We work with highly experienced and trained doctors who are only carrying out hair transplantation surgeries. 
At every HairPalace hair clinic, we use the most modern FUE2 technique to provide pain- and scar-free hair transplants.
We offer a written guarantee for every treatment. To make sure everything is going in the right direction, we have regular post-op check-ups. This way, your surgeon can help you ensure that you get the best hair transplant result.
For the follow-ups, you will be able to meet your doctor in Dublin, or you can simply send us your pictures.
Hair transplant reviews from Dublin
Every year, hundreds of patients choose us for their hair restoration procedures.
Public patient testimonials on Facebook, Trustpilot, and Google help us to maintain our standards and they are a great resource if you would like to know more about the going through the surgery, as well as the results and the care you can expect from us.
Check out some of our hair transplant reviews from patients from Dublin!
From my initial consultation to departing the lovely apartment after my procedure I cannot fault the service provided by Hair Palace. You will be guided every step of the way which should certainly give anyone thinking of using their services the utmost confidence. I would like to thank all those involved in my own personal experience.
Andrew
The
staff were very friendly and professional from start to finish. Everything was more than I expected. Free transfer to and from the airport, accommodation was free. The procedure was pain free plus no scarring. It's now 10 months since my procedure and now I have a full head of hair. Highly recommend.